Our editors curate highly rated brands that are first assessed by our rigorous ratings system. Buying through our links may earn us a commission—supporting the work we do. Learn more.
As winter creeps up on us, it's time to drag all our cold-weather gear out from the back of the closet and air it out a bit before adding it to the rotation. I don't know about you, but my accumulation of coats, beanies, scarves, and gloves has gotten a little out of hand over the years of moving between climates. What better time to learn how to create a more sustainable winter capsule wardrobe and to share it with all of you?
The benefits of seasonal capsules
We've talked about building capsule wardrobes before, so consider that your starting point, then come right back.
Welcome back. Now you know that capsule wardrobes bust decision fatigue, reduce our footprint on the planet, save us money, and overall de-stress our relationship with clothes. Sounds like a win-win to me. While it is possible to make a single year-round capsule wardrobe, it's impractical for many people—especially those who live in more extreme climates with four distinct seasons. There's not much use having delicate dresses and strappy tops taking up space on those chilly winter days. So, consider neatly packing away everything you know won't work for winter, and let's get stuck in.
Step one: Take stock
First things first: take stock of what you have, and make some decisions. Chances are most items will land in one of four categories: repair, give away, recycle, or keep.
Increasing the longevity of what we already own is one of the most sustainable things we can do for our closet, and repairing is a great way to do that. If your favourite scarf has a hole you've meant to fix, now's the time.
If you have an old beanie in a colour or style that you loved five years ago but can't see yourself wearing again, consider swapping with a friend, reselling it, or even responsibly donating it so it can keep someone else warm.
If your knitted gloves are literally falling apart, pop them in a bag of beyond-repair clothes to take to a fabric recycling bin or drop off at an animal shelter.
The "to keep" pile should be made up of pieces that make you happy, fulfil a specific purpose, and are comfortable for those cold winter days.
Step two: Make a list
Now that you know exactly what you have, it's time to make a list of every must-have for a winter capsule wardrobe. That way, you can see what boxes are already ticked and what you might need to source elsewhere.
What to include in your winter capsule wardrobe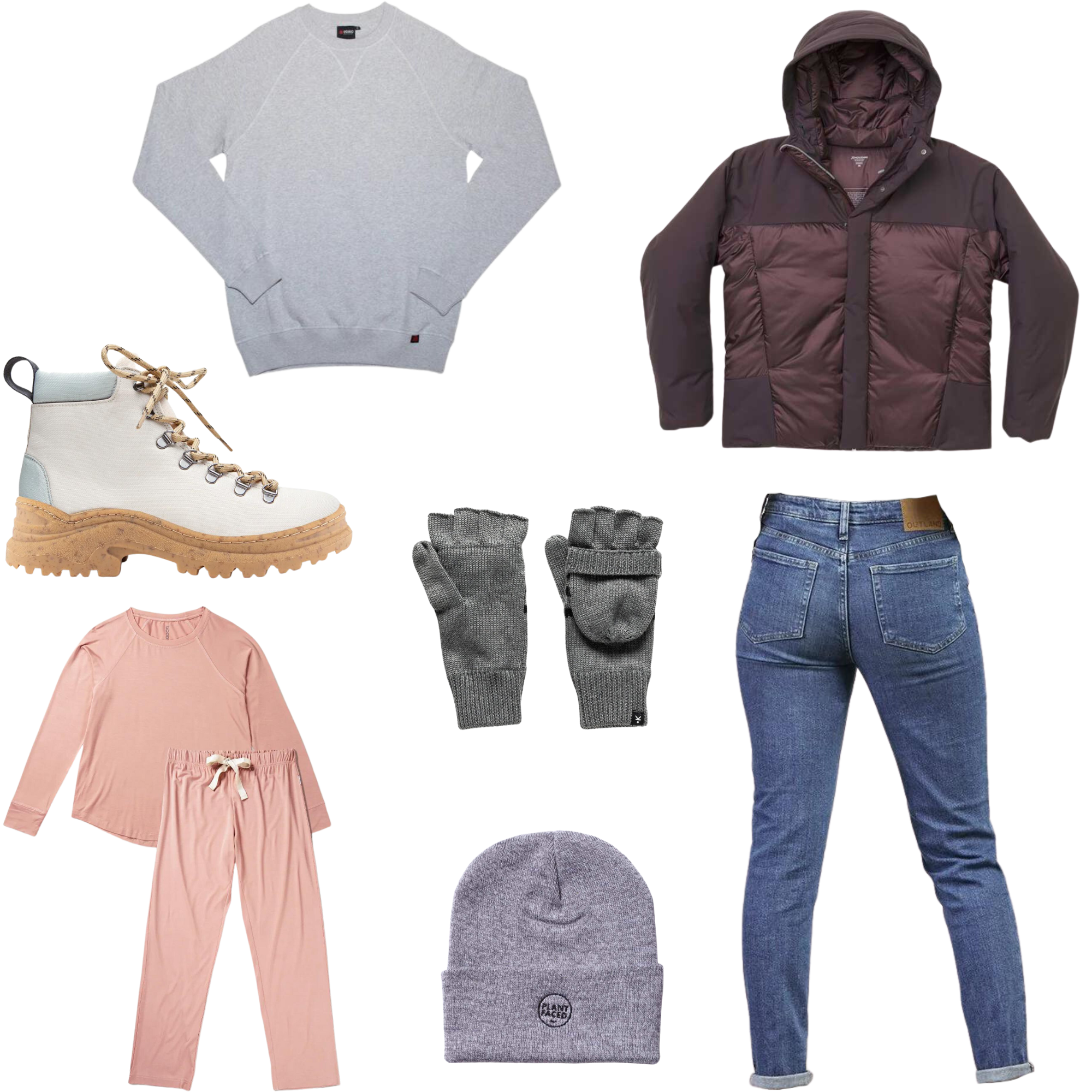 This list will, of course, require tweaking depending on where you live, your work life, and your style, but this is generally a good place to start for most people.
long sleeve shirts
sweaters
a warm coat
comfy jeans
long socks
knitted accessories (beanie, scarf, gloves)
boots
cosy PJs/loungewear
Feel free to throw in a long dress or skirt if your climate allows it or any technical gear you might need if you plan on some winter sports.
Step three: Check it twice
List complete, it's time to compare it against what landed in your "to keep" pile and start to fill the gaps. There might be a few gaps, or there might not.
Wherever you land, a good general rule of thumb is that the most sustainable thing we can do is shop our closet. The second best is hunting down some appropriate pre-loved clothing and finally investing in quality pieces from top rated brands. And, of course, thoughtfully disposing of whatever doesn't make the cut.
So far, for me, it has gone a little like this. Last season's black ankle boots were worn to the bone, so I opted for some second hand non-leather ones on Depop and have been wearing them most days since. Sadly, I realised that my two sets of winter PJs (both with a cat print, don't judge me) were stretched out beyond use, so I upcycled them into peg bags. Simply cut off half the leg, tuck a couple of inches inside and secure with an elastic band, then cut two holes in the top to hang and recycle any leftover scrap fabric. I then got my hands on a long set of Boody bamboo PJs to see me through the season, and they're probably the comfiest PJs I've ever owned.
While it may take a little more thought and time than simply chucking half your clothes in the bin then heading to the nearest chain store to stock up on the latest trends, it's a rewarding process that benefits you, workers, animals, and the planet in the long run.
Step four: Get your goodies
So, you know exactly what you have and what you need. Time to get your goodies. As I mentioned, after you've exhausted the "shop your closet" option and made any repairs, the next best thing is second hand. Why not meet up with a few friends and see if they want to swap their winter coat for yours or take a couple of scarves off your hands? Next, head to your local op shop or jump online to one of the many second hand apps and websites for pre-loved or vintage gear. If, after all that, you still can't quite find what you're looking for, it's time to invest in some quality fashion pieces for your more sustainable winter capsule wardrobe that should last you many winters to come.
A few of my favourite cold-weather staples
These brands are rated "Good" or "Great" on the directory, which means they prioritise people, the planet, and animals when producing their clothes and accessories.