Our editors curate highly rated brands that are first assessed by our rigorous ratings system. Buying through our links may earn us a commission—supporting the work we do. Learn more.
Whether you are new to the pre-loved market or an experienced thrifter, there are more options than ever for shopping second hand online and off. Here's where to start.
Shopping second hand is a treasure hunt
Shopping second hand or vintage is a bit like a treasure hunt. To find the hidden gems, you often have to dig, scour, examine, research, and occasionally make some wrong turns along the way. But what once required hours of sorting through racks of clothing and shelves of shoes, bags, and homewares, we now have access to from the comfort of our own homes, with the ease and convenience that is online shopping. Wondering where to buy second hand clothing? Whether online or in your local area, this guide will help you on your way to finding your next favourite pieces.
In our globalised world dominated by fast fashion giants, buying vintage and second hand provides a refreshing (and not to mention, more sustainable) way to shop. It allows us to add items to our wardrobe without using additional resources in the manufacturing process, to give unwanted items a second life, and to discover unique and special pieces along the way. As more sustainable and ethical consumption resonates with more and more people, vintage and second hand fashion has become increasingly popular. People who once turned their nose up at the idea of using someone else's hand-me-downs are quickly converting for both price and the planet, which we love to see.
In our globalised world dominated by fast fashion giants, buying vintage and second hand provides a refreshing (and not to mention, more sustainable) way to shop.
In fact, in resale platform thredUP's 2023 Resale Market and Consumer Trend Report, it is reported that "the global second hand market is expected to nearly double by 2027, reaching $350bn." This prediction comes off the back of massive growth in the sector in recent years, with second hand growing 28% in 2022 alone.
So whether you are new to the pre-loved market or an experienced thrifter, here's a comprehensive guide on where to buy second hand clothing to help you find your next vintage treasure in person or online.
Happy thrifting.
Where to buy second hand clothing online
A peer-to-peer platform that allows you to buy and sell luxury items. Vestiaire's items are independently authenticated and evaluated to ensure the described condition matches the actual item you receive.
A responsible fashion retailer that makes shopping more sustainable easily accessible and affordable. Every one of its sellers and products is verified as "sustainable, organic, recycled, carbon neutral, vegan, eco-friendly, or circular". Going a step further, it helps you shop from sellers closer to you, supporting local businesses.
thredUP (US and Canada only)
A popular online second hand shopping destination boasting 15,000 new arrivals daily. It is the world's largest fashion resale marketplace with over 35k brands—from Gap to Gucci—at up to 90% off retail prices.
A social venture that sells your donated clothes for you and splits all profits equally between you and your nominated charity, while also boasting a huge selection of second hand items to buy.
A global platform that offers a curated selection of pre-loved luxury items looking for new homes. You can even search by pre-owned Positively Conscious pieces, which is part of the project we at Good On You teamed up with Farfetch to curate.
Empowering consignors and buyers to extend the life of luxury items, the RealReal is a popular luxury reseller that offers a large collection of authenticated designer pieces.
Reluv is one of Australia's largest online retailers of second hand clothing and accessories. From new with tags to gently used, plus size to premium brands, if you are looking to shop for clothing and minimise your impact on the planet then Reluv is for you.
Zalando Pre-Owned (Spain, Germany, Poland, France, Belgium, and The Netherlands)
Zalando's Pre-Owned is closing the gap between new and pre-owned clothes for European customers, all with unmatched convenience in the usual Zalando fashion.
The fashion of today largely becomes the waste of tomorrow, and Australia-based AirRobe is tackling this urgent problem through tech innovation—creating a new way to shop and a new way to extend the life of your purchases.
Re-Fashion believes the future of fashion is circular and wants to eliminate clothes waste for good. That's why they resell pre-loved pieces for up to 85% off the original price. Better yet, every purchase raises funds for charity.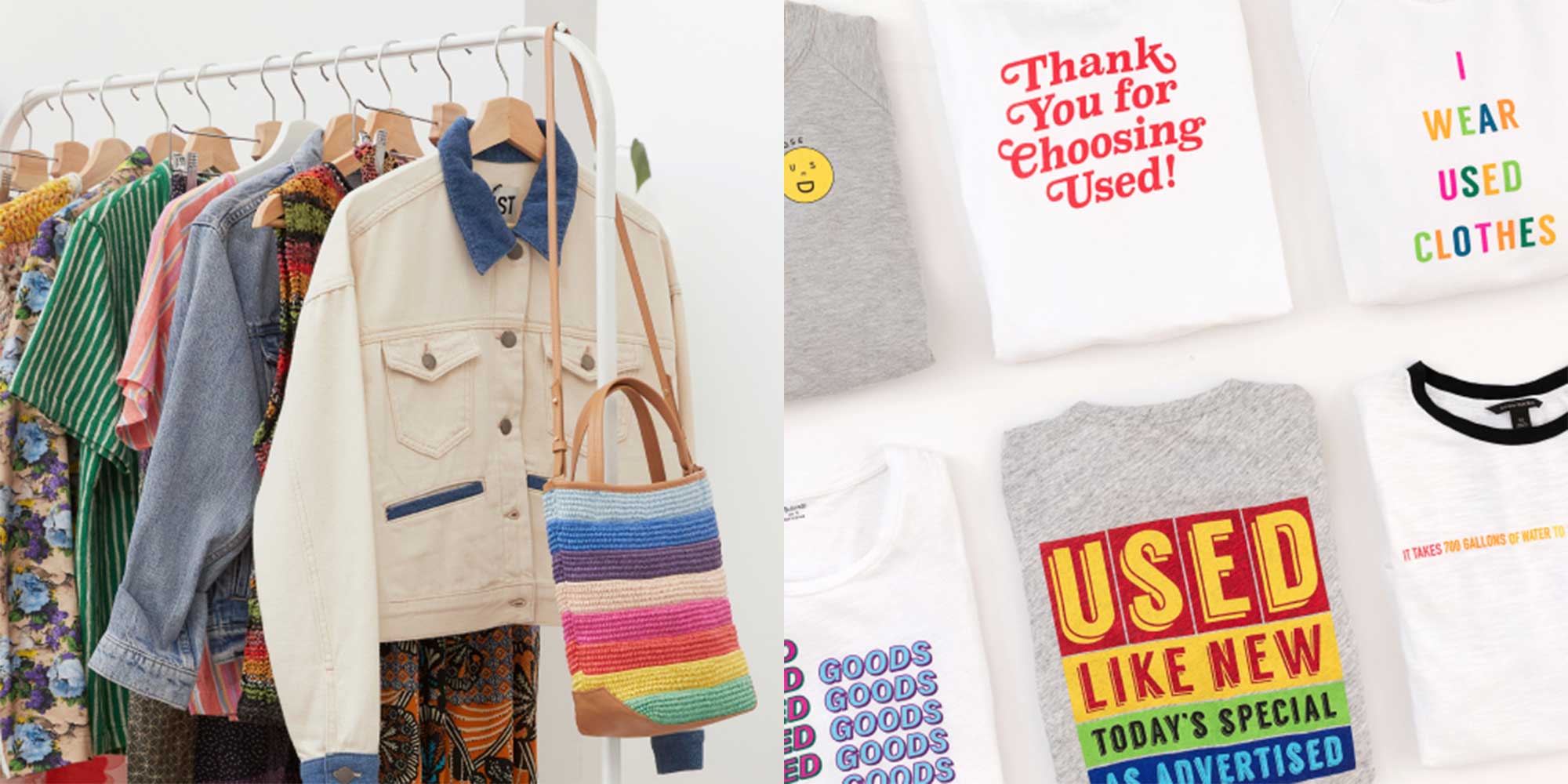 The go-to place to buy and sell pre-loved maternity wear and kids' clothing. Kids grow so fast, so second hand just makes sense for the little ones.
Patagonia is a forerunner in sustainable fashion, and their Worm Wear used clothing program reiterates that. Find a wide selection of clothes that are either directly second hand, repaired, or even completely recrafted, because "the best thing we can do for the planet is cut down on consumption and get more use out of stuff we already own."
A peer-to-peer social shopping app, commonly used by fashion bloggers, where you can list items that you are selling, and purchase from other users.
Gain access to a large online community where you can buy and sell pre-loved clothing, boasting 25 million members, thousands of brands, and a whole lot of second hand style.
Poshmark (US and Canada only)
A social commerce marketplace to buy and sell new and used clothing, shoes, and accessories.
Old school sites like eBay and Gumtree have stood the test of time for a reason. The auction format always gives you a shot at getting pieces for less than you originally thought, if you're lucky.
Second hand store directories
If you still can't find what you're looking for, there are plenty of guides and directories that help you locate second hand and vintage stores near you for the classic thrifting experience. Here are a few to browse:
A handy guide to thrifting in London and the UK by Thrifty Londoner.
A detailed list of Australian stores selling goods for the community and charitable organisations.
Another good option for Australian and New Zealand op shops, it includes online and in-person options.
A curated and comprehensive US thrift store directory that lists only charity-driven thrift stores so your purchases and donations will be going to a worthy cause.
This article by The Pretty Planeteer lists top thrift store by city across the US, Canada, Europe, and Oceania and also has some useful tips on finding the best places to shop pre-loved IRL.
Google Maps
It may seems obvious, but one of the easiest ways to find charity shops nearby is to jump into your Google Maps app and search phrases such as "charity store", "thrift shop", "op shop", and similar depending on where you live. We suggest you skim over the reviews before popping by—there's an active community of thrifters and second hand shoppers that review top spots on Google Maps, and their thoughts might help you decide if it's the right kind of spot for you. While it may not be the biggest help in big cities (the guides above are better for that), for smaller destinations or for areas where you're looking for spots in close proximity, it's an excellent starting point.