Selling your used clothes is a great way to give your garments a new lease on life and can be a source of extra cash. Whatever your reasons, here are our tips for selling your old clothes.
The ultimate guide to selling used clothes, online and offline
Whether you have an overflowing wardrobe, buyer's guilt over too many brand-new-with-tags pieces, or simply a stack of clothes you've fallen out of love with, you may be wondering where to sell used clothes and how to navigate the slew of online used clothes marketplaces like a pro.
Now more than ever, many of us have extra time or the need for some extra cash. Selling used clothes online can be a side project and a welcome distraction from what's happening in the wider world.
Whatever your reasons, there's a sustainable upside to selling your used clothes, too. According to the waste-busting charity WRAP, an estimated £140 million worth of clothing goes into landfill in the UK alone each year. Giving our clothes a new lease on life in someone else's wardrobe is one way we can reduce that number along with our carbon footprint.
Tips for selling used clothes online
What will sell and for how much?
As you sort through your old clothes, look up listings for similar pre-loved pieces, whether they've recently sold, and the price range. This will help you decide what's appealing to used clothing buyers, and what starting price to ask for. You can always upcycle or recycle clothes that won't sell or aren't in good enough condition.
Think seasonally, too. Although there's no harm in listings for bikinis during the winter or knitwear in summer, place the more seasonal items at the top of your profile, so shoppers scouring for on-trend, in-season pieces see those first.
Make your photos count
Do your clothes justice and boost chances of a sale with great photos. A few in front of a clutter-free background, either flay lay style or on a hanger, and one of you wearing the item works perfectly. Never underestimate the power of good lighting (always shoot in natural daylight if you can), and become best friends with your iron or steamer.
Be honest
Although you want to be enthusiastic and descriptive, that "about the item" text box needs to be truthful, too. Give accurate details, including any defects—no matter how small—and where on the brand-new-to-used scale it falls. People buy things that aren't in perfect condition all the time if the price is right, and honesty will help you build a trusted reputation, so resist glossing over any little faults.
Learn the etiquette
Every app has its own rules, but there are some universally recognised tips for making yourself a five-star seller. For instance, try to reply to inquiries as promptly as you can. A quick response helps keep potential buyers from finding a similar item elsewhere, and can secure you a great review. Communicate when you're planning to post and any delays, too—second hand buyers are generally an understanding bunch, so long as you keep them in the loop.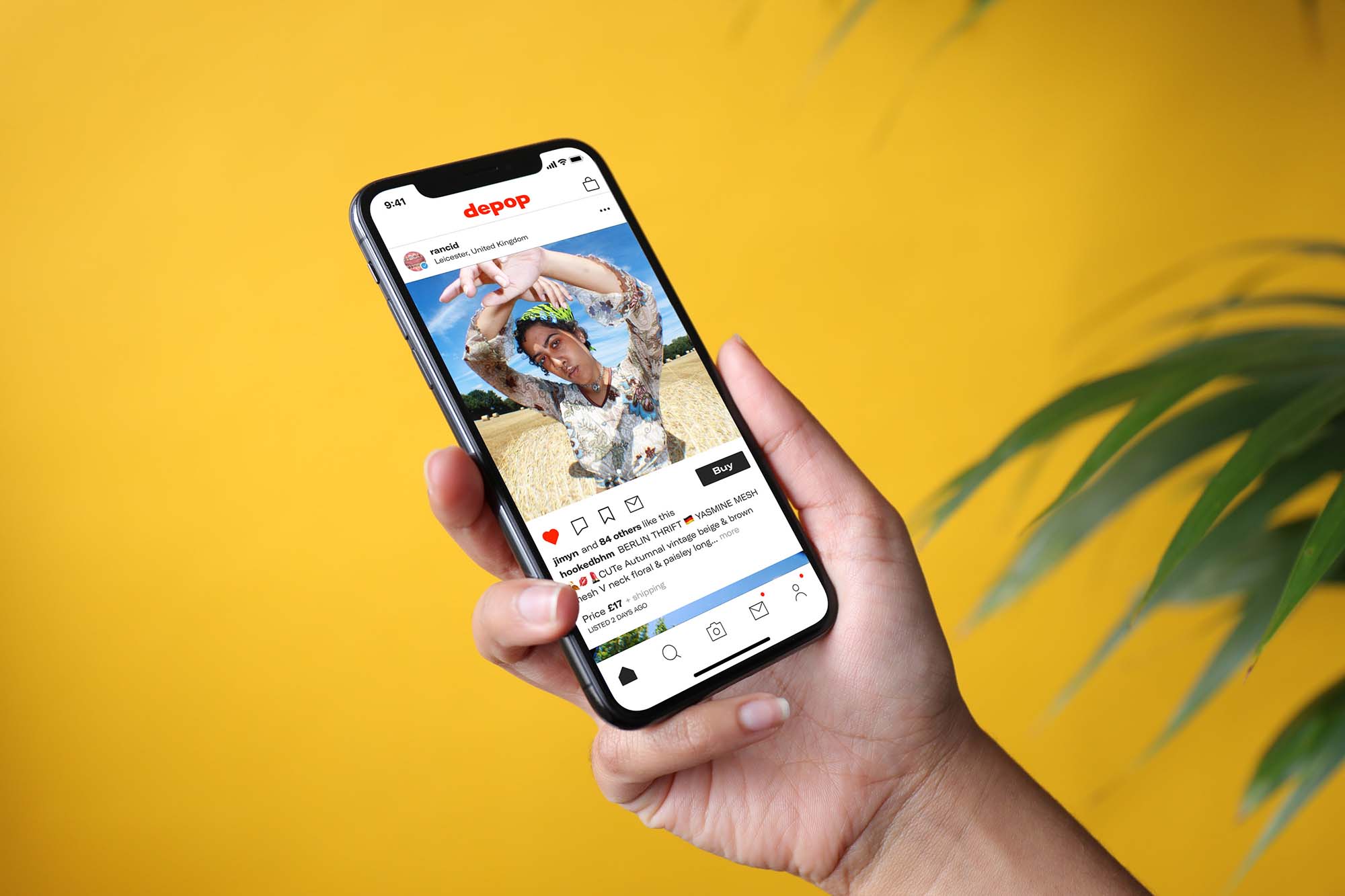 Which online marketplaces and apps are best for selling used clothes?
If you're in the US and have a growing pile of clothes you've been meaning to sell but just can't find the time, Flyp is the way to go. This newcomer to the second hand selling scene believes less clutter = more empowerment, and does all the hard work for you. You simply send off one photo of the clothes, shoes, and handbags you're ready to part with, and get paired with a Pro Seller. They will do all the photography, listing, negotiating, selling, packing, and shipping for you—and you'll come out the other side with up to 70% of the profit. A win-win, if ever we've seen one.
If you're an Instagram lover, you'll probably feel at home on Depop, which has a similar look and format with a grid profile layout, hashtags, and an explore tab. It's simple to use and has a huge number of users (26 million across 147 countries), looking for everything from true-vintage pieces to recent sell-out high street buys. Setting up a profile and listing items is free, you just pay a 10% fee on sales.
Vestiaire Collective is the place to list any designer gems hanging in your closet. They authenticate items, so buyers can have complete confidence in you. It does come at a bigger cost—you receive around 75% of the money from sales—but when you're selling a more premium product it's worth doing properly and reaching discerning buyers.
If you're in the US and Canada and have a ton of used clothes you want to be rid of and not much time to invest, thredUP is a fantastic option. It is the world's largest fashion resale marketplace with over 35k brands—from Gap to Gucci—at up to 90% off retail prices. As a seller, your job couldn't be easier: simply order a Clean Out Kit and they'll send you a huge polka-dot bag that fits all the clothes you no longer wear. Send it back to them for FREE and they'll inspect, photograph, and list your items. You earn some cash or shopping credit, or you can choose to donate $5 to a charity you love instead.
Another hassle free option for those in the UK is Thrift+. Similarly to thredUP, they send you out a bag to fill with high quality second hand goodies to drop off at a local store (or organise a next-day collection from your door), and in return they take care of all the selling. The proceeds of successful sales are split between you (in the form of Thrift+ credits or gift cards) and your charity. It's a win-win situation that leaves you feeling good, your home clutter free, and maybe a new-to-you piece or two to refresh your wardrobe.
Whereas a lot of Depop's audience are in their teens or early twenties, you'll find more of a mix of ages on Vinted, which is a popular go-to for people after high street pieces. The option to swap clothes is a fun element—you might bag something you love in return for those you're ready to wave goodbye to. Another perk: there are no seller fees.
Grailed is the one-stop destination for buying, selling, and exploring menswear. Their website has 4 markets: Grailed (for high-quality, coveted items that can span across any genre), Hype (for new streetwear releases and the latest drops), Sartorial (for high-end classic menswear, ranging from clothing to footwear) and Core (for well-known, mass market brands, as well as vintage clothing). Whatever you need to sell, you're sure find a new owner for your items.
Old school sites like eBay and Gumtree have stood the test of time for a reason, though competition is high for sales. The auction format always gives you a shot at getting more than you bargained for.
A good option if you're looking to turn selling your old clothes online into a serious side hustle. With a monthly £20 subscription fee plus 20% commission on sales, it's not suited for getting rid of the odd piece here or there.
A popular and simple app to sell your wardrobe if you're in the US or Canada where you keep 80% of your sale price.
If you have luxury and designer goods you'd like to sell, then The RealReal is for you. This website has sold more than 21M items, so its team knows how to sell your items fast.
Tradesy makes resale fast, simple, and stylish for buyers and sellers. Simply list your items on their website and they'll send you a pre-paid, pre-addressed shipping kit, complete with beautiful packaging when you make a sale. So easy.
A fast and easy way to sell clothes (and almost anything else) if you're in Japan or the US.
The go-to online marketplace for Australia, Canada, and parts of Asia to sell the clutter in your life.
If you're in the US, we recommend having a look at Crossroads, which allows you to sell by mail, ie send your items in and get cash or gift cards.
How to sell used clothes offline
Apps and websites make it easy to sell used clothes online, but luckily you don't have to go online to sell second hand clothes. We recommend researching your local second hand stores to see if they would buy gently used clothes (but do make sure your clothes are clean and in quite good condition). Some cities also have consignment stores which can buy some of your pre-loved items for a commission. Finally, you could also host a yard or garage sale or a market stall with a couple of friends, especially if you have more than just clothes to sell.
Prep your used clothes for sale
Whether you chose to sell your used clothes online or offline, provide the same courtesy as physical op shops do: make sure your items are in as good condition as they can be when they arrive at the buyers' doorsteps. Give them a good wash, paying particular attention to any sweat or makeup stains, and make any small repairs yourself if you can.
Happy selling.