Our editors curate highly rated brands that are first assessed by our rigorous ratings system. Buying through our links may earn us a commission—supporting the work we do. Learn more.
For the northern hemisphere, summer is just around the corner. And with more outdoor events than any other season, deciding what to wear can feel overwhelming. Instead of grabbing yet another cheap tank top from a fast fashion store, why not look into curating a more sustainable summer capsule wardrobe?

Conscious summer capsules for sunny days
The days are getting longer, the air is warmer, and the sun is shining brighter—yes, my friends, it's summertime again, and I couldn't be happier about it. I don't know about you, but I've grown tired of wearing thermals, sweaters, beanies, and warm coats. Get me my shorts, t-shirts, and sandals—I want to feel the heat on my skin and the sand between my toes.
But I also want to get the most out of my day and not spend time choosing what I want to wear. Most of all, I want to feel good about what I'm wearing and be comfortable throughout the day. So what better time to learn how to create a more sustainable summer capsule wardrobe and to share it with all of you?
The benefits of seasonal capsules
Capsule wardrobes are all the rage at the moment. They refer to a collection of 30-40 practical and versatile pieces of clothing put together to create an entire wardrobe, usually for a season. Building a capsule wardrobe allows you to narrow your wardrobe down to thoughtfully selected essentials and save yourself multiple decisions every day. If you want to learn more about capsule wardrobes and their many benefits, we recommend you check out our guide, then come right back.
Welcome back. Now that you know everything about capsule wardrobes, it's time to get down to business.
While you could technically make a single year-round capsule wardrobe, in reality, it might be impractical, especially if you live in a region with four very distinct seasons. With summer fast approaching, there's not much use in having your heavy winter coat taking up space in your wardrobe. So, put all your winter essentials to one side, and let's start building your more sustainable summer capsule wardrobe.
Step one: Take stock
This is where things might get messy. Take everything out of your wardrobe, put your winter clothes aside, take stock of what you have, and make some decisions. Chances are most items will land in one of four categories: repair, give away, recycle, or keep.
Increasing the longevity of what we already own is one of the most sustainable things we can do for our closet, and repairing is a great way to do that. If your favourite summer dress has a hole you've meant to fix, now's the time.
If your dress is literally falling apart, pop it in a bag of beyond-repair clothes to take to a fabric recycling bin or drop off at an animal shelter. Swimwear is a little different and can be hard to recycle, but the good news is that it can be upcycled.
If you have an old t-shirt in a colour or style that you loved five years ago but can't see yourself wearing again, consider swapping with a friend or even donating it to a local shelter.
Your "to keep" pile should be made up of pieces that make you happy, fulfil a specific purpose, and are light for those warm summer days. There shouldn't be any "just in case" items in your pile, because let's be honest, "just in case" situations never happen.
Step two: Make a list
Now that you know exactly what you have, it's time to make a list of every must-have for your summer capsule wardrobe. That way, you can see what boxes are already ticked and what you might need to source elsewhere.
What to include in your more eco-friendly summer capsule wardrobe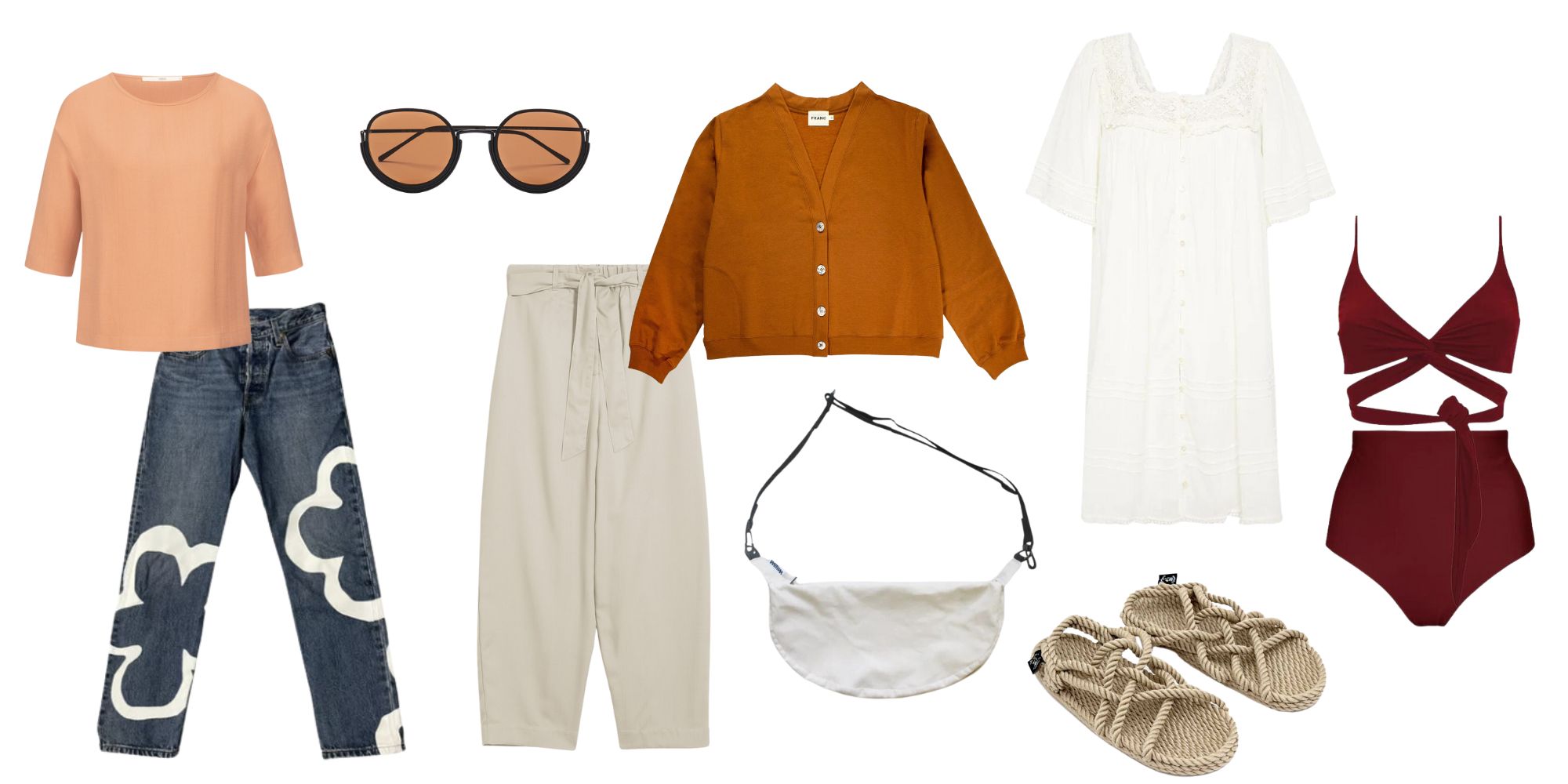 This list will, of course, require tweaking depending on where you live, your work life, what you have planned for the summer, and your style, but this is generally a good place to start for most people.
t-shirts, tank tops, or camis
sweater or cardigan
jacket
light jeans and trousers
shorts
skirts
short and long dresses
sandals
swimwear
a hat and sunglasses to protect your lovely face and eyes from the sun
a versatile and practical bag
breathable PJs for those warm summer nights
Feel free to throw in a light scarf or warmer jacket if your climate requires it or any technical gear you might need if you love outdoor activities.
Step three: Check it twice
Now that you have your list, it's time to compare it against what landed in your "to keep" pile and start to fill the gaps, if there are any.
Wherever you land, a good general rule of thumb is that the most sustainable thing we can do is shop our closet. The second best is hunting down some appropriate pre-loved clothing, and finally investing in quality pieces from better brands. And, of course, thoughtfully disposing of whatever doesn't make the cut.
This year has been pretty simple for me—I invested in neutral basics last summer, which I love and will wear again this year. My size has changed over the years, so I'll be donating a pair of wide-leg trousers that I've owned for five years to my mom (who has been harassing me to have them). I also noticed some of my old t-shirts have sweat stains (it's not gross, it's natural), so I'm planning to try one of these tricks to remove yellow stains this weekend. In terms of new additions to my wardrobe, I wanted a long flowery dress, so I bought a pre-loved one from Vinted a few weeks ago. And since I'm planning a camping trip this summer, I'm on the hunt for some activewear and hiking gear.
While it may take a little more thought and time than simply chucking half your clothes in the bin then heading to the nearest chain store to stock up on the latest trends, it's a rewarding process that benefits you, workers, animals, and the planet in the long run.
Step four: Get your goodies
So, you know exactly what you have and what you need. Time to get your goodies. As mentioned earlier, after you've exhausted the "shop your closet" option and made any repairs, the next best thing is second hand. Why not meet up with a few friends and see if they want to swap their summer dresses for yours or take a couple of t-shirts off your hands? Next, head to your local second hand shop or jump online to one of the many second hand apps and websites for pre-loved or vintage gear. If, after all that, you still can't quite find what you're looking for, it's time to invest in some quality, responsibly-made fashion pieces for your more sustainable summer capsule wardrobe that should last you many summers to come.
A few of my favourite hot-weather staples
These brands are rated "Good" or "Great" on the directory, which means they prioritise people, the planet, and animals when producing their clothes and accessories.