Our editors curate highly rated brands that are first assessed by our rigorous ratings system. Buying through our links may earn us a commission—supporting the work we do. Learn more.
This just in: skinny jeans are dead. In a recent avalanche of Tik Toks by Gen Zers, Millennials have been called out for their "old-fashioned" side parts and skinny jeans. As a Millennial inching closer and closer to 30, I can confidently say I am deeply offended.
Just kidding—styles come and go, and while skinny jeans may be shrinking back from the limelight as a torrent of rotten tomatoes is flung at them across the room by some whippersnappers, someone else is stepping up to the plate. She's flowy, she's flattering, she's comfortable… who is she? Wide leg pants, of course.
Skinny jeans may come back, but for now, many people aren't all that disappointed to see the back of them. For many long, tired years, we struggled to squeeze ourselves into them in the hopes that we'd look like the svelte-yet-shapely-and-likely-photoshopped women in the commercials. Did we succeed? Probably not. Did we persist? Obviously.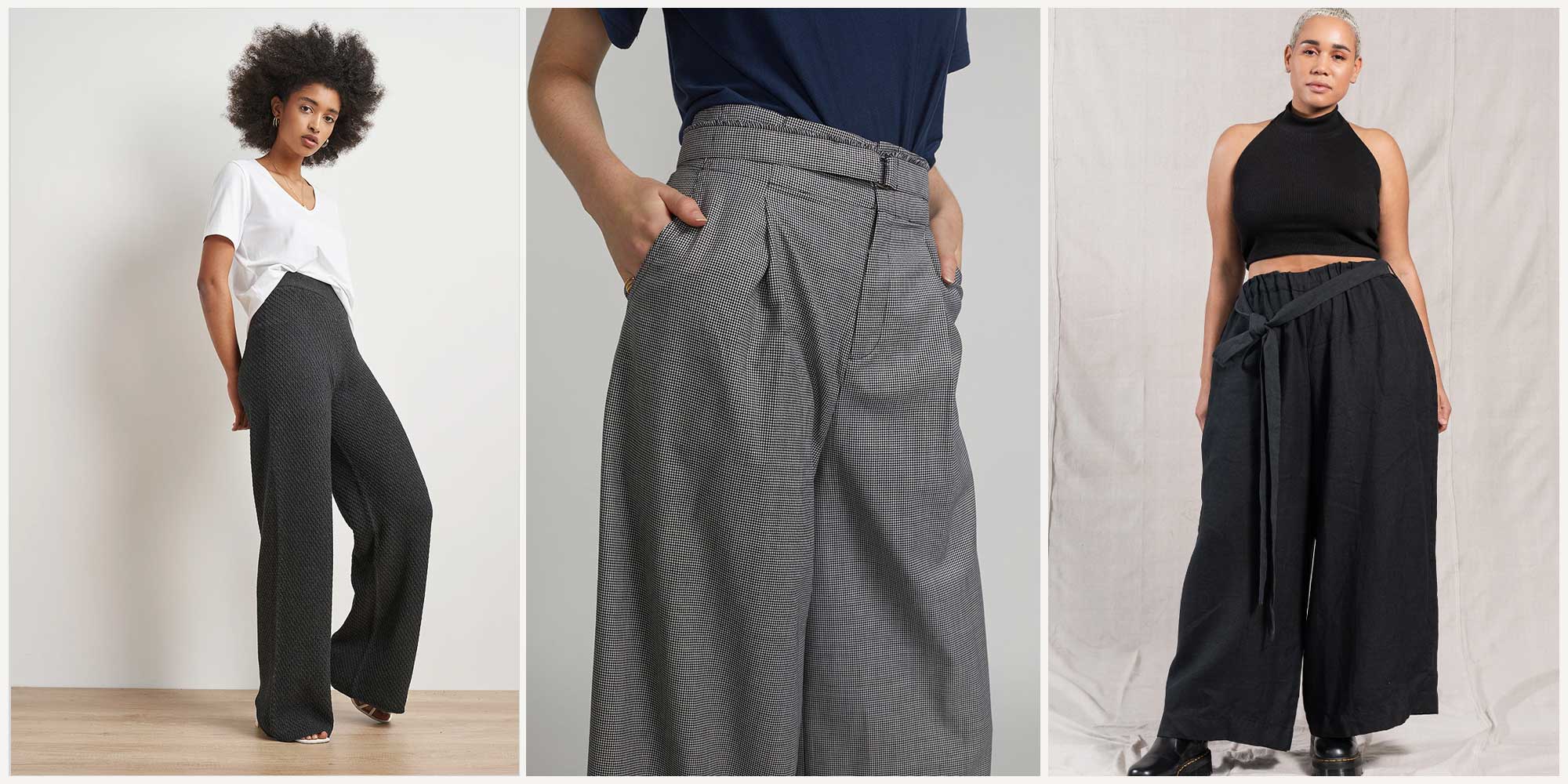 Slight bitterness aside, the new gal on the block is doing us all the favours skinny jeans never could. The flared look is far more forgiving, and is just as versatile, so we've rounded up our 21 favourite sustainable wide leg pants for the eco-chic chicks out there who are ready to lay their skinnies aside—at least for the meantime.
A few standouts in the list that might catch your eye are R Collective's (Hong Kong) Bermondsey pants, and this palazzo from A.BCH (Australia). These sustainable wide leg pants all make it easy to bid adieu to the restrictive skinnies of yesteryear, and I, for one, am entirely onboard.
But I'm keeping the side part.
Reality check
In all seriousness, we should all wear whatever makes us feel comfortable and happy. And if that is skinny jeans, then more power to you! Using what we have in our closets is also the most sustainable fashion choice we can make, but when it does come time to say goodbye to a piece forever, why not upcycle it into something useful? Or thoughtfully dispose of it through recycling, donating, or selling? And while trends can be fun, only invest in pieces you know you'll love and wear for years to come. Onto the pants.