Our editors curate highly rated brands that are first assessed by our rigorous ratings system. Buying through our links may earn us a commission—supporting the work we do. Learn more.
As the weather cools down, let's take a look at how to create a sustainable fall capsule wardrobe. Think autumnal hues and transition pieces perfect to mix-and-match.
How to create the perfect autumn or fall capsule wardrobe
We've said it before and we'll say it again: capsule wardrobes are the way to go. Not only do they make getting dressed in the morning simpler, they foster a more sustainable relationship with clothing.
What is a capsule wardrobe? For the uninitiated or unconvinced, they're basically a small collection of clothes, shoes, and accessories that are interchangeable, enabling you to build countless outfits from fewer items overall. By using neutral colours that pair well together perhaps with one accent colour, in materials that complement each other, the "mix-and-match" process becomes second nature. For autumnal colour and texture palettes, we love earthy tones with pops of teal or soft pink with breathable linens and sturdy cottons.
A capsule wardrobe for fall or autumn should contain transitional and layerable pieces for weather that can't make up its mind, and ideally, is a mix of things you already own, pre-loved pieces, and a select few responsibly-made items from "Good" or "Great" brands if you need them.
If you haven't read our hero piece on creating capsules, head over there first. And if you landed in this pile of layerable earthy tones but fall is nowhere in sight, here are our curated guides to spring, summer, and winter capsules.
The basic steps
Prefer a capsule guide to creating a capsule? We get it. Life is busy. Here are the bite-sized basics:
Take stock of what you have for the season and separate everything into repair, give away/sell, recycle, or keep
Make a list of what you'll need for a fall capsule perfect for you, and store anything on the keep list that won't work this season
Find any gaps and fill them with second hand, swapped, or new pieces (inspiration below)
What to include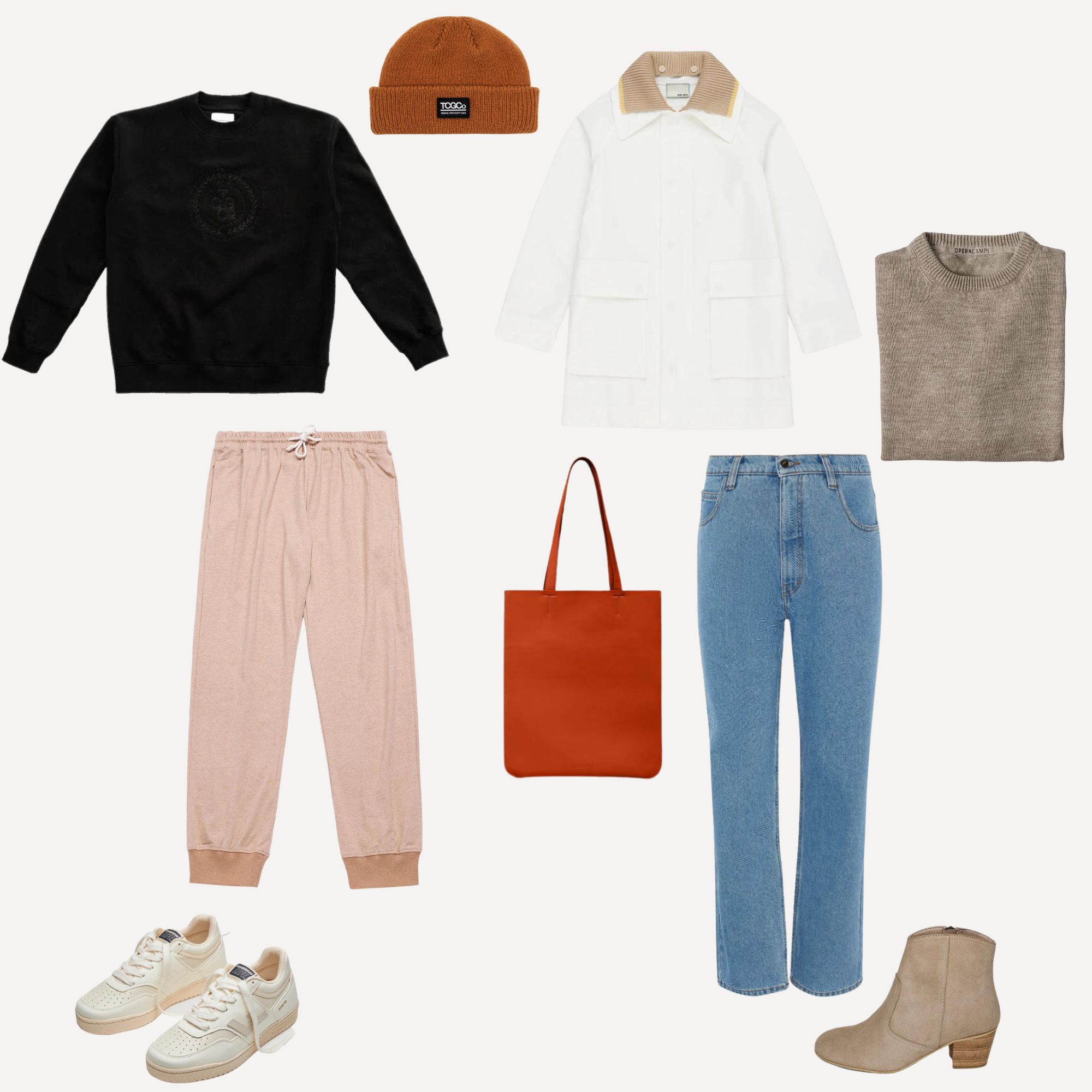 Fall is our favourite season for fashion because layering allows you to get creative with your clothes, and it's easy to elevate an outfit from casual to chic with the simple addition of a light jacket or oversized scarf. Of course specific items depend on your location, style, and other needs, but this is a good place to start:
short and long sleeve tees
tops and blouses
sweaters or cardigans
windproof jacket
trench coat
longer dresses
comfortable jeans and pants
tights and socks
loungewear set
long pyjamas
neutral shoes (boots, loafers, sneakers)
neutral belt
practical bags (oversized tote, crossbody bag)
knitted accessories (beanie, scarf)
Our favourite brands for a sustainable fall capsule
Need some inspo, or to fill a gap in your budding autumn capsule? Here are some of our favourite "Good" and "Great" brands creating layerable basics to see you through transeasonal dressing.