This is a sponsored article featuring brands that have been independently assessed by our rigorous ratings system. We're proud to only collaborate with "Good" and "Great" rated brands. Learn more.
Our editors have picked out the most unique and original denim jeans from the top rated brands in the Good On You directory.
Denim with a twist
With its undeniable versatility, sturdiness, and trendiness, denim is a true wardrobe chameleon.
Denim is made from a twill-weave cotton fabric. Cotton fibres are harvested and spun into yarn, then the yarns are dyed. Jeans continue to be indigo-dyed (though it's mostly synthetic these days), and are then woven either on a shuttle loom or a projectile loom, creating a sturdier or more delicate result respectively.
But denim production can have serious social and environmental consequences. From high water usage, sludge-ridden rivers, and serious labour concerns, denim costs can be pretty hefty. However, this is not the way it has to be. Better denim starts with better, lower-impact materials that are gentler on the planet, like recycled or organic cotton or hemp. Brands making better denim will have water and wastewater management initiatives and will aim to reduce the amount of chemicals used in the production process, especially at the dyeing stage. Be mindful of "distressed" denim, which usually gets its weathered look from a controversial technique called "sandblasting", which can pose a huge health risk to workers. Finally, and crucially, better denim is made by people who are paid a living wage, are treated fairly, and work in safe environments.
While we have plenty of recommendations for "Good" and "Great" rated brands making more sustainable basic denim jeans, today we wanted to highlight the brands making original and one-of-a-kind denim with a twist in case you're on the hunt for a unique piece.
Before we dive in, let us tell you why you can trust our recommendations.
Why you can trust our recommendations
At Good On You, we provide trustworthy recommendations that align with your values and needs. Our mission is to simplify informed choices while embracing the "buy less, buy better" motto.
To ensure credibility, we aggregate comprehensive, transparent information on fashion sustainability—assessing brands using our leading methodology, developed by diverse experts. Our ratings directory of over 5,000 brands employs a simple five-point scale, curating a list of "Good" or "Great" brands making significant contributions to sustainable fashion.
Our editorial team, driven by expertise and passion, carefully reviews and approves each recommendation, upholding high standards of quality, longevity, and trend-transcendence.
While we recognise the value of reusing, mending, and second hand shopping, our expert ratings system guides you toward new brands aligned with your values and sustainability goals.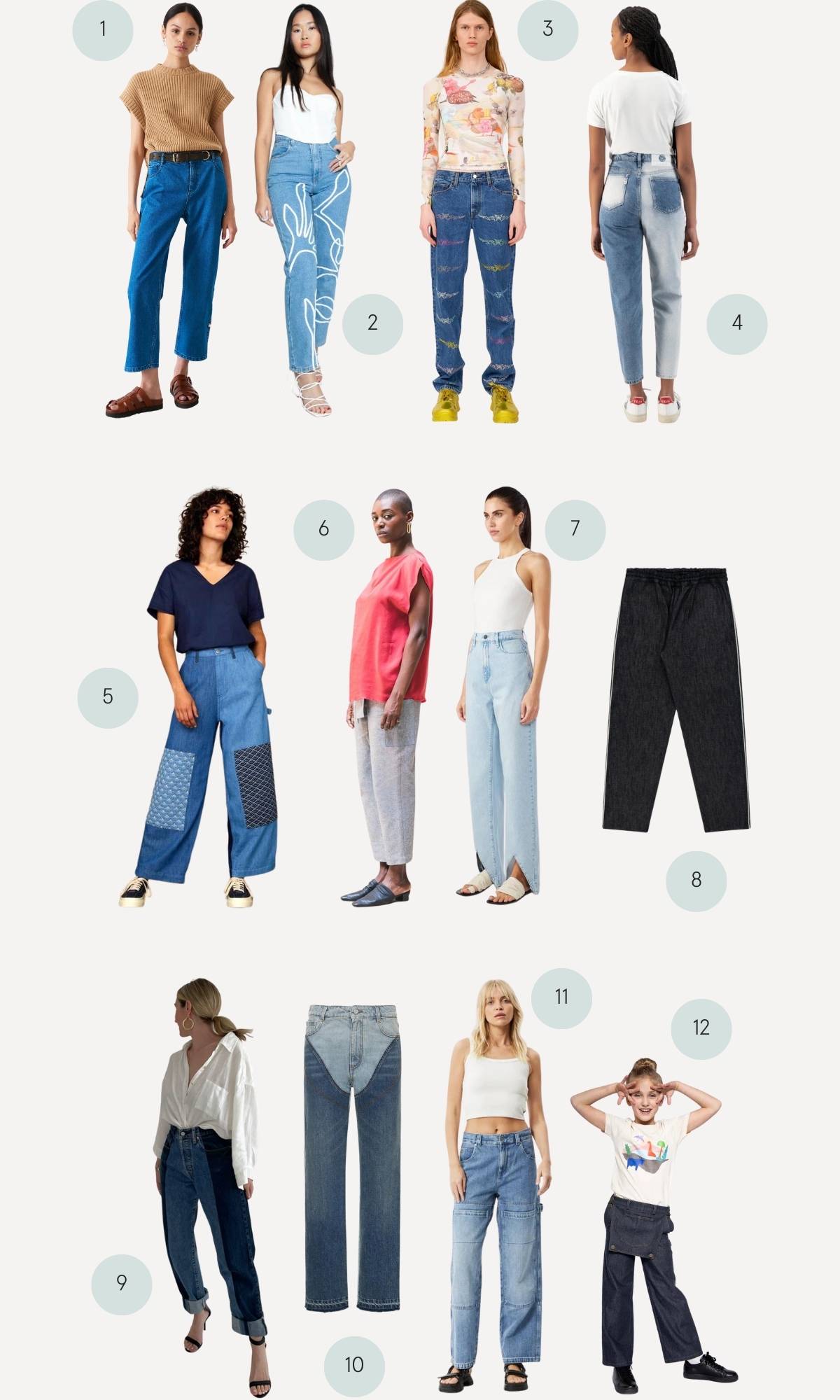 1. Rita Recycled Midwash Jeans (Mother of Pearl)
2. High Waisted Organic and Recycled Floral Trim Blue Jeans (Fanfare)
3. Collina Strada x unspun™ Custom Fit Butterfly Jeans (unspun)
4. Mams Tapered (MUD Jeans)
5. Leila Worker (Kings of Indigo)
6. Hane Pants (ZEROBARRACENTO)
7. Ms. Hart Petal Hem High Rise Straight Leg Jean (Triarchy)
8. Trackpants (non)
9. Dark / Mid Blue Contrast Boyfriend Jean (E.L.V. Denim @ Rêve en Vert)
10. Two tone cotton denim wide leg jeans (Stella McCartney @ LVR Sustainable)
11. Hemp Denim Carpenter Jeans (Afends)
12. Blue Denim Pants (Infantium Victoria)