This is a sponsored article featuring brands that have been independently assessed by our rigorous ratings system. We're proud to only collaborate with "Good" and "Great" rated brands. Learn more.
Our editors have picked out their favourite travel bags and accessories from top rated brands.
Embrace the season of adventure: travel bags and accessories for your getaways
Travel bags and accessories are the perfect companions for short getaways and weekend trips when you want to travel light and avoid the hassle of bringing a bulky suitcase.
If you're in search of the perfect travel companion that reflects your values, keep reading. We've got you covered with our handpicked selection of travel bags and accessories from "Good" and "Great" brands that are doing more for a better world.  Before we dive in, let us tell you why you can trust our recommendations.
Why you can trust our recommendations
At Good On You, we provide trustworthy recommendations that align with your values and needs. Our mission is to simplify informed choices while embracing the "buy less, buy better" motto.
To ensure credibility, we aggregate comprehensive, transparent information on fashion sustainability—assessing brands using our leading methodology, developed by diverse experts. Our ratings directory of over 5,000 brands employs a simple five-point scale, curating a list of "Good" or "Great" brands making significant contributions to sustainable fashion.
Our editorial team, driven by expertise and passion, carefully reviews and approves each recommendation, upholding high standards of quality, longevity, and trend-transcendence.
While we recognise the value of reusing, mending, and second hand shopping, our expert ratings system guides you toward new brands aligned with your values and sustainability goals.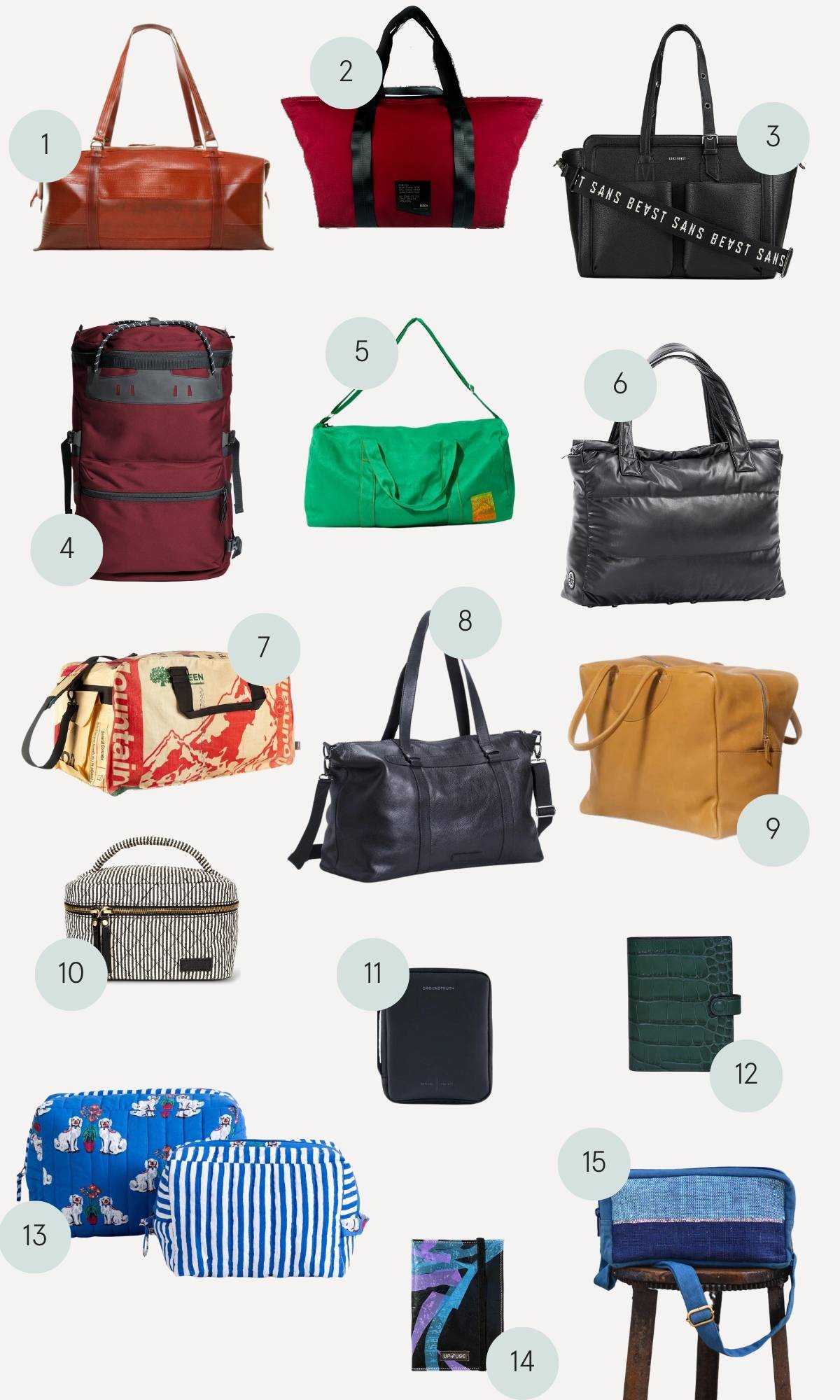 Bags, totes, and backpacks
1. Weekend Bag (Elvis & Kresse)
2. Shoalts Weekender (BEDI)
3. Daytripper Tote (Sans Beast)
4. New Life Project x Outerknown Backpack (Outerknown)
5. Hemp Duffle Bag (Afends)
6. Recycled Vegan Leather Puffer Bag (Culthread)
7. Medium Transport Duffel (TORRAIN)
8. Mand Overnight Bag (ELK)
9. Travel Bag (Raven + Lily @ Cerqular)
Travel accessories
10. Elise Makeup Bag (O My Bag)
11. RIKR Tech Pouch (GROUNDTRUTH)
12. Traveler's Wallet (Hyer Goods)
13. Oversized Pouch Set (Printfresh)
14. Passport Holder (Up-Fuse)
15. Travel Pouch (Théla)