This is a sponsored article about a brand that was independently assessed by our rigorous ratings system. We're proud to only collaborate with "Good" and "Great" rated brands. Learn more.
Uses eco-friendly materials? Check. Pays a living wage? Check. Has an entirely vegan product range? Check check check. We're excited to introduce you to Boyish—a carbon-neutral women's brand that utilises ethical and sustainable practices when developing and manufacturing its timeless products. With a focus on quality, fit, and authentic washes, these may just be the best jeans you'll ever own. Read on to learn exactly how the Boyish way of doing things is crucial in the future of the fashion industry and every industry beyond on a planet craving change.
Boyish is the most sustainable choice for high quality denim that leaves the least amount of impact on the environment. No style was compromised in the making of our jeans.
How it all began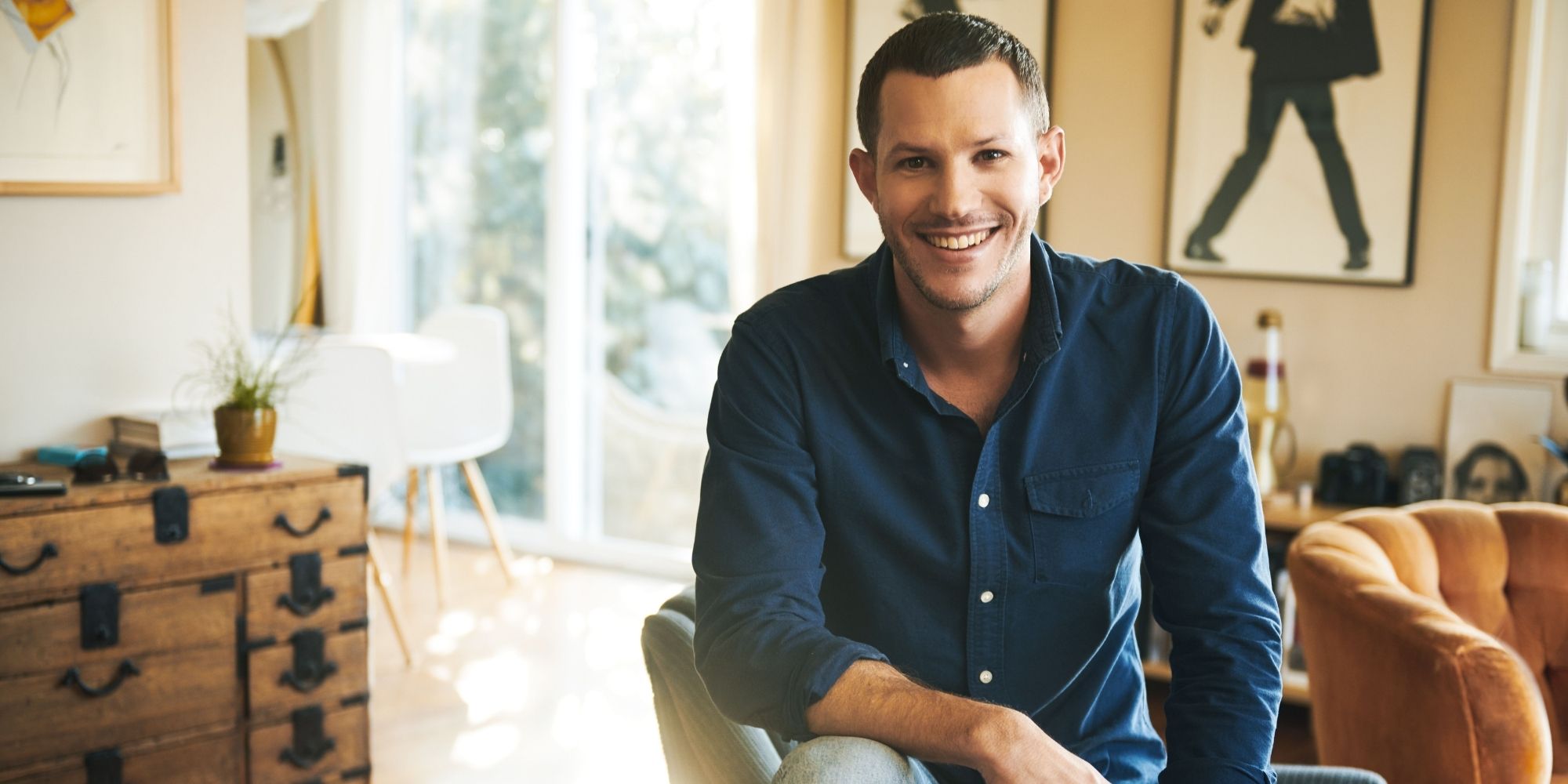 Jordan Nodarse, Founder and Creative Director of Boyish, launched the brand in LA in 2018. After working for other companies, he realised it's hard to find fashion brands that can both take care of the environment and people and educate their consumers in the process. "I decided it was time to stop making money for other people and start making a change for mama earth and all living things on her!"
Jordan believes that real environmental change starts with companies challenging each other—no different from car companies who challenge each other for the safest car or best gas mileage. He also wanted to challenge himself to create a company that ticked all the ethical and sustainable boxes, and Boyish certainly does.
What makes Boyish jeans so special?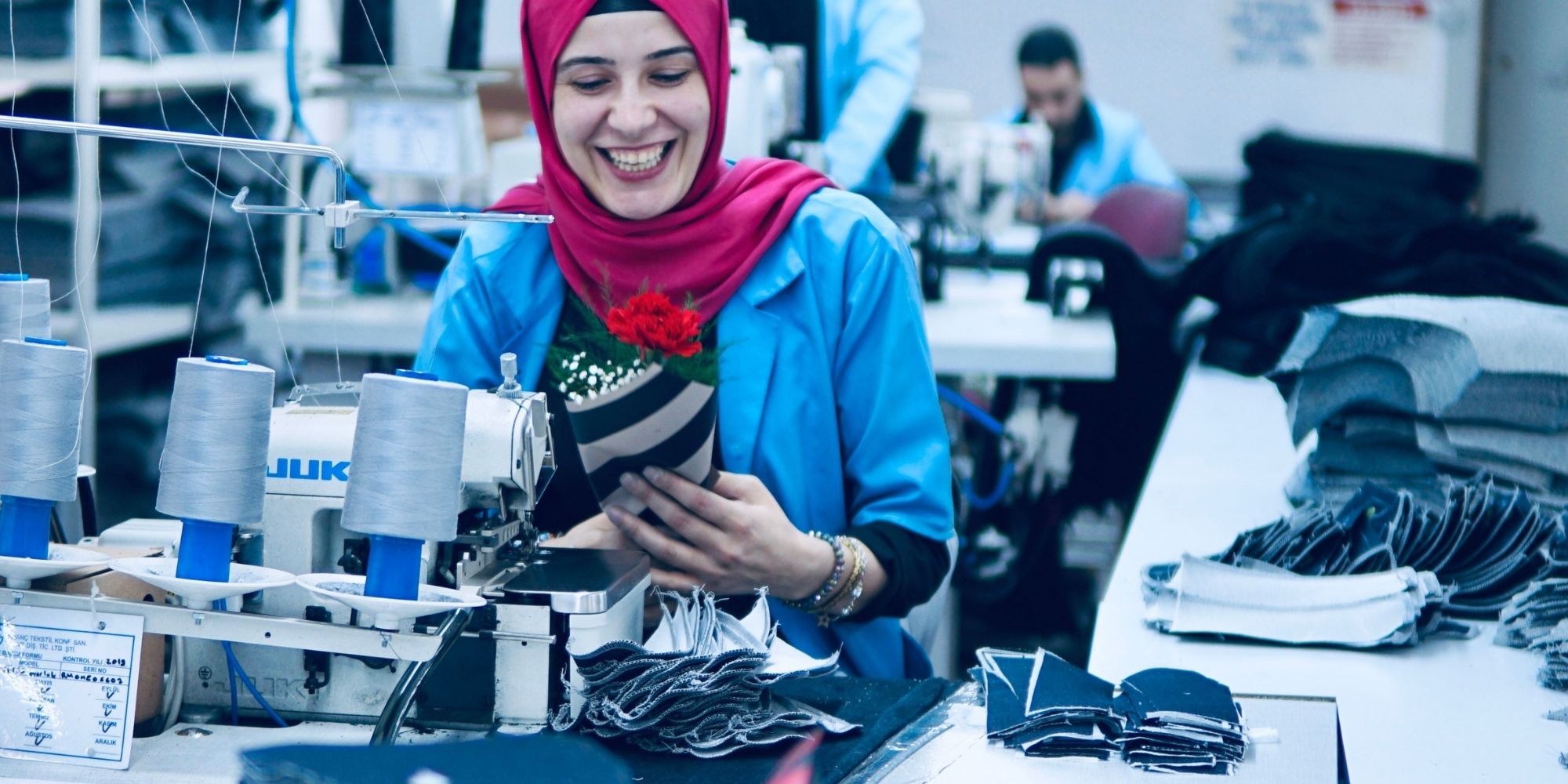 Put simply—Boyish is a champion for the environment. Fast fashion's damaging practices are thrown out the door and replaced by wholesome, effective, long-term solutions to bring you the best possible jeans with the least possible impact.
At the core of all Boyish collections lies a deep commitment to leaving as little impact on the earth as possible.
Designed for circularity
If you haven't heard of circular fashion, it means garments are designed more thoughtfully and with end-of-life in mind. Boyish tackles the linear take-make-waste system by creating jeans and clothes in a zero-waste and circular process with sustainable fabrics through an environmentally friendly and cruelty-free approach. "We use plant-based rubber in place of traditional elastane which means our jeans won't shed microplastics or fill up at a landfill. Every single jean we make is recyclable through the standards of the Ellen MacArthur Jeans Redesign program—and our jeans are OEKO-TEX certified!"  
Fighting climate change
We know carbon emissions cause climate change, and fashion is one of the worst offenders out. McKinsey research shows that the sector was responsible for some 2.1 billion metric tons of greenhouse gas (GHG) emissions in 2018, about 4% of the global total! Boyish takes responsibility for this and actively works to neutralise its carbon output. "We donate to organisations who are doing work to help our planet through 1% for the Planet," says Jordan, "and we are Climate Neutral certified, backing that we have been a carbon neutral company since day one." Bravo!
Supporting the makers
It's a sad reality that some brands strive to do well in one area but are let down by the others. Not so for Boyish, who scores 'Good' or 'Great' across the board for the planet, people, and animals. Boyish chooses to partner with factories with fair, safe, and healthy working conditions, supporting employers in providing meaningful jobs. They have a strict Code of Conduct and are striving to ensure 100% of their workers earn living wages—" We joined the Lowest Wage Challenge to motivate others that worker compensation transparency is extremely important." 
Check out the brand's sustainability page for more detail, and prepare for your eyes to light up!
Our 7 favourite pieces from Boyish
Just the background info has made Boyish one of our favourite brands! So, now we've learned we can buy Boyish jeans and clothes with peace of mind knowing that they are safer for the environment, the makers, and our animal friends. What about the styles themselves? Jordan clues us in—"Not only are they a better choice for the environment, but they are stylish, high quality, and reminiscent of your favourite pair of vintage jeans." Here are our 7 faves by Boyish, from the staples to the new collection that is "inspired by the Romantic era, embracing iconic Victorian silhouettes with statement sleeves, soft textures, and classic suiting pieces." Let's go!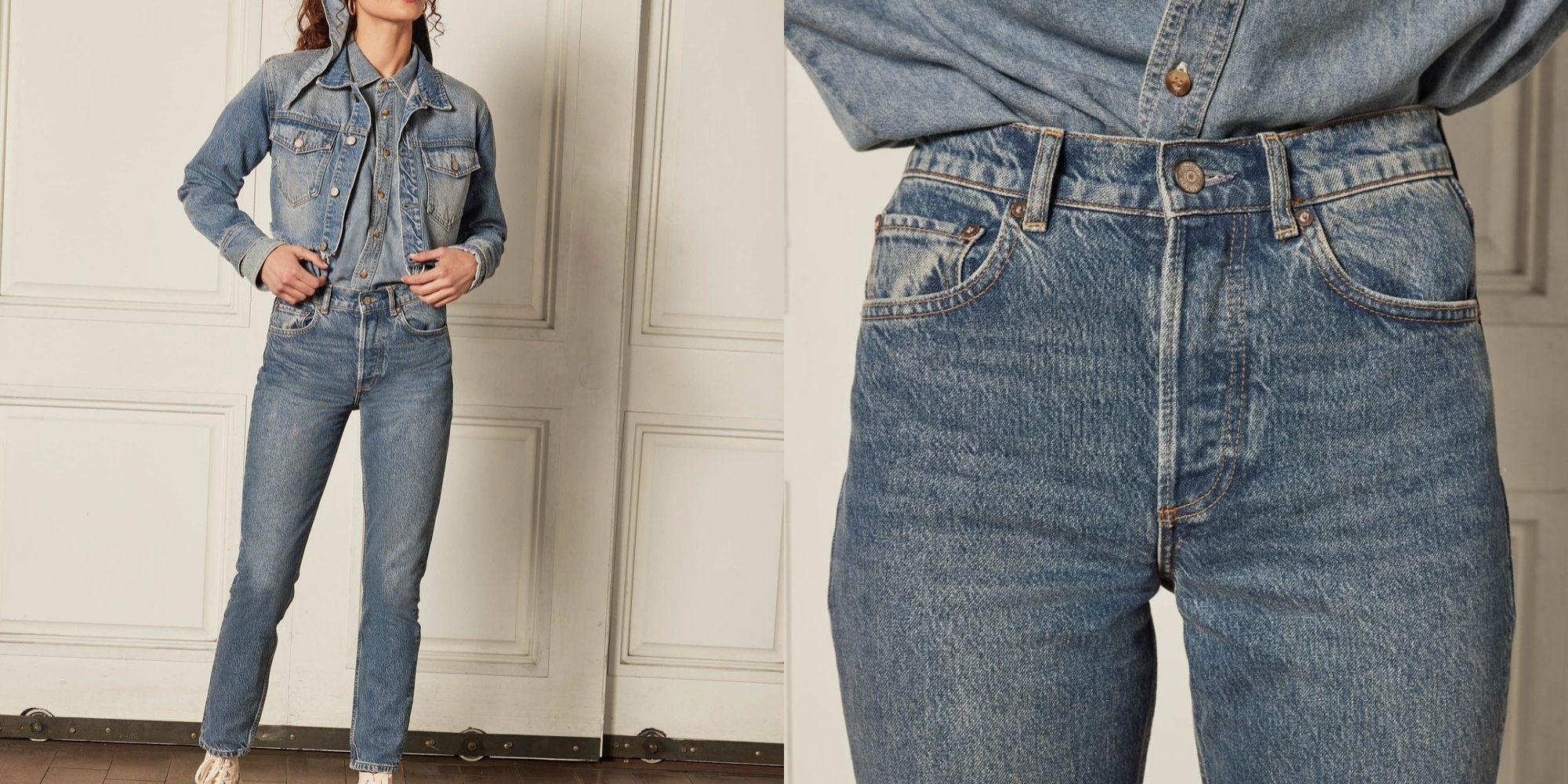 How iconic is this denim top-to-bottom look? The Billy jean (geddit?) is your new classic. A high waisted, rigid skinny jean reminiscent of the most perfect hip hugging vintage denim in a 70s blue clean eco wash.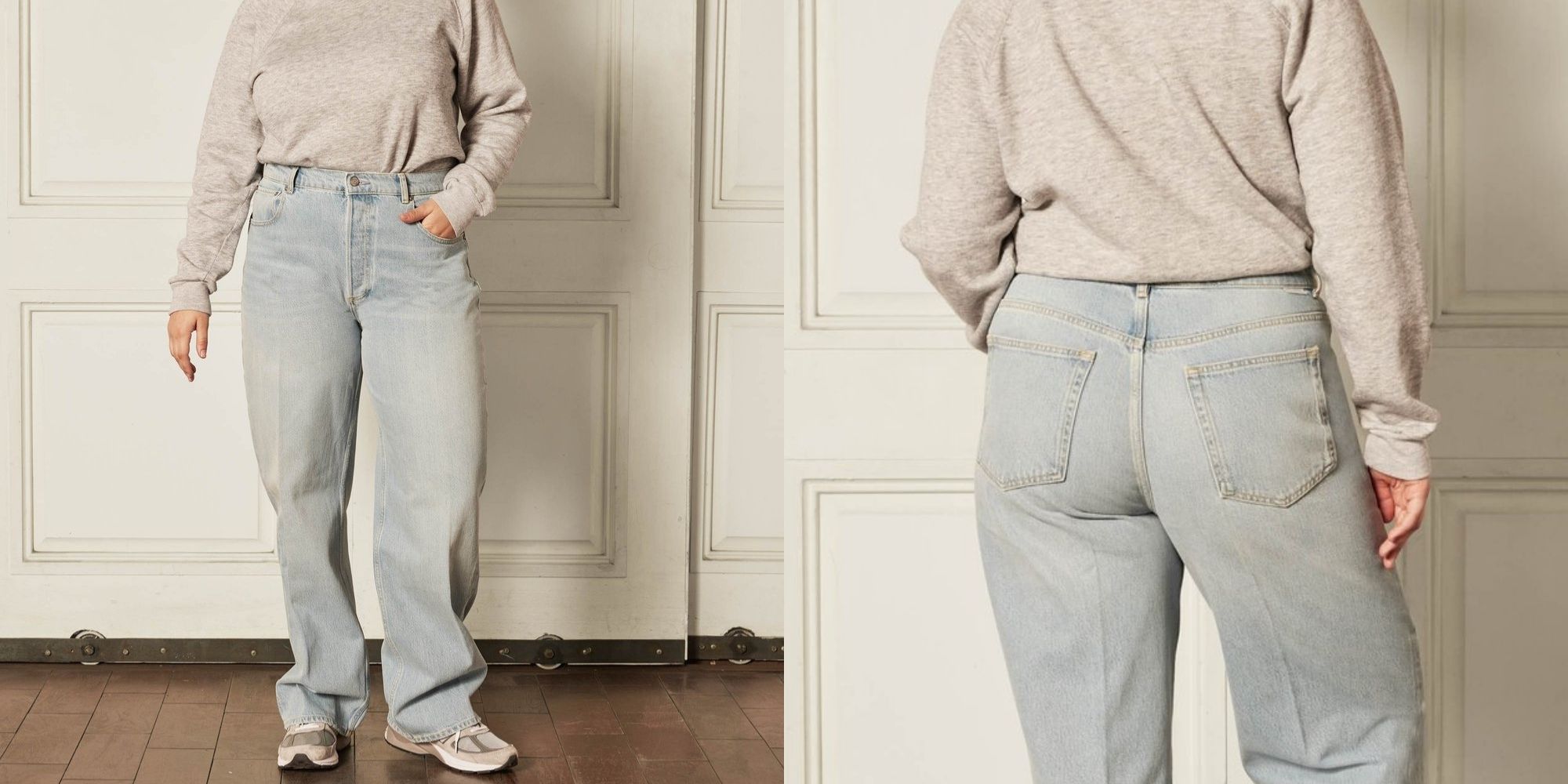 The Ziggy is a high waisted relaxed straight jean giving an edge to your ethical fashion collection. These jeans are made with a blend of organic cotton and TENCEL™ Lyocell, reducing their carbon footprint and water usage compared to traditional jeans!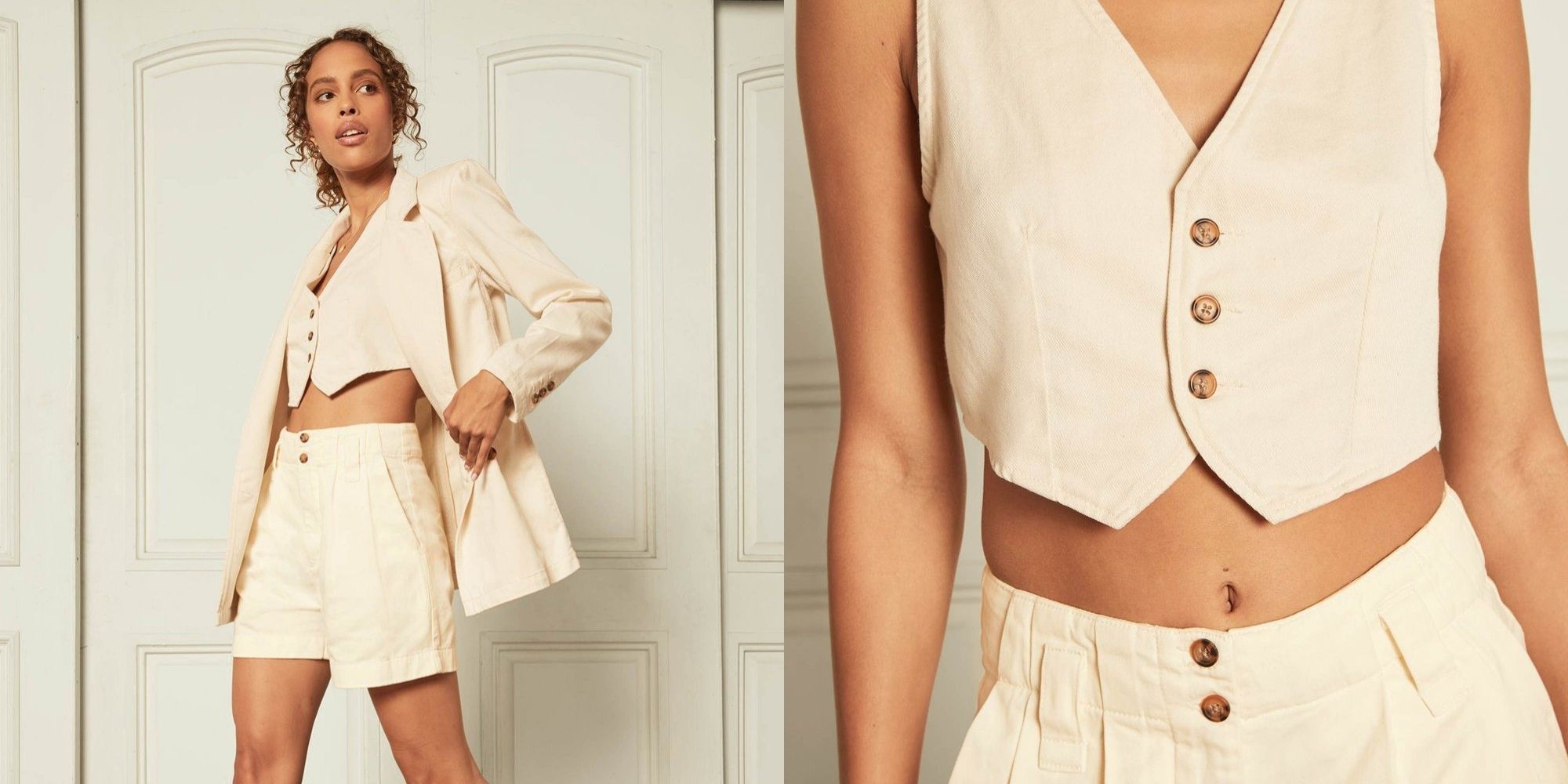 We're low-key obsessed with the new Natural range, made with OCS Certified Organic Cotton and TENCEL™ Lyocell, a natural raw material from eucalyptus trees. Pair the blazer with the Leon shorts and Milo cropped vest for a full 3-piece swoon-inducing summer suit look.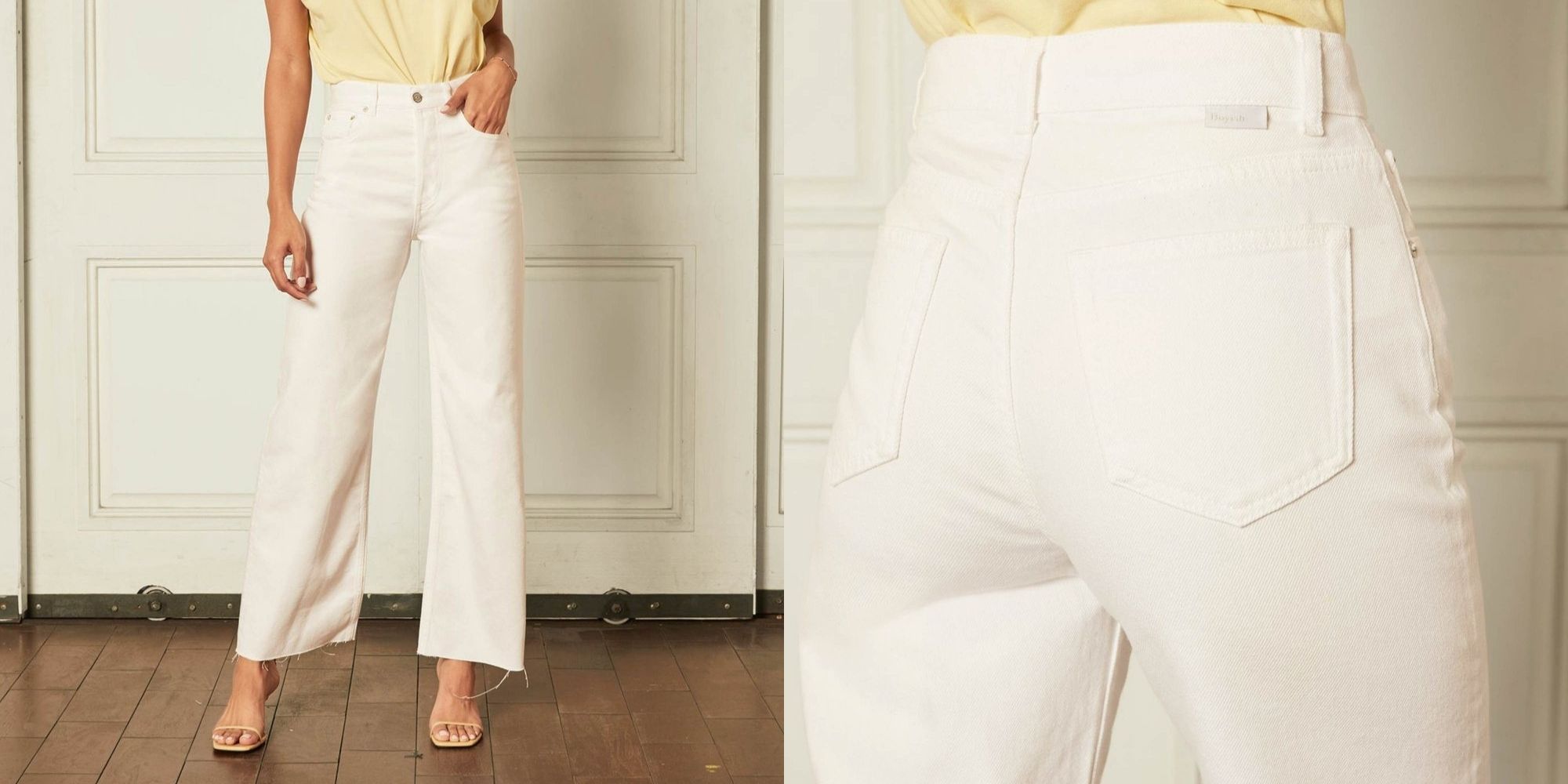 The Boyish take on rigid high waisted wide leg jeans. The Charley comes in a vintage white wash with a raw hem.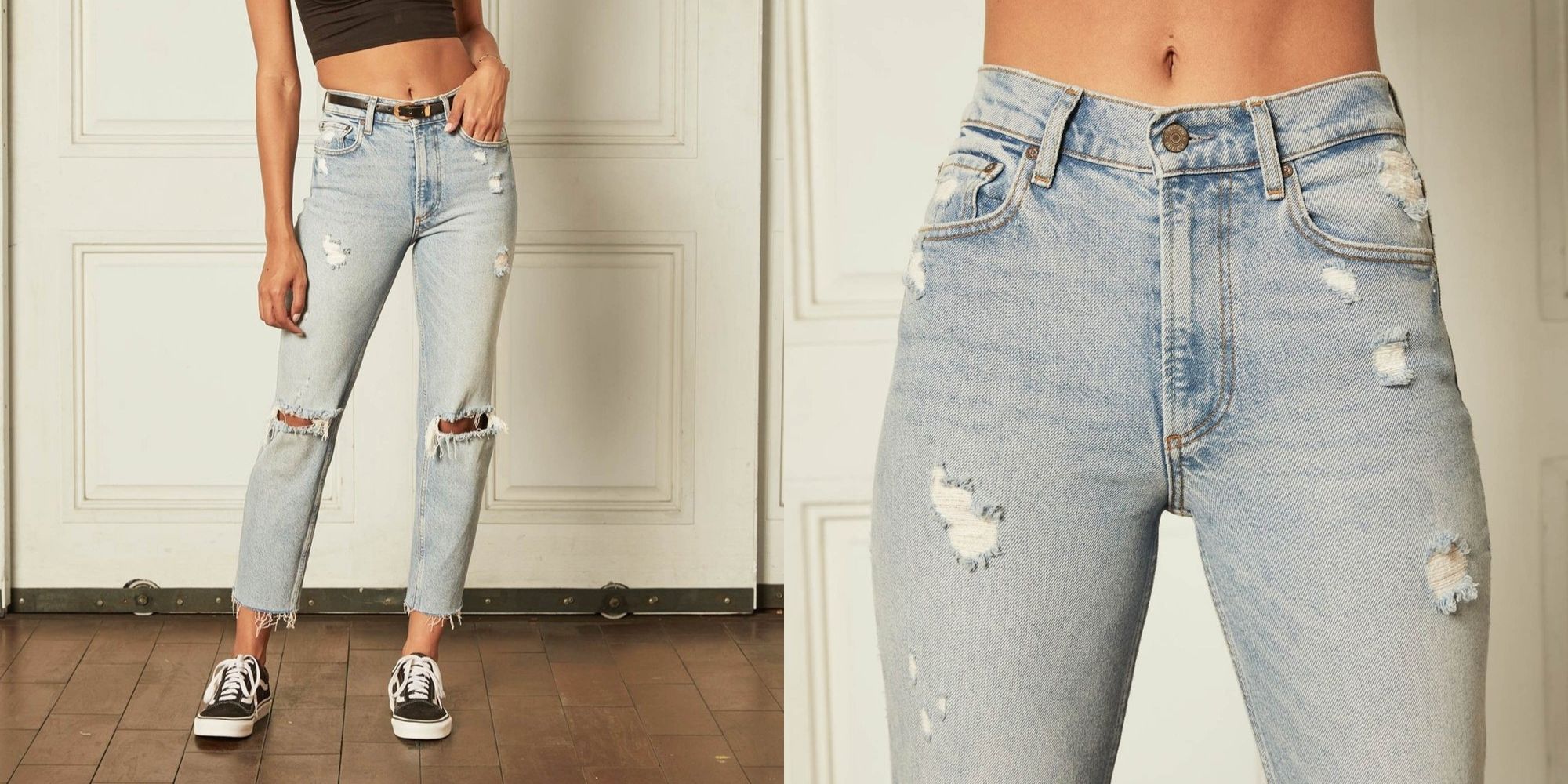 The classic straight jean you love, this time with stretch. The Tommy Stretch in Sliding Doors is a cropped straight-leg jean with destruction and a raw hem. Bring back the torn look, done sustainably!