This is a sponsored article about a brand that was independently assessed by our rigorous ratings system. We're proud to only collaborate with "Good" and "Great" rated brands. Learn more.
Meaningful essentials brand ASKET is expanding its new womenswear collection with two new staples: tees and shirts in silky sustainable Lyocell fabric. Here's why they're the perfect addition to your curated wardrobe.
Have you met?
We've been in touch with Swedish brand ASKET for a few years now, always eager to hear about their latest projects. What started as a menswear brand has since expanded its timeless, permanent collection to include a range of minimalist womenswear made from lower impact fabrics any conscious closet would be lucky to have.
Our favourite thing about the brand is their blatant rejection of overconsumption, something so many of us get swallowed up in, in the world of ultra fast fashion. Their entire ethos is "The Pursuit of Less", which they put into practice by slowly and carefully creating and curating their pieces over longer periods of time, in a perfect example of slowing down fashion (something the industry sorely needs). They encourage buyers to consider their purchase and learn the origins and exact cost breakdown of every item, and provide repair and recycling services, allowing the garments to come full circle. Basically, they take responsibility for the products they put out in the world—as every brand should.
We're building a permanent collection of zero-compromise pieces, made under full transparency and with lifecycle responsibility.
Introducing ASKET's first Lyocell garments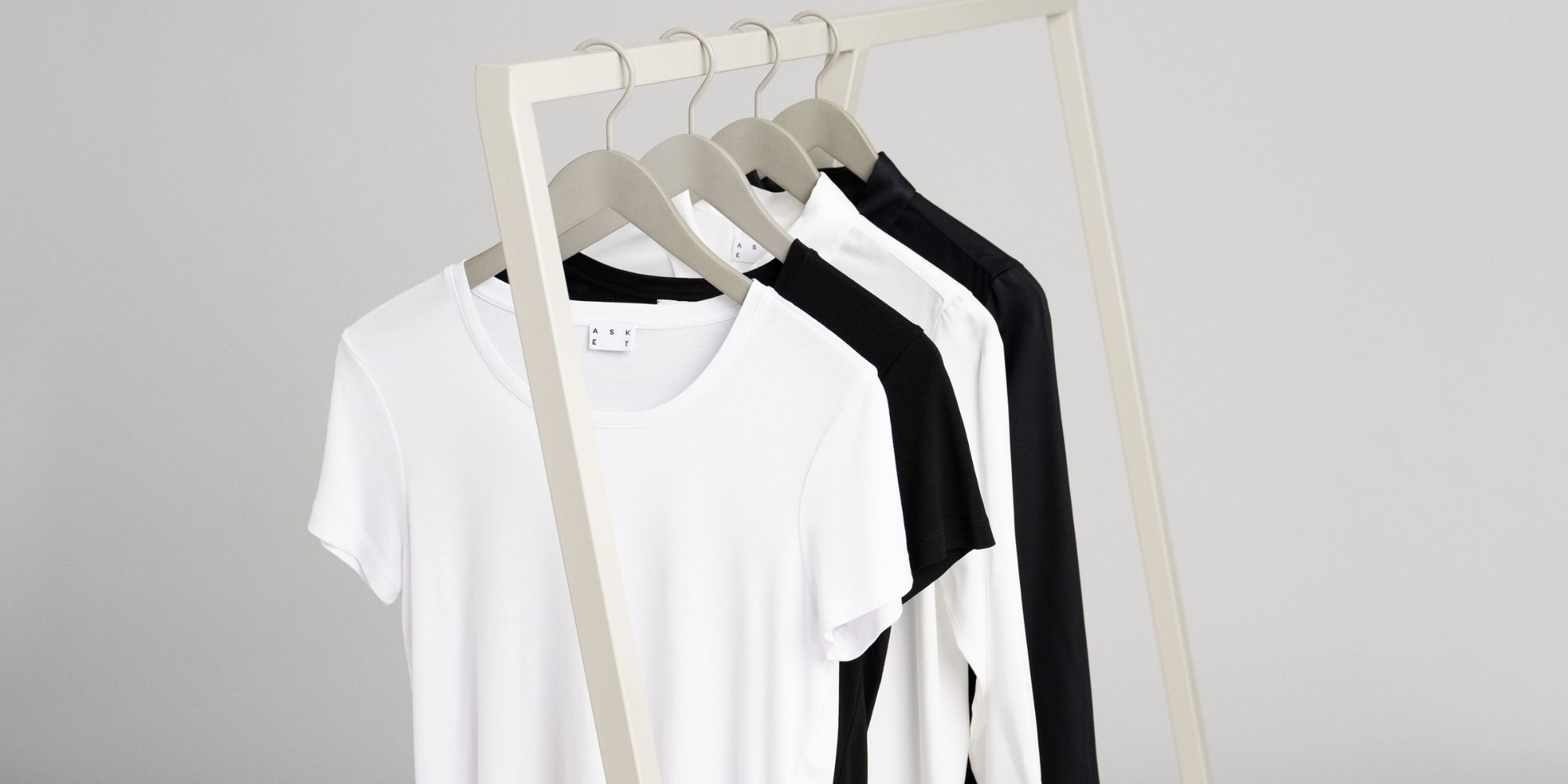 What's silky but not made of silk, sustainably made from wood pulp, and looks great in your capsule wardrobe? It's ASKET's Lyocell tees and shirts, of course. Here's the low-down on the Lyocell looks.
Sustainably made with TENCEL™ Lyocell
If you haven't heard of TENCEL™ before, it's a type of cellulosic fibre made from wood pulp and a chemical solvent to create a soft and strong rayon-like material. ASKET partnered with Austrian company Lenzing AG for the new tops, who make a variety of TENCEL™ fabrics, with Lyocell taking the top spot for sustainability: "from harvesting wood to fibre production, Lenzing sources raw materials only from FSC® and PEFC™ certified forests to prevent the use of wood pulp from endangered forests. In addition, during the manufacturing process Lenzing proprietary technology recovers and recycles more than 99 percent of the organic solvent, while also lowering carbon emissions by scaling up their use of bioenergy and renewable electric power."
TENCEL™ Lyocell is a good option to mimic the properties of silk (soft, strong, drapey) minus the negative impacts on people, the planet, and animals associated with conventional silk production.
Available in two timeless styles
As ever, ASKET and the team took their time coming up with the perfect two styles for their latest addition to the burgeoning womenswear collection, designing the pieces "without compromising in quality as well as taking environmental impact into consideration".
First up is The Lyocell T-Shirt. This tee has an exquisitely silky hand feel and natural sheen. Featuring a more open neckline and a slightly capped sleeve, the fabric gives this style a fluid drape and a touch more sophistication—meaning it's perfect "as an elevated staple that looks just as appropriate tucked into jeans as it does combined with a skirt and blazer."
The real star for us is The Lyocell Shirt. Cut from a TENCEL™ Lyocell sateen weave, it's an elegant and classy take on a classic button-up, featuring smooth Mother of Pearl buttons on the French placket and an inverted box pleat at the back. "The Lyocell shirt is nonchalant yet refined and the ideal piece to elevate any everyday wardrobe."
Shop the new timeless Lyocell tops
If you're in the market for some more sustainable basics that will fit seamlessly with any outfit, The Lyocell T-Shirt and The Lyocell Shirt are available now in black and white in sizes 2XS-2XL.
The Lyocell T-Shirt | Black + White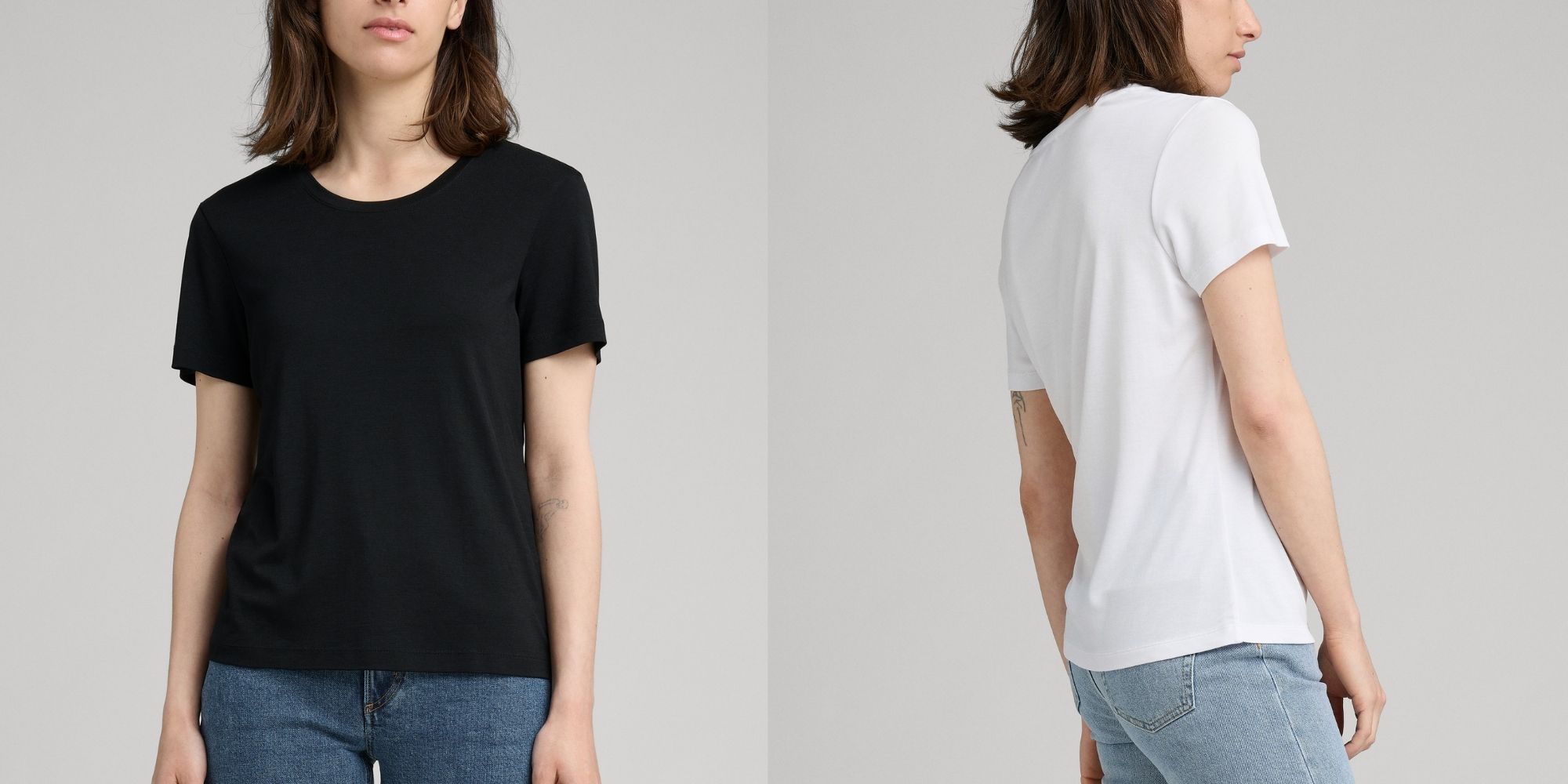 The Lyocell Shirt | Black + White