Ultra fast fashion takes everything harmful about fast fashion and speeds it up. But that only starts to describe its dark side. This exposé dives deep into TikTok #hauls, brands' gross labour abuses, and creepy "surveillance capitalism".
The most troubling story in fashion
Like many trends in the 2020s, the story of ultra fast fashion starts with TikTok. And it often goes something like this. A young woman poses in a bedroom, hugging a bunch of plastic bags. She raises an eyebrow, bites her lip, and then winks before the video quickly cuts to the next clip: her hands on a pair of scissors, opening the first of many packages.
Over the next 30 seconds, this video jumps between ripping bags open and modelling what's inside—elf cosplay ears, butterfly printed socks, more plastic bags containing individually plastic-wrapped garments and accessories. It's all set to Taylor Swift's "Blank Space". As Swift sings "you look like my next mistake", the TikToker empties another package on her bed, covering her mouth in excitement.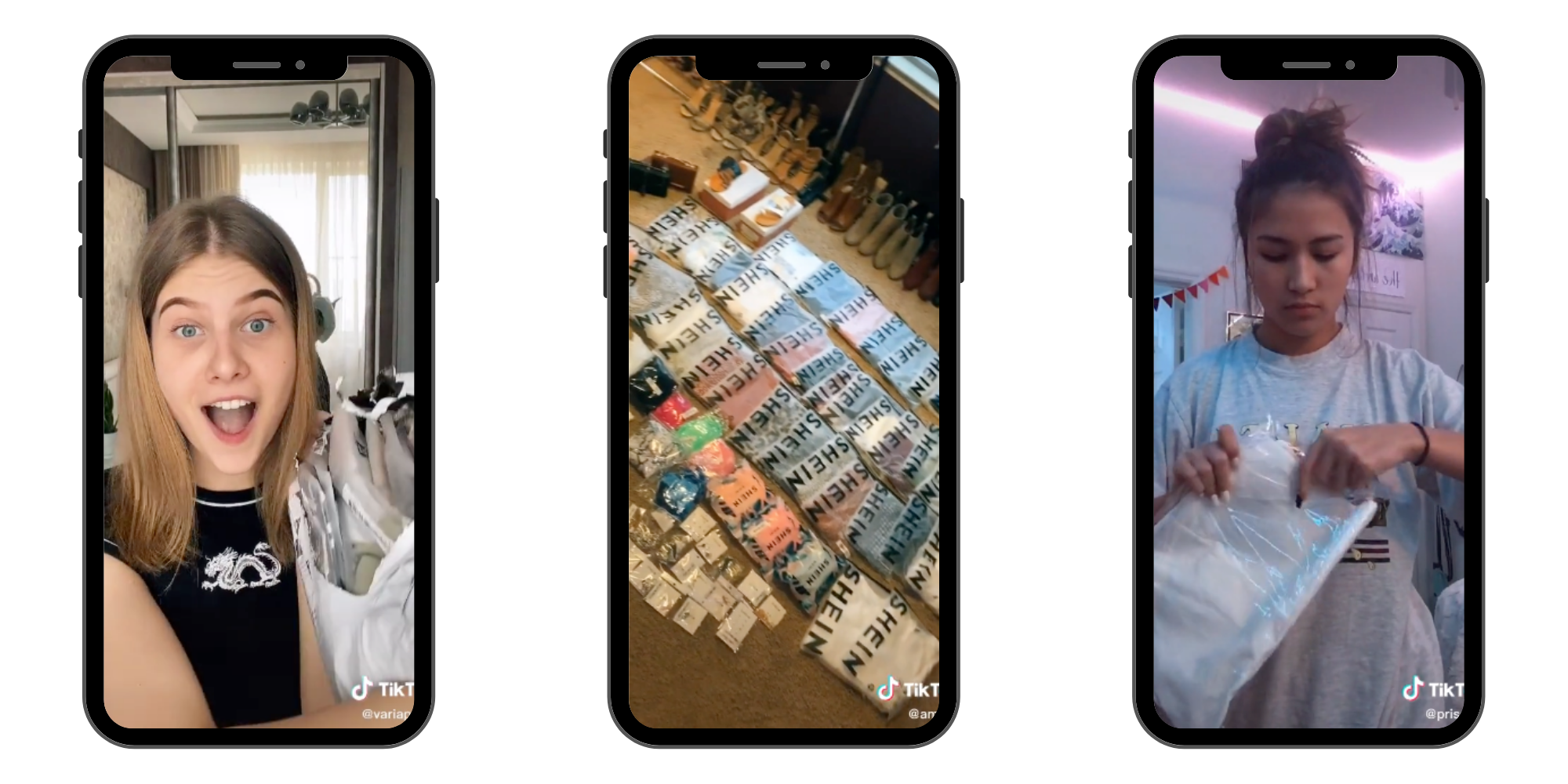 There's no use in individually calling out this TikToker or this video, which has racked up more than 700,000 likes. It's nowhere near the most watched video of its kind. She's simply reenacting the fashion haul meme, which has become massively popular with young social media users. Hauls first emerged on YouTube in the 2010s. But they've reached new levels of notoriety in the 2020s on TikTok among Gen Z shoppers. Videos tagged with #haul on TikTok have cumulatively been viewed more than 15 billion times as of writing, and that number increases every minute.
When you scroll through fashion hauls, you see countless examples of consumption on steroids. In one typical video that's captioned "*accidentally* spent $480 at #SHEIN", a TikToker unpacks big boxes and lays dozens of packaged garments out in her room, covering the floor. In another video captioned "Another haullll #princesspolly", a different TikToker shows off dresses she purchased during Princess Polly's Black Friday sale. "You're not going to believe me when I tell you how much I paid for these," she says as she holds her plastic-wrapped dresses, "'cause it's insane—it was so cheap."
Most consumers on TikTok seem to know little about ultra fast fashion's dark side.
Considering the plunging prices for fast fashion over the past few decades, these garments are historically cheap in terms of both quality and price. They're the products of a relatively recent mutation of fast fashion known as "ultra fast fashion". If that sounds ultra bad, that's because it is.
Ultra fast fashion ranks among the most troubling stories in fashion and tech today. But with all the cheerful displays of overconsumption, most consumers on TikTok seem to know little about ultra fast fashion's dark side—how this newish wave of brands accelerates the industry's environmental impacts, worsens garment workers' already dismal job conditions, and stalks shoppers all over the web to predict what you'll want to buy next.
Ultra fast fashion v fast fashion: what's the difference?
What is ultra fast fashion? In the simplest sense, ultra fast fashion retailers take everything bad about fast fashion and speed it up. That means faster production cycles, faster trend churn, and faster to the landfills. The clothing is ultra plastic, with at least half of these garments made from virgin plastics that will shed microfibers into waterways and the air for years to come. Consequently, the negative impacts on workers and the environment reach depressingly new lows. And it's only getting worse.
Using Good On You's independent ratings, I surveyed the sustainability records for five of the most popular ultra fast fashion brands—SHEIN, Fashion Nova, Boohoo, PrettyLittleThing, and Cider. What I found is both distressing and unsurprising: all of these brands receive Good On You's lowest score, "We Avoid", for their records on key social and environmental issues.
The industry's widespread exploitation of garment workers constitutes, in the words of Business of Fashion contributor Bandana Tewari, "modern-day colonialism". And ultra fast fashion brands appear to be taking the industry's deplorable record to new lows.
For their track records on labour, in particular, these brands again receive the lowest marks. We've found zero evidence that any of these brands pay living wages—100% of these brands fail to disclose any meaningful information about forced labour and the wellbeing of the workforce. And watchdog groups have found that the situation is dire. With SHEIN's suppliers, for example, a late 2021 report from NGO Public Eye revealed that workers were putting in 75 hour weeks, receiving only one day off per month, and pay per item of clothing—all in gross violations of labour laws.
100% of these brands fail to disclose any meaningful information about forced labour and the wellbeing of the workforce.
"If fast fashion for the past few decades has been characterised by low prices, high volume, and relentless pace, then the new wave of ultra fast fashion brands are pushing those three criteria to their absolute extreme—and pushing millions of already impoverished garment makers to the breaking point", says journalist Lauren Bravo, author of the essential handbook "How To Break Up With Fast Fashion".
For many millennials, fast fashion conjures early 2000s memories of trips to the shopping centre to check out the latest styles at well-known stores like H&M, Zara, American Apparel, Forever 21, and Abercrombie & Fitch—a handful of the many multinational brands that get grouped under the fast fashion umbrella. Fast fashion ushered in an unprecedented era where trends seen on the runway could pop up on racks at your local mall in a few weeks' time. Where once fashion revolved around a couple of seasonal collections per year, these trend-focused retailers essentially changed that to 52 "seasons", with their collections seeming to change each time you'd stop by.
Ultra fast fashion turns fast fashion's "weeks" into days and "dozens of styles" into hundreds and thousands. The numbers alone sound sinister. Brands like SHEIN and Boohoo are reportedly posting thousands of new styles to their websites on a daily basis. Sometimes, knockoffs of trending celebrity and pop culture styles will appear online in as little as 24 hours, as so happened with a knockoff of a vintage Thierry Mugler dress Kim Kardashian wore. It's e-commerce that seems to happen in real time.
"We've reached the point where clothing is now essentially being sold as a 'Fast Moving Consumer Good', in the same category as snack foods, fizzy drinks, toothpaste—as something entirely disposable, to be consumed once and then thrown away," Bravo tells me. "Except, of course, with fashion there is no 'away'. Those synthetic clothes will be weighing down the planet for a century or more." That's only where the bad news begins.
The big, bad brands taking over your feed
Influencer culture is now deeply embedded into the supply chain. The leader in TikTok's haul of shame is indisputably SHEIN. My analysis into the brands that get the most #haul views on TikTok found that SHEIN's number into the billions, with similar brands trailing in the hundreds of millions. (Conducting similar research, a UK-based brand agency found in June 2021 that SHEIN far outshone its competitors in TikTok exposure.) Clocking in at hundreds of millions of views, brands like PrettyLittleThing and Boohoo—both owned by the UK-based Boohoo Group—are also household names on TikTok.
These brands' popularity on social media represents the pinnacle of shopping as entertainment—with poor quality garments produced as if they were only intended to last for a TikTok moment.
People are no longer shopping for clothes—they're shopping for content.

Lauren Bravo
Voir cette publication sur Instagram
"People are no longer shopping for clothes—they're shopping for content," says Bravo. "It's no coincidence that ultra fast fashion has grown alongside social media and influencer culture. Together, those industries have shifted perceptions of clothes as tactile, tangible real-world items to products that primarily just need to look good in a TikTok or Instagram photo."
Ultra fast fashion retailers have no brick and mortar stores. They keep their operations entirely online, where their overhead costs are low and impulse purchases are instantaneous. And unlike the traditional fashion marketing mix, ultra fast fashion focuses its efforts overwhelmingly on TikTok, where they work with a vast network of teenage and early twenty-something shopping influencers. Demographically, white Gen Z women in Europe and North America produce the most viewed videos, but the brands have a global, multilingual reach.
And similar to how fast fashion grew during the cash-crunched Great Recession, ultra fast fashion brands have seen exponential growth through the pandemic, as locked down young people have been spending record amounts of time in front of digital screens—swiping through videos and quickly purchasing many of the trendy garments they see.
Disposable culture is now the norm
Hauls are one of the dominant fashion memes today. And that plays a key role in redefining our relationships with clothing. "A lot of fashion content on TikTok is haul and consumption based, which makes it seem like fashion is all about shopping, when in reality, fashion is an artform that exists outside of shopping", says Lily Fang, the creator who runs the popular @imperfectidealist TikTok account focused on sustainable fashion.
Certainly, anyone who spends some time engaging with fashion content on TikTok could easily get a distorted sense that ultra fast fashion is the beginning and end of fashion. And that perspective seems to be shaping a generation of content creators. The target audience for sponsored "hauls"—where prominent TikTokers often receive free products and some level of compensation to post about their fashion binges—is overwhelmingly young women.
It's hugely wasteful. We're already seeing it with SHEIN taking over thrift stores.

Lily Fang
Ultra fast fashion's aesthetic focus on popular celebrities only adds to the overconsumption itch. Where fast fashion has often drawn influence from high fashion's runways, ultra fast fashion brands look to social media's most popular figures. In 2021, SHEIN tapped Khloé Kardashian and a panel of celebrities as judges for a design competition. Kourtney Kardashian has collaborated with PrettyLittleThing for a collection. And Cardi B launched her first clothing line with Fashion Nova, even rapping in her track "She Bad" that she "could buy designer, but this Fashion Nova fit all that ass".
"These brands push people to constantly buy—and buy in huge quantities," Fang explains. "And since they rely on microtrends, it's hugely wasteful because people will wear something just a couple times before getting rid of it. We're already seeing it with SHEIN taking over thrift stores."
A generation now views ultra fast fashion's historically low price points and disposable culture as the norm, with many young people considering garments worn out after only a few washes. This overproduction and quick disposal has exacerbated fashion's waste crisis. While verifiable stats about fashion's impact are hard to track down, at least one study has suggested that for every five garments produced, three end up in landfills or incinerators.
"Ultra fast fashion's relentless churn makes it almost impossible to consider a purchase before you commit," Bravo says. "Instead, you take the risk and buy—because when it's only the price of a sandwich, what do you have to lose?"
'Surveillance capitalism'—tracking your every click
Have you ever had a dress put a curse on you and follow your every move? Without giving the plot away, that's the concept behind the film "In Fabric", in which a haunted red dress torments an unlucky shopper. That horror comedy seems like quite an apt metaphor for the Orwellian way ultra fast fashion brands capture your data with every click, monitor your every interaction across digital channels, and creepily project pictures of your previously viewed items on almost any website you visit.
Fast fashion brands like Forever 21 and H&M are known for cringey digital marketing tactics, with a barrage of ads and emails that put pressure on you to click and buy ASAP. Ultra fast fashion brands do that, too—but with far more, and far more precise, data.
Companies like SHEIN and Boohoo have built their entire business on harnessing user data to predict what styles will sell next—and sell fast. This has led to considerable growth. SHEIN, for instance, surpassed both H&M and Zara in US sales in 2021.
This commercial success is based, in large part, on TikTok's infamous artificial intelligence. Every time you view, like, or comment on #haul content, TikTok's algorithms get better at serving you similar kinds of content you'll find entertaining. Its algorithm so successfully predicts what you'll be interested in watching that a headline in The New York Times declared "TikTok reads your mind". "The algorithm tries to get people addicted", Guillaume Chaslot, founder of Algo Transparency, told The Times. Chaslot said that each video users watch gives TikTok more information about them, and "in a few hours" the algorithm can detect things like musical taste, interest in drugs, whether they're depressed, and more potentially sensitive assumptions.
Algorithmic oppression is not just a glitch in the system but, rather, is fundamental to the operating system of the web.

Safiya Umoja Noble
Many analysts believe such algorithms can cause social harm. Increasingly, organisations like the Algorithmic Justice League and scholars such as Safiya Umoja Noble highlight, in the words of Noble, how "algorithmic oppression is not just a glitch in the system but, rather, is fundamental to the operating system of the web". Similarly, Netflix's hit documentary "The Social Dilemma" outlined the impacts that platforms like Instagram and TikTok have to manipulate our lives and shape opinions. In 2021, for example, a leaked Facebook report showed that the company was aware that Instagram had negative influences on teenage girls' body image.
Ultra fast fashion piggybacks on the negative side effects of these algorithmic systems—gathering data from content shared on these platforms and pairing that with the data they glean from their own customers. Many describe this system of stalking users for commercial advantage as "surveillance capitalism", a term coined by Harvard professor Shoshana Zuboff.
By surveilling your digital life, brands gain access to a vast web of data that allows them to make increasingly more accurate predictions about what will trend next, often with frightening accuracy.
"It feels as though these brands put far more effort into developing the algorithms that stalk us, study us, and then chase us around the internet with targeted ads, than they do into designing great clothes", Bravo tells me.
Breaking an ultra fast fashion addiction
In taking over our TikTok feeds, these brands have an extraordinary power not only to increase the pace of churning trends but also to manipulate young peoples' mental health.
"Fast fashion addictions are often the result of an insecurity," Fang tells me. "This could be an insecurity stemming from not having enough—pushed by the constant ads—or not fitting in. This isn't as simple to resolve, but removing yourself from situations that make you feel like you don't have enough or aren't enough is a good place to start."
Fast fashion addictions are often the result of an insecurity.

Lily Fang
Deleting the apps, unfollowing influencers who partake in the #haul culture, and unsubscribing from brands' marketing emails are a few places Fang says you can start breaking ultra fast fashion's microtrend obsession. "You can replace that with more supportive content and slow fashion creators who focus on styling, practical tips, etc instead of shopping," she suggests. Recently, she's been discovering the joys of getting clothes tailored.
Ultimately, brands are responsible for their massive exploitation of garment workers—creating massive profits for only a handful of billionaires and environmental harm to the planet. But added together, people still have significant power to hold these companies accountable as consumers and push for legislation as citizens. On the regulatory front, the Fashion Sustainability and Social Accountability Act under consideration in New York state is one promising step in this direction.
And in advocating for change, ultra fast fashion addicts will come to rethink not only the ethics of overconsumption but their own personal style.
"If people think they need to constantly shop and participate in trends to be fashionable, I'd argue that they don't actually have a good sense of their personal style," Fang says. "Learning to slow down actually encourages you to get more creative." And in a world where the hustle of microtrends dominate, slowing down is, in its own way, radical.