This is a sponsored article about a brand that was independently assessed by our rigorous ratings system. We're proud to only collaborate with "Good" and "Great" rated brands. Learn more.
Yes Friends is launching a range of accessible sustainable and ethical denim. Here's what you need to know. 
Yes Friends is at it again with your new favourite denim
We met actually affordable UK brand Yes Friends in 2021 when they were freshly created—and freshly rated "Great", our top score—and we've been going steady long enough now to admit it was love at first sight. If you haven't heard of them (where have you been?), they cracked the code for low-impact, high-quality clothes that won't break the bank. And we're not just saying that: their original tees are only £7.99.
Since we fell into each other's orbit, the brand has expanded its range to include some cool colours and even released super cosy hoodies. But today, we're excited to share their latest innovation with you: a pre-order campaign for "the most affordable sustainable and ethical denim in the world". Is anyone else's heart fluttering?
This month, we'll be releasing the most affordable, sustainable, ethical denim on our planet. And together, we can transform the fashion industry. One pair of jeans at a time.
A Ferrari for the price of a Fiesta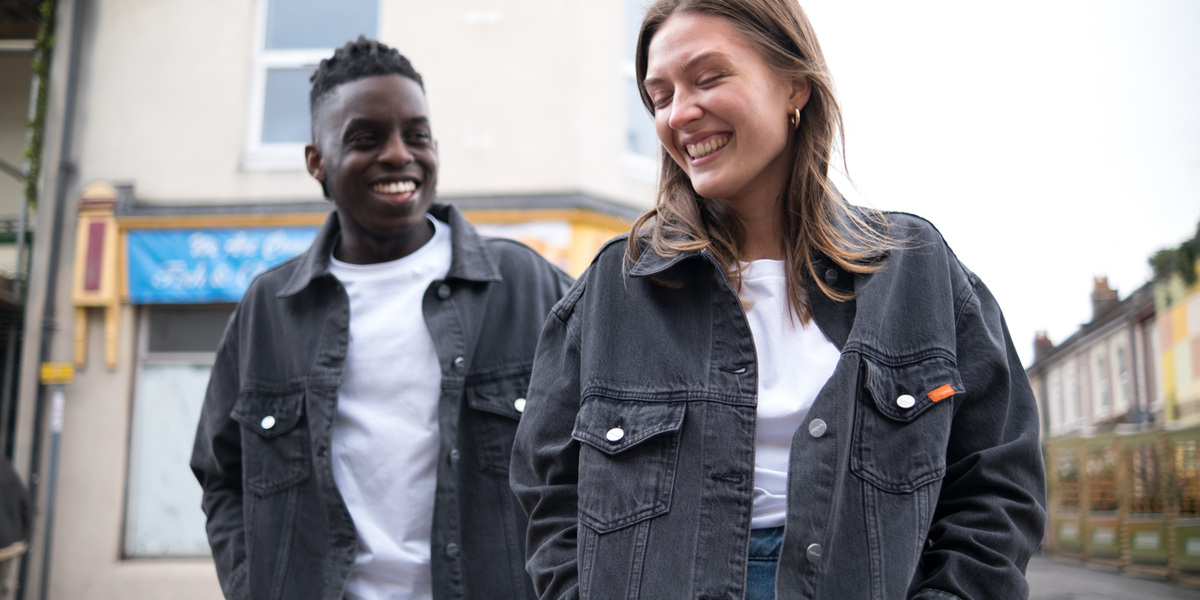 One of our favourite things about Yes Friends is how they involve their (loyal and growing) community in every step of the production process. From lightbulb moment to mock-up to pre-order, the team runs everything by the people who will eventually wear the very clothes they're working to create. This kind of transparency is crucial in fostering a committed, long-term relationship with our clothes.
And that's exactly what happened with the new denim designs. Take the oversized vintage jacket, for example: after their designer dreamed up a 3D jacket, Yes Friends put it to the people. And the votes rolled in: yes, we want this denim jacket to come to life. And can it be classic washed black, pretty please? Yes, friends.
Since then, the brand has been working hard to bring a small-yet-mighty denim range to life,  featuring jackets and jeans you'll never want to take off. Ok, maybe when you sleep.
Sounds great, you think. But what about that "affordable, sustainable, and ethical" thing you mentioned earlier? It's as simple as 1-2-3.
One: made in the world's top-rated Fair Wear factory
We know how crucial living wages are in a truly ethical fashion system, and you can rest assured Yes Friends is working with a cut and sew factory paying living wages, in an environment that ensures their safety and rights are upheld. Based in Vietnam, it is the only manufacturer in the world rated 100/100 by the Fair Wear Foundation for its exceptional ethics.
If these jeans took you out for dinner, they'd leave a tip.
By partnering with tip me, Yes Friends has become the first UK brand to allow you to tip your garment workers directly. Most jeans are still handmade by real people behind real sewing machines, and now you can say an extra big thank you right above the "add to cart" button. 100% of the tips will go directly to the garment workers.
Living wages + Tips = Yes Friends Denim
Two: using low-impact fabrics and washes
So far, Yes Friends has worked exclusively with Fairtrade and organic certified cotton for its tees and hoodies. In the denim collection, they are branching out to incorporate both hemp and biodegradable polyester. Hemp constitutes a highly sustainable crop that more and more conscious brands are tapping into for their designs. And their biodegradable and recycled polyester means your jeans won't be dug up by archaeologists in the future.
What about the washing process? The brand uses eco-washing methods like lasers to make the collection. This means the denim fabric has a low-impact Environmental Impact Measurement (EIM) score, which considers the use of water, chemicals, and energy in production.
Three: actually affordable
With affordability being one of the main barriers people face when trying to switch to more ethical and sustainable fashion, Yes Friends champions a "large scale, small margins" business model to tackle it. This means these jeans are released on a pre-order basis and only start being made once target numbers are hit. The result? The final product won't set you back nearly as much as comparable garments on the market.
So, how much will these new denim goodies cost? The jeans will be £39.99, and the denim jackets £59.99. That's less than half the price of a new pair of Levi's and sits closer to the price tags you'd find at fast fashion giant H&M.
Jump on the pre-order today
Ok, enough talking. Here's where you can get your hands (and legs, and arms) on the new eco-friendly, people-friendly, wallet-friendly denim collection we're so glad Yes Friends has whipped up. Is it too soon to propose?