As 2021 comes to a close, it's time for our annual review. Similarly to 2019 and 2020, we wanted to take this time to reminisce and reflect on everything that has happened for Good On You this past year.
So many things have changed since we launched in 2015. Like 2020, 2021 hasn't been smooth sailing, with the world still amid a pandemic and uncertain times ahead. But as our community became even more motivated to buy from brands doing good for people and the planet, we've been busier than ever.
In 2021, we got our total ratings to 3398 brands, made new friends, and launched new features to help you find the best sustainable and ethical fashion on the planet. Let's look back on everything that made this year so special.
We improved our platform to make your search easy
In August 2020, we launched a new and improved ratings system to stay on top of emerging issues, including how brands responded to the COVID-19 crisis, microplastics, and women's rights. This year we kept refining our methodology, creating guidelines for smaller companies, and making our brand ratings as accurate as possible.
We also kept on improving our app and directory experience. Building on the launch of our location filter last year, we introduced a sizing filter, making it easier to find brands that match your style, size, values, needs, and budget. We also updated the search experience on our directory, enabling you to search brands, styles, and countries, and discover more fantastic and sustainable brands.
And as we head into 2022, we're working on new features and rating even more brands to help you see through the greenwashing and ethical spin to find seriously sustainable fashion. As The Guardian put it in July, "The only way to tell if a garment has been ethically produced is by combing through the details on the manufacturer's website (although many brands give little or no information) and checking out its rating on Good On You". We're here to make more sustainable choices easier than ever.
We pushed our content to new heights
This year, we published an astonishing 277 articles, including guides from our staff team, compelling reports from journalists like Maggie Zhou, a powerful essay from Keah Brown, and features with the Centre for Sustainable Fashion and activist Mikaela Loach.
Our collaboration with Sophie Benson on a COP26 report (our first-ever report of this kind, amplified by our supporter, Emma Watson) looked at data on 2,500 brands' environmental track records and highlighted the fashion industry's lack of urgency regarding the climate emergency. We also hosted our first ever Instagram Live session, chatting to Maggie Zhou about her piece on fast fashion and classism to great success.
We grew our community
2021 was a record year for Good On You: over 9 million people used Good On You to make more sustainable choices. Many millions more used Good On You's ratings through our partners. And the number keeps going up.
This year we also surpassed 200k followers on Instagram, where we aim to keep you in the know with news, updates, and inspiration from the best-rated brands.
We joined forces with Microsoft, Farfetch, and Four Paws
We're committed to creating a sustainable future, and through partnerships, we can achieve so much more.
Our ratings also now power Microsoft Bing's new Ethical Shopping hub (currently accessible in the UK, rolling out worldwide throughout 2022), allowing shoppers to browse by ethical fashion brands or products directly in the shopping search results.
We strengthened our partnership with global luxury online retailer Farfetch to rate and curate its Conscious Edit collection. Farfetch sets the standards for big retailers with its commitment to ethical fashion and has used Good On You's ratings as a guide.
Finally, we teamed up with Four Paws for this year's "Animal Welfare in Fashion" report, which takes a deep dive into the animal welfare impacts of more than 100 international brands.
We're stronger together, and joining forces with other notable companies has helped us grow the amazing Good On You community and spread the word about ethical and sustainable fashion even further.
2021 in numbers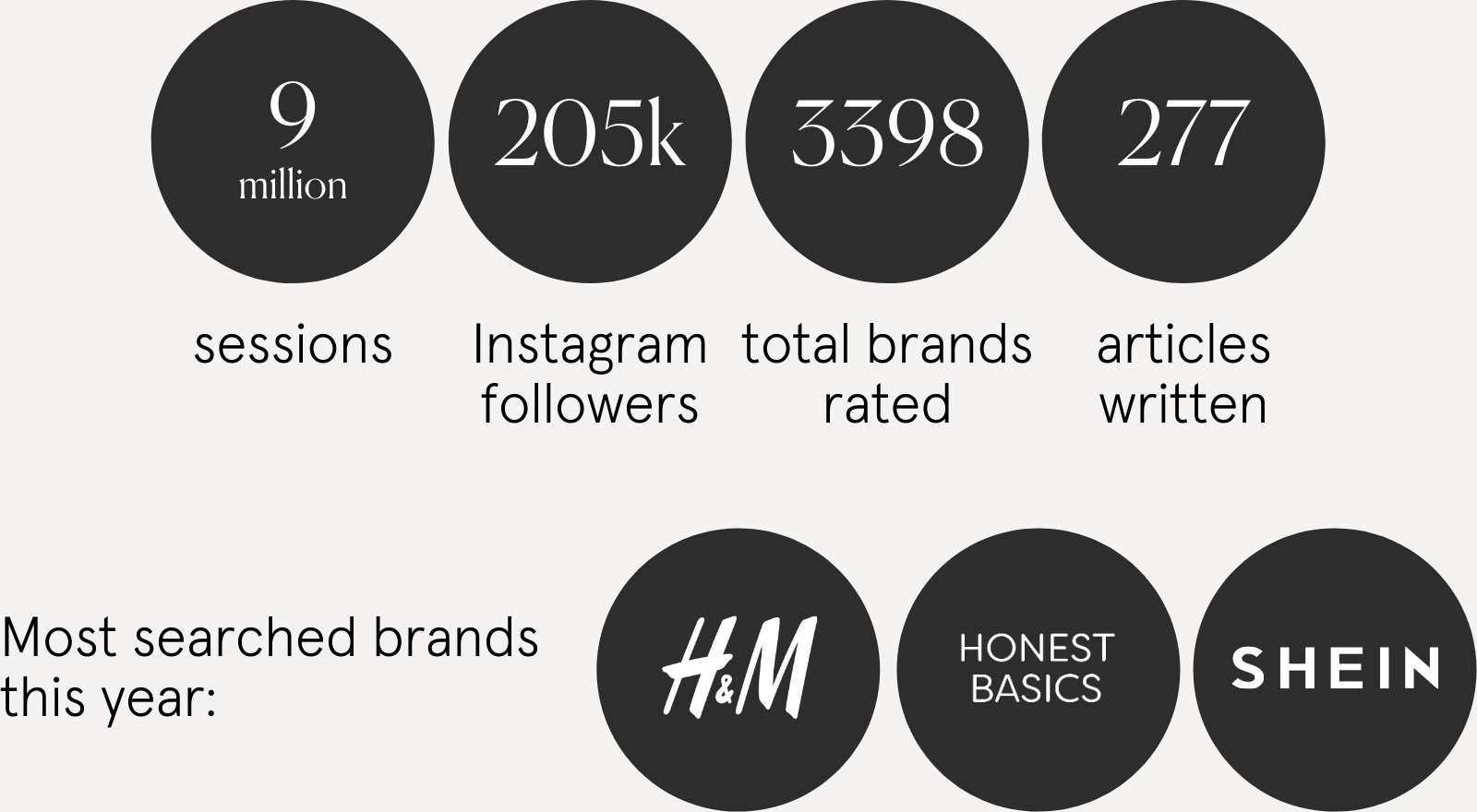 All in all, it's been a fantastic year for Good On You, and it's all down to you.
So thank you. Thank you for your support and for helping us change the fashion industry for the better. We couldn't do what we do without you, and we can't wait to see what next year has in store for us and the sustainable fashion movement as a whole. We're so glad to have you here for the ride.
Bring on 2022.