As 2019 comes to a close, it's time to reminisce and reflect on everything that's happened for Good On You this past year.
So many things have changed since we launched in 2015, and this year has been particularly busy and exciting for us. From making new friends to launching new and redesigned features, let's just say 2019 has been a wild ride.
So, let's take a look back on everything that made this year so special!
Emma Watson became a supporter of Good On You
There's no denying that Emma Watson is a driving force of sustainable fashion and women's rights, which is why we were thrilled to announce her as a supporter of Good On You at the start of this year.
As part of our work with Emma, we've rated a whole stack of brands for her – she uses Good On You as a benchmark so she can be confident her outfits meet high standards of ethics and sustainability.
This year, we also worked behind the scenes to help Emma choose brands for her British Vogue cover shoot. Photographed by Alasdair McLellan in London, Emma chose to wear brands rated 'It's A Start' or above, as well as some second-hand and vintage pieces. What's more, we worked directly with several brands to help them become more transparent and/or more sustainable – and so improve their rating.
It was wonderful to work with Emma and Vogue to shine a light on luxury brands that are stepping up. It's a real testament to the progress being made by the industry, and importantly some of the biggest names in fashion!
We relaunched our website and app with a brand new design
The beginning of this year was marked by the relaunch of the Good On You tools: we worked with a team of designers and developers to rebrand and rebuild our site to help us on our mission to grow the movement for ethical fashion even more.
By making big changes to our logo, design and content, it's been easier than ever for you to access all our great resources on sustainable and ethical fashion. This relaunch proved a great success and helped us reach a record number of people. Together, we're building momentum to change the fashion industry for the better.
We launched our web directory
At Good On You, we love fashion, but like you, we care deeply about the planet, people, and animals. That's why we've been working hard so the industry is more sustainable and fair for everyone.
So, in addition to relaunching our website and app, we also added a new tool to help you find ethical fashion brands: the Good On You web directory! With the directory, you can discover the very best brands from around the world and learn everything there is to know about ethical and sustainable fashion, right from your computer.
If you want to discover the directory and learn how to use it to find sustainable fashion brands worth your support, head over to our How To article!
We teamed up with Farfetch
2019 has also been the year of working with retailers to help them stock the brands we know are doing good so that we can help to change the industry from within.
This is why we teamed up with global luxury online retailer, Farfetch, to rate and curate its Conscious Edit collection. Farfetch is setting the standards for big retailers with its commitment to ethical fashion and has used Good On You's ratings as a guide.
This has helped us grow the amazing Good On You community and spread the word about ethical and sustainable fashion even further into the luxury sphere, which has a lot to answer for—and a lot of influence!
You can see our favourite Farfetch brands making waves across all three areas that we are passionate about protecting here.
We incorporated Rank a Brand
We also made exciting new friends this year! Rank a Brand (a familiar name for many of you) has been a well known and reliable brand comparison site in Europe across fashion, food, homewares, technology, and more for over ten years.
It made perfect sense to team up and continue our shared mission together, so that's exactly what we did. With this move, we build on the pioneering work of Rank a Brand to further grow the global ethical fashion community.
We reviewed our rating methodology
We've been talking a great deal about finding sustainable fashion brands, and you might be wondering how. That's where we come in—specifically our world-class Ratings team.
Good On You is the world-leading source for fashion brand ratings. We do the hard work for you by reading between the lines of thousands of fashion brands' sustainability statements (or lack thereof), pulling all the available information together, then using expert analysis to give each brand an easy to understand score!
That being said, we're committed to maintaining the Good On You brand rating methodology as the most robust, comprehensive, and effective way to compare fashion brands' impact on people, the planet, and animals. We keep the methodology under constant review to ensure that we address the myriad of issues in the fashion supply chain to the highest standard.
We regularly scan for emerging issues, which is why in 2019 we undertook detailed consultation with key industry and civil society organisations including Fashion Revolution, Fashion for Good, Fair Trade, Four Paws and many others.
We now refer to a whopping 91 certifications and schemes when rating brands, and we will be implementing more improvements from our methodology review in the first half of 2020, so stay tuned!
The numbers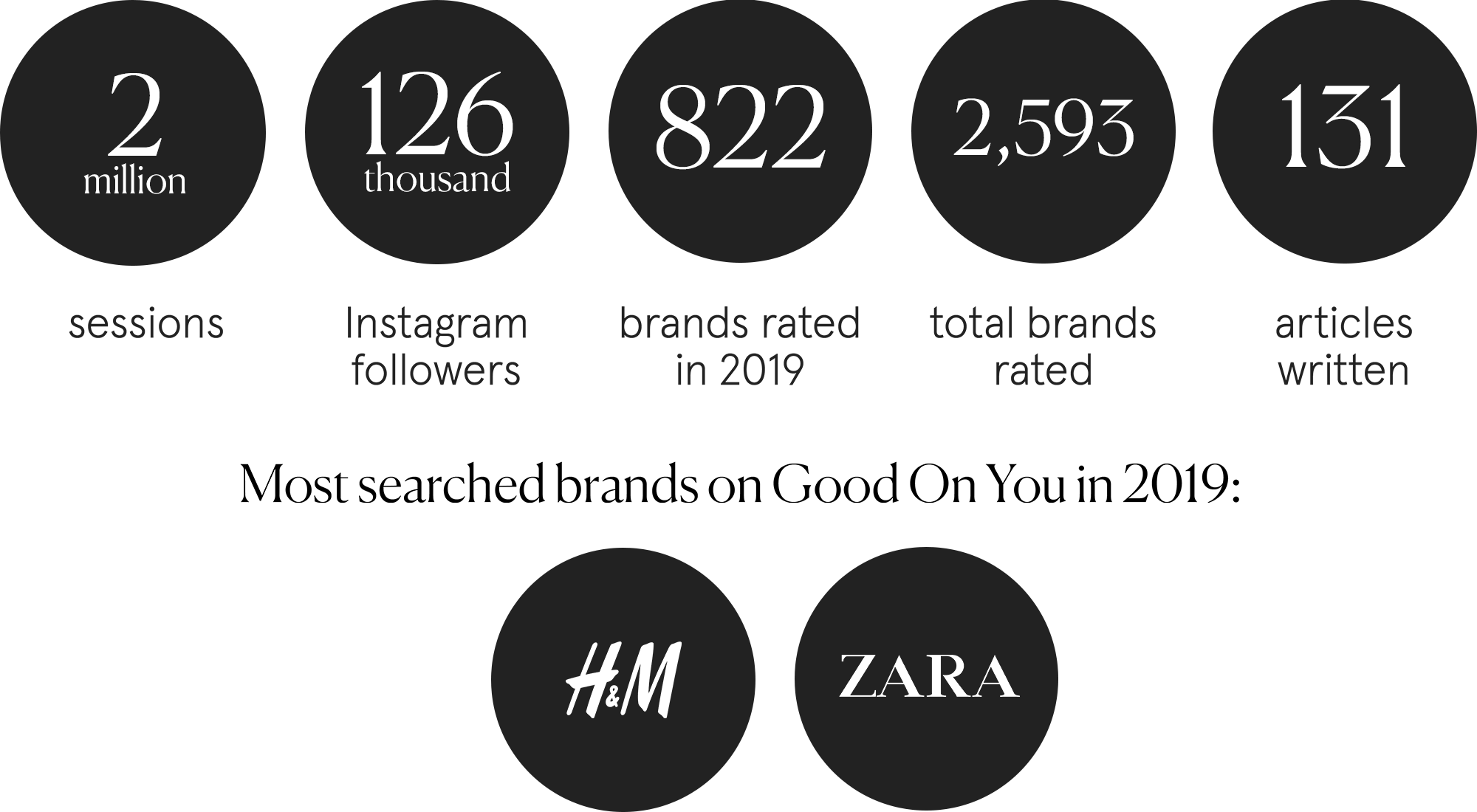 It's been an amazing year for Good On You, and it's all down to you.
So thank you. Thank you for your support, and for helping us change the fashion industry for the better. We couldn't do what we do without you. We can't wait to see what next year has in store for us and for the sustainable fashion movement as a whole, and we hope you'll stick around for the ride.
2020, bring it on!