Christmas is a time of giving.
We present gifts to one another and exchange season's greetings with our neighbours, work colleagues, and friends. We dedicate time to our loved ones, and energy towards celebrating the end of another busy year and, for many of us, the rare occurrence of everyone being home at the same time!
But the lead up to Christmas can be stressful and tiring. Our year long efforts to do right by the issues we care about can go out the window in the chaos of planning Christmas, buying gifts for family, friends and colleagues, and sorting out the logistics of the day and the holidays to follow.
So we've compiled more than 50 tips that might just make it easier for you to restore the original intentions of the season, and together celebrate a greener, more ethical world. Read on for ideas and information designed to help you make each aspect of the season meaningful and beneficial to the people and environment around us.
Gifts
A gift is a way to show someone they're in your thoughts, remind them of who they are, or celebrate what they mean to you. You want your gift to reflect their meaningful place in your life, mean something to each of you, and support your values.
When you broaden out your idea of what a great gift looks like, you're well on your way to making better choices around Christmas.
Christmas is a great time to use your buying power to support both the people that are important to you and the projects you care about.
Give thoughtfully
Give thoughtful, personalised gifts to really brighten someone's day and reduce the chance of unused, unloved, or superfluous gifts that create waste and clutter.
To give a gift you know a loved one will truly use and appreciate. If you're at all uncertain, choose items that can be returned and exchanged in case it doesn't work out.
Focus on a cause
Is there is a particular cause that you or the person you are giving to are passionate about? Both giver and receiver can feel good about being a part of positive solution to an important problem. See Gifts for you below for ideas.
Making gifts
There is nothing like a handmade gift. Creating a gift for someone means making something special, unique, and cosy. The maker puts something of themselves into the gift, and often gains as much joy in doing so as the receiver of the special creation.
Such gifts are also much less likely to have negative ethical consequences than store-bought gifts.
Here are a few ideas for making handmade gifts:
If you are artistically inclined, make someone an artwork!
If you love writing, write someone a poem or short story. Musicians take note – a personalised song or cover of a shared favorite has got to be in contention for the most special gift you didn't need money to buy.
If you love to work with fabrics or yarns, sew, knit, or crochet something the receiver can wear or display.
If you love to cook or bake, have some fun making Christmas treats to give away, or an extra special meal for a loved one.
Give an experience
Gifts come in many forms, including the non-physical! The intangible gift ideas below will leave you with precious memories without costing you or the environment much, if anything at all. You could:
Give someone your time and spend it in a place they love: It might be a day out in the city or an escape to the country. Sometimes a change of scenery, a long walk through a favourite garden, or just quality one-on-one time is the best gift you can give.
Give a hand-written voucher for something they would appreciate: It could be a home-cooked meal, or a rose petal-festooned bath complete with candlelight and relaxing music.
Think about giving the gift of support and encouragement of someone's passion, especially if they haven't been supporting it themselves recently. You can give them a gentle push, or think of ways to make it a bit easier for them to pursue their dreams and interests. You could do this by:
Giving the gift of asking for a meaningful gift: If someone has wanted to paint for a long time but never makes the time or is put off by fear of failure, ask them to paint you something, anything, as their Christmas gift to you.
Giving them something that supports their passion: Enrol someone in a class you know they would love to take but wouldn't pay for themselves, be it a pottery lesson, a class on how to grow mushrooms, or a cooking course on making their own preserves.
Give to one not many
As children grow older, many families adopt a Secret Santa or Kris Kringle-style approach. Get the circle of family or friends agreed, pick a spending cap and throw your names in a hat (or use an online generator). In a flash, you've got less presents to buy, a comfortable spending limit and time to focus all your energies on arranging a spectacular gift for just one person, instead of having to buy lots of ordinary gifts that might go to waste.
On the other hand the $10 workplace Kris Kringle is not to be recommended unless handled carefully – too often it results in 5 minutes of plastic fun at Christmas lunch followed by many years of unnecessary landfill.
Gifts for you
A great way to fully enjoy the Christmas experience is to receive gifts you actually like (that seems obvious!) and can feel really good about. Here are some ways to ensure you receive gifts with a positive impact on the world around us:
Ask for gifts that avoid negative impacts on people, animals and the environment or which support causes you believe in. You could send your friends and family the link to this ethical Christmas guide for guidance and ideas.
Drop hints or ask outright for a donation to a charity you love, to sponsor a child through an organisation like World Vision, the gift of supplying a village with vaccines through Unicef, and Oxfam Unwrapped gift card, or a shoebox of goodies to donate to Operation Christmas Child. For more charity suggestions, scroll down to the bottom of this guide on thoughtful gift giving. Peter Singer's The Life You Can Save specializes in identifying charities that have strong positive impacts on global poverty and access to health and education.
Whatever it is you have your eye on, give people plenty of ideas and specifics so you don't end up with a gift you can't find use for.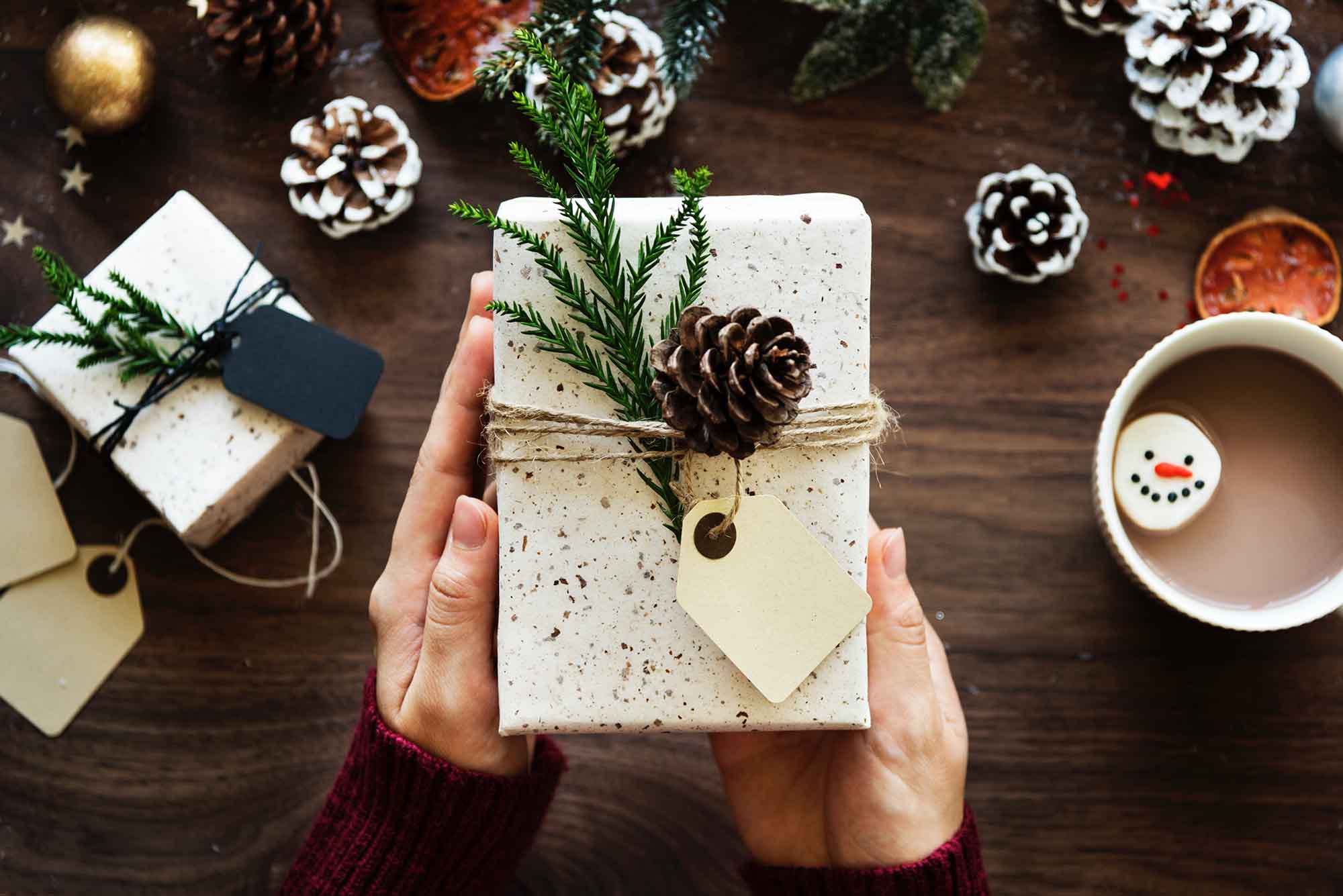 Gift-wrapping
The veiling of a gift in beautiful material and the excitement of the reveal are a wonderful part of any gift experience. But the paper and plastic used in gift buying and wrapping can add up to a substantial waste of resources during the holidays. Here's some ideas to change the way we wrap to reduce our impact.
Re-use: Choose gift-wrapping that can be used again and again. Make it a part of your family's traditions, whether it serves as wrapping each year or perhaps has another function in-between the holidays. For example, a beautifully embossed tin makes a great gift box during the holiday season, and a fancy cookie jar for the rest of the year. Reusable items also include boxes, fabric, and brown paper packages tied up with string (not tape!). If you receive a gift bag from someone, you can always reuse that next year as well.
Learn how to knot-wrap: The Japanese art of furoshiki, or knot-wrapping, is a beautiful and unique way to present gifts wrapped in re-usable fabric pieces.
Newspaper: You can always make wrapping out of newspaper pages, print shown or painted to your taste.
Buy eco-friendly, pre-wrapped gifts: from somewhere like Lush, who use reusable hat boxes and embossed tins for their pre-packaged gifts. They also have options for knot-wrapping items in PET bottle recycled Greenspun or Re-Wrap vintage scarves.
Decorating your home for the holidays needn't be costly or wasteful
go for pieces that have a long lifetime to minimise impact on the environment
invest in durable décor you can use year after year means less broken tree decorations in landfill and reduced demand for the resources need to create new ones.
even better, make decorations yourself – what better way to celebrate the holidays than by spending quality time with the people you love doing something creative? DIY decorations can be very inexpensive and usually come at a much lower cost to the environment.
create your own ornaments and trimmings from reused items–a personalised and low impact way to liven up your living room this Christmas
borrow or swap decorations with friends and family to give them a new life in a different location.
DIY decorations
No matter your skill level, there are countless ways to enjoy a handmade Christmas.
From decorative projects fit for the expert textile manipulator, to festive ideas more suited to cookie cutting and popcorn stringing, many of these projects are simple, fun, and great for kids. Here are some of our favourite ideas:
There's more DIY decoration ideas in this Festive Recycled Arts and Crafts Guide, and there's plenty more ideas Pinterest and Etsy.
What about the tree?
Artificial trees vs Real trees–which to buy? TuShare's answer: artificial trees are typically made of petroleum filled plastic and use manufacturing and shipping resources. They also have a pretty incredible habit of melting in the Australian sun and so may only last for a few years. If they survive, they are storable and reusable. Real trees not only smell like Christmas, but are wholly renewable, take in carbon, can be recycled or chipped and could be planted in your garden to be used again and again.
Or then again you can choose a shrub you'll later want to plant in the garden (not something you will likely do every year admittedly) or make this unusual tree from books you no longer need.
And food?
Many of us consider those less fortunate during this time of culinary abundance. While we don't have to sacrifice special meals and treats, it's easy to incorporate a focus on feasting sustainably even when you celebrate with others.
Not quite sure what that looks like? Below are some ways you can make mindful food choices this Christmas season.
Choose locally sourced produce and other goods
Get in the habit of supporting your local vendors by making your big purchases at markets and independent shops near you. You'll have a better idea of how the products were made, contribute to producers in your area and can be confident that locally grown food won't have stacked up thousands of food miles making its way to your celebration.
Shop seasonally.
Buying produce in season not only saves money but also reduces the need for suppliers to ship out of season vegies from overseas or store them in long-term refrigeration throughout the year. You can usually tell what's in season based on the fruits and vegies on sale or offer. To help plan meals before you go shopping, take a look at this Seasonal Food Guide.
Include meal options for everyone
To avoid waste, make sure you have meal options that everyone will eat. Perhaps you can find a recipe that will cater to your aunt's vegan diet, but is also tasty enough for your carnivorous uncle to enjoy.
Opt for bulk food to avoid packaging waste
If you're passionate about reducing landfill and keeping plastic out of oceans, why not buy bulk food when you can?
Research your seafood and meat
Make certain the seafood and meat you serve was ethically sourced. Support small organic, free-range farms in your area.
Enjoy leftovers
Don't toss those uneaten veggies in the bin! Encourage guests to bring Tupperware with them and send them home with lunch for tomorrow. If you have a lot left in your own fridge, think outside the box for recipes that can incorporate what you have on stock.
Lastly, don't overdo it
While snoozing after Christmas lunch on a very full stomach is a time-honoured tradition, it's easy to get carried away when putting together your Christmas shopping list. Go for dishes that will work as leftovers, and try to buy things that don't last so well – such as seafood– in sensible amounts so as to reduce waste.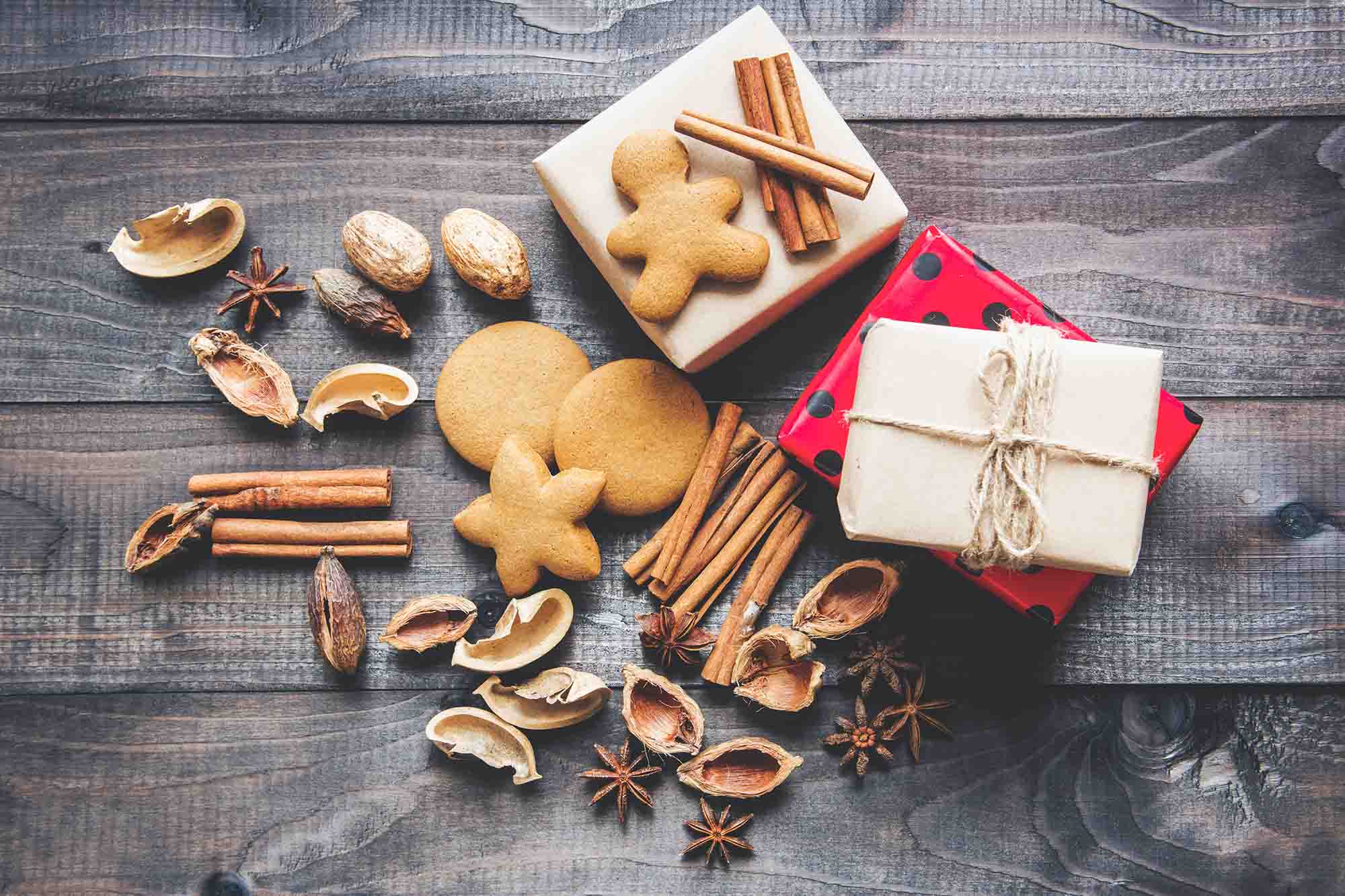 Finding your Christmas outfit
We have all been in that situation where you are rummaging through your wardrobe, your closet, and – let's face it – your laundry bag in an attempt to pull together an outfit that looks stylish, effortless and appropriate for the festive season. Here is some ethical fashion advice to help you find the right festive outfit for your budget!
Look for embellishments
Whether your choice is from an ethical designer brand or found in the thrift store, there is nothing that says festive more than the sparkle of satin and metallic sequins, beaded dresses and elegant embellishments.
For those willing to invest in designer brands, there is a range of labels committed to environmental and ethical practices, such as Reformation!
Don't be afraid to alter
You'll be surprised what you can find at a second-hand store or op-shop.
The beauty of finding articles of clothing in op shops is in the possibility of what they can become.
Don't expect to find a perfect fit – expect to find something that can be modified with a little creative imagination. Skirts can be hemmed up, dresses can sometimes be taken in, and a worthy embellishment can be stitched onto a headpiece or appliquéd to a brooch.
Get inspired and have fun!
Get creative with accessories
Sometimes, when we are overly familiar with our wardrobe, the excitement and inspiration of trying on a successful outfit combination becomes dreary and drab. We fall into the mindset that buying new clothes will break the cycle of this perceived monotony. When this happens, try accessorising!
Accessories are great for making outfits appear cohesive, diverse, and stylish. Just adding an elegant pendant necklace, beaded drop earrings, or an oversized wrist bangle can bring colour, style, and interest to what you are wearing. Are you sick of your plain black dress? Add sparkling heels and a jewelled hairpin and suddenly your outfit is party ready.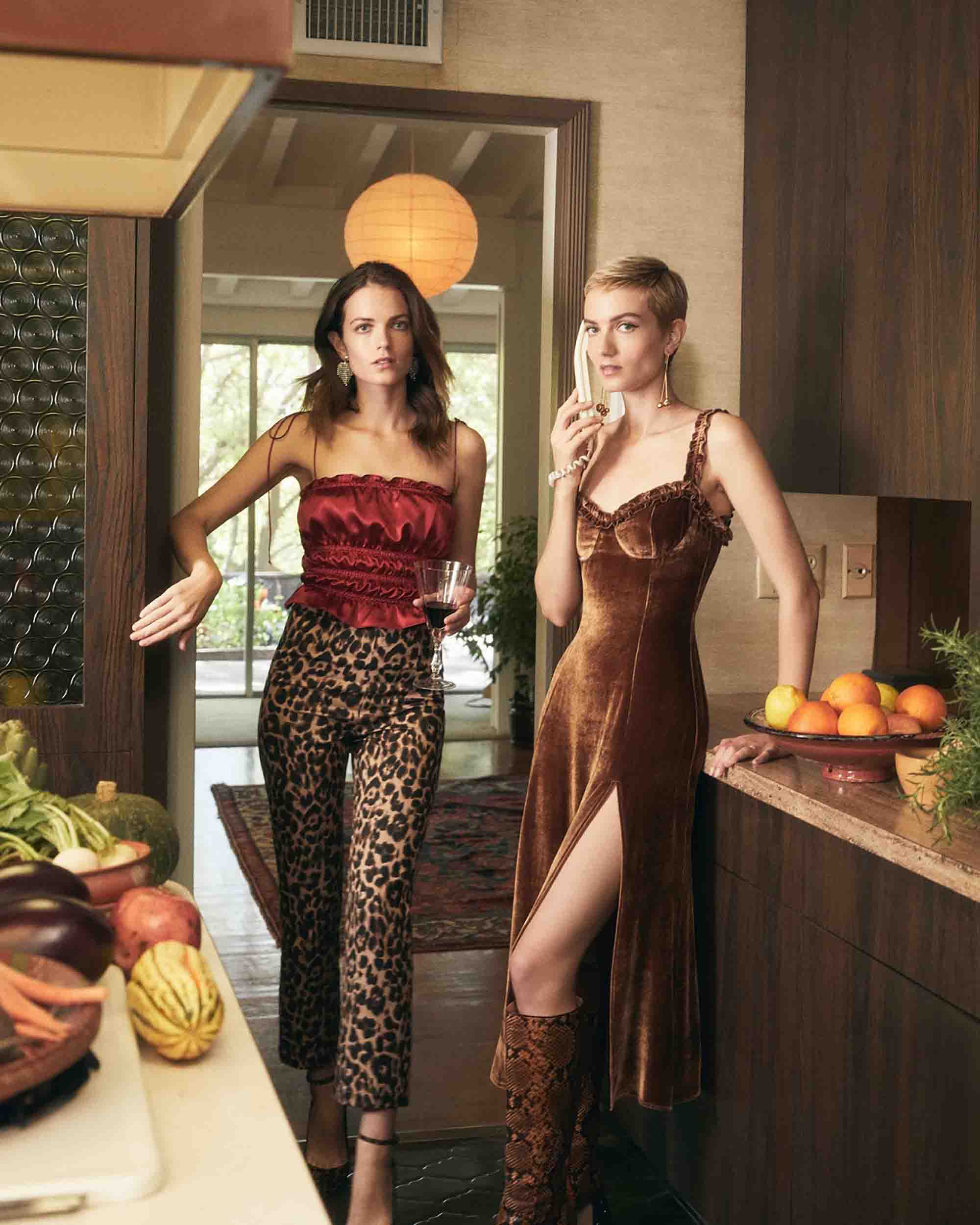 Plan a swap
For those of you who are on a serious budget or would like to try something radically different, why not plan an outfit swap with your best friend, sister or flat-mate! This may sound drastic to some, but what better way to try new styles without having to spend a cent? And it doesn't have to end at clothing – you can also swap jewellery and bags.
The holidays are a time to enjoy yourself and the company of others, so choosing an outfit shouldn't be a source of stress. Relax and work your creativity with the options you have at hand.
After the holidays
The celebrations may have come and gone, but there's no reason for the spirit of an ethical holiday season needs to pass with it! The following tips will help you finish out the season without costing the earth.
Dispose of your Christmas tree (the right way)
Contact Zero Waste or your local council to find out a tree collection service that will use your tree for another purpose, such as mulch for gardens in the area.
Re-gift, return, and donate unwanted gifts
Instead of tossing gifts you won't use or letting them pile up in a closet, see if you can return them to the store or exchange them for things you'll use. You can also sell the gifts online or donate them to a local op-shop or charity, or give them to friends who will appreciate them more than you do. Many charities will happily accept donations of unused (non-electrical) items.
Simplify and declutter
While you're in the mindset of donating, selling, and re-gifting items, take the time to clear out your closet, cabinets, garage, etc. Maybe you received a new blender for Christmas and can donate your old one to your nephew's share house? Check out TuShare's comprehensive guide to decluttering your home.
Make resolutions for the New Year
Take the time to make plans for living sustainably next year. What causes matter most to you, and how can you support them in your daily life? Are there wasteful habits you'd like to break? List your ideas and coordinate with friends or family members to prepare for a year of ethical consumerism. But whatever you do, enjoy your Christmas!
Editors' notes: this article was updated in November 2018 and includes tips from previous work by Good On You, Checking it Twice and Otter, as well as tips from the speakers and presenters at Green Villages' Buy Less Live More event held in November 2014 including Ani Lee. Thea Soutar of Youth Food Movement, Matt Branagan of Work-Shop and Luisa Brimble. Feature image by Unsplash. Other images vy Unsplash and Reformation.