This is a sponsored article about a brand that was independently assessed by our rigorous ratings system. We're proud to only collaborate with "Good" and "Great" rated brands. Learn more.
In a partnership we didn't know we needed but definitely deserve, sustainability superstar "Great" brand Etiko has collaborated with Plastics For Change to spread the message: "less plastic, more love."
'Great' brand Etiko is at it again
From its beginnings in 2005, Australian brand Etiko has worked to tackle the injustices committed by the modern fashion industry on people, the planet, and animals. Always certified Fair Trade and partnering with charities, opting for eco-friendly fibres like GOTS certified organic cotton, and entirely vegan-friendly, Etiko is one of our go-to's for quality basics and sneakers for the whole family.
Its latest crucial collaboration sees it pair up with the world's largest and most trusted source of fair trade verified recycled plastic: Plastics For Change. Here's how you and your family can get your hands on a cool shirt while empowering people living in poverty to get their hands on plastic waste to create better livelihoods and a cleaner planet.
What does the world need? Less Plastic, More Love. If you agree, this is the tee for you.
How plastic collection changes lives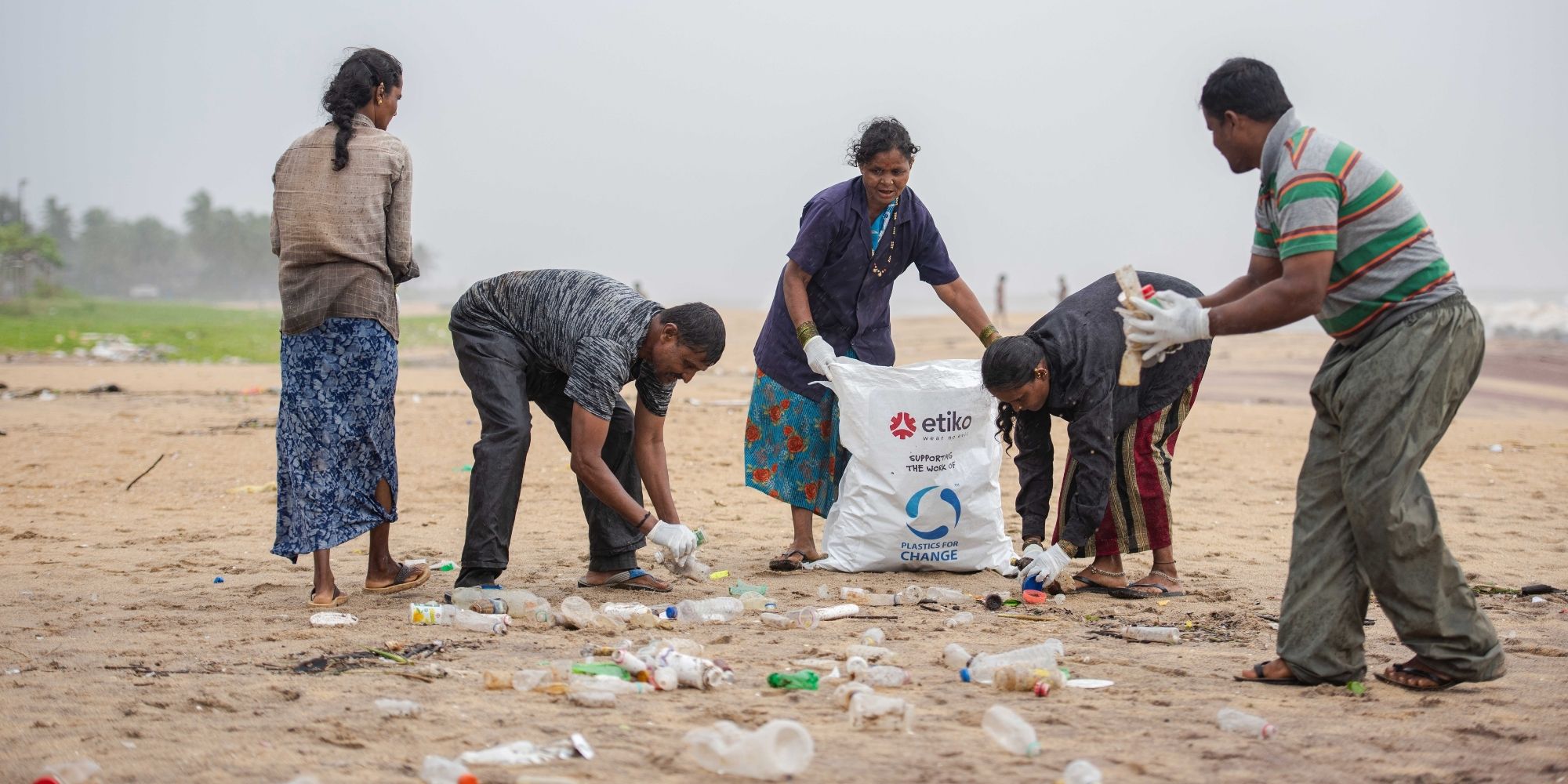 If you haven't heard of Plastics For Change, their mission is to "change lives through recycling". Why is this kind of organisation necessary? When more than 10 million informal waste collectors across the world are marginalised and live in poverty, and 33 double-decker busloads of plastic waste are burned or dumped in developing countries every 30 seconds, something needs to change. Plastics For Change helps to provide a humanitarian solution for an environmental challenge, and their crucial work prevents plastic pollution and creates social change. Since 2011, Plastics for Change's mission has been to bring recycling infrastructure to developing regions and create jobs for some of the most marginalised members of society, which they have successfully done ever since.
Partnering with the organisation, Etiko has created a sweet whale graphic tee in ocean blue for the whole family. The purchase of this t-shirt will pay for the collection of 10kg of plastic in India, with a portion of every shirt sale going towards efforts to minimise plastic waste. Now that's a design with a story we can get behind.
'Less plastic, more love' tees for the whole family
What does the world need? Less Plastic, More Love. If you agree, this is the tee for you. Soft and comfy, thanks to being made from 100% organic cotton, this shirt makes for a great conversation starter. Find the unisex tee in sizes XS-3XL, women's in AU sizes 8-18, and kids' in 4-10.