Melbourne-based A.BCH is your new go-to destination for designer wardrobe staples delivered with refreshing honesty.
When elegance meets honesty
After working in the fashion industry for a few years, Courtney Holm came to a point of conflict where her personal values were no longer aligning with her work. "I decided I could no longer be a part of it unless I was doing something radical to make a difference," explained Courtney. "I started No brand ID provided for this external link. to help change an industry full of secrets and exploitation."
"I wanted a company that had a heart of gold yet could still create desirable pieces, as beautiful as fashion can be. I can't do anything in half measures, for me it was all or nothing, and the idea of the Whole Garment was born," says Courtney.
Whole Garment design means that A.BCH considers the impact of every little detail, from the buttons, threads, interlinings and dyes to the labels.
One of the many things we love about A.BCH is how open they are and Courtney is the first to admit that they haven't solved all of fashion's problems. "However, by being as honest and transparent as possible," she argues, "we can continue to go on that journey and not settle on the way that it is".
Considering the entire cycle of the Whole Garment life is also imperative, and every piece we create has a plan for its life, extended life and eventually its death. Our raw materials are either recyclable or compostable, right down to the sewing threads.
Fashion as a force for good
A.BCH is a brand that's been founded on a deep passion and respect for people, animals and the planet. This is reflected in their choice of materials. They use cotton and linen that has been certified by the Global Organic Textile Standard (GOTS), which requires them to comply with strict environmental and social criteria across their entire supply chain.
"We believe that business can be a force for good," says Courtney, "and that our influence can impact the world. We don't make anything unless it has a positive environmental and social impact – that includes animal welfare. For us, profits are only possible after we have fulfilled both of these areas."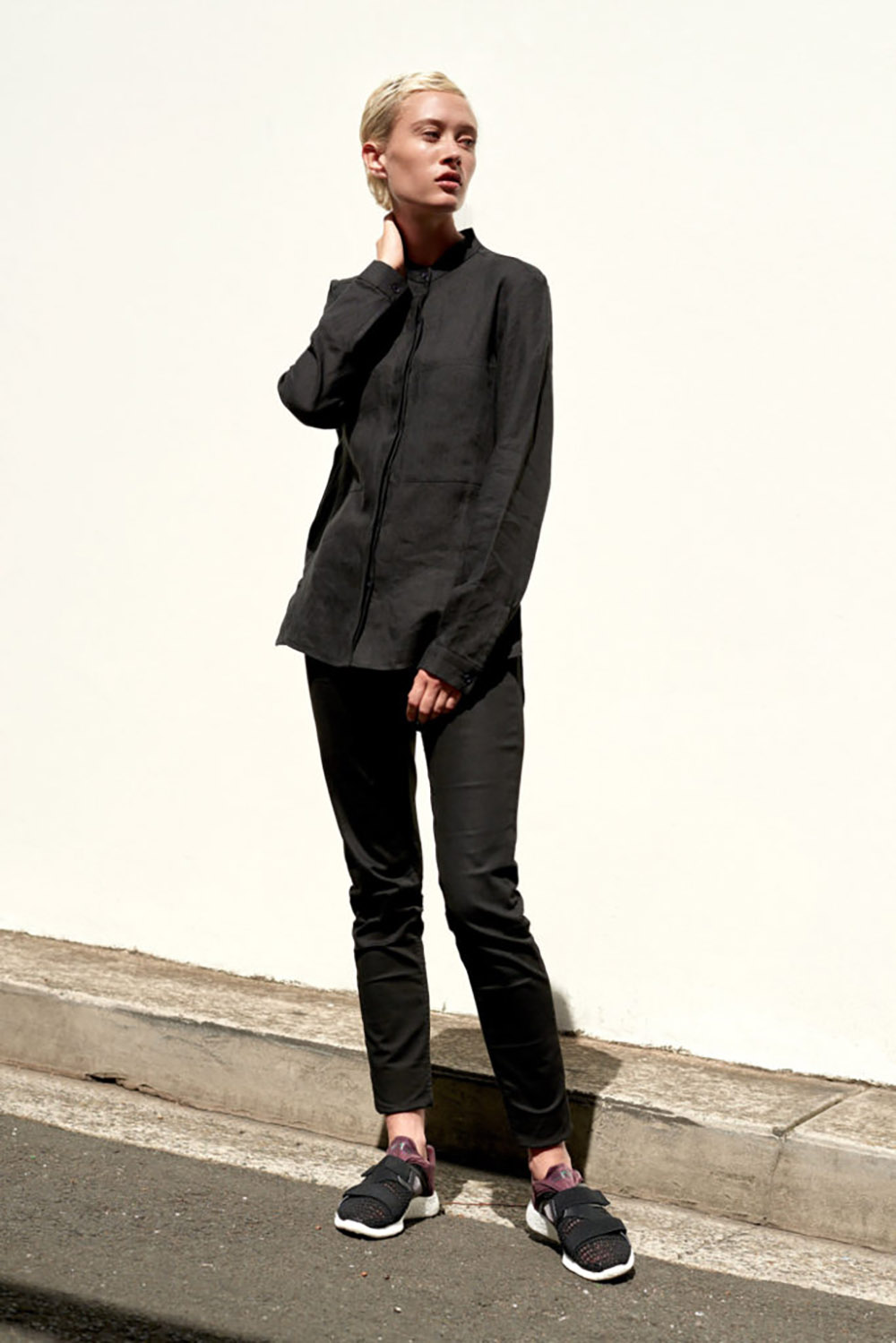 Classic wardrobe essentials
Whenever you're considering purchasing a new piece of fashion, it's important to choose items that are versatile and that will last you for many years to come. We love that A.BCH brings you carefully designed staple items to help you build your own capsule wardrobe. In their first collection you'll find great modern essentials like crisp white tees, classic button up shirts, the everyday tote, perfect crops, stripes and the little black dress.
A.BCH is keen to encourage fashion-lovers to build long-lasting relationships with their clothes. "We really care about each purchase," says Courtney, "and want to ensure that when someone buys from us that they are equipped with the knowledge required to make that garment last as long as possible."
Currently they're doing this through tailored workshops, talks and blog articles, which equip people with the skills to give their clothes a second, third and fourth life! This can include clothes swaps, learning to make repairs and eventually returning your pieces to A.BCH for recycling or composting.
"I think so many people want to do the right thing, but it's just not convenient enough. If I make it a little more convenient for them," says Courtney, "maybe they will be impacted and start to make small changes in their lives that will help."
This consciously chic label has only just begun to spread its wings. Courtney assures us that there are plenty of exciting developments on the horizon, including new products and educational programs. A.BCH will be expanding their head quarters in Melbourne to include ethical in-house manufacturing, while also bringing the brand to the Northern Hemisphere. So, stay tuned!
Courtney sums it up beautifully:
Imagine, feeling good about what you wear not just because it looks nice, but because it has a story.