This is a sponsored article about a brand that was independently assessed by our rigorous ratings system. We're proud to only collaborate with "Good" and "Great" rated brands. Learn more.
Happy Earth Apparel is an "earth-first" clothing brand that seeks to give back, rated "Good" by our world-leading methodology. Let's take a closer look at what the brand is doing for people, the planet, and animals with its eco-conscious fashion. 
A brand that actually gives a damn
For many conscious consumers today, shopping can be rife with internal conflict—sometimes we need to buy new, but how can we do so without harming the planet, animals, or the people who make our clothes? Enter the world of responsible fashion. More ethical and sustainable brands work to build a different kind of business from the ground up, and Happy Earth is one such brand making a difference in the industry.
Describing itself as "people and planet first", Happy Earth is a social enterprise built around protecting the planet, from how the products are made to the overall impact. While major fashion brands today encourage the overconsuming, take-make-waste model that lines their pockets, Happy Earth recognises that it has a responsibility to offset the inherent damage caused by clothing manufacturing.
With every product purchased, we give back to create positive change. Combating climate change, planting trees, or cleaning up trash—you get to choose the campaign your purchase supports. We make giving back accessible, fun, and fulfilling.
Here's how Happy Earth is tackling the challenges involved in responsible fashion production for the benefit of the environment, workers, and our animal friends.
Planet: Earth-first
Happy Earth rates "Good" for the environment. It uses a high proportion of eco-friendly materials across its collections, including Global Organic Textile Standard (GOTS) cotton, naturally climate-positive cork, and reclaimed fibres. By incorporating less harmful fabrics, the amount of chemicals, water, and wastewater used in production are reduced.
The brand is also going zero-waste and is working with suppliers to slash trash across the supply chain. Part of that can be seen in their packaging, made from 100% recycled materials.
Every purchase made with Happy Earth directly contributes to maintaining the planet's wellbeing, and you get to decide whether your hard-earned money goes towards cleaning up trash, fighting climate change, or planting trees. 1% of profits also go directly back into protecting the environment through the brand's partnership with 1% for the Planet, through which they support crucial organisations and often go above and beyond the 1% of revenue expected of them to ensure optimal impact with each sale.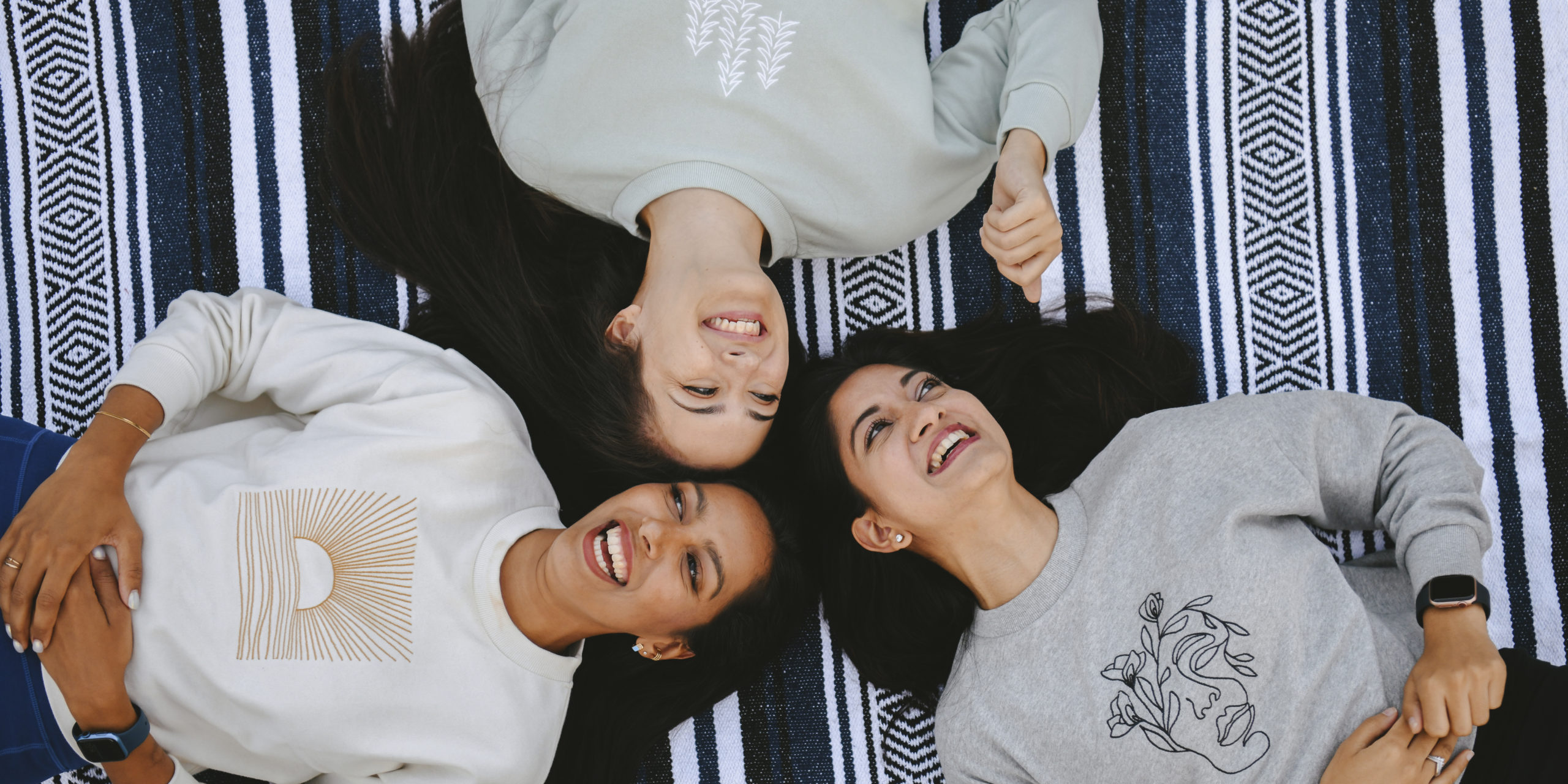 People: responsibly made
Also hitting a "Good" score for its labour conditions, Happy Earth works to uphold the ethical values essential to brands doing better for people. One of the highlights of the brand's work in this space is its partnership with a factory member of the WFTO (World Fair Trade Organization) Guarantee System to produce its apparel. Members of WFTO produce certified Fair Trade goods, ensuring fair wages, good working conditions, and respect for all people involved, no matter their background.
The brand also traces most of its supply chain and is B Corp certified, upholding the notion of "business as a force for good". In a capitalist society, commerce is inevitable, and B Corp partners like Happy Earth harness the positive potential of business to balance purpose and profit.
Animals: cruelty-free
Animal lovers rejoice: Happy Earth is an entirely vegan and cruelty-free brand. Not only leaving animal-derived materials out of its products, Happy Earth's careful selection of more sustainable materials means that conventional fibres' destructive collecting and processing methods that often endanger both animals and their homes are left out of the equation. Happy Earth gets our top score of "Great" for animal welfare.
Overall rating: Good
Overall, we're happy to award Happy Earth a "Good" score thanks to its important work for people, the planet, and animals. We love to see brands practice what they preach, and this is one trustworthy label truly fostering a responsible fashion community that is all about giving back.
Our 8 current favourites from Happy Earth's nature-inspired collection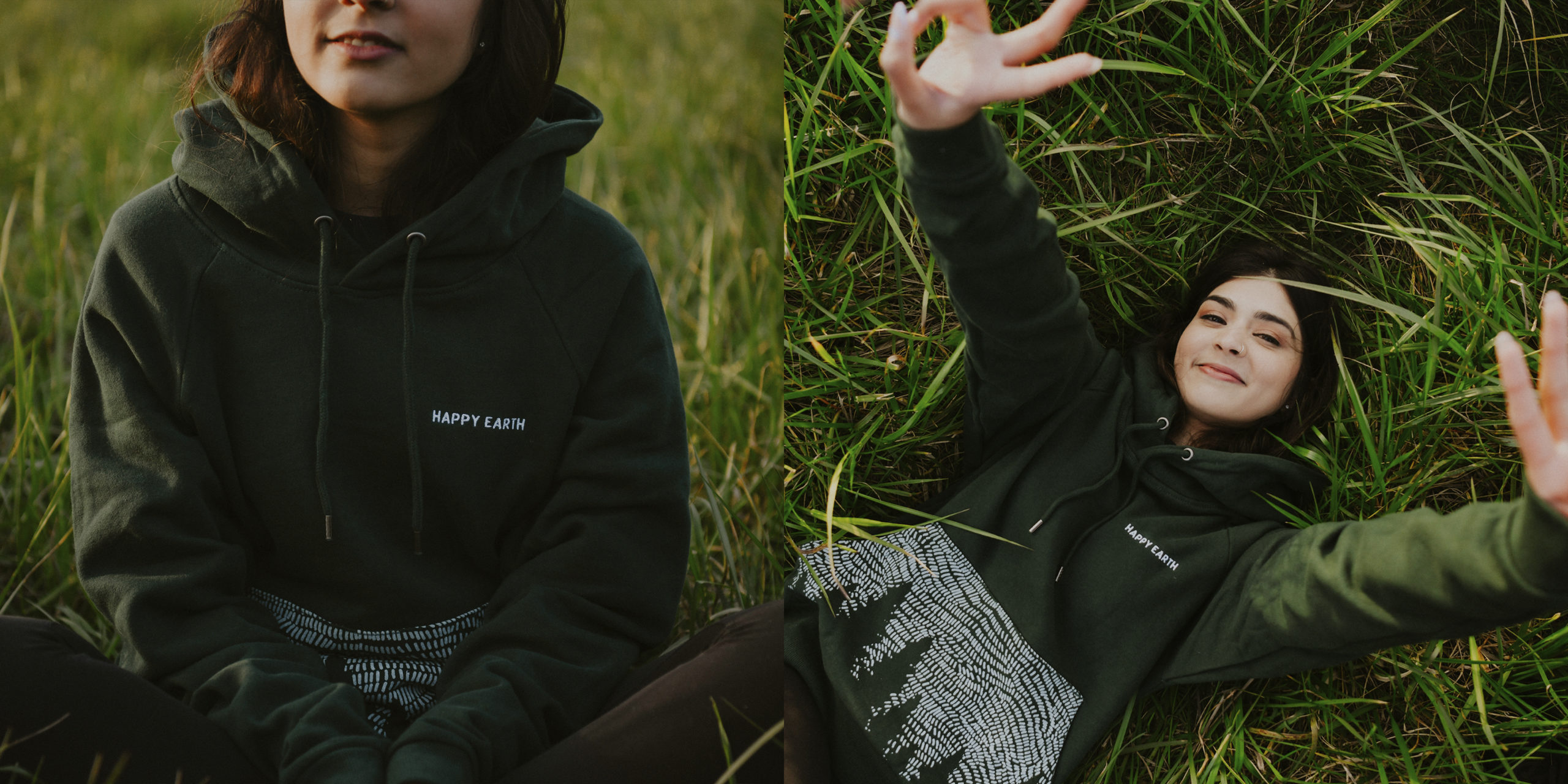 Sweatshirt season has (finally) arrived for those in the northern hemisphere. And Happy Earth's Stormy Forest Hoodie is one of our fall favourites. Made from super soft fleeced organic cotton, this hoodie makes it easy to ditch the polyester fleece sweatshirts.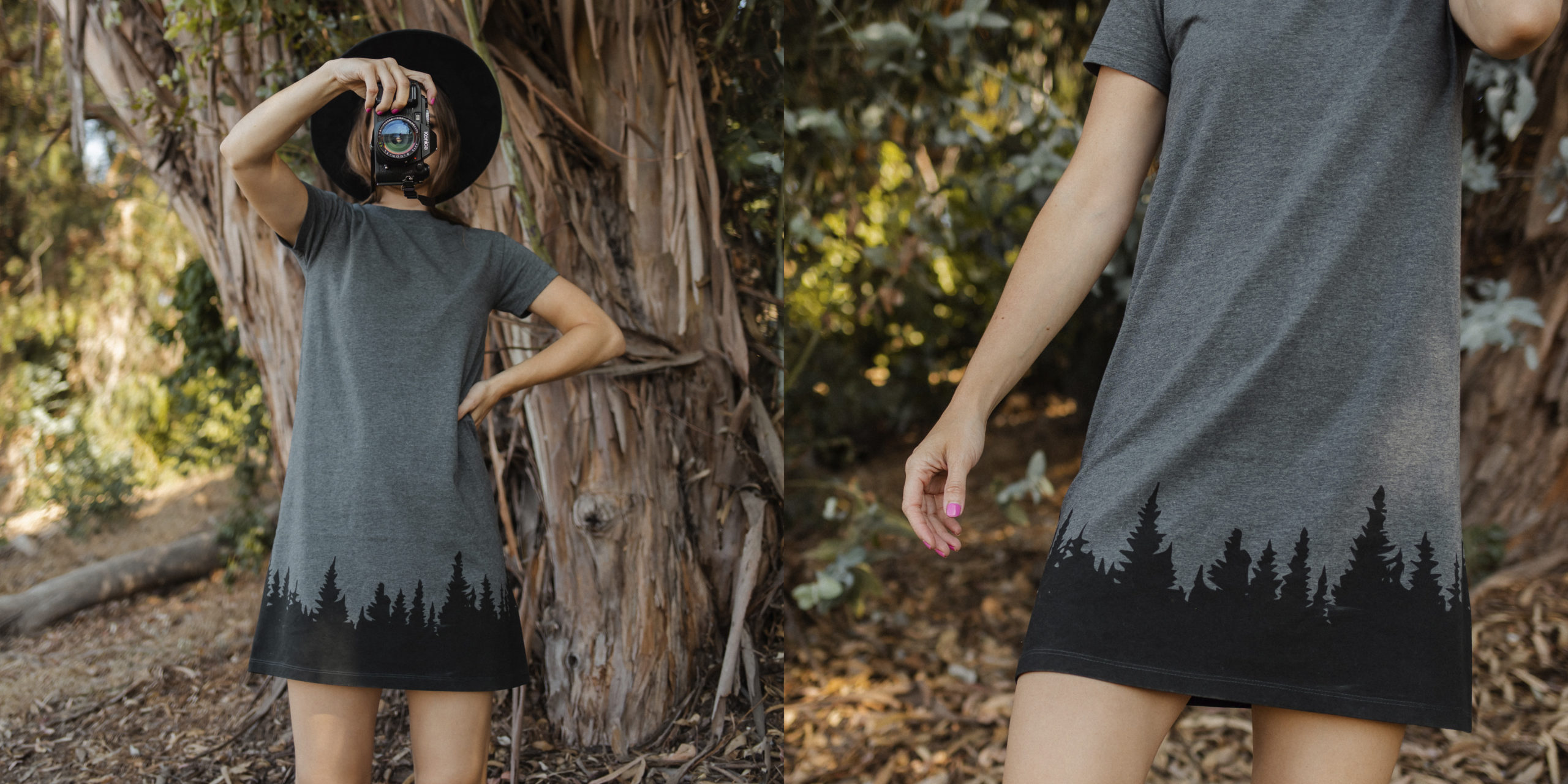 It's hard to beat the effortlessly chic style of a classic t-shirt dress, and we love Happy Earth's new organic cotton dress collection so much, two of them made our list. The Forest Flow is perfect for the person at home among trees.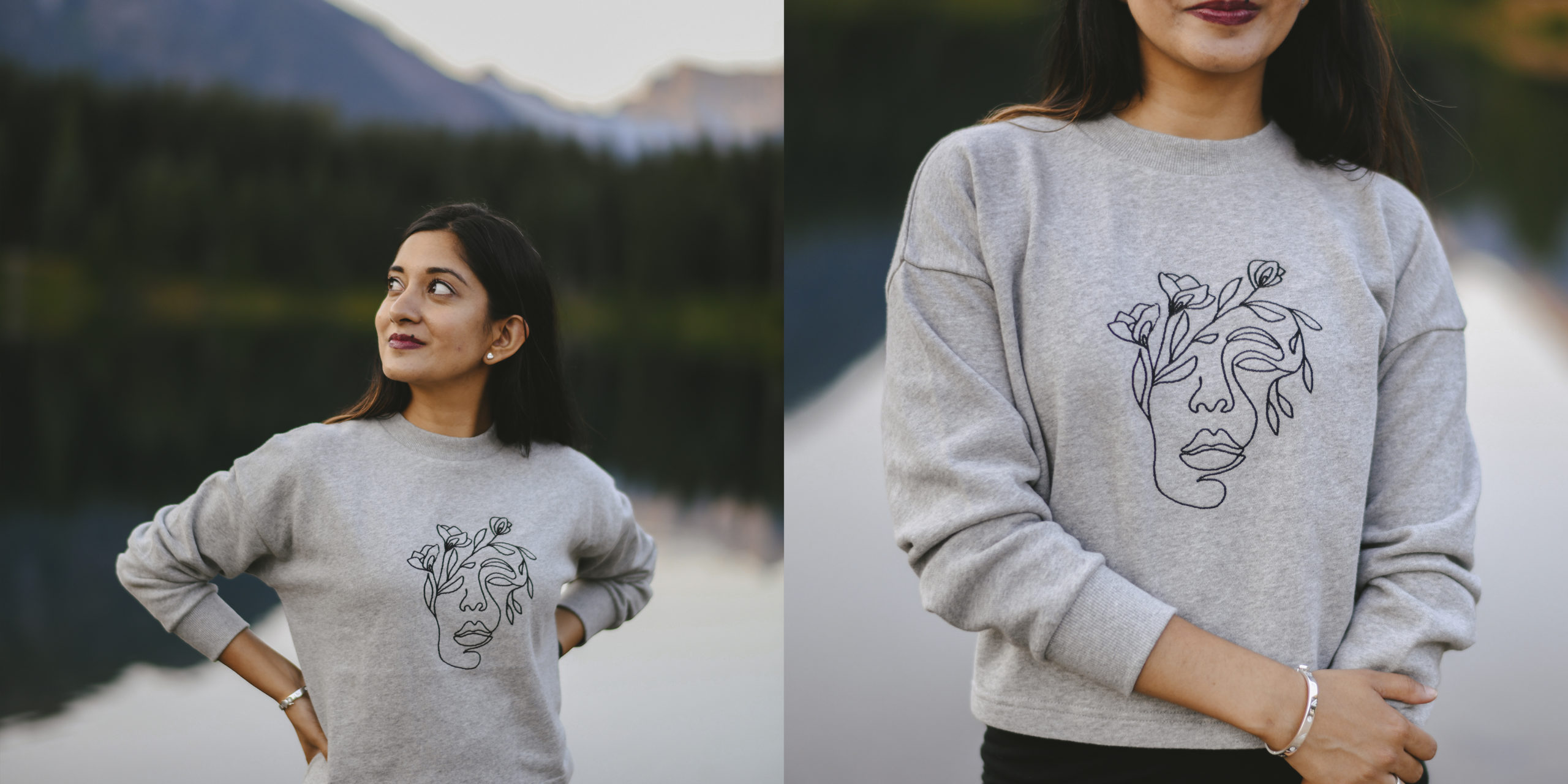 A collection of ultra-comfy, crop sweatshirts made from 100% organic cotton French Terry? Yes, please. The gorgeous hand-drawn designs embroidered on each garment pushes them to the next level. She Blooms features a continuous line drawing of a face beginning to blossom into wildflowers.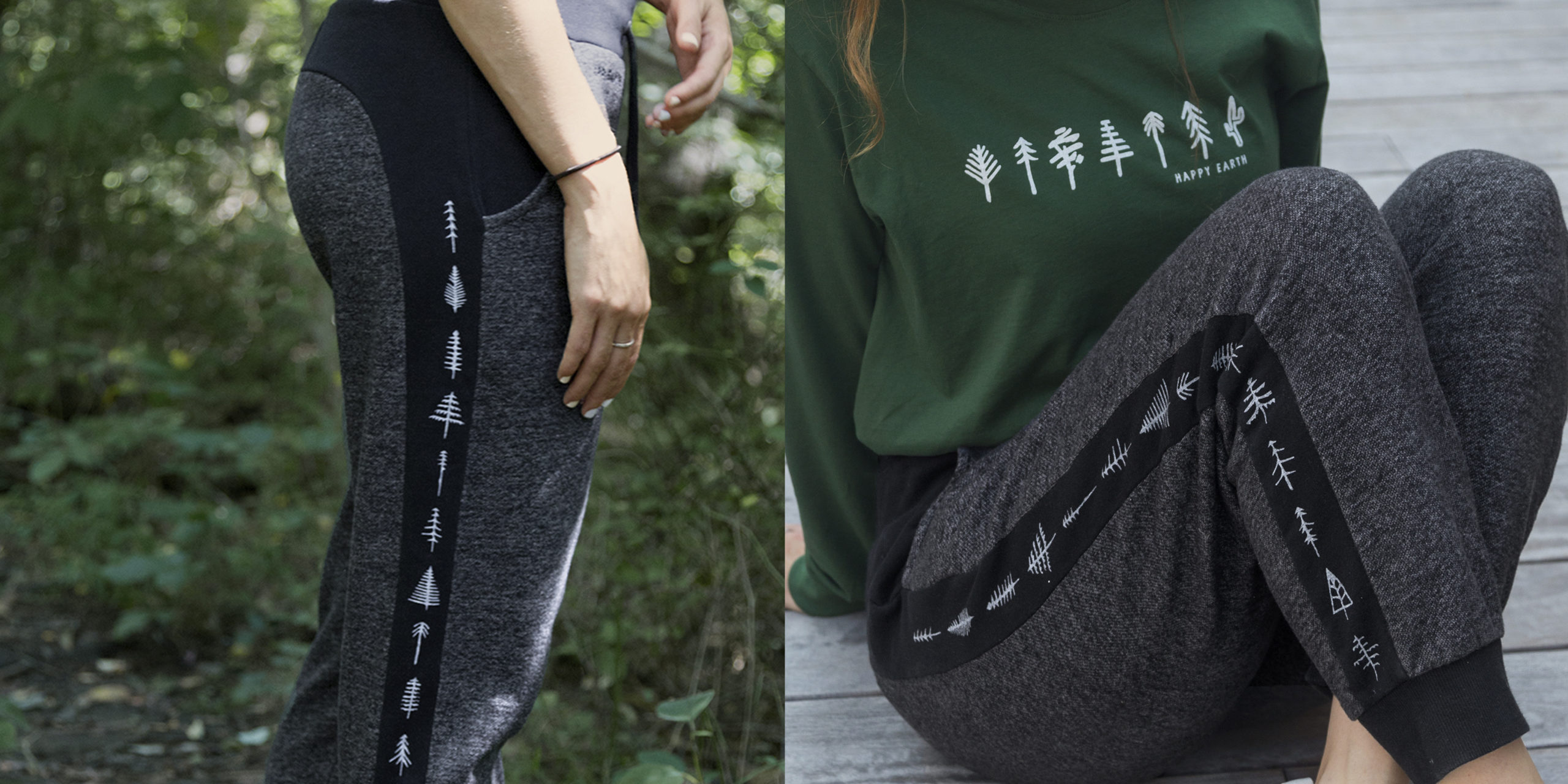 Ultra-soft and ultra-sleek, your bottom half will thank you for adding these into your regular rotation. Large rib-knit waist offers stretchy comfort as well as body-flattering structure. The relaxed, tapered leg is accented with black trim and deep, non-bulky pockets. And how cute are the hand-drawn trees?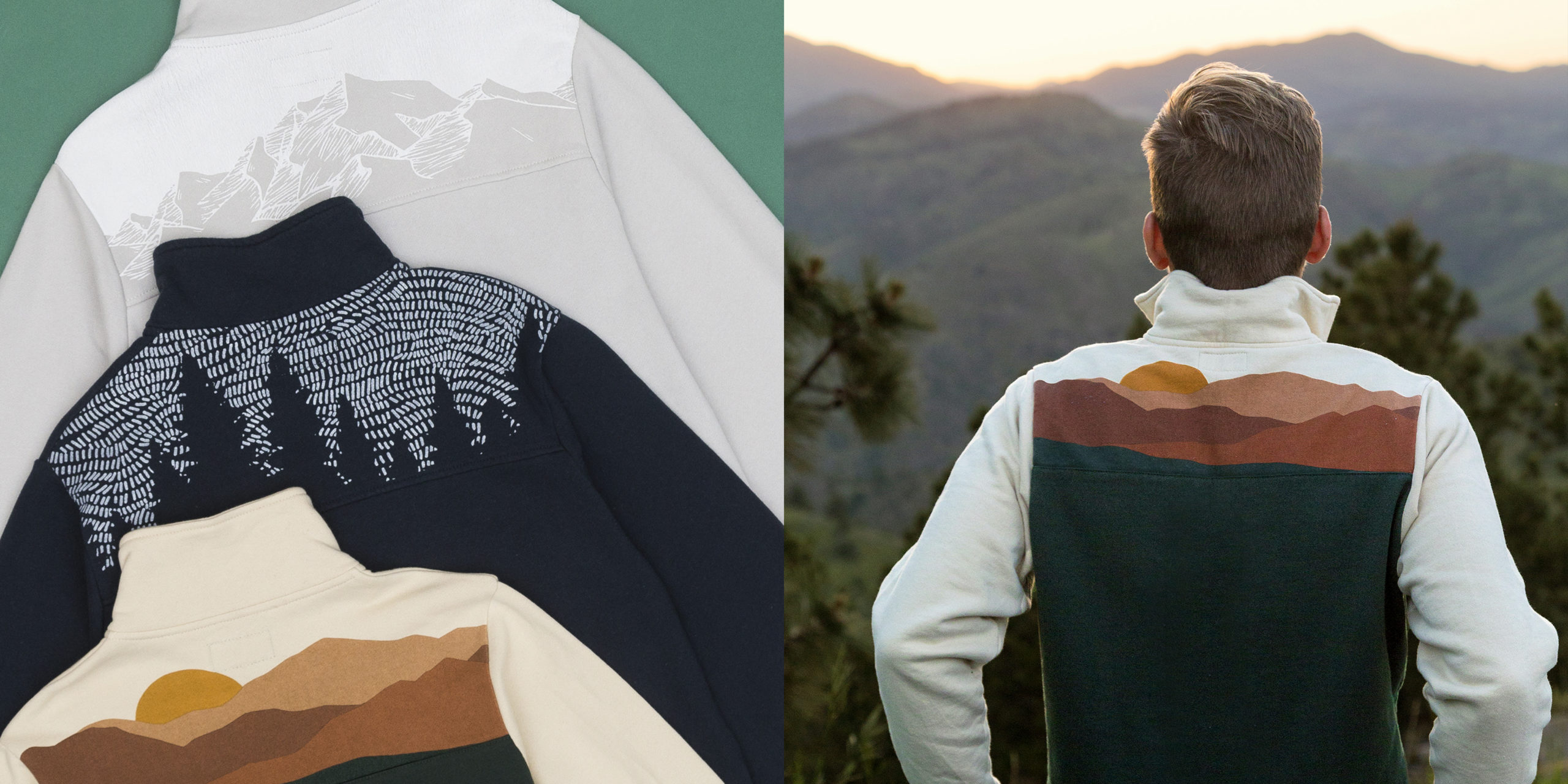 Happy Earth's comfy quarter-zips are a clear stand out, easy to throw on day after day. We love the colourful Mountain Sunset design, but for those that prefer a less colourful option, you can also find navy and light grey colourways.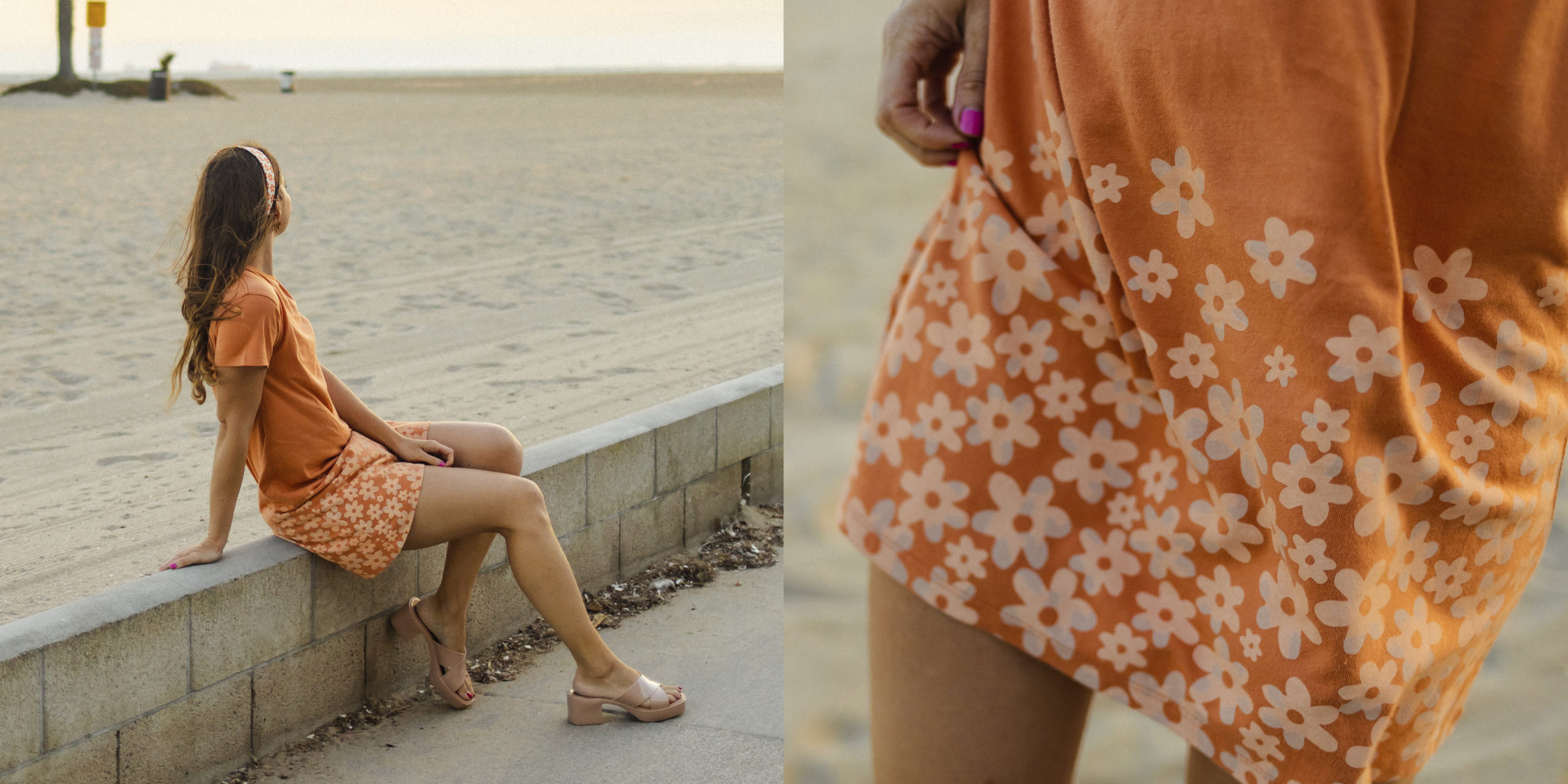 The Petit Jardin organic t-shirt dress is the bright, floral counterpart to the earlier dress. It serves sunny, cheerful vibes, with simple daisies wrapped around the bottom hem. Fun to wear and easy to layer, it gives the classic t-shirt dress an upgrade in sustainability and style.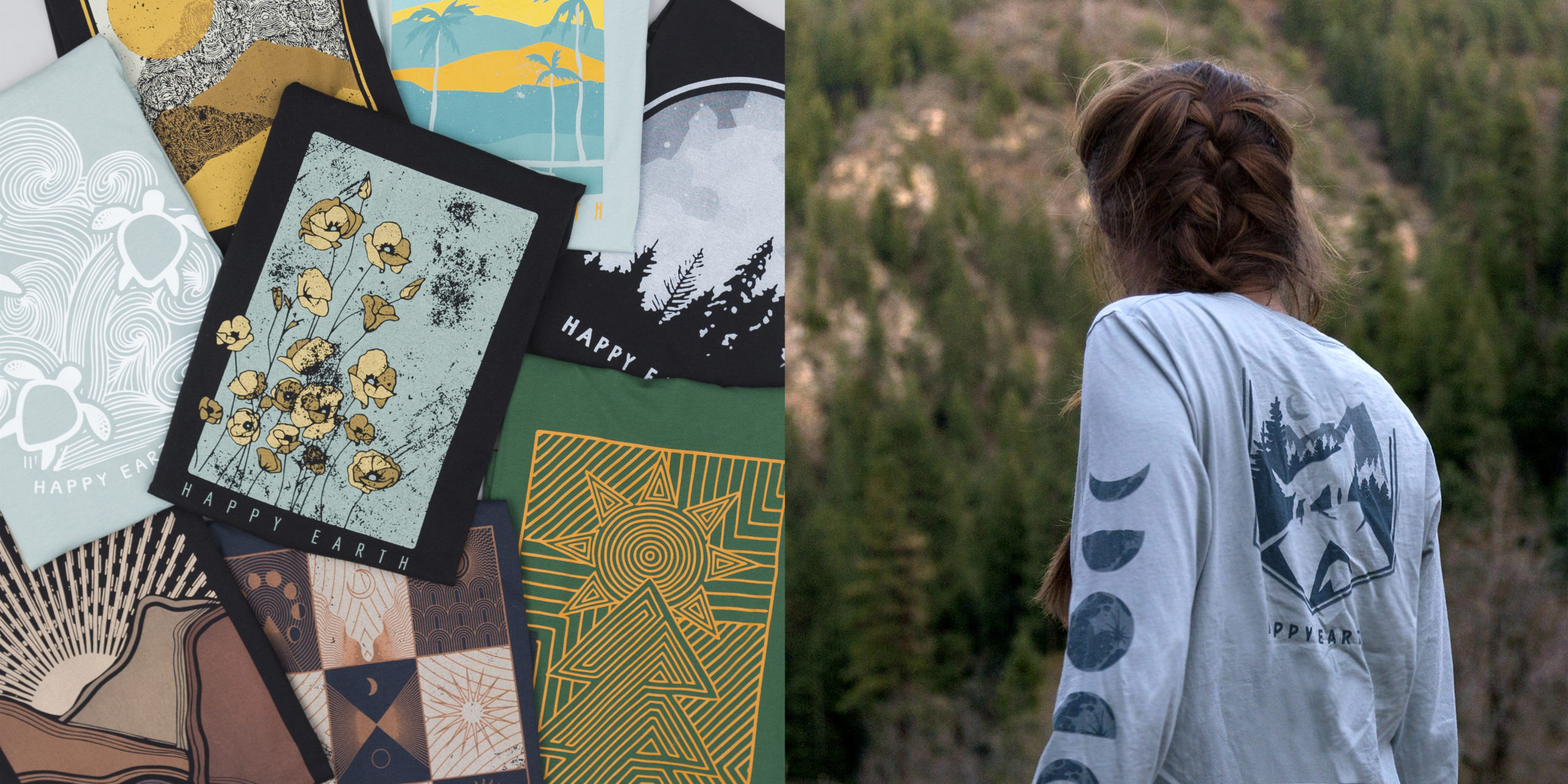 The ultimate relaxed tee that's perfect for you and the planet. Made from smooth, breathable organic cotton, these tees are great for everyday wear. Happy Earth's long sleeve selection offers a ton of nature-inspired designs with unique sleeve prints as well, like the striking moon phase and howling wolf design of Winter's Call.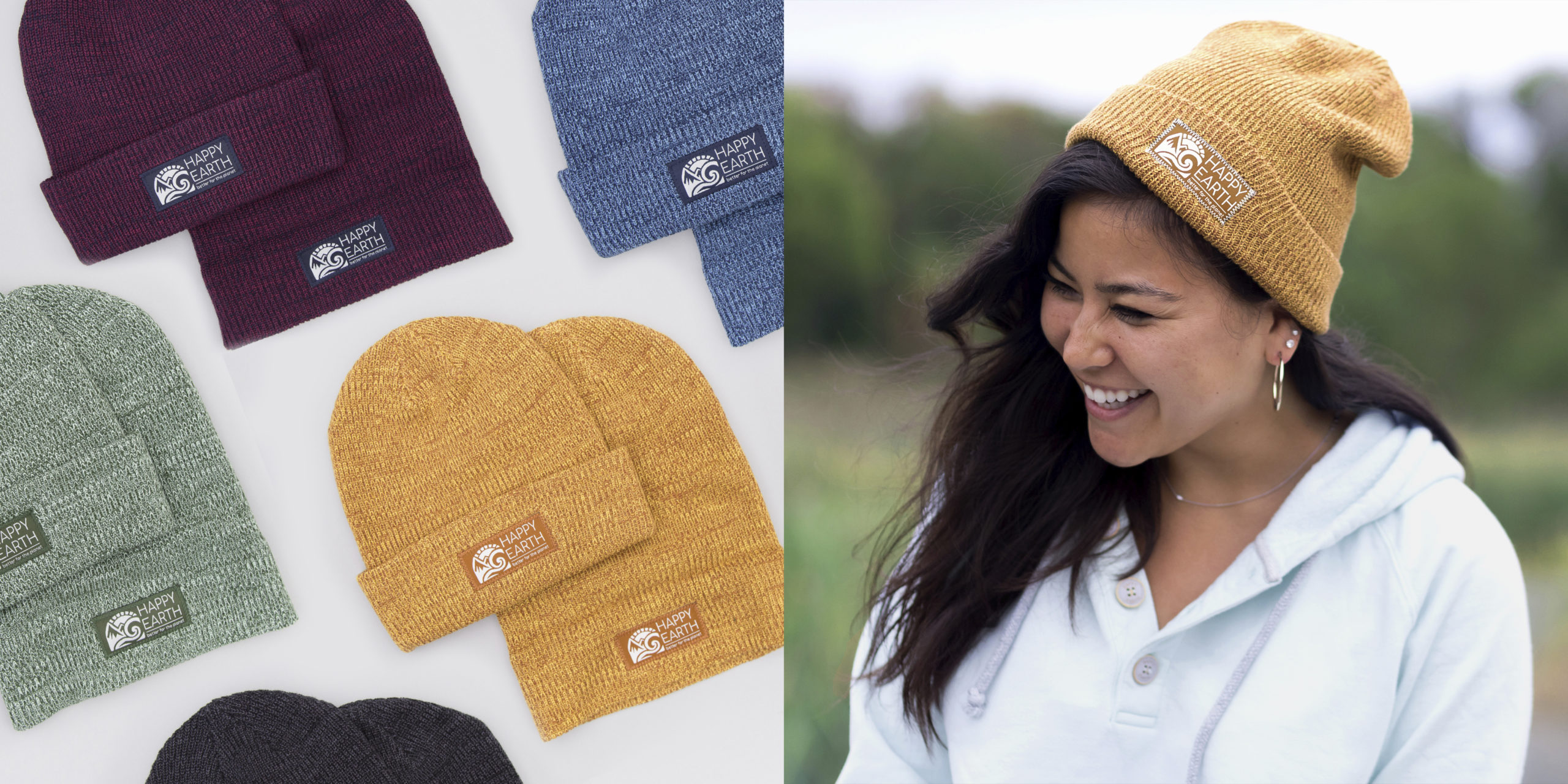 The defining staple of your cold weather wardrobe just became a whole lot more Earth-friendly. This beanie checks all the boxes. Super soft (check), organic cotton (check), brilliant heathered colours (check), gives back to protect the planet (check). Plus, each beanie can be worn slouchy or cuffed, serving you two classic looks in one sustainable beanie.
Join the community that #givesadamn