Eco-friendly packaging is an important piece of the sustainability puzzle, but not all options are created equal. Here's the low-down on everything from compostable to recyclable packaging, and how you can further reduce the impact of your purchases.
The plastic packaging problem
In recent years, we've come to learn that, contrary to Aqua's "Barbie Girl" lyrics, "life in plastic" is not fantastic.
Plastic takes decades to decompose, releasing harmful chemicals into the earth and the air in the process and endangering the lives of a wide variety of species, including us.
As more and more people are starting to wake up to the devastating impacts of plastic, many governments have started banning single-use plastics, and many individuals are now switching to more eco-friendly and reusable options, especially when it comes to food packaging.
What about fashion?
It turns out fashion is no stranger to the single-use plastic problem: with the rise of online shopping and the increase in amounts of clothes purchased every year (looking at you, ultra fast fashion), we've also seen an increase in plastic packaging used by brands.
From the bag or box your order arrives in, to the individual bags the clothes and accessories are packaged in, our online orders are often full of plastic.
According to some studies, "packaging is the dominant generator of plastic waste, responsible for almost half of the global total." That's an enormous (and growing) amount of often non-recyclable waste.
But things are starting to change, and more eco-friendly alternatives are starting to appear.
We've talked about our tips for sustainable online shopping before, as we know shopping for ethical and sustainable fashion brands online is sometimes easier—and, in the current situation, even necessary. So today we're covering sustainable packaging alternatives to look out for the next time you order fashion online.
Compostable packaging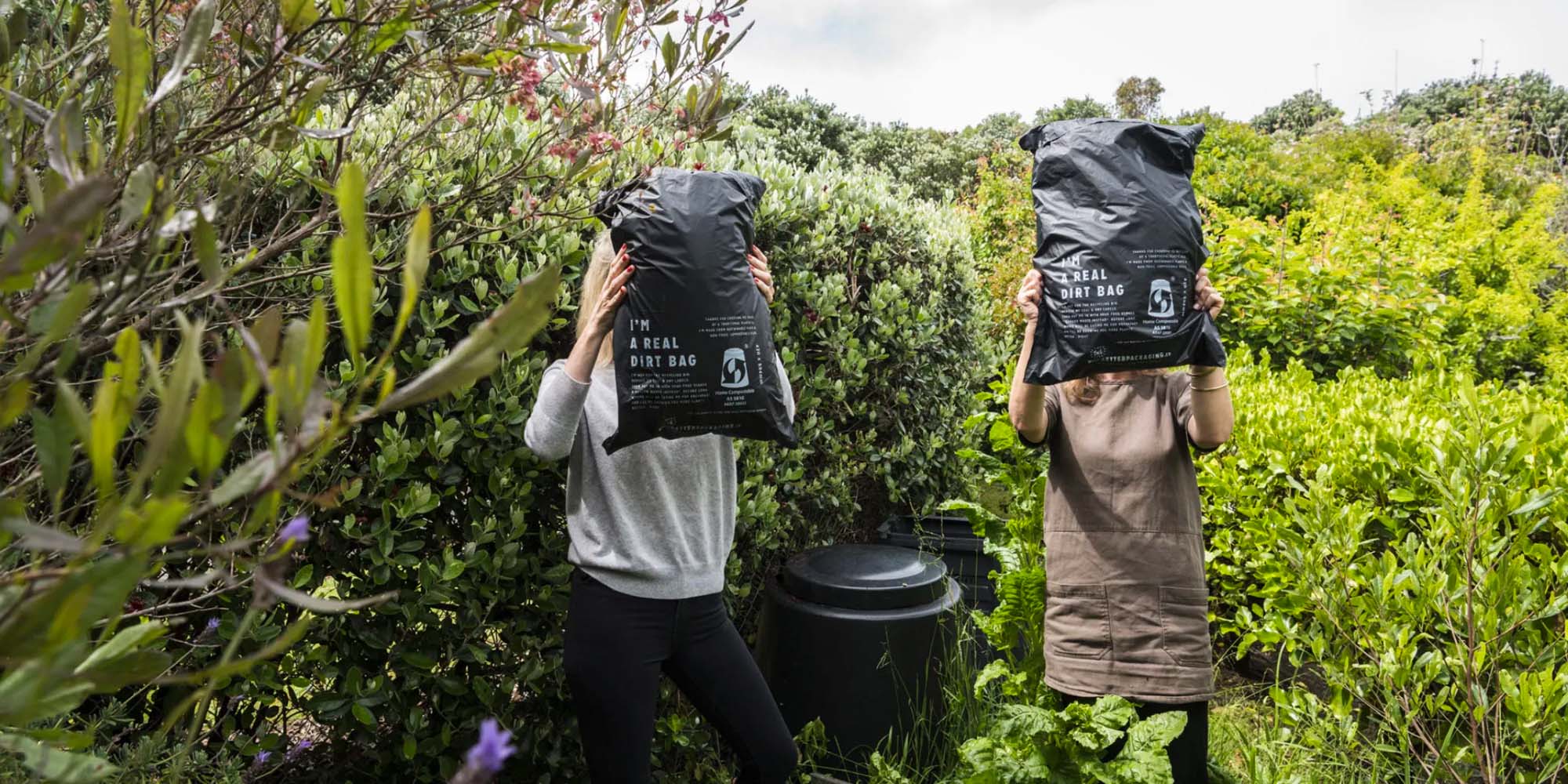 Compostable packaging is made from plant-based or fossil fuel materials and can break down at the end of its life, providing the earth with useful nutrients. However, that doesn't mean you can dispose of your compostable packaging wherever you like. As the name suggests, it has to be disposed of correctly and be added to your composting bin. Be careful—while all compostable packaging is also biodegradable, the contrary is not necessarily true, so always check the instructions on how to dispose of the packaging correctly. Unfortunately, brands will often try to greenwash here, even going so far as to use the word compostable when they really mean biodegradable. If the brand doesn't provide specific instructions on the disposal of their packaging, chances are it's not as simple as it seems.
The good news is some fashion brands have started looking at compostable packaging: New-Zealand-based Maggie Marilyn, for example, packages her garments using ComPlast, a cassava-based compostable bag. The brand goes even further by using compostable bags to ship wholesale items. The bags are made by The Better Packaging Company from corn starch and synthetic polymers.
German brand LANIUS has also been using compostable bags, and Finisterre uses marine safe garment bags and mailbags made from unbleached kraft pulp, both of which are compostable.
But creating and sourcing compostable bags is still time-consuming, costly, and there is a lack of processes and systems in place to make it a standard across the fashion industry. We look forward to seeing more and more brands jump on board to reduce their plastic footprint as this option becomes more accessible.
Recycled packaging
We're also seeing a lot of brands—ethical or not—saying they use cardboard, recycled, or recyclable packaging when shipping online orders. One label to look out for here is the Forest Stewardship Council—while it's not quite as good as compostable and biodegradable options, it ensures that the cardboard used comes from responsibly managed forests.
LANIUS, for example, offers the possibility to choose an already used carton as a shipping option for your order. All packaging materials they use, from cardboard to stickers, are also carefully selected.
Reformation is also paving the way for other sustainable brands: it uses plastic-free and 100% recycled paper products, as well as recycled paper hangers.
Another of our faves, Whimsy + Row, sends out products in 100% recycled and recyclable boxes that are pretty enough to reuse, too.
Fashion For Good has also launched a pilot in partnership with Adidas, C&A, Kering, Otto Group, and PVH Corp., "The Circular Polybag Pilot", to reduce the use and impact of polybags in the fashion industry. The pilot is currently looking at a solution to manufacture recycled polybag, using a high percentage of post-consumer polybag waste.
Reusable packaging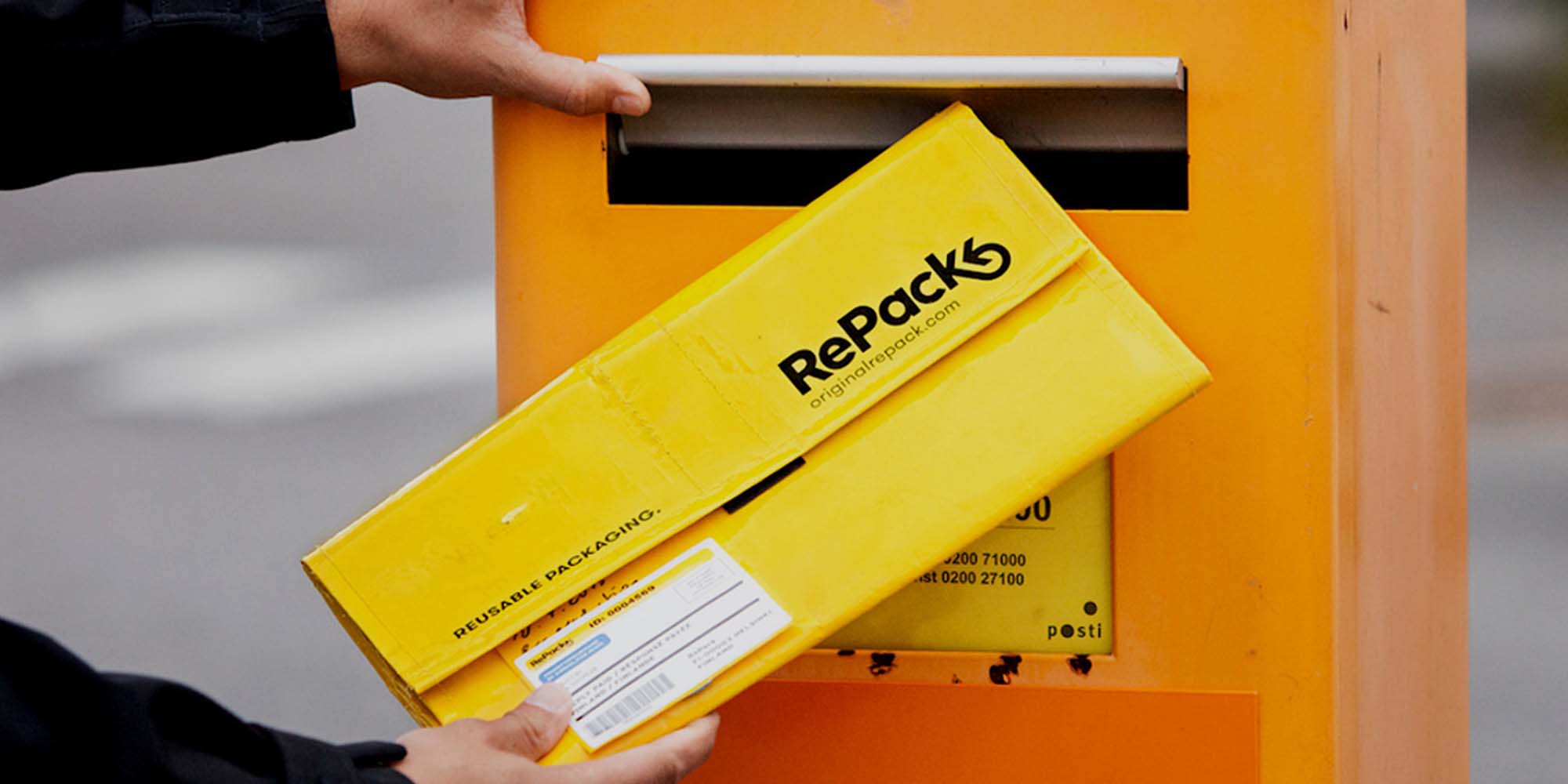 A growing number of companies are also encouraging customers to reuse packaging and are offering easily reusable alternatives to traditional packaging.
RePack, for example, is looking to reduce waste in the fashion industry by providing retailers with reusable and returnable packaging. Amongst Repack's customers is one of Good On You's favourites: MUD Jeans. RePack's packaging comes in three adjustable sizes which are designed to last at least 20 cycles. The customers can easily return the packaging for free by post and can be offered a reward for doing so.
Other brands are also shipping their products in reusable bags, such as HARA, which sends its sustainable underwear in beautiful OEKOTEX100 bamboo bags. These can be reused for storing things or to organise your belongings when travelling.
The plastic you don't see
Even if some brands are doing their best to offer sustainable packaging options, there is likely still plastic packaging further up the supply chain that is less obvious to consumers.
In fact, items are often shipped to the brand's distribution centre, shops, or to other parts of the supply chain in plastic packaging, to prevent them from being damaged.
In 2014, Patagonia experimented with completely eliminating the use of polybags. But the results were disappointing and the brand quickly realised it wasn't possible to ship products without a plastic polybag as doing so damaged items to the point that they became unsellable. Patagonia concluded that a damaged garment has a greater environmental cost than the polybags and Patagonia is, to this day, still looking for an alternative.
Packaging reduction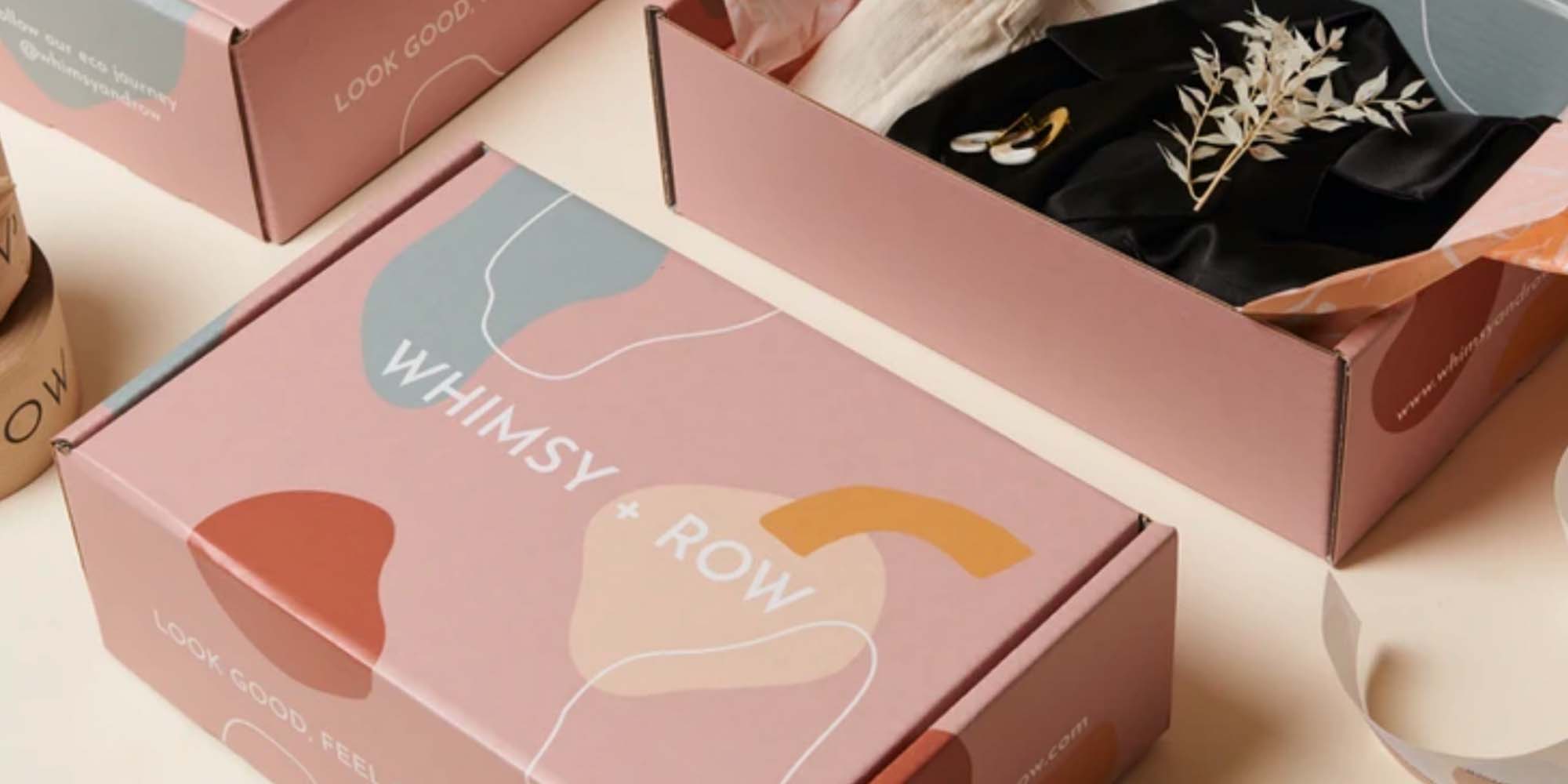 While the sustainable packaging movement is a commendable one and all the options mentioned above are certainly better than plastic, another important pillar in the sustainability of supply chains and shipment to remember is packaging reduction. It's great that brands are using compostable or recycled materials, but this should be happening alongside reducing the amount needed altogether. All too often, online orders (or even supply chain orders) are packaged in far more layers than strictly necessary, and a great step in reducing the environmental footprint of a brand would be the elimination of this excess plastic.
What you can do
Not buying or shopping less is always the most sustainable way to go, but if you need to buy something online and want to reduce your environmental footprint then we recommend looking for the sustainable packaging options mentioned above.
Of course, shopping physically, whether for new or second hand items, is also a good option to reduce the amount of packaging and single-use plastic. You can ask for a paper bag or, even better, bring your own reusable bag. If the activist in you is itching to have a say here, consider contacting brands you know to use unsustainable packaging practices and call for change.