This is a sponsored article about a brand that was independently assessed by our rigorous ratings system. We're proud to only collaborate with "Good" and "Great" rated brands. Learn more.
We first met COMOVITA back in March, where we introduced you to the up-and-coming brand from Barcelona that is one to watch in the world of ethical fashion. So, what is COMOVITA all about? Really, it's about two main things: slowing fashion down, and proving that sustainability is the new sexy.
COMOVITA partners with brands marked with their stamp of approval, which means that every item they offer for sale on their website is ethically made and transparently sourced. Their brand partners report to them on their materials, supply chain, labour standards, ecological footprint, and business practices. It's a robust system that means the products that find their way to you from COMOVITA have been held to the highest ethical and sustainable standards in their production.
The perfect sustainable sneaker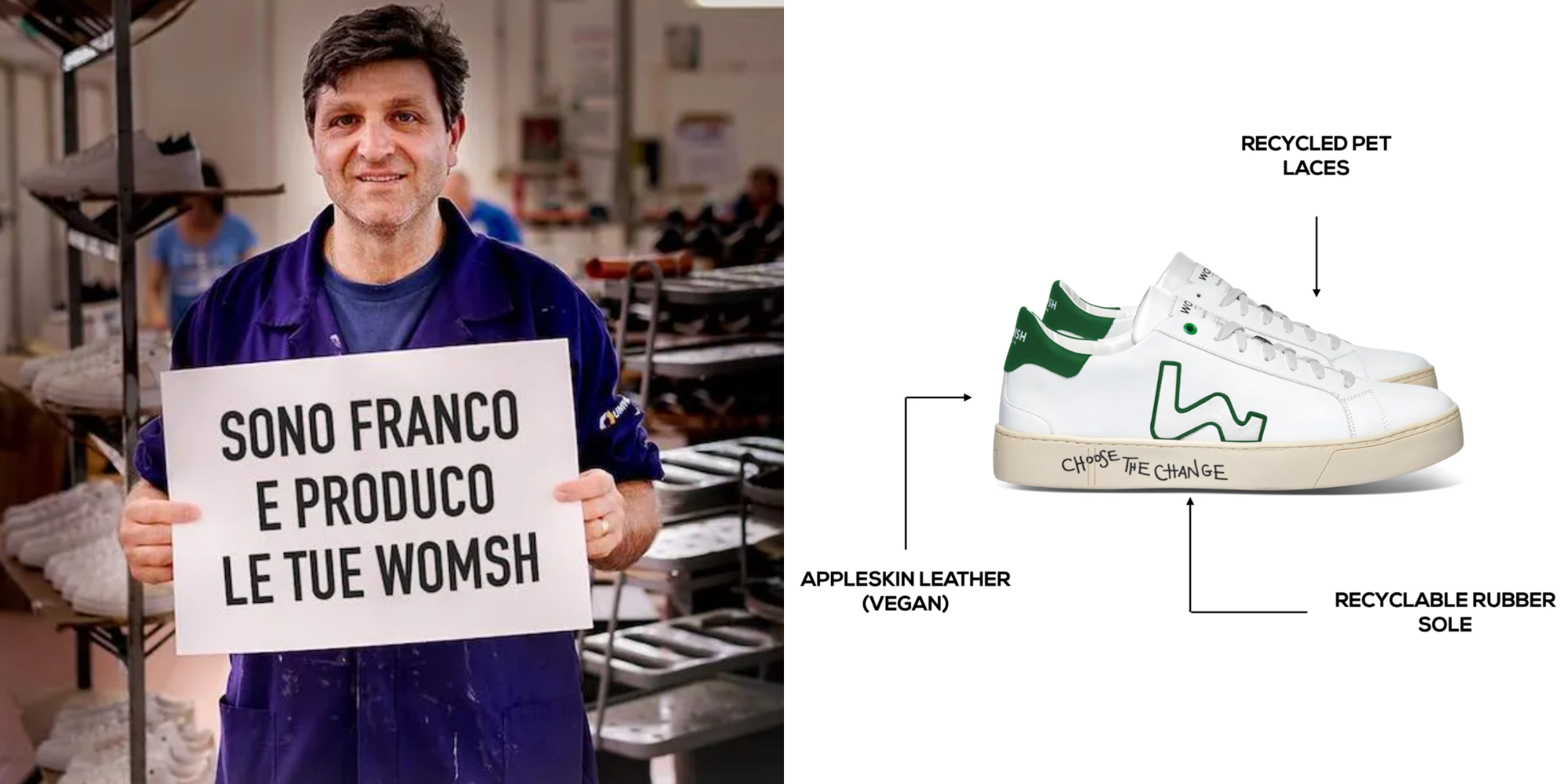 In a partnership we need and deserve, COMOVITA has worked with Italian shoe brand Womsh to create the perfect sustainable sneaker. Sneakers are one of those basics that everyone needs in their wardrobe. They are that go-with-everything, look-good-on-everyone essential. But the sneaker brands lining your local high-street or tucked into the mall are bad news bears: living wages are a pipe dream, environmental impact is massive, and animal welfare nonexistent. COMOVITA x Womsh is here to change that. Let's break it down.
Made from vegan apple skin leather
When it comes to sustainability in fashion, the materials products are made from are crucial. Many traditionally used fabrics like conventional cotton and leather are responsible for huge amounts of water wastage and greenhouse gas emissions. That's where eco-friendly fabric innovations come in. In this case, a vegan leather alternative made from apple waste.
Made from the discarded skin and cores of apples grown for the food industry in the region of Bolzano in northern Italy, "appleskin" looks and feels strikingly similar to traditional leather. The texture lends itself to easily adding different backings, coatings, and effects depending on whatever aesthetics you want. COMOVITA x Womsh have used this to great effect in their sneaker range that is modern and sleek with colourful accents. And for the rest of the sneaker? We're talking recycle PET laces and recyclable rubber soles. It doesn't get better than that.
Made in Italy
The supply chain also plays a critical role in the ethical and sustainable credentials of a fashion brand. While it is intertwined with labour conditions for workers, it also encompasses things like water, chemicals, crops, and oil. Fast fashion brands will often outsource production to countries with extreme risks of labour abuse, like China. That's why local production is often the way to go—the closer to home the products are made, the better for workers, and the less resources used to get them from the fields to, in this case, your feet.
COMOVITA x Womsh sneakers are entirely designed and manufactured in Italy by certified companies that are fully respectful of their employees' conditions. COMOVITA is Barcelona based, so these sneakers that are proudly handmade in Puglia, Italy, are right next door.
Made-to-order
Fashion is one of the most polluting industries on the planet. Did you know textile production contributes more to climate change than international aviation and shipping combined?! For a brand or product to be considered truly sustainable, it needs to tackle the waste problem head on.
So of course the perfect sustainable sneaker by COMOVITA x Womsh prioritises this in their partnership. The sneakers are exclusively made-to-order. This means the brand avoids creating unsold inventory that ends up being thrown away, and is able to price them fairly. A well thought out turnaround time helps to slow fashion down, making these shoes high-quality, zero-waste, and well worth your support.