This is a sponsored article featuring brands that have been independently assessed by our rigorous ratings system. We're proud to only collaborate with "Good" and "Great" rated brands. Learn more.
Our editors have picked out the best chunky knit sweaters from top rated brands, perfect to throw on and snuggle up in as colder days approach.
Get cosy, responsibly
Since sweater weather is here, we're diving headfirst into the world of chunky knit sweaters from better rated brands.
As the leaves change colour and temperatures start to dip, there's nothing quite like wrapping yourself in a chunky knit. It's the seasonal transition the autumn and winter lovers among us have been waiting for, and these sweaters are our trusty companions for the cool days ahead. (Maybe along with a few of the fabled pumpkin spice lattes, too. Haters can hate.)
But, of course, not all chunky knit sweaters are created equal, especially when it comes to their impact on the planet.
These versatile garments can be crafted from a variety of materials, each with its own pros and cons. Some responsible brands opt for plant-based fibres like organic cotton and hemp, which are breathable and gentler on the planet, but may lack the insulating properties of animal-derived fibres. On the other hand, wool and cashmere, sourced from animals, are excellent insulators and are often biodegradable, but they require responsible sourcing to minimise harm to animals.
Our editors are here to guide you through the more sustainable choices and stylish brands that offer the perfect blend of warmth, comfort, and conscience in a chunky knit. Below you'll find sweaters separated into plant-based and animal-derived sections so you can shop your values.
Why you can trust our recommendations
At Good On You, we provide trustworthy recommendations that align with your values and needs. Our mission is to simplify informed choices while embracing the "buy less, buy better" motto.
To ensure credibility, we aggregate comprehensive, transparent information on fashion sustainability—assessing brands using our leading methodology, developed by diverse experts. Our ratings directory of over 5,000 brands employs a simple five-point scale, curating a list of "Good" or "Great" brands making significant contributions to sustainable fashion.
Our editorial team, driven by expertise and passion, carefully reviews and approves each recommendation, upholding high standards of quality, longevity, and trend-transcendence.
While we recognise the value of reusing, mending, and second hand shopping, our expert ratings system guides you toward new brands aligned with your values and sustainability goals.
Chunky knit sweaters made from plant fibres
From organic, recycled, or Fairtrade cotton, to hemp and TENCEL, these sweaters are great options for those vegan fashion lovers among you who prefer to opt for plant-based fibres in your knits.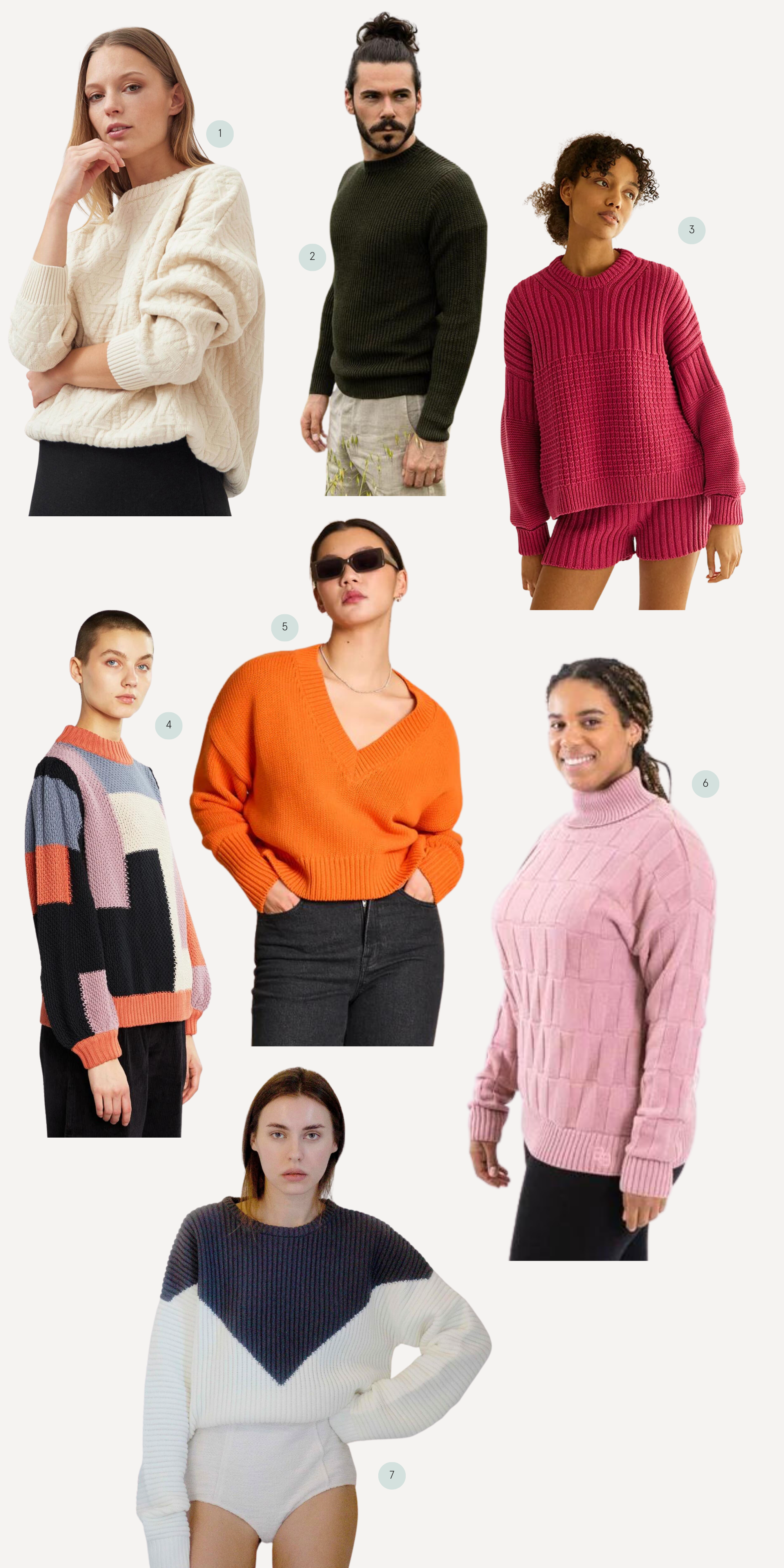 1. Knitted Triangle Pullover (Mila.Vert)
2. FIENO Hemp Jumper (Opera Campi)
3. Rhubarb Cotton Sweater (The Knotty Ones)
4. Sweater Knitted Rutbo Blocks Multi Berry (Dedicated)
5. Jumper Luz Bright Orange (JAN 'N JUNE)
6. High Neck Knit Sweater (Bhumi)
7. Veronica Sweater (OhSevenDays)
Chunky knit sweaters made from animal fibres
The sweaters below are all made from animal-derived fibres, including Responsible Wool Standard, non-mulesed, and recycled wool, along with recycled cashmere and some organic cotton blends. Be sure to check the fibre compositions closely to responsibly dispose of these sweaters at end-of-life.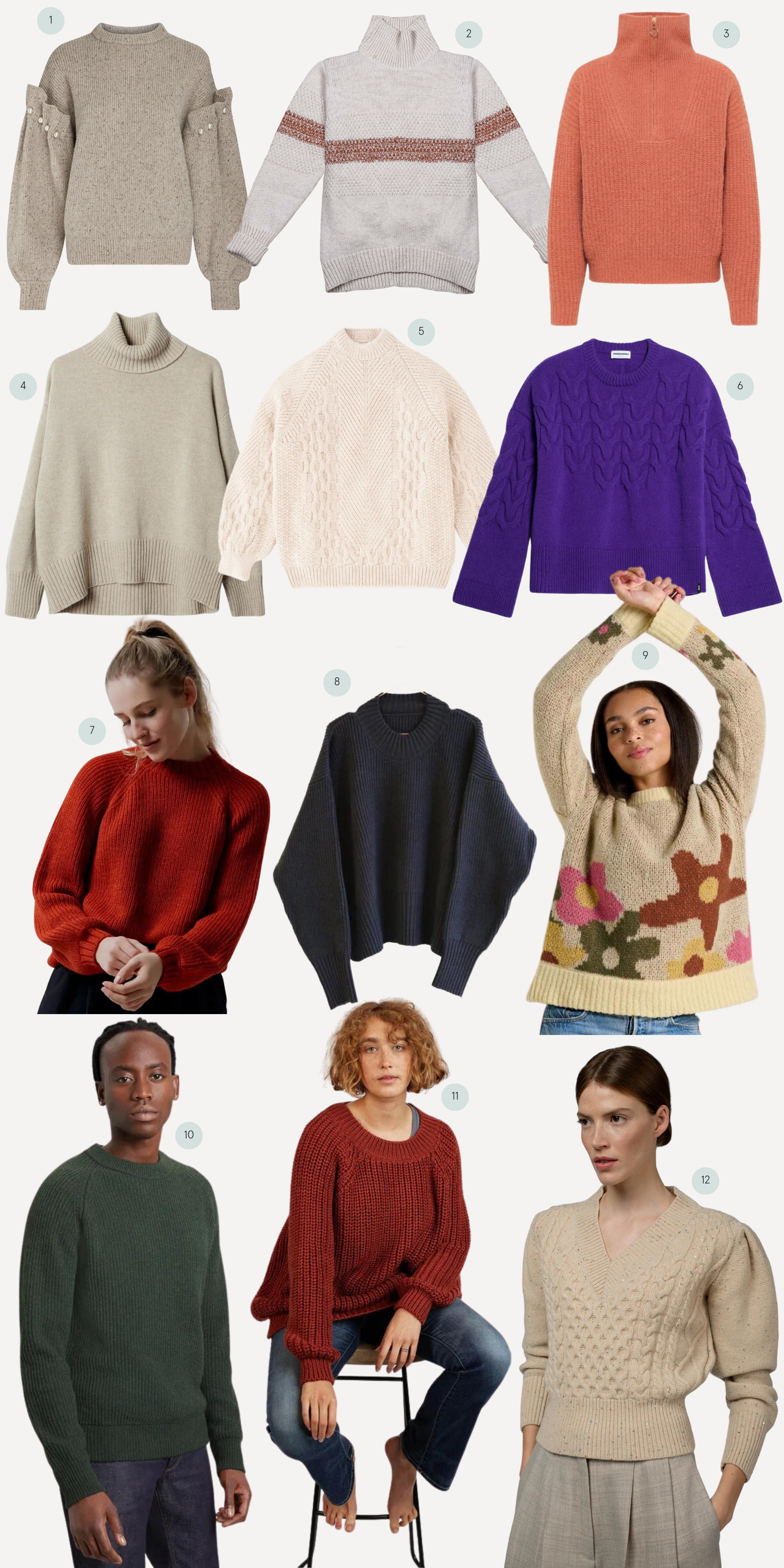 1. Kirsty Champagne Jumper (Mother of Pearl)
2. Loriga Recycled Jumper (NAZ)
3. TROYER Knitted Sweater (LANIUS)
4. The Woolen Chunky Roll-Neck (Artknit Studios)
5. Women's Cable Sweater (Kotn)
6. Oversized Sweater (Armedangels)
7. Pullover XIMENA Red (Jyoti Fair Works)
8. Rebecca Sweater (Seek Collective)
9. Cotati Dolman Sweater (Toad&Co)
10. The Heavy Wool Sweater (ASKET)
11. Women's Fishline Sweater Paprika (Nui Organics)
12. Andrada Cable Knit Cashmere Sweater (SANTICLER)