This is a sponsored article about a brand that was independently assessed by our rigorous ratings system. We're proud to only collaborate with "Good" and "Great" rated brands. Learn more.
Perfect for vegan fashion lovers and conscious consumers alike, the innovative and practical cruelty-free winter boots from CARIUMA are ticking all the boxes.
From sneakers to winter boots
Sustainable footwear brand CARIUMA is known and loved for its planet and board-friendly sneakers, but as the temperature dips in the northern hemisphere, there's a new pair of vegan kicks in town no one is dying for. Perfect for vegan fashion lovers and conscious consumers alike, these innovative and practical cruelty-free winter boots are ticking all the boxes.
Our take on the classic high top—winterproofed. Designed to endure snow, slush, and freezing gusts in style.
Have you met?
When we first chatted with CARIUMA, we learned how a couple of ex-corporate guys who bonded over boardsports came together to create an ethical and sustainable shoe brand out of their home country Brazil. Their shared passion for leaving a light footprint on the planet but a big mark on the industry has led to a "Good" company that is growing in all the right ways.
CARIUMA is a newly certified B Corp, meaning they balance purpose and profit by meeting "high standards of verified social and environmental performance, public transparency, and legal accountability". We also love them for their use of eco-friendly and innovative materials like organic cotton and bamboo, ethically tapped rubber, and recycled PET plastic.
While the brand offers a range of leather and non-leather shoes, we're excited to see that their first-ever foray into boots is 100% animal-free so that everyone can enjoy them.
Warm for the winter, cool for the planet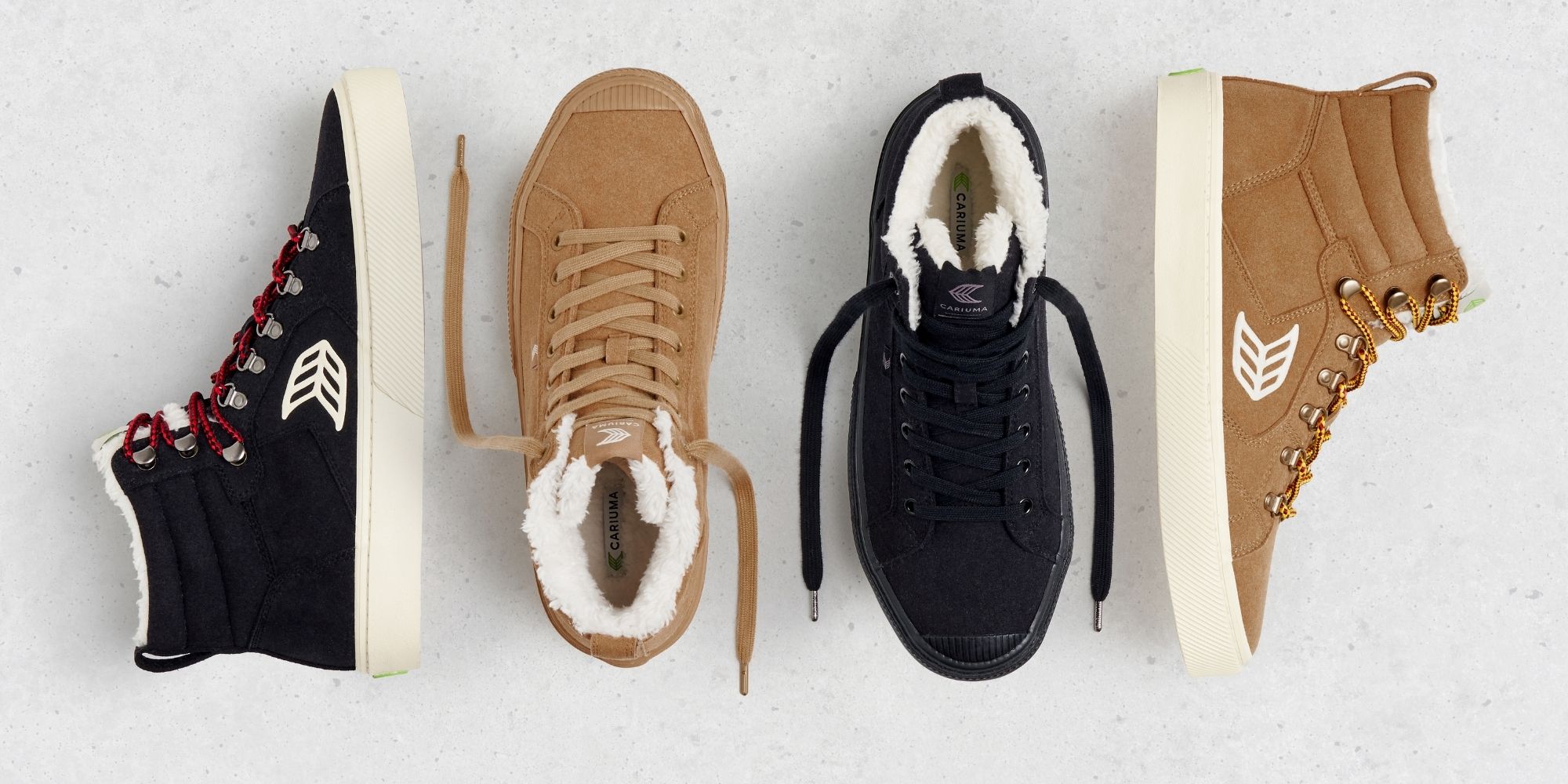 These timeless winter boots are designed to withstand cold temperatures while boosting the new and improved vegan suede which is an impressive three times more durable than animal suede. Available in two silhouettes and two colourways of black and camel, both the OCA Therma and Caturi are ready for all winter occasions and outfits.
"The OCA Therma is a boot interpretation of our OCA High. For someone seeking a classic mountaineering shoe look, Caturi is the answer. Our first 100% vegan boot is made with ultra tough vegan suede, ultra-plush vegan thermal shearling made from 100% GRS-certified recycled materials, and an ethically tapped rubber outsole for harsh winter conditions. Both styles are built to last, with a water-repellent upper crafted while using zero hazardous chemicals with an ultra low carbon footprint."
These beauties are on pre-order if you want to treat the cruelty-free fashion lover in your life to boots that will stand the test of time and trends. Or buy yourself a cheeky pair as a durable Christmas present you'll love and wear for years to come—we won't judge.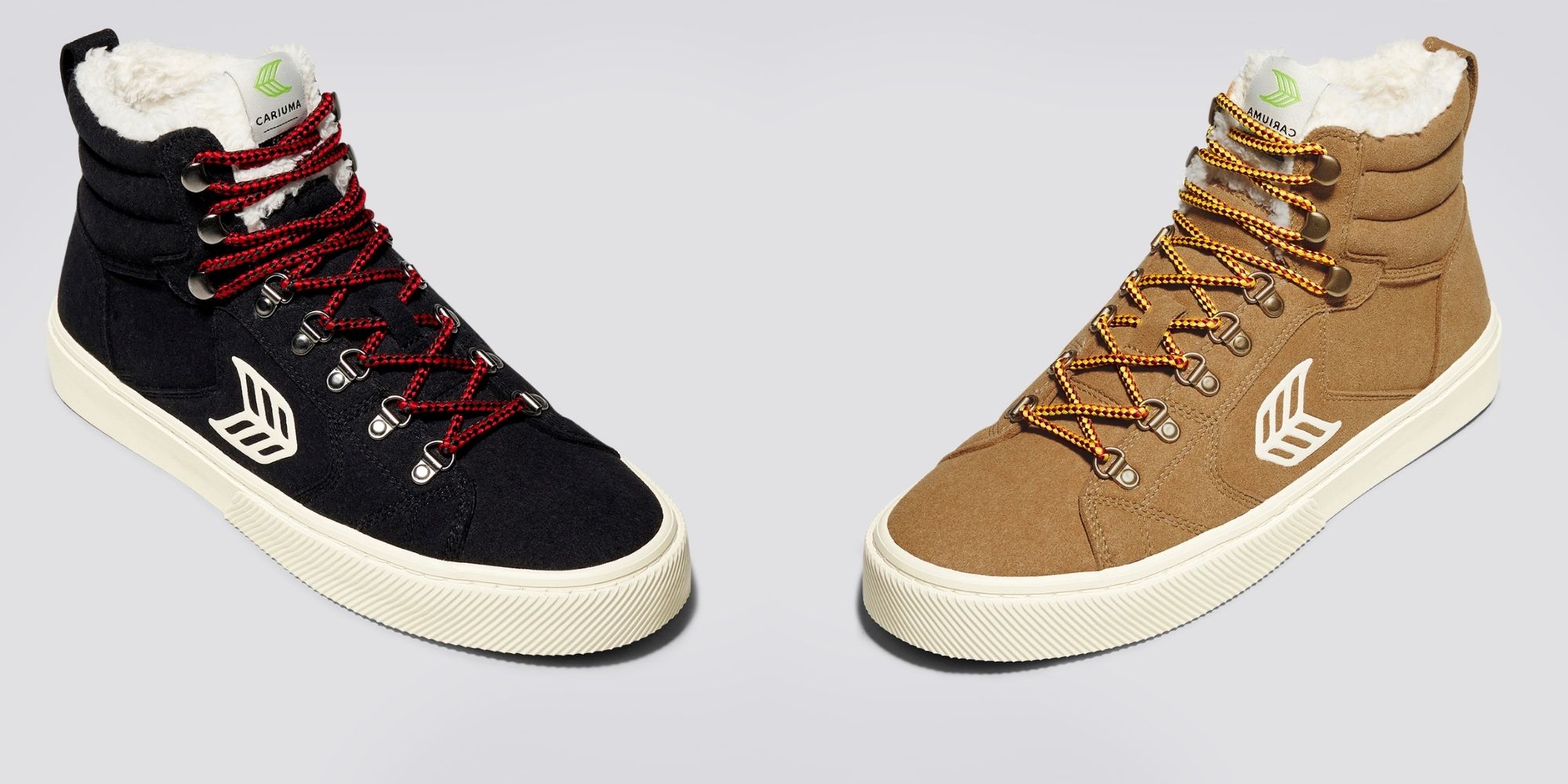 The Caturi is a sturdy panelled boot with a logo on the sides. The boots also have D-rings, speed hooks, and two-tone laces, reminiscent of hiking or mountaineering shoes. Perfect for your outdoor adventures and winter hikes.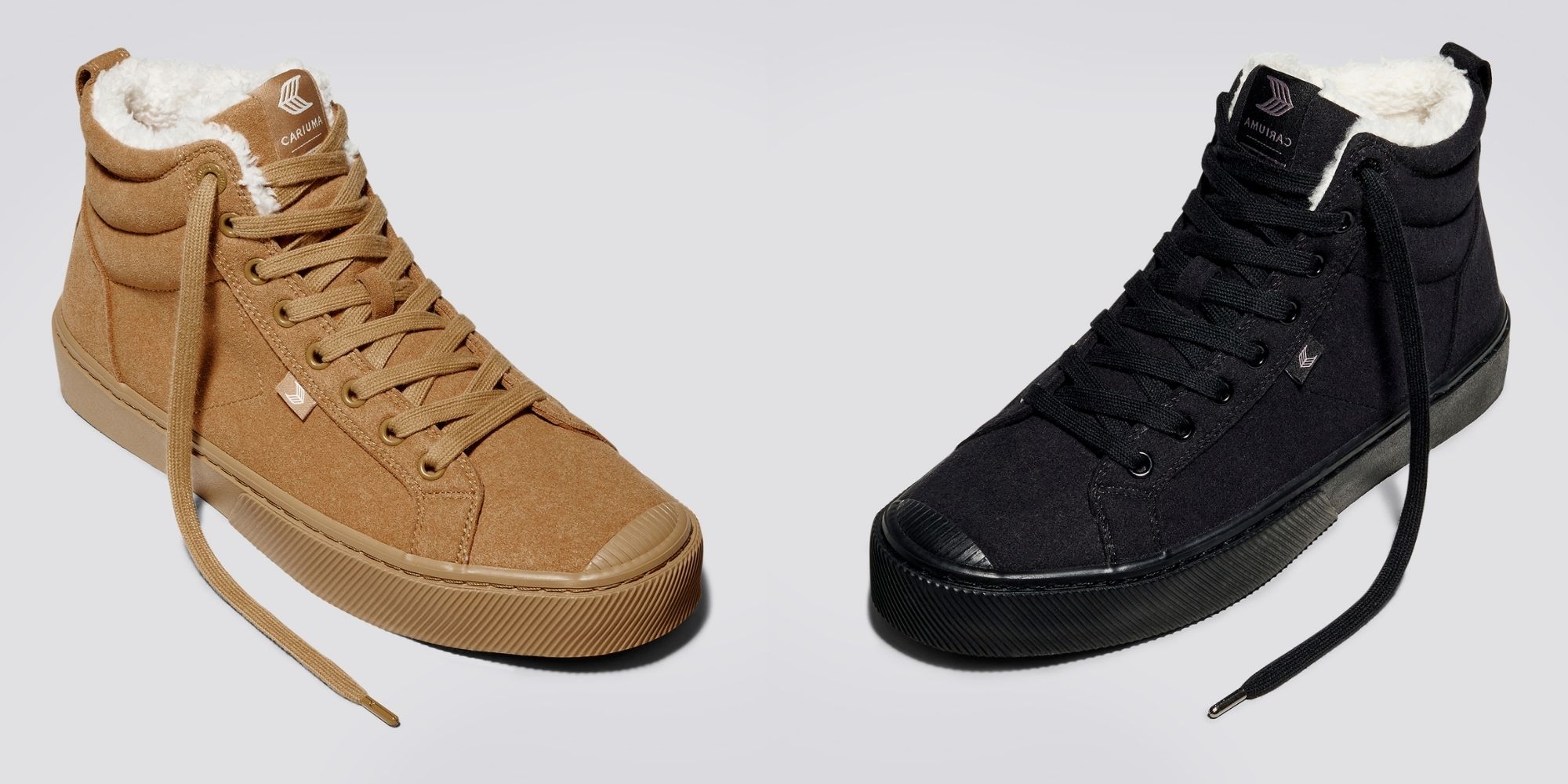 The OCA Therma has an understated look for those who like the classic sneaker vibe but want to keep warm this winter. They will take you through wintery weather cities with ease and style.