This is a sponsored article about a brand that was independently assessed by our rigorous ratings system. We're proud to only collaborate with "Good" and "Great" rated brands. Learn more.
Discover revolutionary shoe brand Cariuma that has the earth and you in mind, and maybe even meet your next perfect pair of sneakers.
Sustainable footwear brand Cariuma is reinventing the sneaker game. Since day dot, the team has been on a mission to create sneakers that are sustainable, comfortable, and timeless. The brand rejects fast fashion and recognises that good things take time, which is why its high-quality, low impact shoes are designed to last. Read on to discover this revolutionary shoe brand that has the earth and you in mind, and maybe even meet your next perfect pair of sneakers.
If you want a sneaker that looks cool, feels really comfortable, and is made with people and the planet in mind, with great quality and an affordable price point, we should have something for you.
How it all began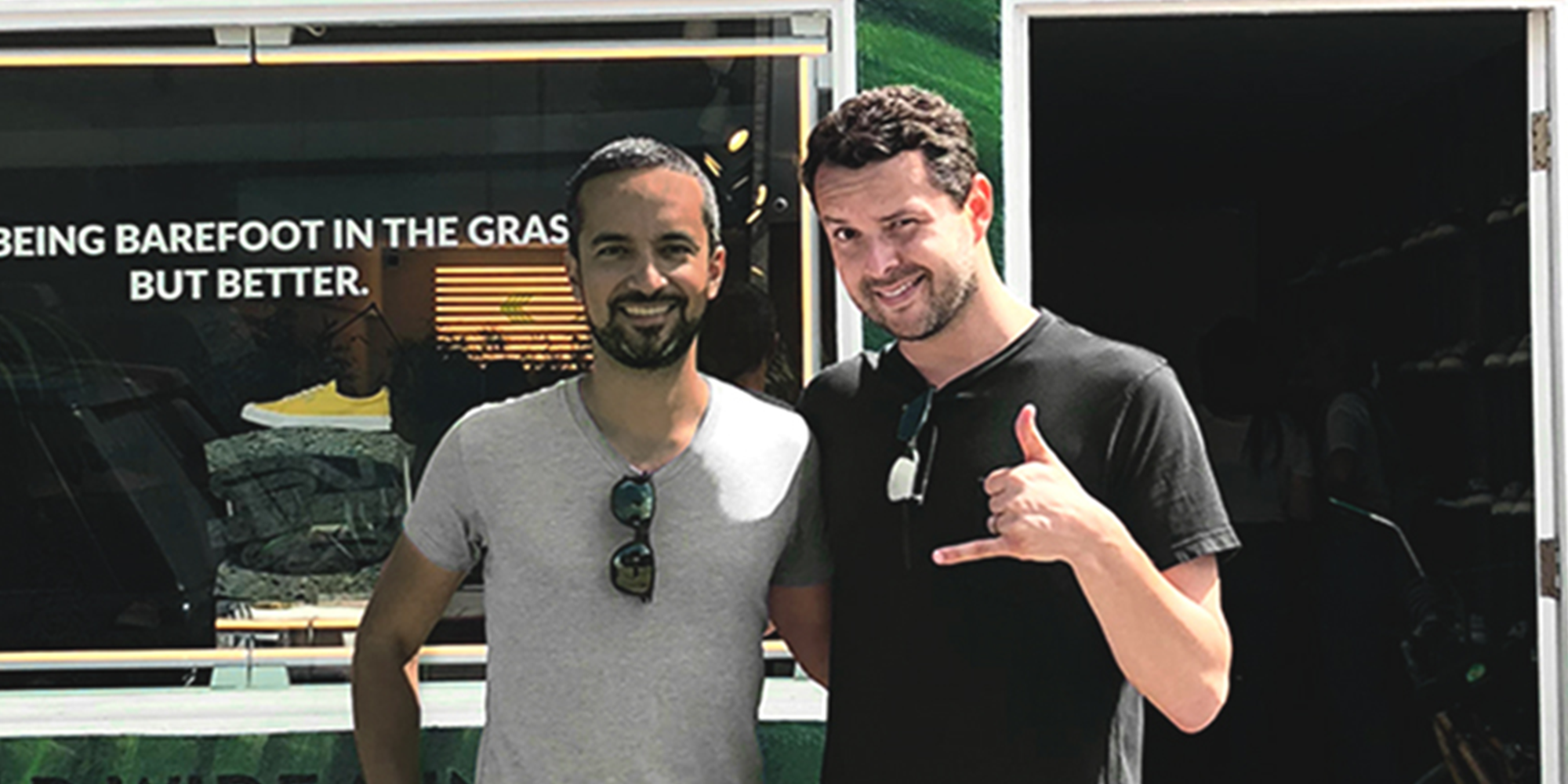 Meet David and Fernando. Long story short, after working together for a few years and bonding over their mutual love of boardsports (skateboarding, surfing, and snowboarding) and their home country Brazil, they decided to join forces to start Cariuma.
The pair left their corporate jobs with a shared idea to spread positivity and help to reshape the industry through the best possible sustainable products while helping to recover the environment. "Me and David were born in different cities in Brazil, both between the ocean and the rainforest. I'd say we have a very special relationship with nature, and we believe that good things take time." In a true show of sustainability and a slow fashion mindset, the team at Cariuma insists everything they do must have a clear reason—every product they launch must have at least one clear "Why?".
All new products they launch must be a better alternative than the ones available on the market, both for the people and for the planet. They must be more comfortable, more sustainable, have a lower footprint, higher quality, and longer lifespan. They must be made ethically and have a better price than any other one with similar quality. "And of course… they have to look cool!"
Good-looking, crazy comfy, and consciously made
Cariuma empowers conscious consumers to buy quality over quantity—"the only true answer to sustainability!"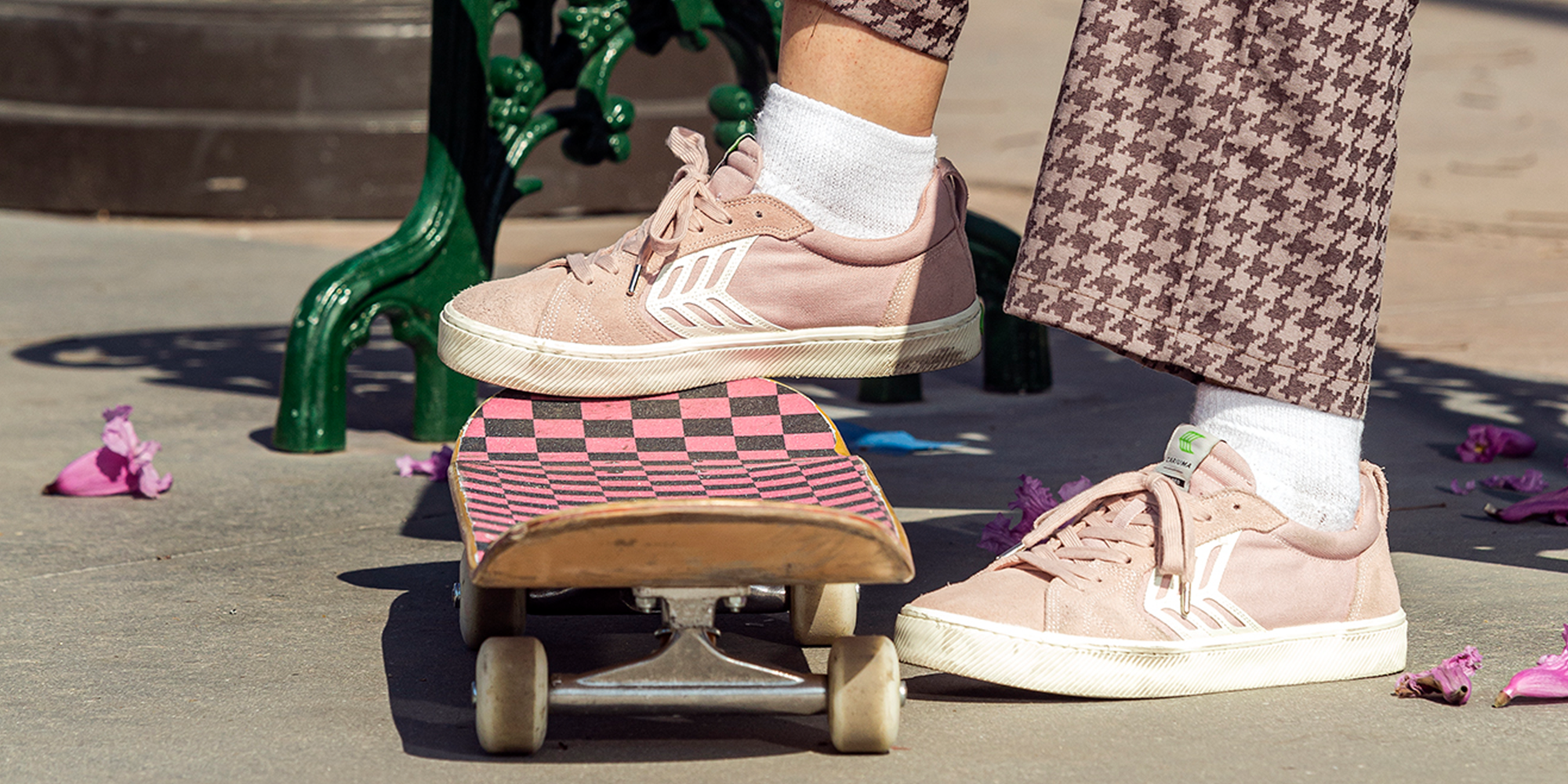 Even though we are not perfect, we strive to get better every day. Not only better than the competition, but better than we were one day before.
In 2020, Cariuma launched its own reforestation program in the Brazilian rainforest and is on track to become a certified B-Corp. "While we are proud of our journey so far, our brand vision is  to become a respected global brand, while transforming how we can do business in a different way and representing different values." The brand is particularly proud that it will soon kick off its new reforestation project in the Amazon forest in collaboration with the indigenous peoples, which directly relates to David family's origins.
Sustainable sneakers you won't want to take off
"Being better for the planet is our first priority", says Cariuma. "We imbue every stage of our sneaker-making process with this eco-conscious spirit, from designing to curating materials responsibly, to shipping and giving back to the environment." Cariuma is rated 'Good' for the planet by us here at Good On You because they are true to their word when it comes to leaving a light footprint on the earth in production. For the people, Cariuma is making a good start, working with certified factories and tracing most of the supply chain. So, what exactly is the brand doing to minimise its impact?
Ethical work conditions
"To us," says Cariuma, "sustainability starts with the people who work with and are part of Cariuma's ecosystem—we put people at the center of everything we do." It's Cariuma's belief that sustainable practices begin with respect and good working conditions for every single person who works with the brand. This is why they maintain ethical factories and employ a strict Code of Conduct in their day-to-day operations.
Curating premium raw materials
We know that using the right materials is one of the most significant steps a brand can take when it comes to making eco-friendly fashion. Fabrics used by fast fashion companies like virgin polyester and conventional cotton are thirsty, polluting, and leading the planet down a dangerous path. To help combat the damage done and invest in a more sustainable future, Cariuma crafts its stylish sneakers with numerous earth-friendly materials like thrice-certified organic bamboo, ethically "tapped" rubber, GOTS-certified organic cotton, recycled PET, and more. "We believe that true sustainability stems from creating a longer-lasting product with premium natural materials."
While the brand does use leather for some designs, it states that the animal-based fabric comes from factories certified by the Leather Working Group and that it's not sourced from any area deforested for cattle-farming purposes. The brand also recognises the rapidly growing vegan fashion movement, and while 43% of the products are already 100% vegan, their goal is to go 50%+ vegan this year!
Attention to detail
The sustainability doesn't stop at the shoe materials. Cariuma also uses exclusively Forest Stewardship Council recycled and recyclable packaging for its carbon-neutral shipping, and the shoe box doubles as the delivery box. Even the shoe filler is biodegradable!
To make things as safe as possible for workers, the brand also avoids any harsh chemical dyes and opts instead for Bluesign-certified dyes. This helps the factory to function more efficiently, reduces water usage, and helps with pollution control.
Speaking of details, what about the design of the shoes themselves? Well, the team spent over a year and a half creating a single new silhouette, looking at consumer needs to make informed choices, and reducing impact and waste through thoughtful design. They are always developing new materials or pushing the property of the materials to their limits. They constantly strive to improve the design, from the outsole and insole's flexibility and impact absorption, to the structure and cushioning.
Bonus point: every pair of shoes purchased plants a pair of trees!
High-tops to write home about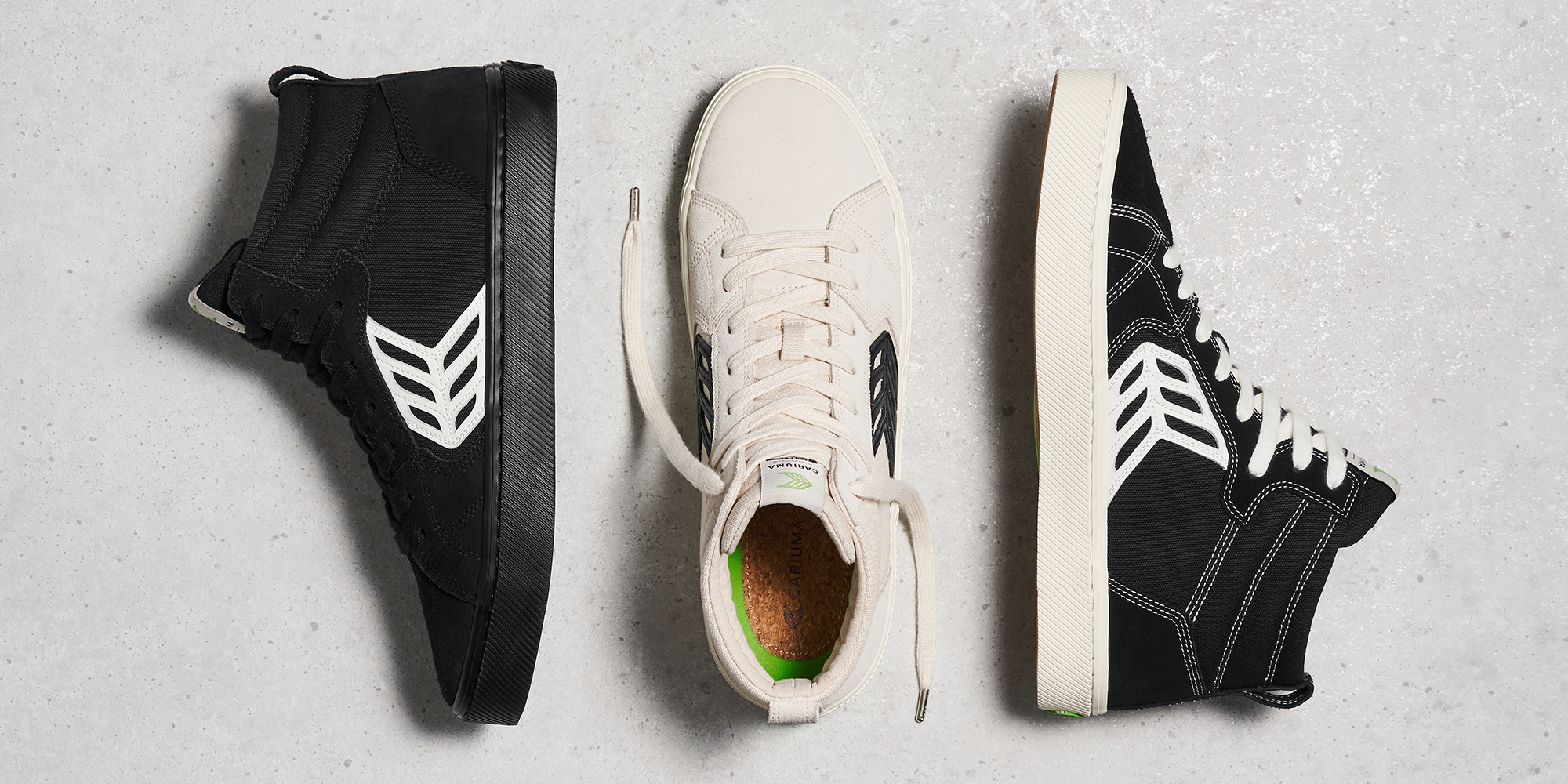 Cariuma is about to level-up your comfort and performance game with its new line of high-top skate shoes. Designed by skaters, for skaters—or anyone who likes the aesthetic, let's be honest—these premium sneakers are taking over California's cool kids' minds as their favourite shoe. Maybe because they are engineered for durability, movement, and the best grip possible, with great board feel, traction, ultimate comfort, and ankle stability with a reinforced flick point. Sounds like a win-win-win to us!
Pre-order the new high-top skate shoes
Vegans: have no fear. There is an extensive range of vegan sneakers too: low-tops, high-tops, and everything in between for all your daily foot-cushioning and planet-saving needs.