This is a sponsored article about a brand that was independently assessed by our rigorous ratings system. We're proud to only collaborate with "Good" and "Great" rated brands. Learn more.
Love the longevity of leather but want a greener alternative? CARIUMA's new classic Salvas sneakers may be exactly what you need.
Old school aesthetics, crafted with new school ethics
Celeb favourite sustainable shoe brand CARIUMA has a new style, and it doesn't just look good. Rated "Good" by our world class methodology, CARIUMA has been crafting conscious footwear for years, providing effortless style in organic canvas and Leather Working Group certified leather and suede. For those who love the practicality of leather shoes but hate the environmental impact that normally comes along with them, Salvas may be the answer. Let's take a look.
Salvas: leaving a lighter footprint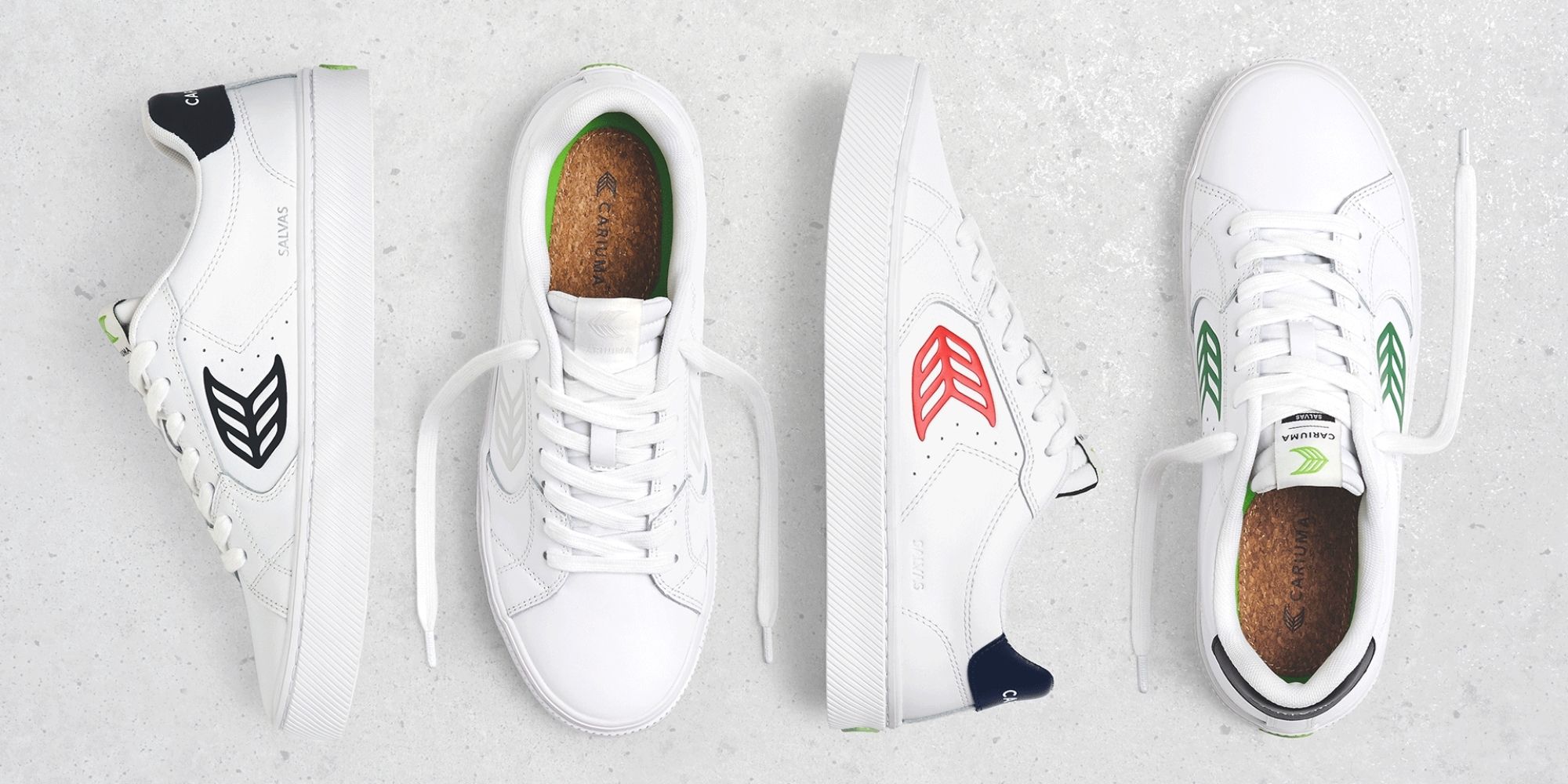 Meet Salvas, the updated classic made from more eco-friendly materials than your standard leather shoe. "Our leather is sourced responsibly from Leather Working Group certified tanneries—never from areas deforested for cattle-farming purposes, and processed using alternative energy and a closed-loop water supply." The rest of the shoe is made up of natural rubber, recycled materials, and cork. Compared to the industry average data for similar styles provided by the Sustainable Apparel Coalition, Salvas are 53% more energy efficient to produce, cause 78% less nutrient run-off into bodies of water, and 71% less water is used overall, as calculated by the Higg Materials Sustainability Index.
Reforestation efforts
For every pair of CARIUMA sneakers purchased, the brand will plant a pair of trees in the Brazilian rainforest—affectionately dubbed "the lungs of the world"—through its own reforestation program. This serves to directly aid reforestation and the preservation of endangered species' natural habitat. "Our mission is to help restore the biodiversity and carbon-capturing potential of rainforests," says the brand. "With the goal of restoring biological diversity in this essential biome, we plant over 120 tree species, based on what's native to each site. Biodiversity ensures the forest can continue to grow and flourish without human activity, by allowing natural processes to function as they would without intervention."
Conscious and considered design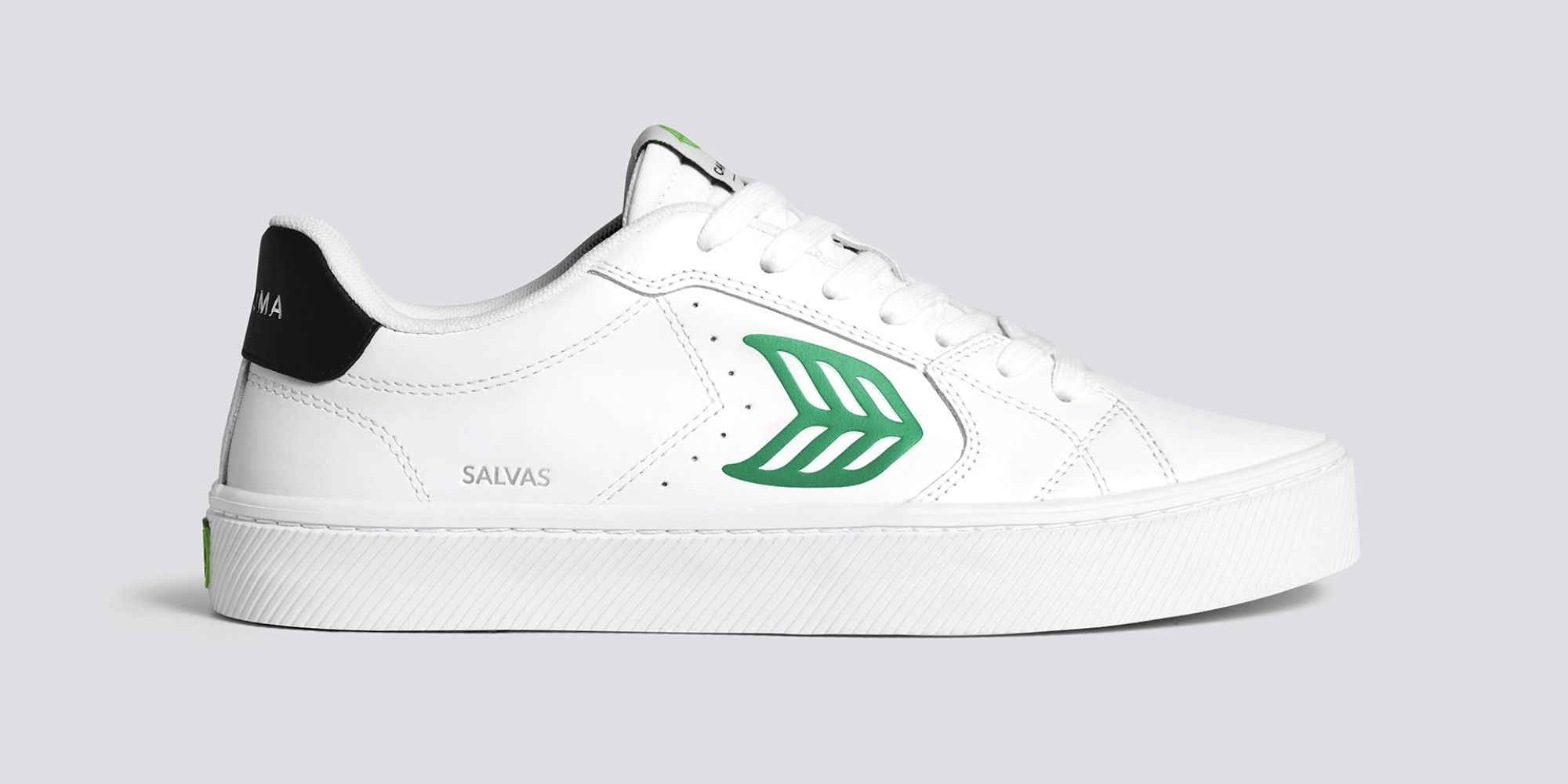 CARIUMA's origin story as the brainchild of two lovers of boardsports is obvious in this new design. We love the nod to retro aesthetics with details like subtle perforation, contrast colours, and the brand's signature leaf logo. Comfort remains the common thread, though, with cork and mamona oil insoles providing a plant-based cushion, cocooned in a perfectly weighted, vulcanised natural rubber outsole. A padded tongue (made with recycled nylon) and a cushioned heel collar provide "broken-in comfort, right out of the box". The Salvas are available in white with a black, white, green, or red logo in men's and women's sizes.
Enter the giveaway to win 2 pairs of Salvas, open worldwide until February 27th.