This is a sponsored article featuring brands that have been independently assessed by our rigorous ratings system. We're proud to only collaborate with "Good" and "Great" rated brands. Learn more.
Our editors have picked out their favourite stripes, flowers, checks, and other bold prints and patterns for the season from top-rated brands.
After years of minimalism, is it finally the season of prints and patterns?
Adding a print or a pattern to your outfit adds a layer of fun and allows you to let your personality shine. After all, not everyone likes wearing leopard print, but maybe you do—and more power to you.
We're all for this maximalist trend of layering prints and patterns, as long as they're sourced from brands doing better for people, the planet, and animals.
In this article, we've compiled a list of "Good" and "Great" brands doing more sustainable prints and patterns. Before we dive in, let us tell you why you can trust our recommendations.
Why you can trust our recommendations
At Good On You, our mission is to make it as easy as possible to buy products that meet your needs, from brands that live up to your expectations in relation to their environmental and social performance and how they impact animals. We also support the motto "buy less, buy better" which looks like opting for high-quality, timeless, trend-transcending pieces you need that are designed for longevity so they last for many years to come.
As ever, the most sustainable choice to make is the one already in your closet. Whether that means taking care of your clothes, getting them mended or tailored, or mixing and matching to keep things fresh. The next best option is to swap or shop second hand. But sometimes you must buy new, and that's where our expert ratings system comes into play.
We've rated over 5,000 brands in an easy-to-understand five-point system, and below we have curated a list of brands rated "Good" or "Great" that are making waves in the sustainable fashion space, designing stunning prints and patterns, including stripes, checks and flowers, as well as bolder designs.
Timeless and elegant stripes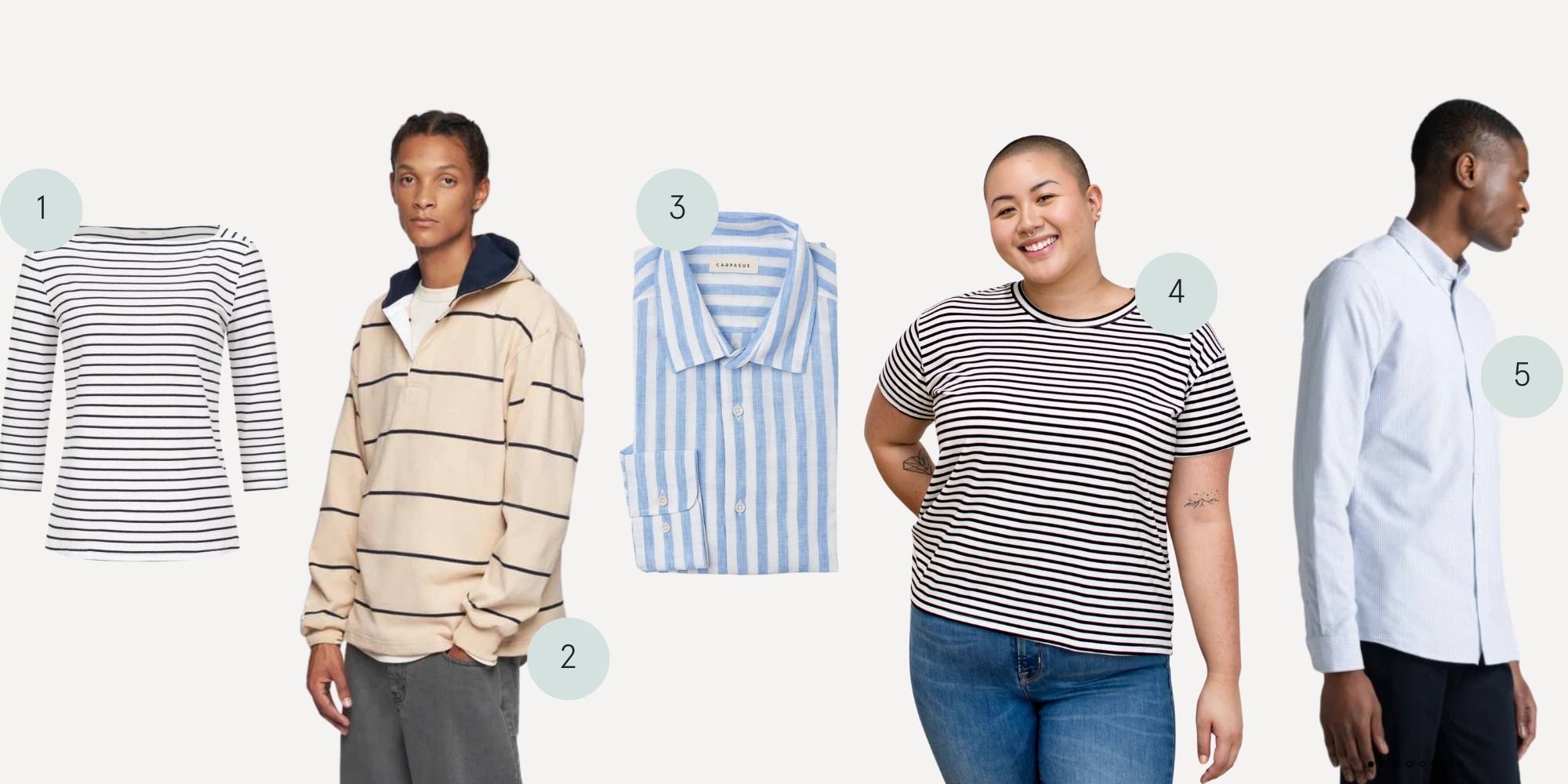 Whether you're dressing up or keeping it casual, stripes add a touch of classic sophistication to any look. They're versatile and never go out of style, making them a staple in any wardrobe. From bold and colourful to subtle and understated, stripes can be incorporated into any outfit, regardless of the season.
We're digging the classic and classy boat neck shirt, the timeless Oxford shirt, as well as the original striped hoodie.
1. Boat Neck Shirt (LANIUS)
2. Striped Hoodie (Kotn)
3. Linen Striped Shirt (CARPASUS)
4. Box T-Shirt (FRANC)
5. The Oxford Shirt (ASKET)
Flowers, flowers everywhere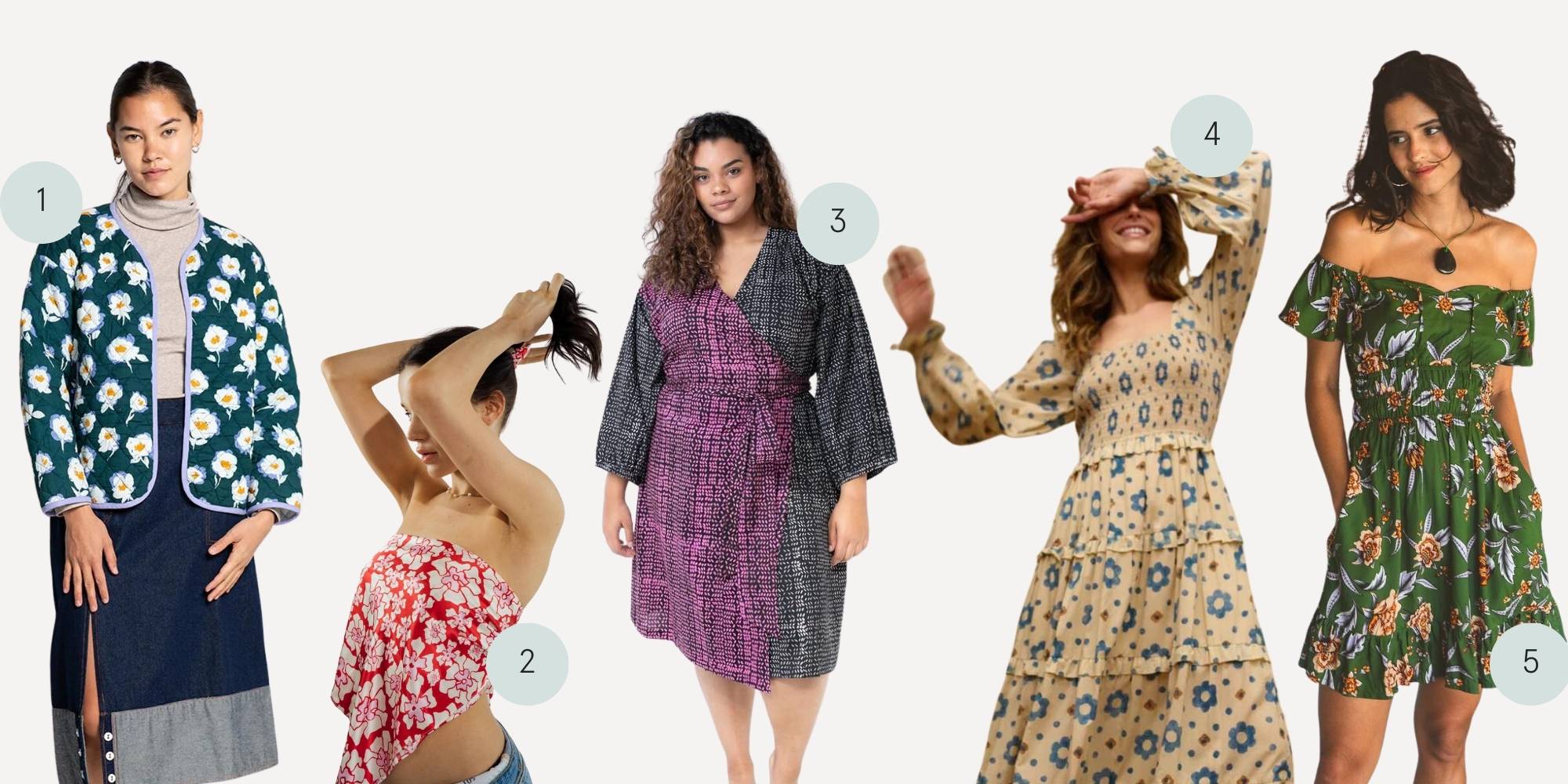 From delicate floral prints to bold and vibrant blooms, there's a flower pattern for every style, occasion, and believe it or not, every season. Flowers are perfect for adding a touch of romance to a summer dress or a pop of colour to your fall outfits. Flower patterns are also a great way to incorporate some colour and texture into your wardrobe, and they can be mixed and matched with other patterns for a fun and eclectic look.
Check out our pick of floral prints: cherry blossoms, daisies, foliage—what will you be adding to your fashion bouquet?
1. Overlook Jacket (Harper Sage)
2. Cherry Blossom Silk Scarf and Scrunchie Set (Wildflo Studio)
3. Malika Dress (Seek Collective)
4. Emerson Dress (Christy Dawn)
5. Lorena Mini Dress (TAMGA Designs)
Keeping yourself in check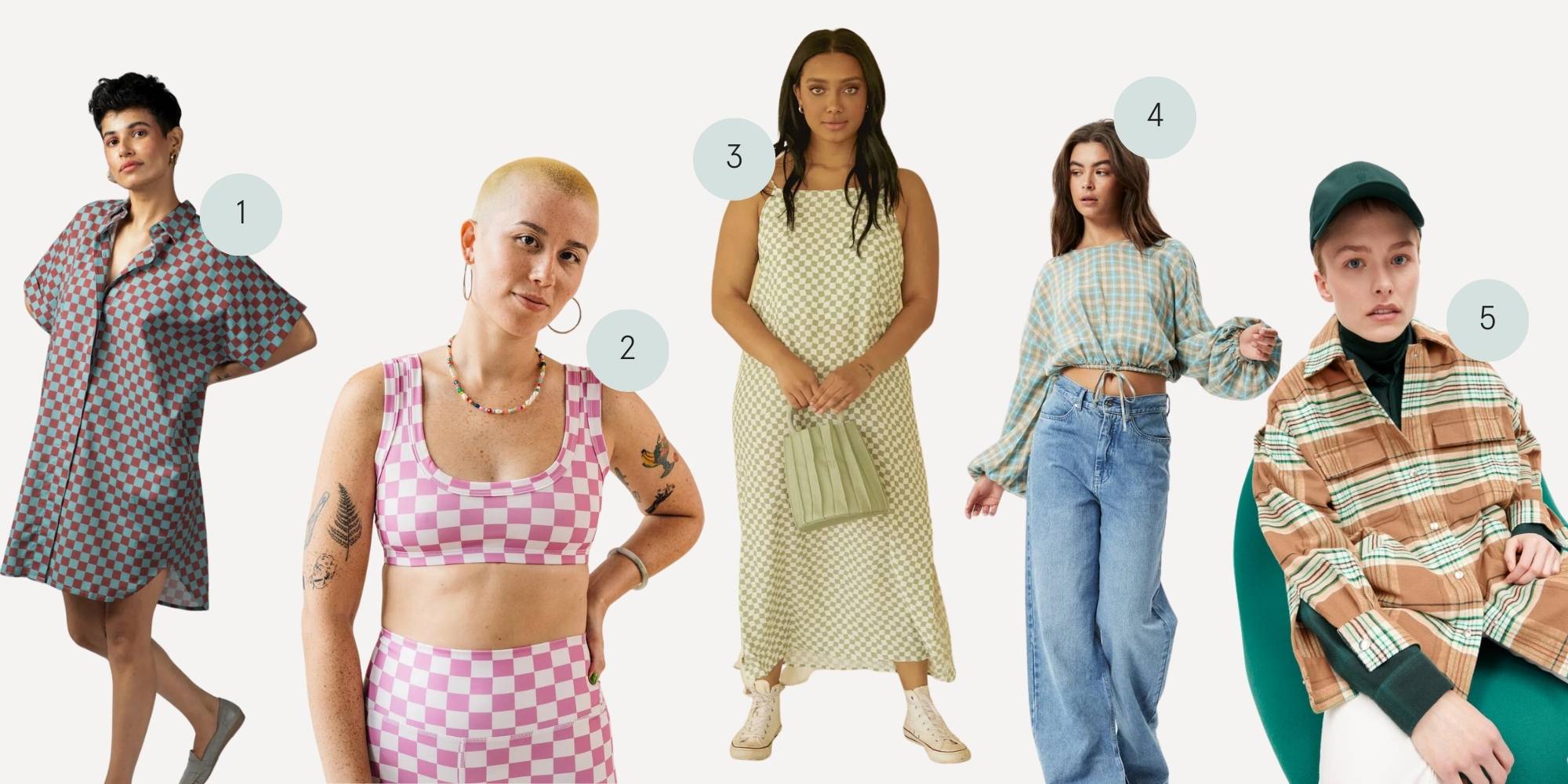 Breaking news: the checkerboard pattern is here to stay. From fashion to interior design, this edgy pattern is everywhere. But let's not forget about the other checkered patterns that are just as cool: plaid, houndstooth, gingham, tartan, madras, and so many more.
Check out our selection of trendy checkerboard prints, as well as a couple of traditional plaid patterns.
1. Syrah Checkers Shirt Dress (No Nasties)
2. Checkered Mini Top (Nube)
3. Loni Dress (Whimsy & Row)
4. Cropped Long Sleeve Top (Afends)
5. Oversized Overshirt (Armedangels)
Bold and beautiful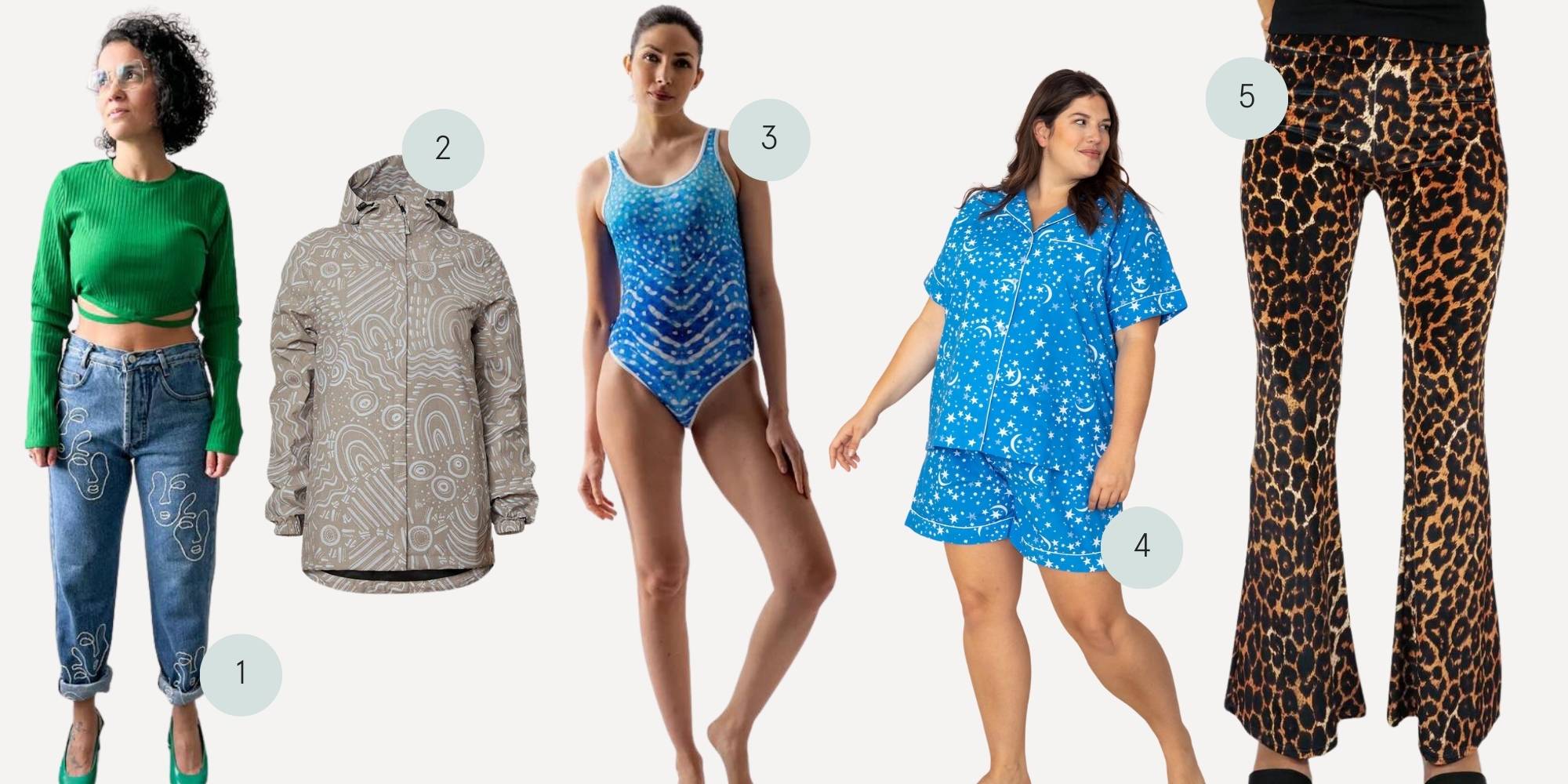 The following prints are so unique they had to be in their own category. If you're not into the classic stripes, the romantic flowers, or the edgy checks, why not have a look at these fun patterns, and add a touch of originality to your outfits?
We're obsessed with the embroidered face jeans, leopard flared pants, and the whale shark swimsuit.
1. High Waisted Recycled Embroidered Faces Jeans (Fanfare)
2. Elements Waterproof Jacket – Banksia Forest (Amble Outdoors)
3. Olympic Style Swimsuit Whale Shark (Kampos)
4. Celestial Sky Sleep Set (Printfresh)
5. Leopard Print Velvet Flares (Flare Street)