This is a sponsored article about a brand that was independently assessed by our rigorous ratings system. We're proud to only collaborate with "Good" and "Great" rated brands. Learn more.
You've no doubt heard to vote with your dollar. Well local Australian fashion label Etiko is without a doubt, a vote very well spent. Bona fide eco-friendly, Etiko was launched in 2005 as the first Aussie brand of its kind. Etiko today offers a fully-fledged fashion range including tees, sneakers and underwear for men, women and kids. The Etiko range is entirely vegan, organic and fair trade, made with the least possible impact on the natural environment. All of which are made available at a highly affordable price.
Etiko was built on strong foundations of integrity, transparency and fairness. Founder of the brand, Nick Savaidis, was exposed to the realities of exploitation in the fashion industry from a very early age. Watching his mother get paid a pittance to sew garments for local Melbourne fashion labels in the 60s and 70s, this memory served as a reminder to always shop your own values.
At the core of the Etiko brand is the ongoing battle against inequality and poverty, still rife in the industry today. "Exploitation still occurs," says Nick, "sweatshop, child and slave labour has not stopped." Etiko is directly addressing and raising awareness of these human rights issues, implementing high ethical standards from the bottom up. Nick visits his suppliers regularly, witnessing first-hand the transformative effect of fair trade on the lives of hundreds of farmers and workers who make a living from fashion (many of who have been working with Etiko since 2005).
The whole basis of creating Etiko was to do good, not only for the farmers and workers involved in our supply chains but also for the environment and towards animals.
And it doesn't stop there. Etiko proudly boasts a 100 per cent vegan and cruelty free range, fashioned from alternative animal free raw materials.
Endorsing these claims, Etiko has a long list of accolades. Back in 2008, Etiko was awarded the Banksia Environmental Foundation Award for the Most Sustainable Business in Australia. In 2016, Etiko was the first ever fashion brand to win the Australian Human Rights Award (Business Category). And more recently, Etiko has successfully achieved the highest ranking of ethical production in the Australian Ethical Fashion Report each year since its first release in 2013. Each award is a testimony to the brand's commitment to their value.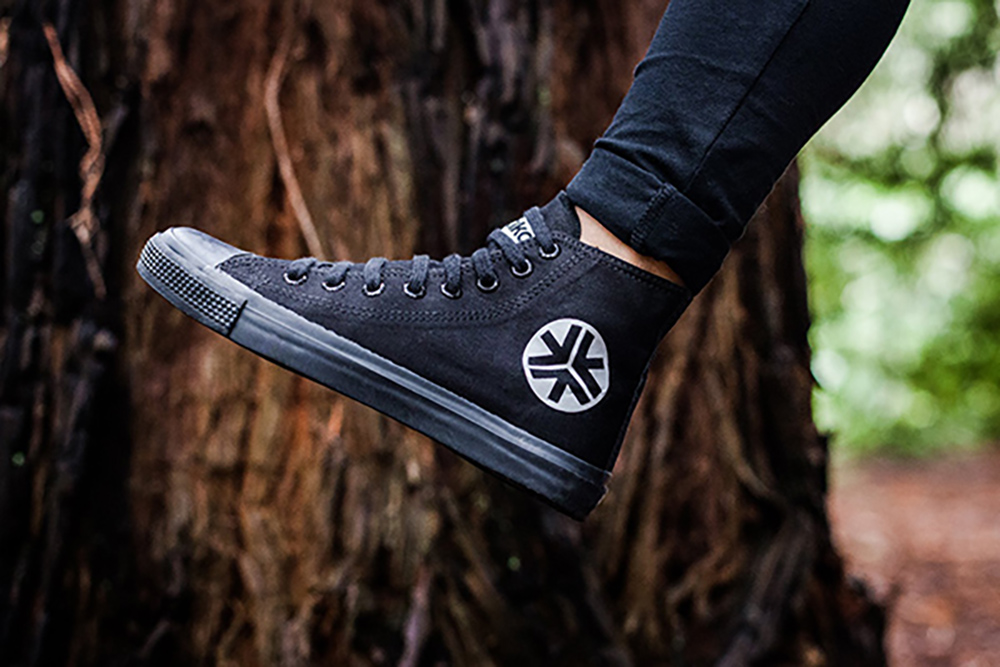 Aside from the production their own range, Etiko continue to advocate for cruelty free through their ongoing support of animal rights groups through the Thongs for Good program. In its first year running, the program has raised $10,000 for animal charities Sea Shepherd, Free the Bears, The Orangutan Project and Animals Australia. Indigenous community engagement is also a priority for Etiko, where they have enlisted the help of sister brand Jinta Sport. Over the last eight years, the brands combined have assisted with various health and sports programs operated by the Warlpiri Youth Development Corporation in the Northern Territory as well as other arts-based projects in local communities.
Looking towards a sustainable future, Etiko aims to become totally carbon neutral, via carbon offsetting and designing a fully circular business model. At home in Australia, Etiko is a pioneer in this space.
Taking back products that we've sold to customers when they reach the end of their lifecycle and recycling them. No Australian fashion brand has achieved this yet. We aim for Etiko to become the first.
Though becoming mainstream is not a priority, Etiko's goal is to continue to be the brand of choice amongst the growing community of conscious shoppers worldwide. Raising awareness not only of their brand, but also of the issues they are fighting in the industry is of utmost importance. All the while they try to expand their range of fashion goods. "I get a real buzz out of seeing the growing interest in our brand, not just in Australia but worldwide," says Nick. The brand pillars of honesty and inclusivity ring true, "we have created a brand that means something to people of all ages and of all stratums of society." Who wouldn't vote for that?