As 2022 comes to a close, it's time for our annual wrap up. We wanted to take this time to reminisce and reflect on everything that has happened for Good On You this past year.
So many things have changed since we launched seven years ago. 2022 hasn't been smooth sailing, with the cost-of-living crisis reshaping spending habits and impacting businesses worldwide. But as our community became even more motivated to support brands doing good for people, the planet, and animals, we've been actively working towards achieving our vision to create a more sustainable future.
In 2022, the rated brands in our directory exceeded 4,000; we created Good Measures to support brands; and we launched new features to help you make better fashion choices. Let's look back on everything that made this year a milestone for Good On You.
We rated thousands more brands
This year, we rated 1704 new brands, a massive increase compared to previous years. We reviewed the ratings for 1015 brands, bringing the total number of brands in our database to 4644 rated brands.
We listened to our community and prioritised brands that our app users requested, to empower them with the impact information they are looking for.
We also rated brands to help our partners find brands doing better on important sustainability issues that they could promote with confidence to their customers.
We pushed our content to new heights
This year, we published an astonishing 273 articles, including guides from our team, compelling pieces from journalists and experts like Maggie Zhou's report on SHEIN, Sophie Benson's analysis of fast fashion brands' resale platforms, and Faith Robinson's breakdown of what degrowth means for fashion.
Our collaboration with Sophie Benson on our deepest data report ever for COP27 looked at new data on an astonishing 4,000 brands' environmental track records and highlighted the fashion industry's lack of urgency regarding the climate emergency.
We also relaunched our newsletter to make it easier than ever to understand fashion's critical issues and discover the designers doing good. Now it's more scannable, so you can get the full scoop at a glance.
We grew our community
This year, over 8 million people used Good On You to make more sustainable choices. Many millions more used Good On You's ratings through our partners. And the numbers keep growing.
We also grew our team to 24 people, as 10 more talented and dedicated people joined the company. We welcomed a head of enterprise partnerships with a strong background in growth and enterprise sales, as well as a new rating analyst, a product designer, and a product analyst to help us improve our platforms and rate even more brands.
We created a new sustainability hub for brands
We launched Good Measures, the first-of-its-kind online sustainability hub that helps brands do better, so consumers buy better. Developed in partnership with FARFETCH, Good Measures enables brands to review their Good On You rating, get personalised advice on how to improve their sustainability performance, and submit publicly disclosed updates for review by analysts. The innovative hub rolled out to over 300 FARFETCH brands first and is now also available to other Good On You partners.
Good Measures is not about reinventing the wheel. It's about bringing together the fashion industry and providing a unified, trusted view of sustainability knowledge for brands. By helping brands be more transparent about their progress, we're empowering consumers to make better choices. That's why we teamed up with FARFETCH, because we share this vision for a more sustainable future.

Sandra Capponi – Co-founder of Good On You
We deepened our partnerships with Microsoft, Klarna and more
Good On You's ratings are powering Microsoft Bing's Ethical Shopping Hub, which first launched in the UK in late 2021. In 2022, the Ethical Shopping Hub and search experience became live in the United States and Canada, helping everyday shoppers see through the greenwashing and pushing the industry to do better.
This year, our ratings also powered the conscious shopping experiences on the Klarna app, the Otrium marketplace, and The Outnet's Considered Edit.
We kept improving our tools and rating system to help you make better choices
We kept improving our directory, the web-based tool that allows you to check how your favourite brands rate and discover brands doing better, right from your browser. We updated the search experience on our directory—enabling you to search brands, styles, and countries, and find more sustainable brands more easily as a result.
We also updated the design and navigation of our website to make it easier for you to search, find articles and brand ratings from wherever you are on the site, and easily access everything you need to make better fashion choices.
This year, we kept refining our methodology to focus on the most critical and timely issues in fashion. We launched new versions of the methodology for large and small brands. We also increased our focus on important criteria, including business models, circularity, animal welfare policies, as well as diversity and inclusion initiatives in large brands' direct operations and supply chains.
We joined and led important conversations
Our founders joined other sustainable fashion advocates at key industry forums and continued our mission to make the industry more transparent and accountable for its impacts across the supply chain.
Our co-founder, Sandra Capponi, joined the lineup at Sustainable Apparel Coalition's Annual Meeting, and was an advisor to the SAC board on their transparency program. Our CEO, Gordon Renouf, was asked to join the Textile Exchange governing board in 2023 to help drive collective action forward.
2022 in numbers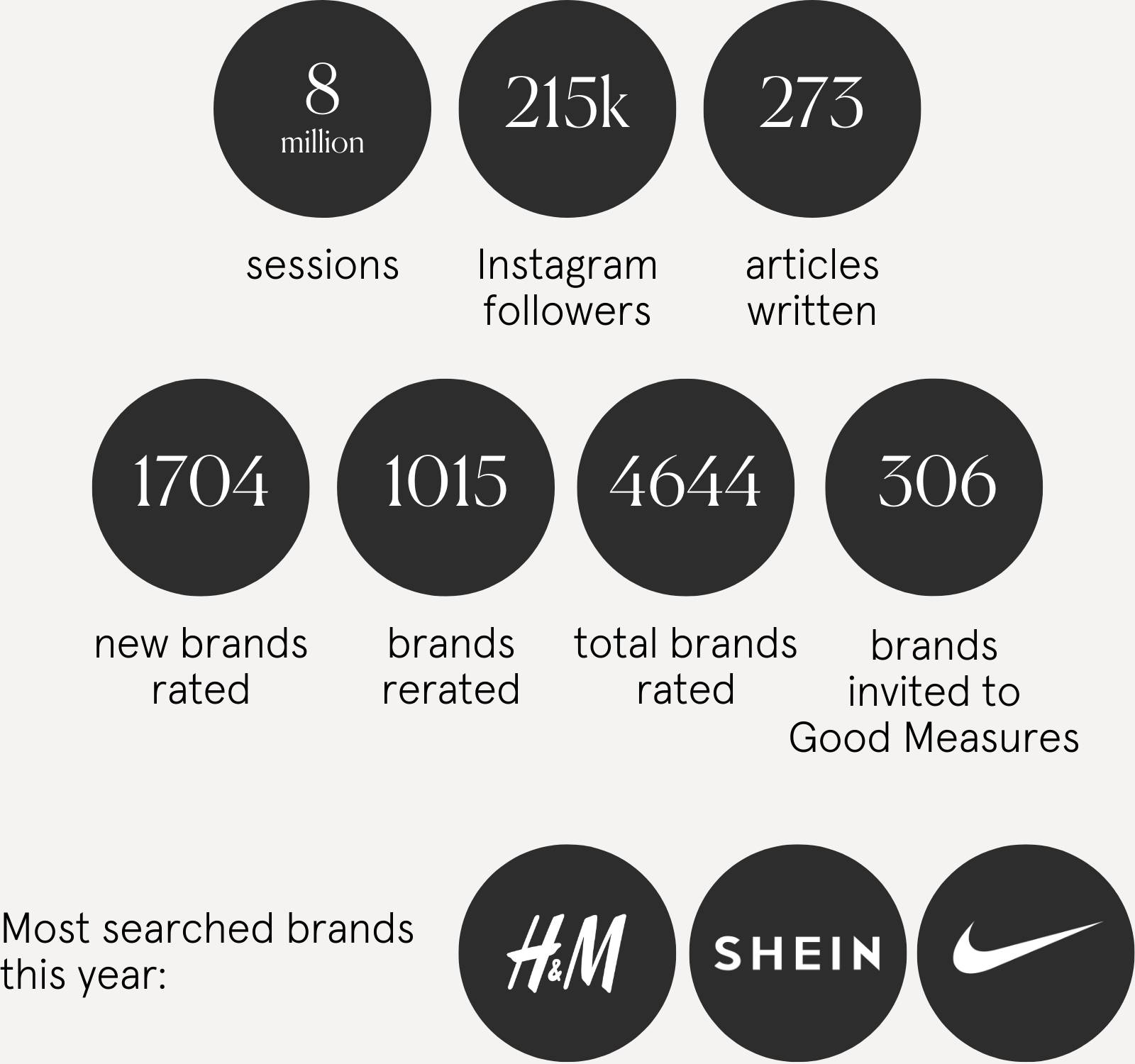 All in all, it's been another fantastic year for Good On You, and it's all down to you.
So thank you. Thank you for your support and for helping us change the fashion industry for the better, even when times are tough. We couldn't do what we do without you, and we can't wait to see what next year has in store for us and the sustainable fashion movement as a whole. We're so glad to have you here.
We know 2023 will come with more challenges. But we're ready to take it on, and change the world for the better, together. Bring on 2023.
Want to learn more about Good On You's milestones? Check out our 2019, 2020, and 2021 highlights