This is a sponsored article about a brand that was independently assessed by our rigorous ratings system. We're proud to only collaborate with "Good" and "Great" rated brands. Learn more.
Vitamin A is leading the way in the sustainable swim and beachwear space by combining feminine design with eco-innovation.
California-based swim and beachwear brand Vitamin A believes style and sustainability are inseparable, and we couldn't agree more. One of the original brands to tackle eco swim fabrics with the creation of EcoLux™ back in 2010, Vitamin A is holding its own in the space by continuing to combine feminine design with sustainable innovation two decades after its founding. Read on to learn the brand's story and discover our all-time faves from their sexy selection!
Every purchase prioritises the health of our planet. When you swim with us, you're doing good.
How it all began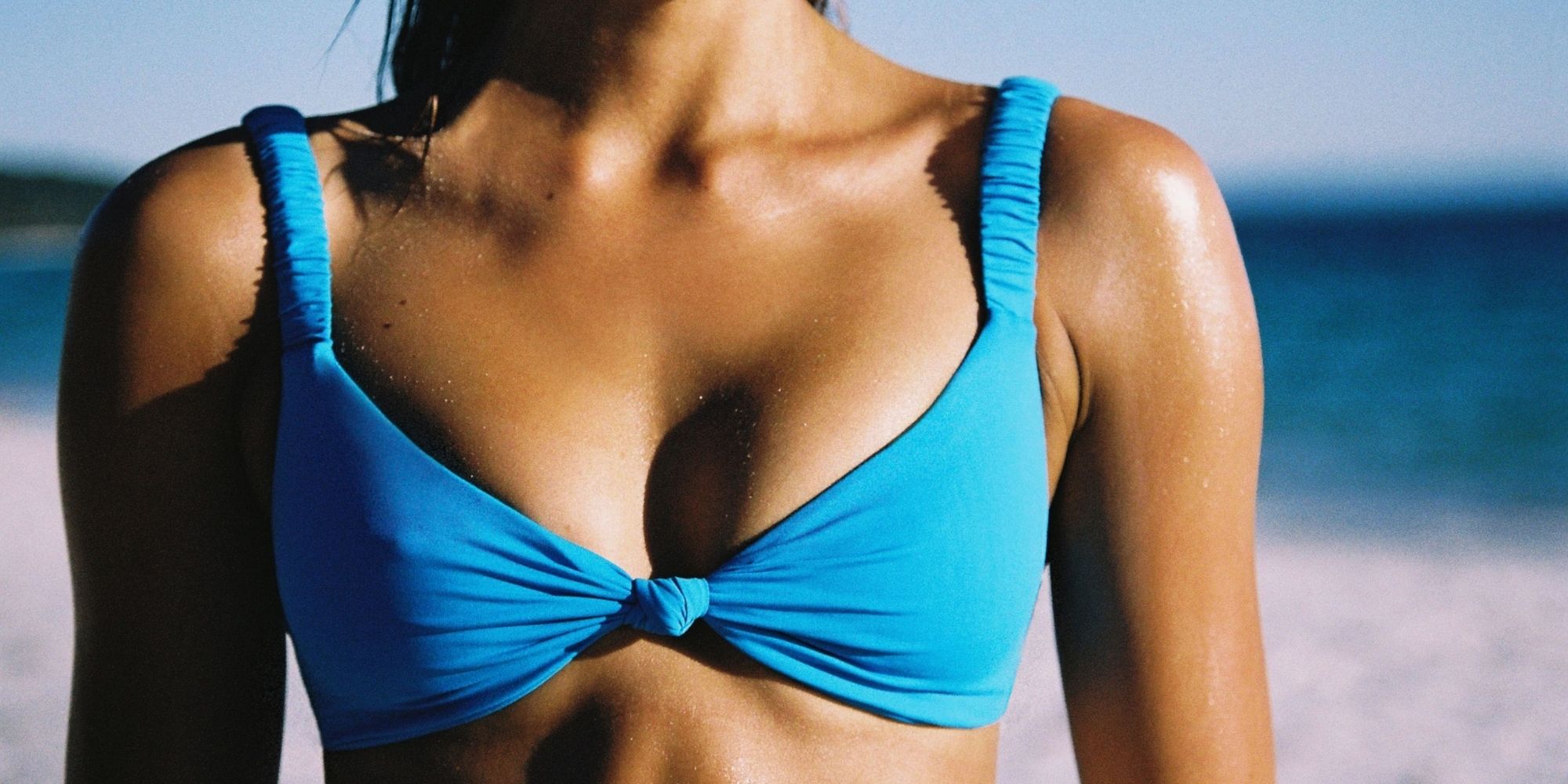 Sustainability and innovation are in Vitamin A's DNA. Before Vitamin A, founder Amahlia Stevens worked on a design project with Patagonia founder and environmentalist Yvon Chouinard whose company's use of recycled plastic bottles in their technical fabrics inspired her to attempt something similar in the swimwear space.
"When I began to research the options, I was told by fabric suppliers that there was 'no market' for swimwear made from recycled fibres—so I decided to design the fabric myself." Working with the top mills in Italy, Canada, and California, Amahlia pioneered the creation of EcoLux™ —the first premium swim fabric made from recycled nylon fibres. From this innovation, Vitamin A as we know it today was born, and the brand released the first sustainable bikini made from recycled nylon. If that isn't an eco-friendly origin story, we don't know what is!
Sustainably and ethically made in California
Vitamin A bikinis and bodysuits are designed and made locally in California in the brand's signature plant-based and recycled fabrics. "Producing locally dramatically reduces our emissions for shipping and transporting raw materials. It also allows us to take the time to get to know the people who make our goods." The team is proud to know firsthand that the manufacturing teams maintain the highest standards of workplace ethics and environmental responsibility. It even works, whenever possible, with vertically integrated facilities where everything from dyeing to knitting is done in one location, further reducing the products' carbon footprint! "And since we produce and do business in California, which has the strictest environmental laws in the nation, we are held to the highest possible standards." This means while the price point might be a bit higher than other brands due to California's labour costs, it also means your new favourite 'fit was crafted by happy hands.
While some products cannot be made in California, Vitamin A makes sure to partner globally with fair trade artisans to ensure safe working conditions throughout the supply chain.
Not just swimwear
While Vitamin A started in the swimwear space and still creates on-the-button bikinis and one pieces of your dreams, it has expanded its collection to include a stunning range of eco-friendly beach and resort wear, too. We are particularly fond of its linen "Playa Collection" that could glide you flawlessly from the sand, to the poolside, to your favourite coffee spot or date night!
Vitamin A is simply the sustainable choice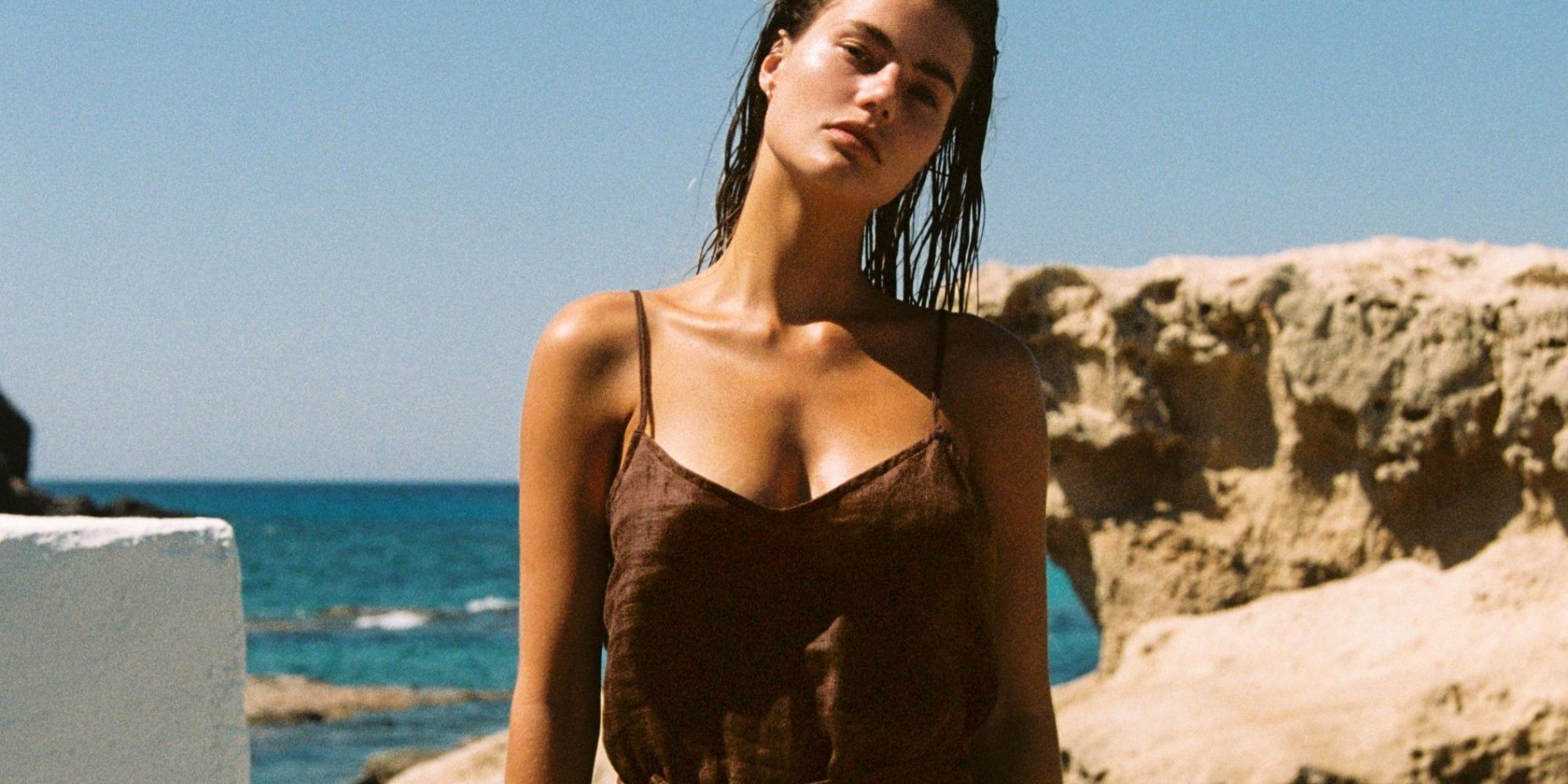 Since 2000 when Vitamin A launched in Laguna Beach, California, the company has continued to innovate and evolve, always with a strong focus on sustainability, flawless fit, and high quality.
Feel good
Thanks to its commitment to innovation, you can always 'feel good' about what you're wearing with Vitamin A, as it spends years developing custom luxury fabrics that feel soft on your skin and are made to last many swim seasons to come. And since its launch, aside from EcoLux™ swimwear, the brand has incorporated numerous sustainable high-performance fabrics along with eco-conscious textiles like organic cotton, linen, recycled cotton, and TENCEL®. But perhaps the most exciting fabric addition is in its 'Plant-Based' range—ditching fossil fuels altogether in the raw material, this high-performance option is made from castor beans! "BioSculpt is an organic alternative to fossil fuel based nylon fabrics with extra Lycra content for strategic support." Speaking of feeling good, all Vitamin A's materials are certified to meet the global Oeko-Tex standard for safe textiles, meaning they are harmless for human health! Also be sure to pop your swimwear in a Guppyfriend Washing Bag to catch any microfibres that might shed in the wash.
Whatever the most sustainable fabric option is, you're swimming in it.
Look good
Vitamin A has over 20 years of experience fitting women of all shapes and sizes. The team is constantly refining the fit to be comfortable, supportive, and empowering, and all of the bikinis, bodysuits, and loungewear are designed to last while giving you the most flawless fit.
How? By combining design and sustainable innovation with a feminine touch plus a passion for detail, designed by a woman with a genuine understanding of women's bodies and minds! Founder Amahlia is still hands-on in the production process, which we love—"I have literally worn my sizes 4 through 12 (when I was nine months pregnant) at different points in my career. I am now our size 8 fit model. I personally try on every new design and I fit all sizes on real women, not just models, before they're released for production."
Do good
Finally, while you're strutting your stuff in Vitamin A, looking and feeling great, you're also making a difference for the planet and the future of fashion. Vitamin A is rated 'Great' for the environment—its use of a high proportion of eco-friendly fabrics and local manufacturing limits the amount of chemicals, water, and wastewater used in production. It audits its supply chain every season to ensure it's making the most sustainable choices, and through its partnership with 1% For The Planet, the brand gives back a portion from every sale to organisations that protect our oceans!
Our 9 favourite items from Vitamin A
Ok, so we've covered the sustainable part of Vitamin A—where does the sexy come in? With its stunning selection of swimwear, beachwear, and resort wear, of course! From oversized linen coverups to organic cotton and TENCEL® dresses, to trendy ribbed bikinis, to plant-based one pieces made from the castor bean, there's something for everyone.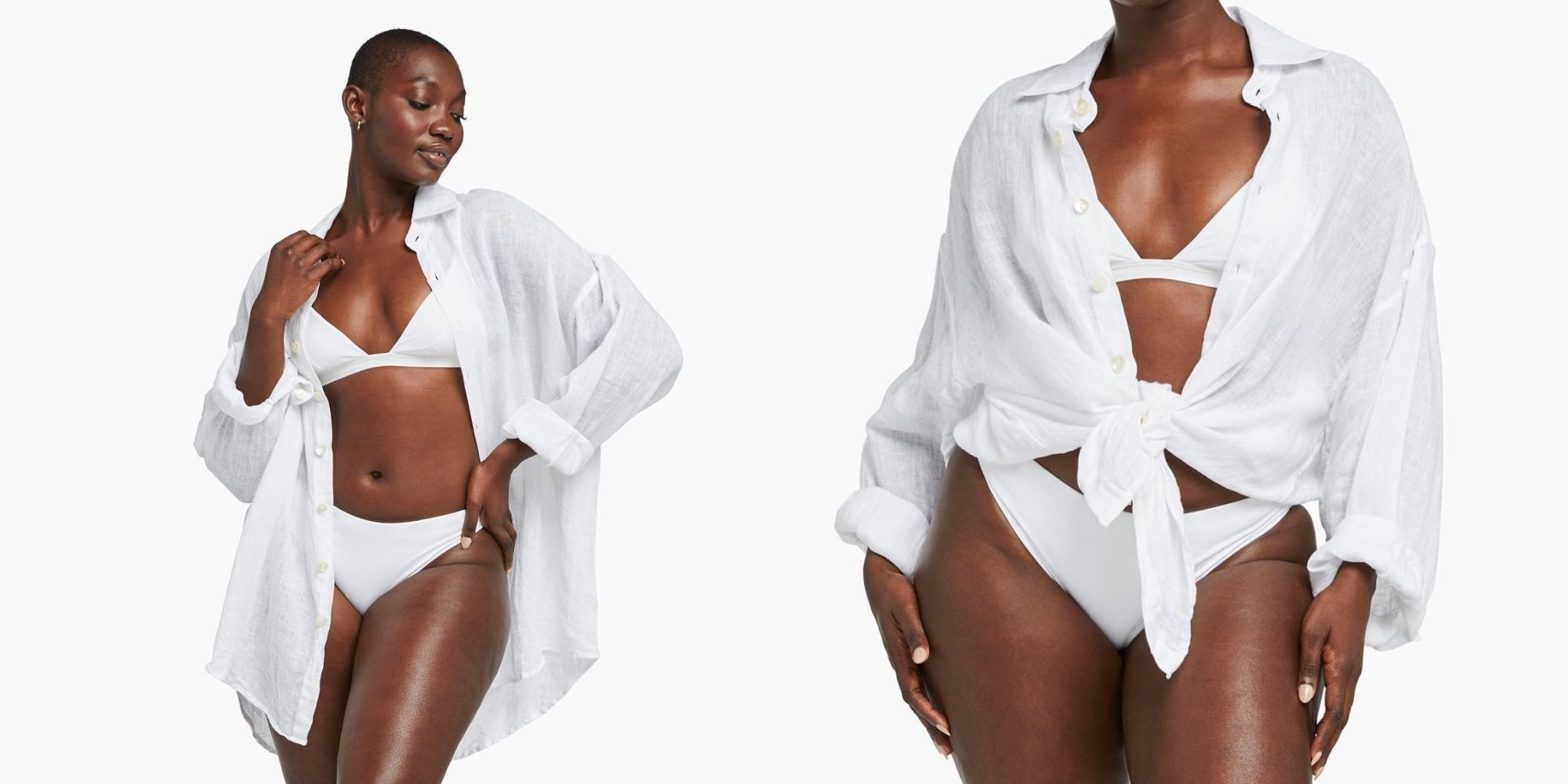 What's more flattering and classic at the beach or resort than an oversized button up shirt? This best-seller is made from 100% linen and comes in a range of lovely colours, but the white is a must-have.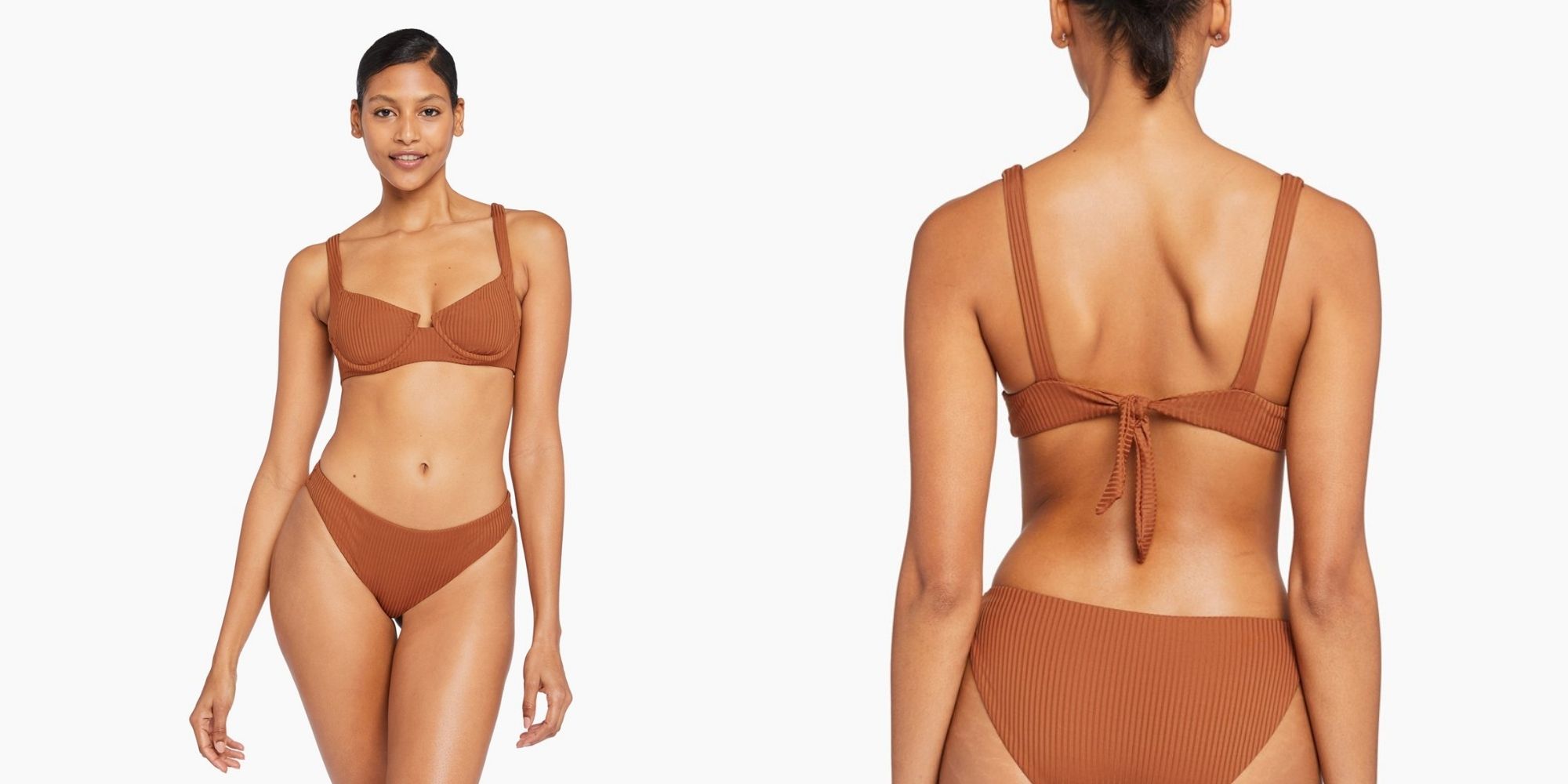 We love a supportive moment, and the Demi has proper underwire and an adjustable tie back to accommodate you.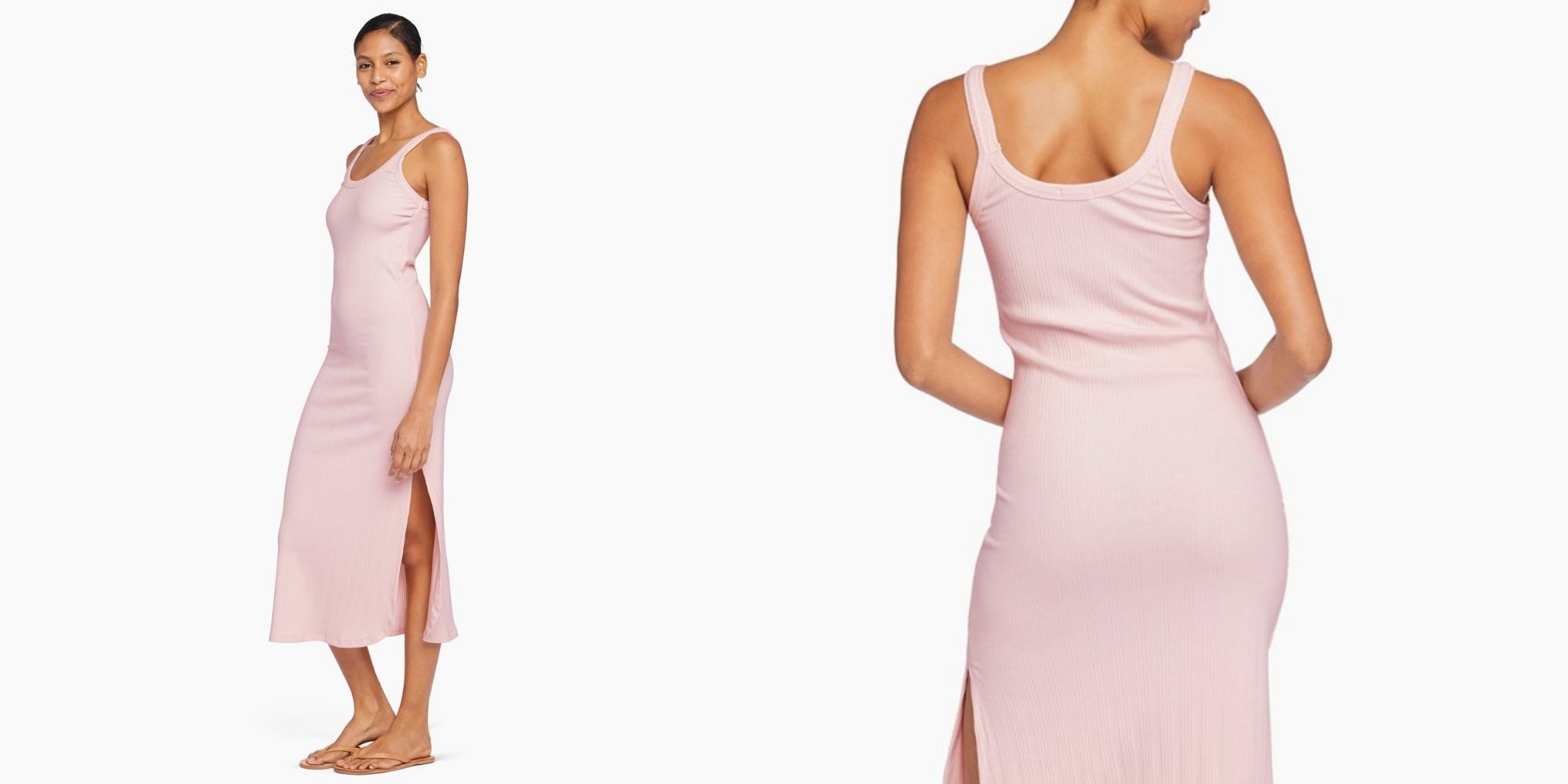 Made from ribbed organic cotton and TENCEL®, we can't go past a versatile dress so cute and comfy you won't want to take it off.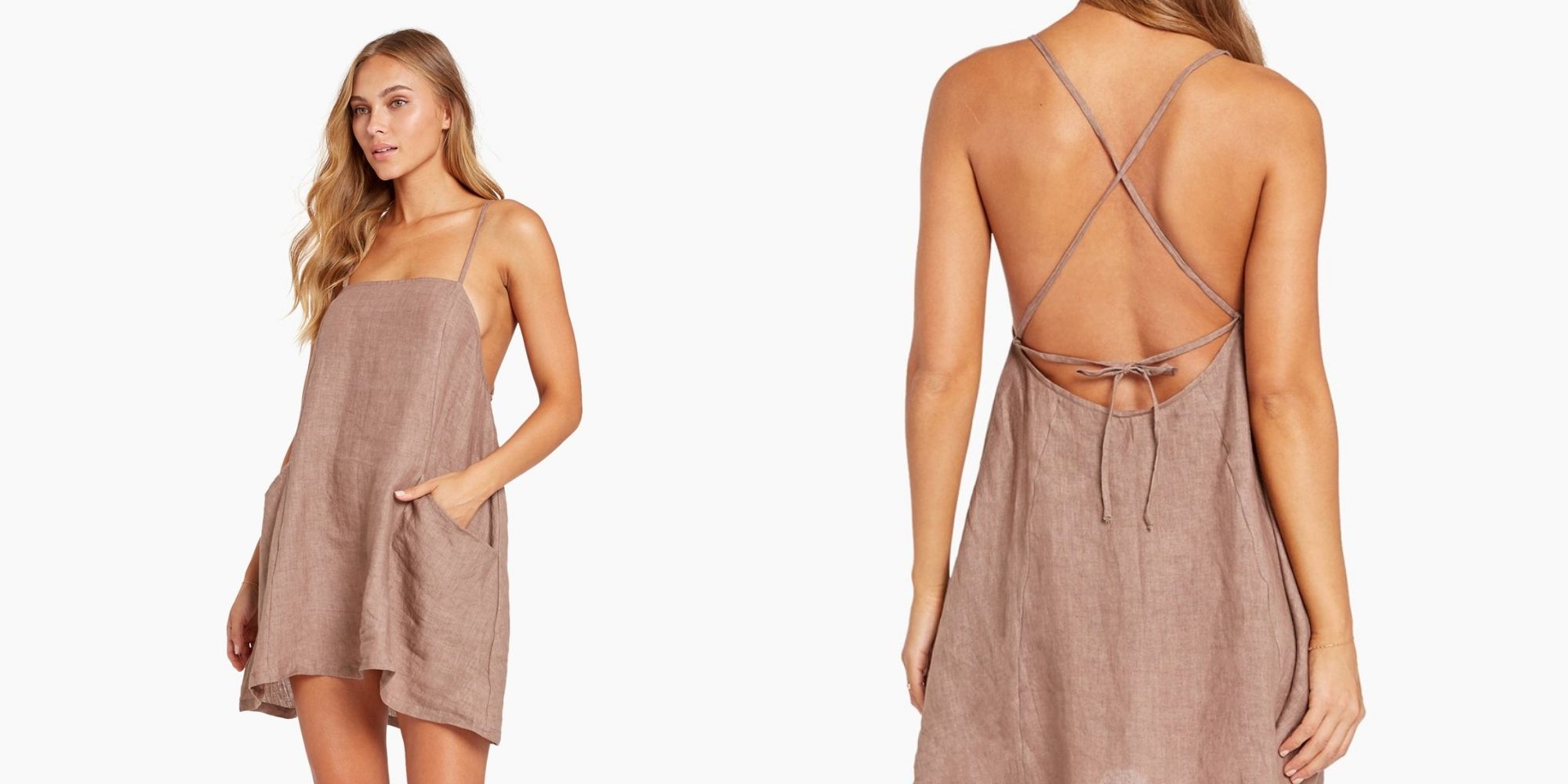 100% linen, 100% adjustable, and yes, it 100% has POCKETS! Yes, thanks.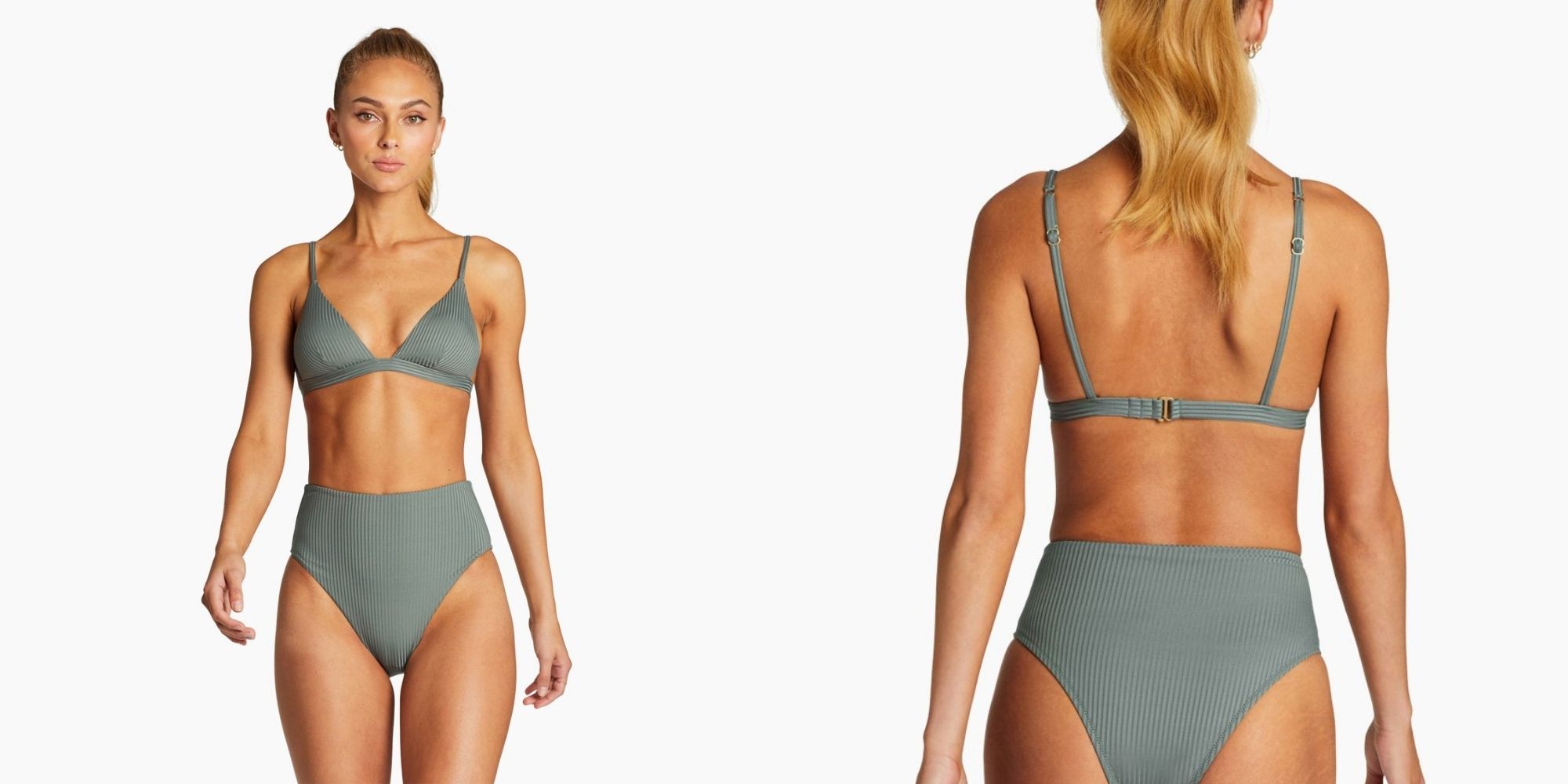 Vitamin A's best-selling bralette is super sleek and minimal with good coverage. "Must have" is an understatement.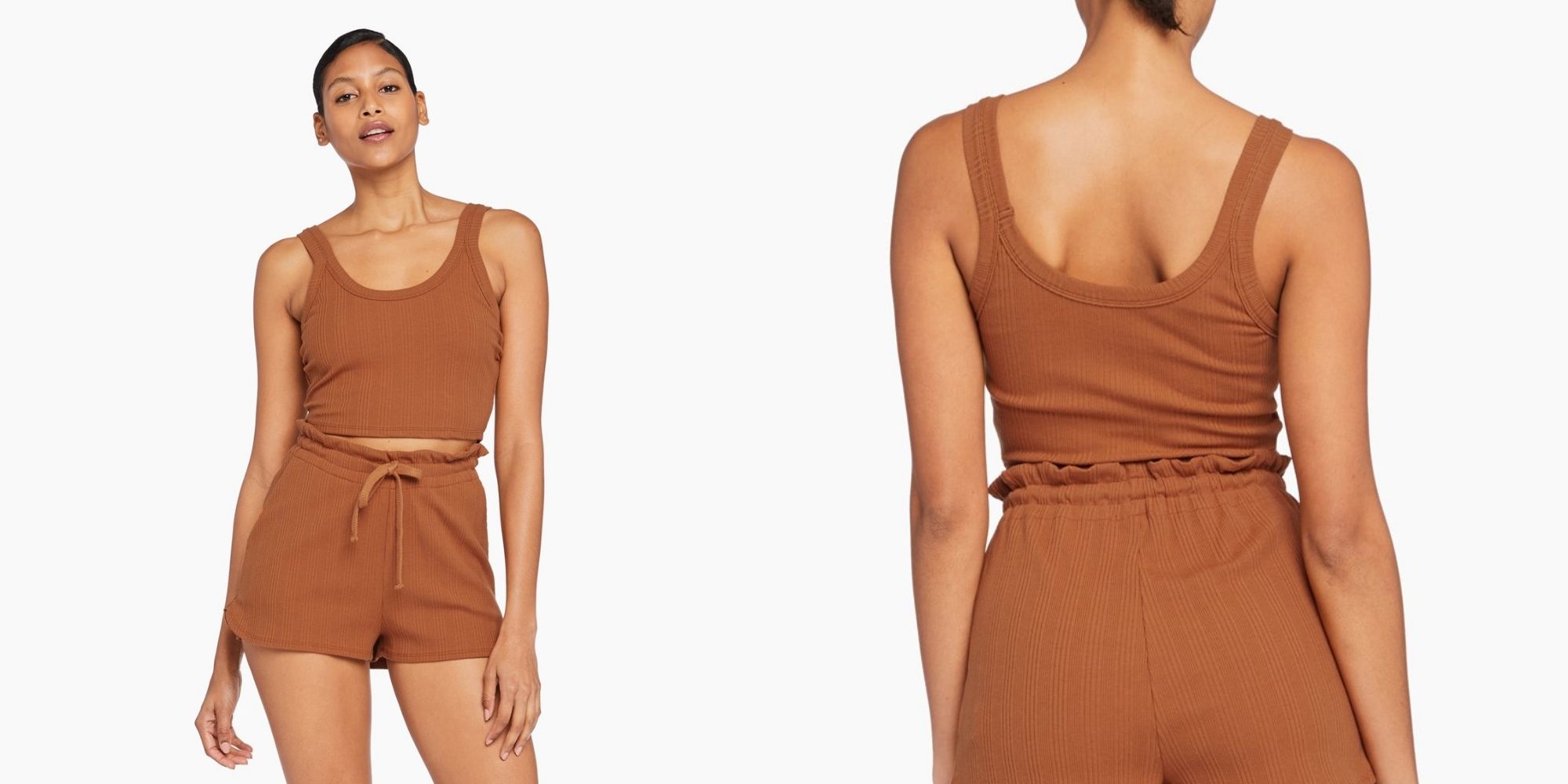 Bra, who? This adorable crop tank has built in support and could easily pair with any bottoms from the couch to the bar.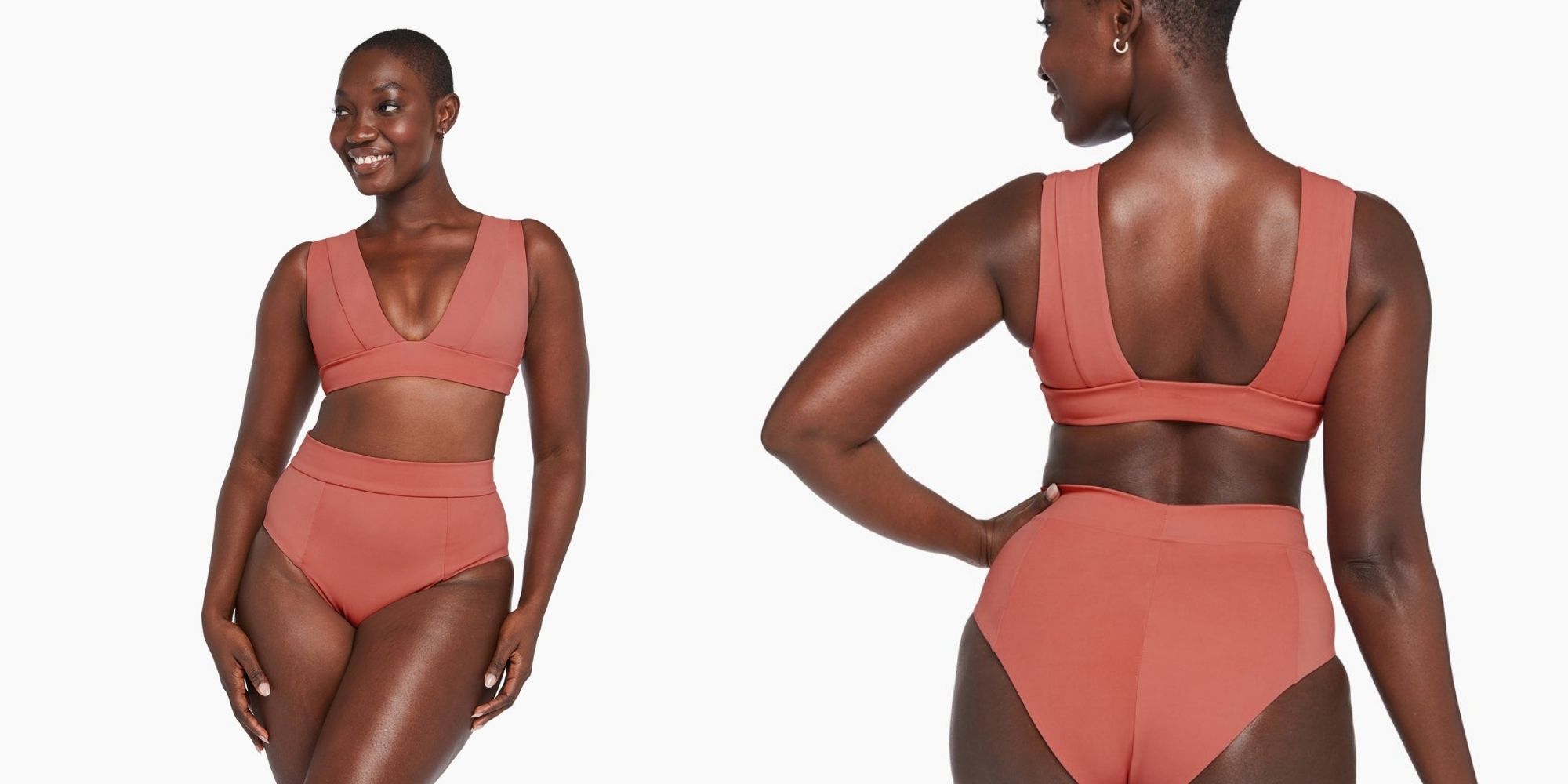 The Plant Based range is made from castor bean-based fabric (instead of fossil fuels!) Breathable and quick-drying, it's perfect for water and workouts.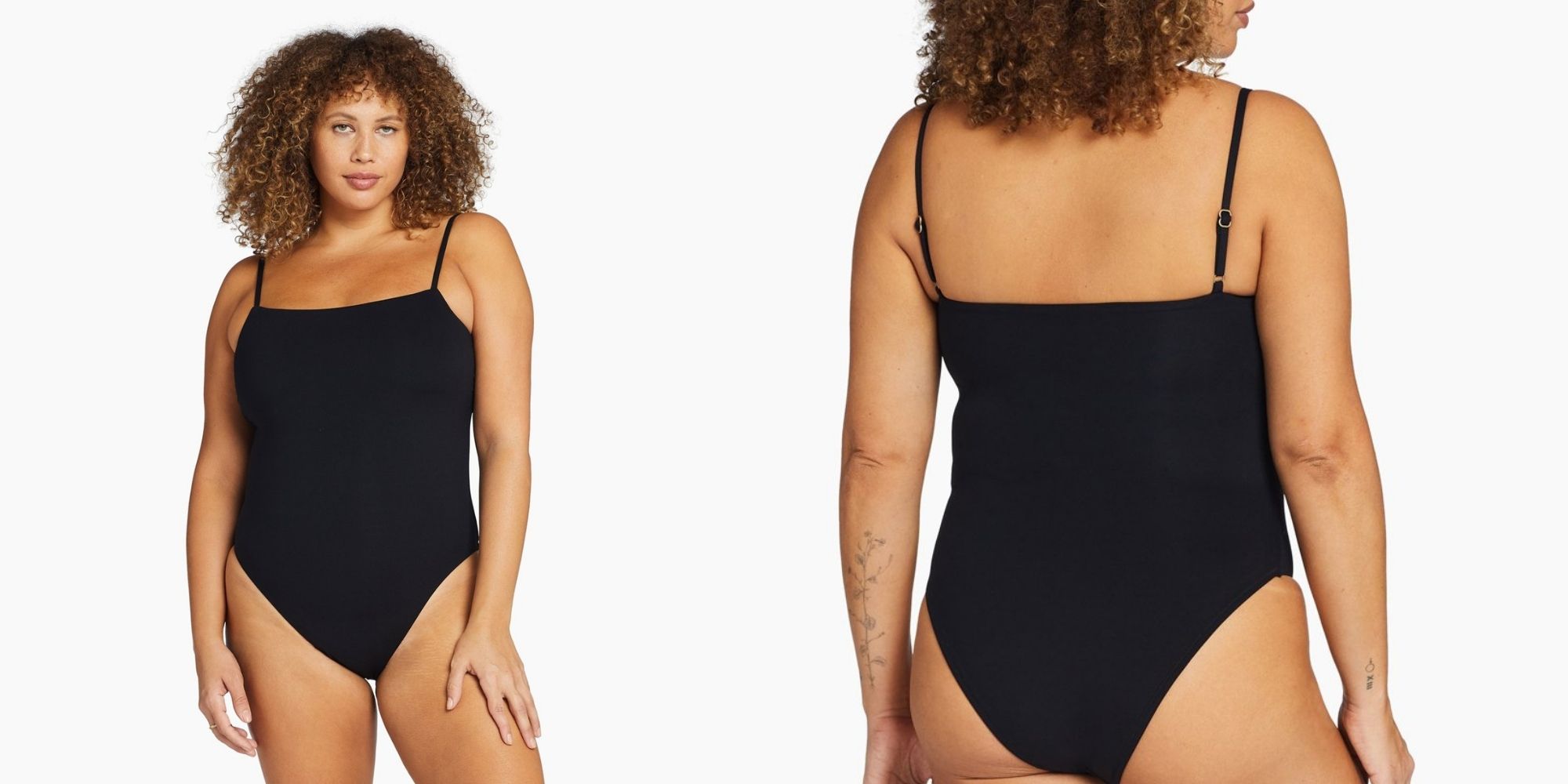 Ultra-supportive with a built-in bra and super stretchy with more of that castor bean fabric, Jenna is the simple sustainable one piece for everyone.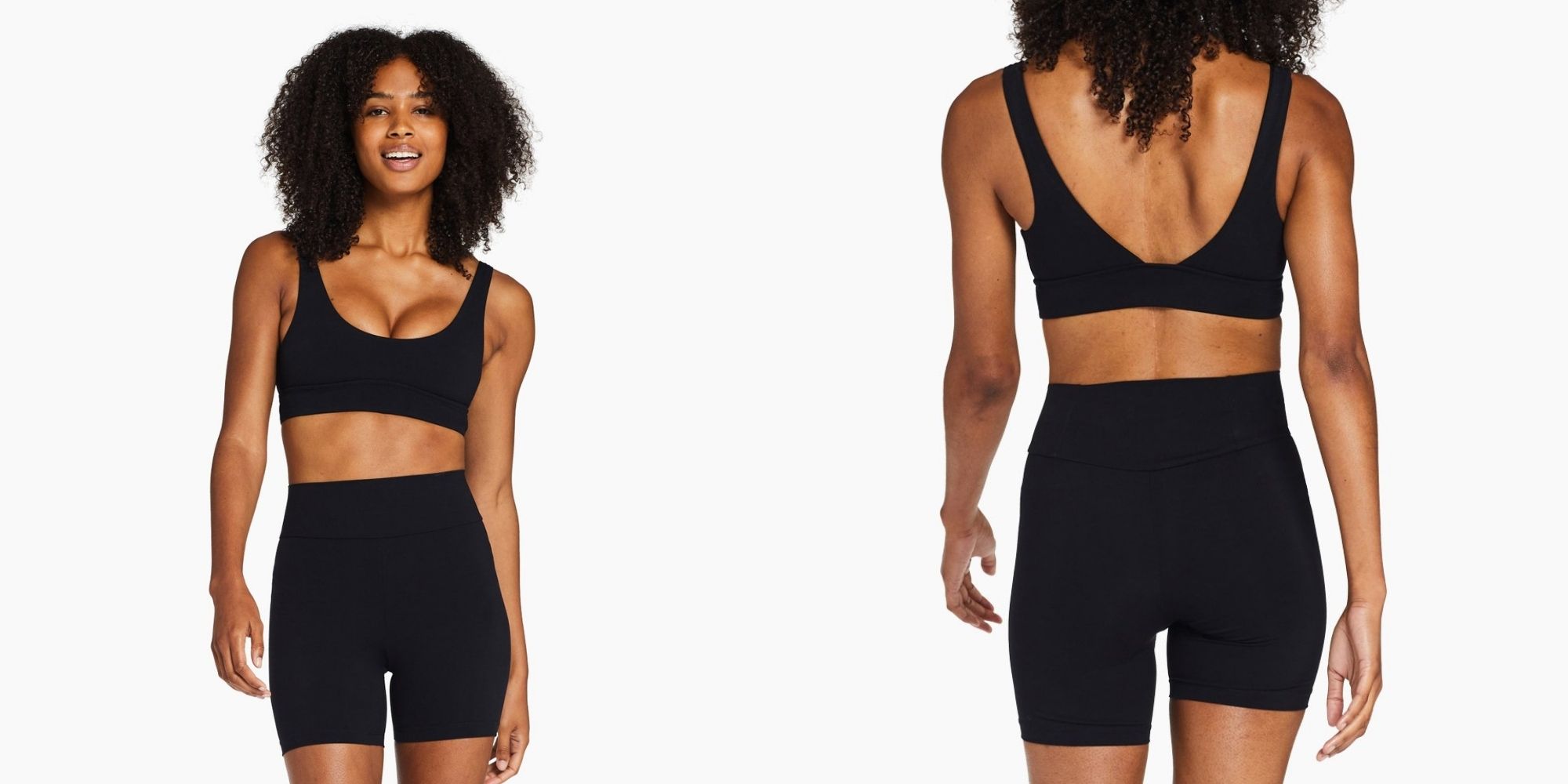 We don't know about you, but after a sweaty gym or yoga sesh we'd love to dive straight into the ocean without missing a beat. These water/workout bike shorts make it all possible.
Kelly Loreto, Director of Brand Marketing, was excited to tell us what the future holds for Vitamin A. "We're excited to build upon our plant-based collection with new colours and styles of our Plant Based Swim and Linen Collection. Our plant-based swim is amazing—buttery soft, sculpting, quick drying, and made from castor beans (replacing fossil fuels!). Our Resort Collection launches this month with NEW colours of our best selling oversized linen shirt, the Playa, and a new Underwire One Piece based on our best selling Demi Top." We can't wait!