Learning, and applying, circular principles is another way you can be a more sustainable shopper. One expert breaks down their vision for circularity through the lens of the humble t-shirt.
The status quo is broken
Fashion is problematic, from the deep systemic supply chain issues to the surface-level advertising images we see every single day. Fixing it won't be done with a new slogan, clever branding, or refreshed marketing. Instead, what is needed is a complete shift from the current, dominant way that clothing is produced and consumed—and circularity may hold the key.
RIght now, our clothes are produced and used in a damaging and outdated straight line, meaning we "take, make, and dispose". It's a pattern that has been increasing, with clothing production doubling over the past 15 years. On the consumption side, it is estimated that more than half of fast fashion produced is disposed of in under a year, with the average number of times a garment is worn decreasing by 36% in the last 15 years worldwide.
Producing and consuming clothing in this way directly impacts the long term health and viability of our planet and its people: garment workers suffer unlivable wages and conditions by the millions; excessive taking of raw materials increases water consumption and rates of biodiversity loss and results in carbon emissions; ill-considered making leads to water contamination, soil degradation, and yet more carbon emissions; and wilful disposal results in further biodiversity loss, impacted local clothing markets, and, you guessed it, more carbon emissions. On a planet where we need to do all we can now to limit our environmental and human impacts, it is not hard to see that fashion needs to change.
What changes with circularity
A circular fashion system disrupts the linear system completely. Instead of a defined beginning and end, characterised by the take, make, and dispose model, clothing exists within a perpetual loop where there are almost limitless possibilities. Take, make, and dispose become transformed:
Take: As opposed to endless and excessive taking, regenerative materials are used for our clothing
Make: Clothing is made in a renewable manner, waste is designed out, durable and recyclable design is in
Dispose: Maintenance, repair, reuse, remanufacturing, refurbishing, and responsible recycling are in and there is no longer any "away"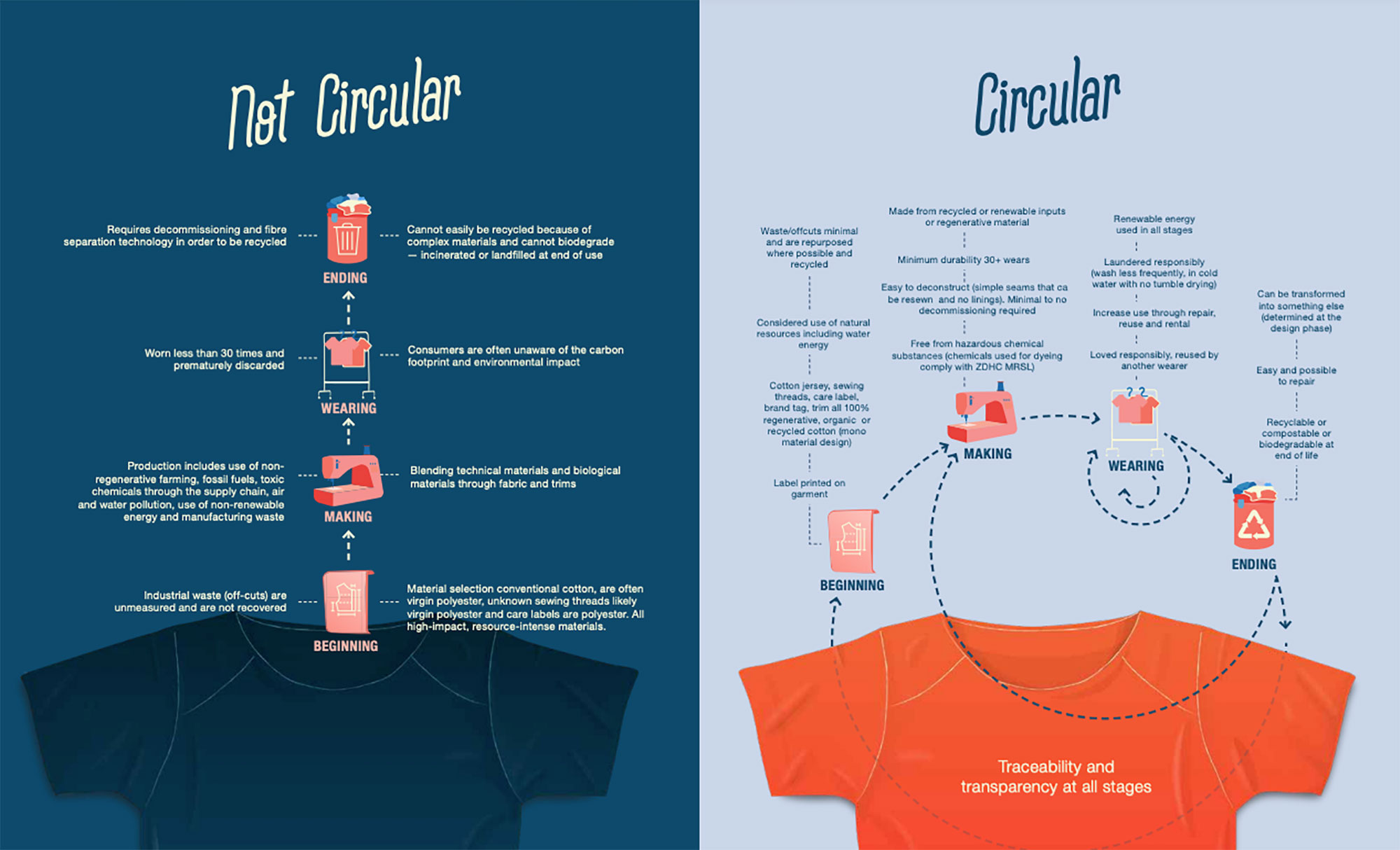 Shifting to circular
Shifting to circular requires multiple changes to the system. Due to both the complexity and scale of changes required, it is daunting to know how and where to begin. Where do you find information? What changes do you make first? What responsibility do you have as a designer, a retailer, a recycler, a consumer, or a government regulator?
Recognising the lack of practical advice on how to go circular for the fashion ecosystem, a collective of Australian designers, distributors, reusers, recyclers, and researchers, convened by the Monash Sustainable Development Institute along with fashion brands A.BCH, Seljak, and Kloke, combined their expertise and in 2021 designed and published a guide on fashion and circularity.
The guide, "A Better T-shirt for today and tomorrow. Circular Stories. Volume 1", takes the ubiquitous t-shirt and, through the eyes of the t-shirt itself (which was affectionately named CIRC-T), decodes exactly how a t-shirt can be produced and consumed in a circular fashion. Given that an estimated 15 billion t-shirts are produced worldwide every year, and every second the equivalent of a rubbish truck load of clothes is burnt or buried in landfill—of which you can imagine t-shirts make up a significant part—tackling t-shirts seems like a very useful place to start.
How to find a CIRC-T: for the buyer
So how can the t-shirt buyer/purchaser make circular fashion decisions?
Using CIRC-T as the muse, the reader is taken on a journey of discovery and is asked to consider a series of questions categorised around four circular principles: Reduce, Revalue, Regenerate, and Respect.
Savvy questions for shoppers to consider, as suggested by CIRC-T itself, include:
Have I been chosen carefully—am I something that you really need and that you will really love? (Reduce)
Can you lend me to a friend or borrow me from a friend? (Reduce)
Is it clear how I can be remade/turned into something else? (Revalue)
Did you ask if I can be repaired easily? (Revalue)
Can I be renewed into either a new garment or remade into something new entirely? (Regenerate)
Can I be taken to an op shop, charity store, or social enterprise? (Regenerate)
Is the seller providing a back to point-of-sale service (a take back scheme) for when I am no longer wanted? (Regenerate)
Will you respect me once you have bought me? (Respect)
Will you treat me with care, wash me according to the instructions, and understand what to do with me at the end of life? (Respect)
Change is happening, despite the challenges
Shifting to a circular mindset for the purchase does require thought upfront. You do need to choose your t-shirt—like all your garments—carefully, use your t-shirt well and, at the end of life, responsibly dispose of the t-shirt. However, as the guide acknowledges, it is not as easy today as we would like it to be. Access to recyclable and renewable materials is difficult and the infrastructure for recycling t-shirts—no matter what they are made from—is limited.
But change is underway. More and more businesses are realising that business as usual is not a feasible option and we are becoming all too aware that the textiles that make up our t-shirts are valuable—too valuable for take, make, and dispose to continue to dominate the methods of production and consumption.
For this to continue—and to take place at both scale and speed—businesses need access to information about what is the "right" material to buy as well as access to that material. Events like RawAssembly are critical to addressing both of these gaps.
In partnership with T: The New York Times Style Magazine and BETA by STH BNK at Hanover House in Melbourne, RawAssembly is exactly the type of event we need more of, providing the space for conversation, exhibition, and importantly action—showing what is possible now through a series of impact stories.
Over three industry days and five public days from May 24th, RawAssembly is bringing together solution providers with activators. In so doing, the event is creating and fostering the development of  new partnerships that we need if we are to transform the industry.
Start your circular journey today by pledging for a better tomorrow
There is one thing we can all do now that will assist with speeding up the transition to a circular system: let's start to really love our t-shirts and all of the processes and the people power that have gone into making the t-shirt in the first place. This principle of respect is of central importance in the guide: we all need to respect where our clothes have come from, how they are made, and who made them. As CIRC-T says: "I really, really want you to love me. Like forever!"
Take the pledge
For all of us, perhaps one way to begin the journey is to commit to a more sustainable future today by creating our own CIRC-Ts. Download the guide and sign the pledge for a more sustainable fashion industry for today and tomorrow.