This is a sponsored article about a brand that was independently assessed by our rigorous ratings system. We're proud to only collaborate with "Good" and "Great" rated brands. Learn more.
My great-grandmother once had the same pair of stockings for 20 years. She would wear gloves as she carefully guided them over her legs. She comes from a time when stockings were considered to be a luxury item. They were well made and made to last. When they ripped they were mended.
I feel a bit ashamed that I struggle to keep a pair of stockings longer than a few wears. It's not like I'm climbing trees or frolicking in fields, it's just that the stockings I buy from the chemist or supermarket aren't made to last, even if my legs spend most of their time crossed under a desk! Stockings represent that throw away culture we have grown accustomed to in our consumption of fast fashion. Nothing is made to last.
But that's why we were so excited to discover Swedish Stockings – a brand aiming to mend the way we wear and discard our stockings. They're bringing ethics and sustainability to our chilly legs this winter.
We caught up with Saskia, who runs the online brand alongside the founders, to hear more about their practices.
"Stockings have become mostly cheap and practically single-use, disposable items," explains Saskia. "This is a huge problem. Stockings are actually designed to wear and tear quicker to fuel higher consumption, leading to an enormous environmental burden as these products along with other noxious textile products overwhelm landfills."
Typically the production of pantyhose use non-renewable fossil fuels and requires a huge amount of energy and water to produce.
"At Swedish Stockings, we wanted to produce a higher quality and more long lasting alternative to today's hosiery products so that pantyhose become once again valued items of clothing that will remain wearable a lot longer than current products.
Our stockings are produced from recycled materials and in turn keep our products out of landfills once they have no further use
Using by-products from other nylon products that are non-biodegradable, the production process is a lot less complicated than traditional nylon production. Plus a large part of their production is solar powered, no extra water is used to create stockings, their factories are zero waste and all water in the dyeing process is purified and treated.
And their mission and values are certainly resonating with ethical consumers around the world.
"The most exciting part for us has been our customers, how they come to us and say "finally!". A lot of women do care about how their products are being made but often an alternative doesn't exist."
And despite being a small team, they hope to influence the production and consumption of nylon pantyhose worldwide.
We believe our products and sustainable processes will demonstrate to all producers and consumers of stockings that being conscious of the environment doesn't mean compromising on design or quality.
We agree ladies! Thanks for being legs ahead of everyone else on this issue!
We love the look of these Olivia Black pantyhose.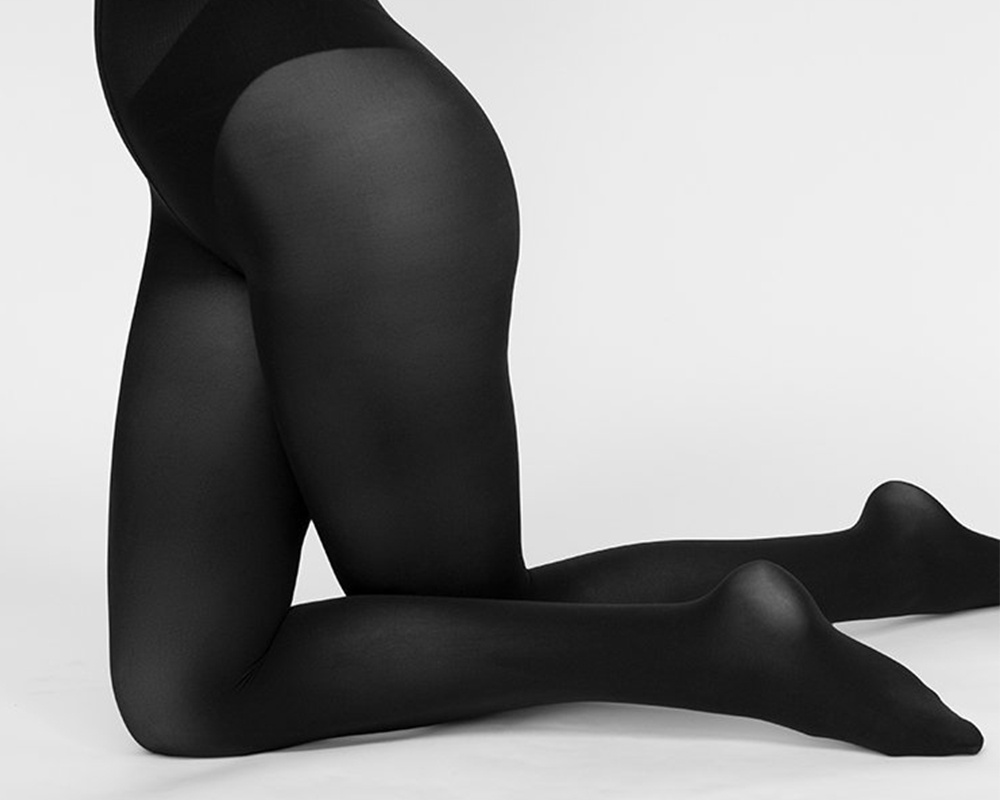 *Following the completion of this article, Bethany bought herself a pair of the Olivia Black Stockings. She hopes to wear them for years to come, just like her great grandmother.
Discover ethical brand ratings and new fashion labels in the palm of your hand. The Good On You App can be downloaded from the App Store and Google Play.