This is a sponsored article about a brand that was independently assessed by our rigorous ratings system. We're proud to only collaborate with "Good" and "Great" rated brands. Learn more.
The story of Whimsy + Row founder Rachel's planet-conscious wedding journey offers a shining example of how to celebrate love while minimising your environmental footprint.
Top tips on planning a lower-impact wedding
Your wedding day is a pivotal moment in your life that deserves to be celebrated with love, joy, and a touch of responsibility. Typically highly polluting, according to research in The Green Bride Guide, the average wedding produces 400lbs (200kg) of garbage and 63 tons of CO2. With an estimated 2.5m weddings per year, that means 1bn lbs of trash and the emissions equivalent of what four people would produce in a year in just one day.
Taking a step back and thinking about what you and your future spouse really need from your wedding is a great place to start. But when it comes down to planning a wedding that treads lightly on the planet while making a memorable statement, look no further than the journey of Rachel Gringer, the founder of Whimsy + Row.
Rachel and her now-husband Steven embraced the concept of a more sustainable wedding and incorporated the values of Whimsy + Row—a "Good" rated brand known for its lower-impact practices and striking designs—into their big day in Northern California in July. Here's how their journey went, and how you can tap into the couple's experiences to make your own wedding the best it can be, from reducing environmental impact to choosing a venue to making thoughtful wardrobe decisions.
Whimsy + Row's bridal collection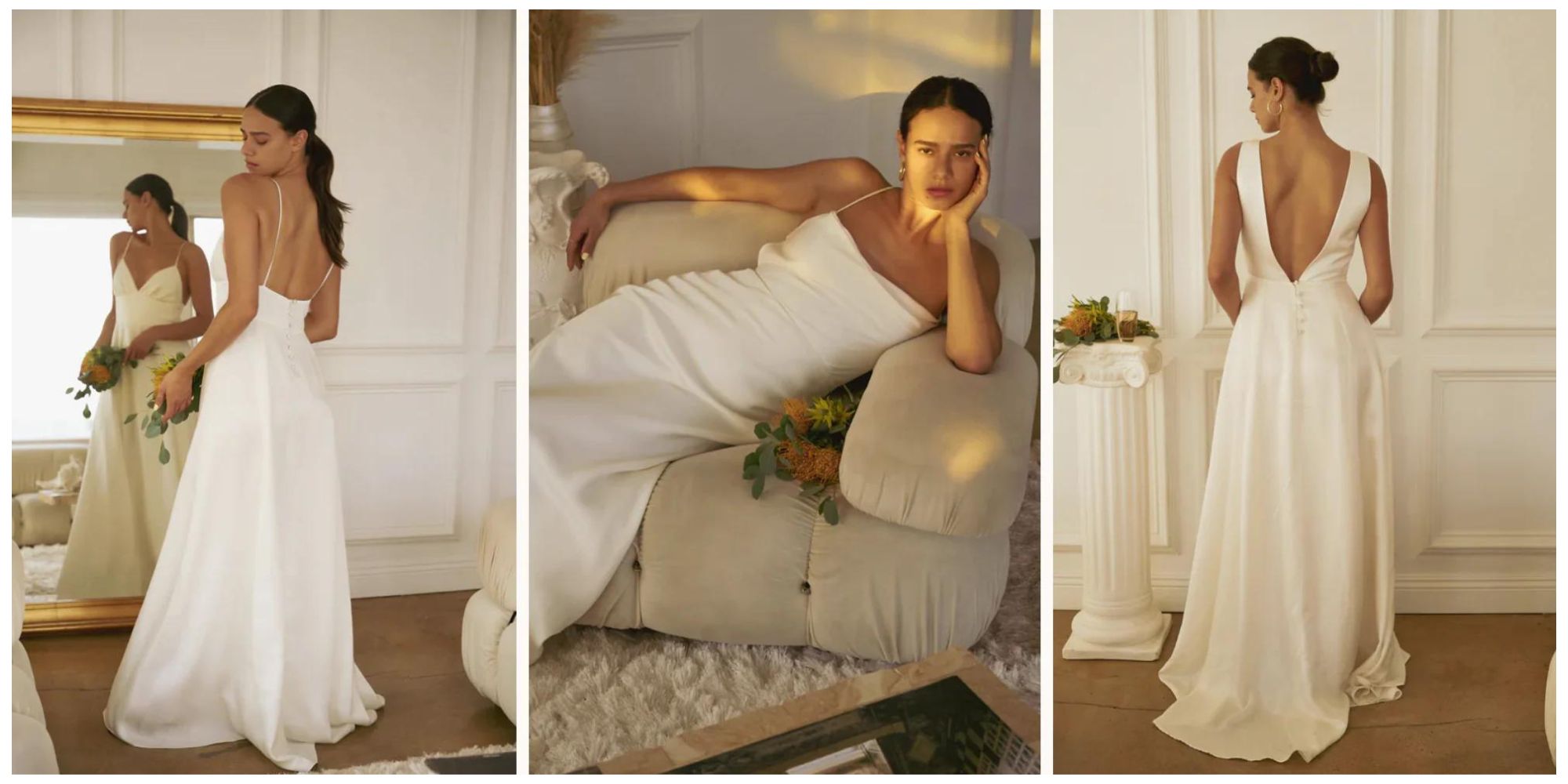 Whimsy + Row has been crafting responsible clothing for nearly a decade. About three years ago, Rachel and her team decided to expand their offerings to include wedding dresses. Their motivation was threefold: to address the lack of more eco-friendly bridal gowns, to meet the demand of their environmentally-conscious customers, and to capitalise on the expertise of their designer, Sonja, in creating beautiful gowns.
The process was meticulous and exciting. They chose to use their TENCEL/cupro fabric, known as Shiny Vegan Silk, as the cornerstone of their wedding collection. After brainstorming and refining their ideas, they settled on three distinct looks: classic, sexy, and cute. Each design was carefully crafted, with multiple fittings to ensure a perfect fit.
Rachel's 'yes', from proposal to dress
Rachel's journey to finding her dream dress was as heartwarming as her love story. "All it took was a cheese plate. A true internet love story. We matched on Hinge and Steven wooed me with his quirky and cute messages. After days of fun banter, he asked me out to grab a cheese plate (my fave)!" The rest, as they say, is history, and less than a year and a half after their first date, the couple was engaged.
When it came to choosing her dress, Rachel gathered her closest friends, shared champagne and cheese, and tried on each dress from the Whimsy + Row bridal collection. The Nikki dress was the clear winner for her, and Rachel knew it was "the one." She also said "yes" to the Noa for her dancing dress, adding a personal touch with a high-low hem.
Prioritising sustainability in wedding planning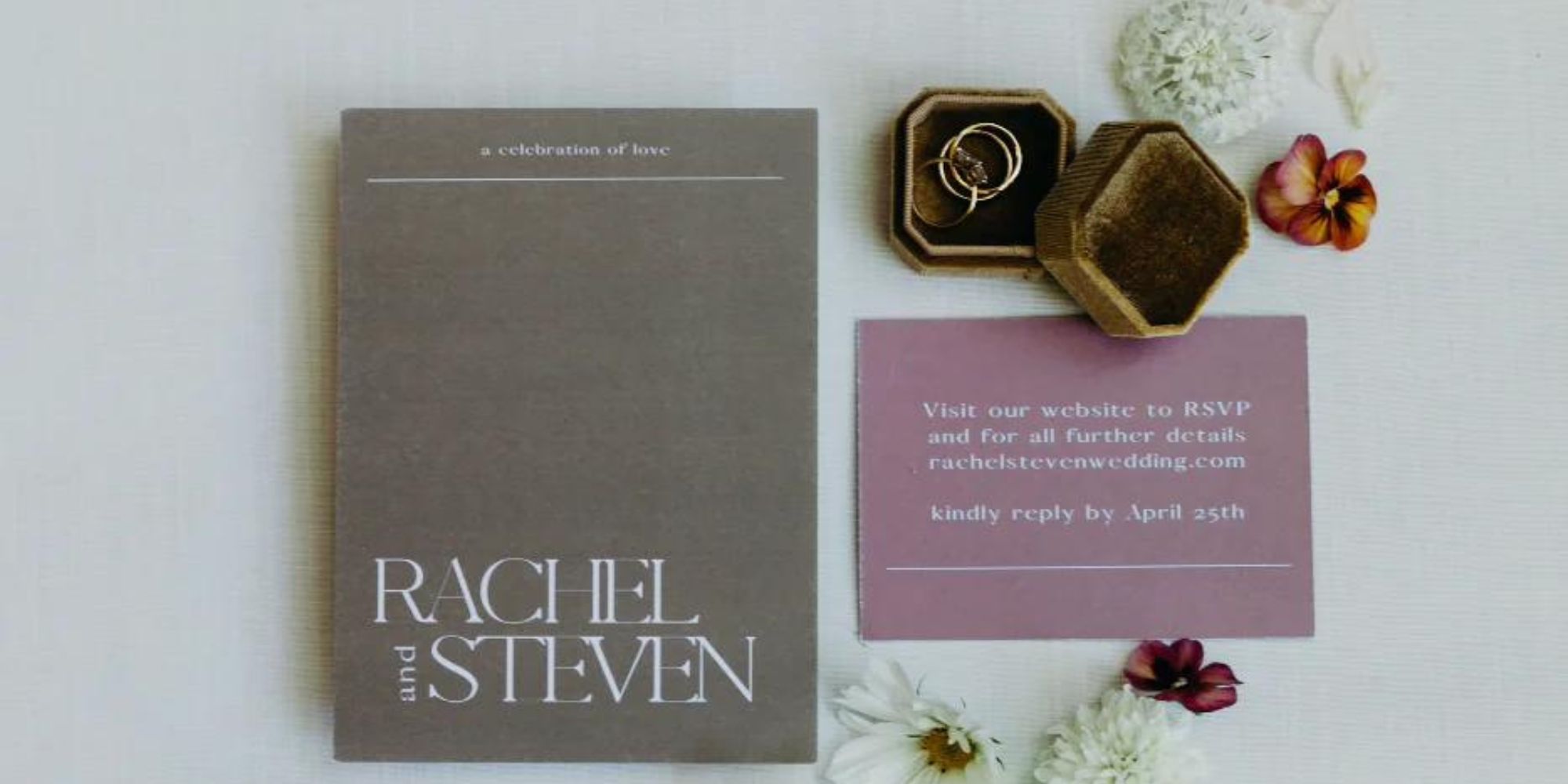 For Rachel, sustainability is not just a business principle; it's a way of approaching life. When planning her wedding, she made conscious choices to minimise waste and reduce the environmental impact of the celebration. Here are some key ways she prioritised sustainability:
Lower-waste invitations: Rachel opted for lower-waste invitations by using Paperless Post for her save-the-dates and choosing Paper Culture for her physical invites. These invites were designed on 100% recycled and recyclable paper, and they plant a tree with each order.
Responsibly-made attire: Rachel, her bridesmaids, the mothers of the bride and groom, and select guests wore responsibly-made clothing from Whimsy + Row, featuring their vegan silk produced in Los Angeles. The tuxedos were rented from The Black Tux, Rachel's veil was borrowed from her sister, and her blazer was vintage. Jewellery came from Electric Picks, a brand known for its lifetime guarantee.
Plastic-free celebrations: Rachel sourced compostable plates and cutlery for the rehearsal dinner and brunch—several of the steps they took to make it a plastic-free event. Rachel also opted for potted herbs as table decorations, which guests could take home and cook with rather than centrepieces that might otherwise get tossed.
Minimal excess: Rachel chose not to have goody bags for guests, recognising that they often end up discarded. Instead, they celebrated with biodegradable confetti and provided guests with biodegradable tissues and reusable fans.
Supporting local: the venue, Dawn Ranch, sourced its food and beverages locally. Wines and champagne came from a nearby vineyard. Keeping the wedding close to home minimised travel emissions for both guests and vendors. Their talented florist, The Wild Fleur Co., used seasonal and local flowers for the arrangements.
Bridesmaid dresses with a Whimsy + Row touch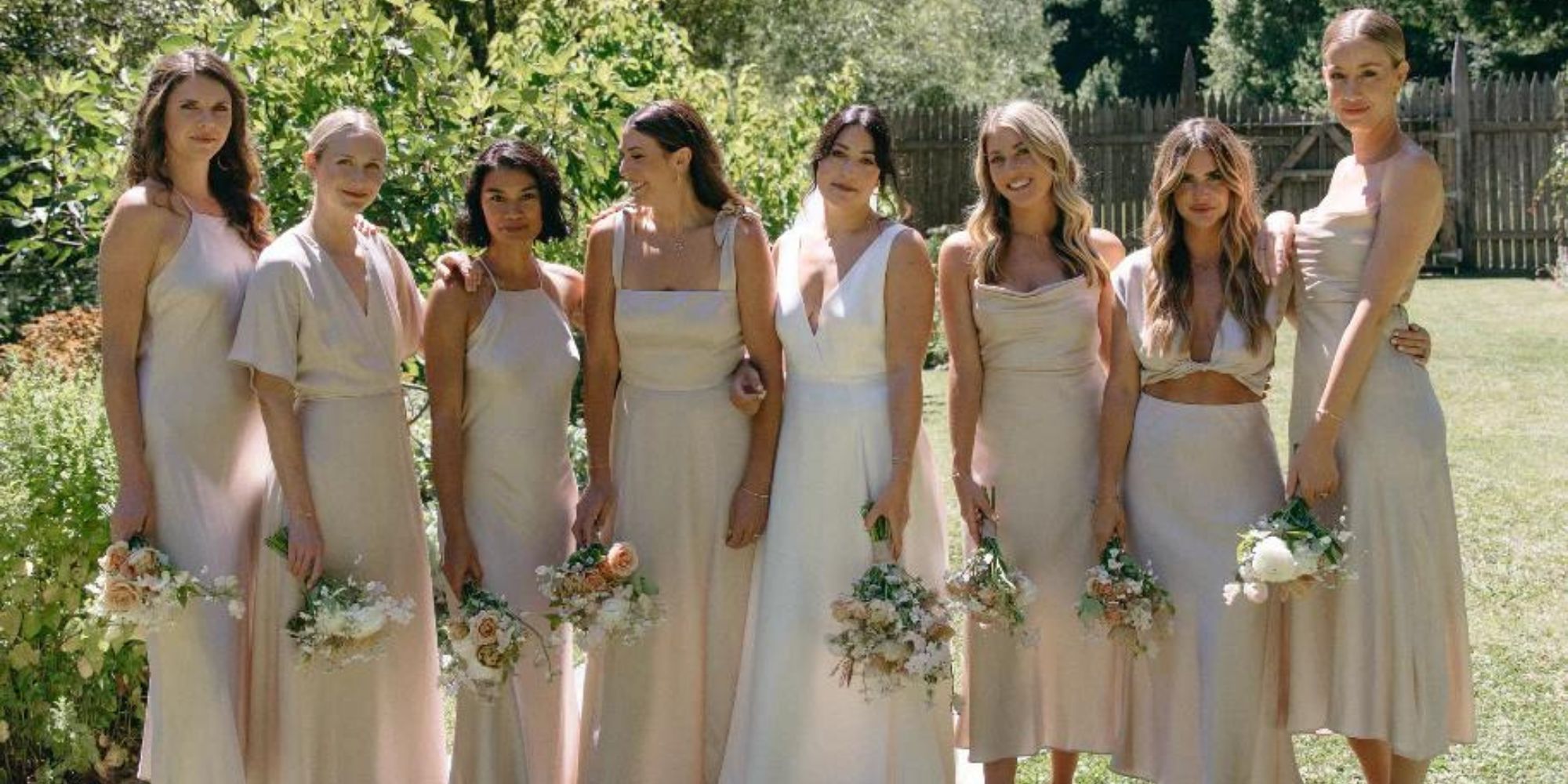 For her bridesmaids, Rachel chose Whimsy + Row's newest colour, champagne, which was introduced with a few select styles. Rachel made the selection process a fun and inclusive experience by sharing a linesheet with possible silhouettes and photographs of available styles in champagne. Her bridesmaids could choose their top three styles and preferred sizes. The result was a collection of dresses that made each bridesmaid feel unique and complementary to the bride.
The aftermath: what to do with the wedding dress
Rachel plans to cherish her Nikki dress for years to come. She may choose to dye it or have it hemmed for continued use—or even pass down to her own children in the future. The Noa party dress, a high-low hemmed beauty which she wore for the reception, is also now part of her regular wardrobe, ready for future fun occasions.
Rachel and Steven's Whimsy + Row wedding is a testament to the beauty of kind celebrations. From their love story that began over a cheese plate to their heartfelt vows under the redwood trees, their wedding embodied the values of Whimsy + Row.
When it comes to planning your own wedding, as Rachel says, "Enjoy each phase, even if parts are stressful. It's all part of the process!".
Our top picks from the brand's bridal collection
To potentially help ease part of the process—choosing the dresses—here are our editors' favourites from Whimsy + Row's elegant wedding collection for brides, bridesmaids, and mothers of the bride and groom. From striking dresses to two pieces, including extended sizing options, there's something for everyone.
Note that all bridal dresses are made-to-order, so please allow six weeks from the time you purchase for it to arrive. They are available in sizes 0-12, and while Whimsy + Row doesn't offer alterations, they suggest bringing it to a recommended tailor if alterations are required. If you're in the LA area, you can book an appointment to try the dresses on in person with your nearest and dearest.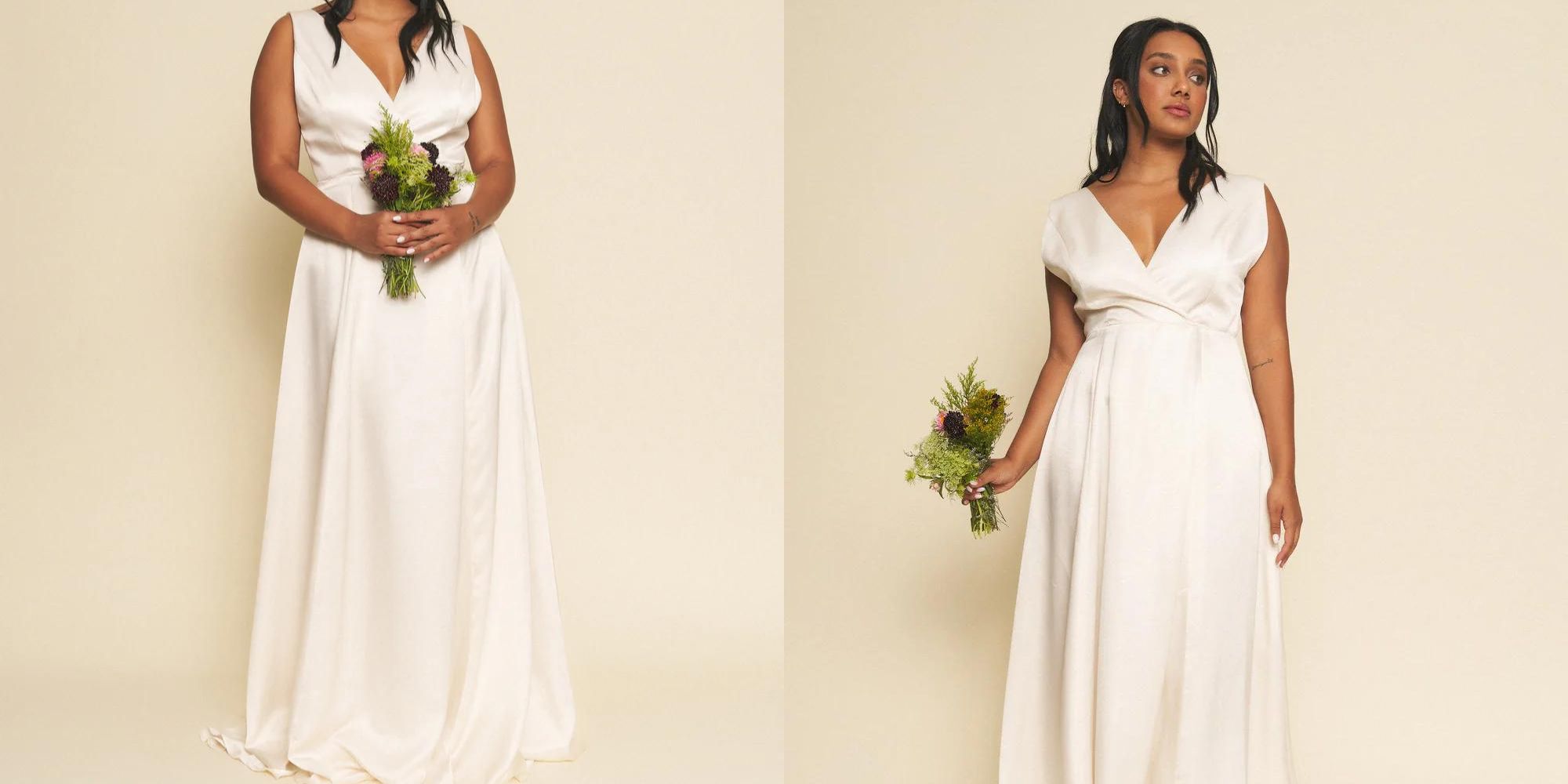 The Nikki Gown is perfectly elegant and chic for minimalistic brides. A v-shaped neckline at both the front and the back are made to accentuate you in all the right places.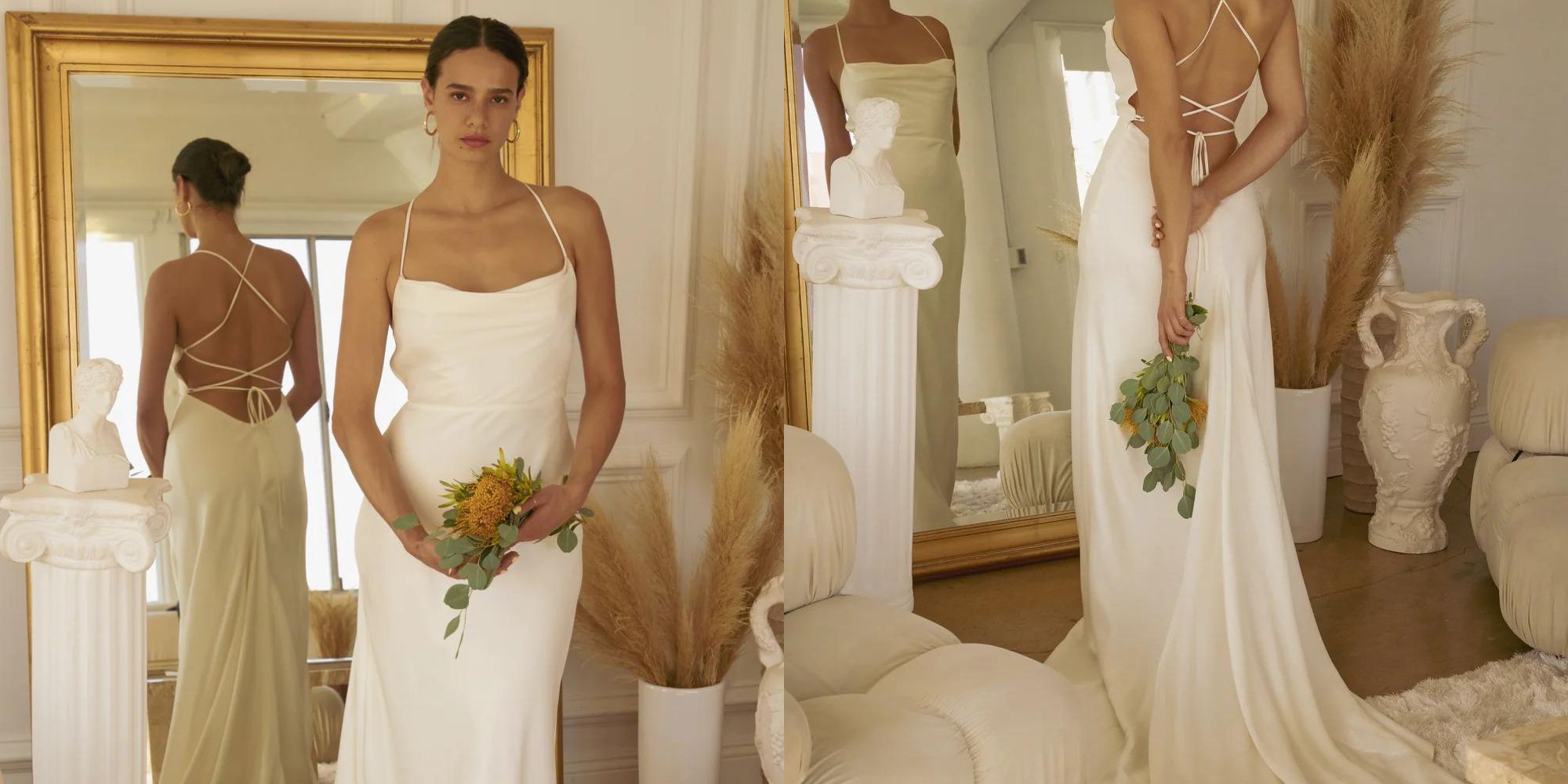 The Bridgette Gown is a jaw dropping moment. A simple sexy look, accented with a strappy back and long train.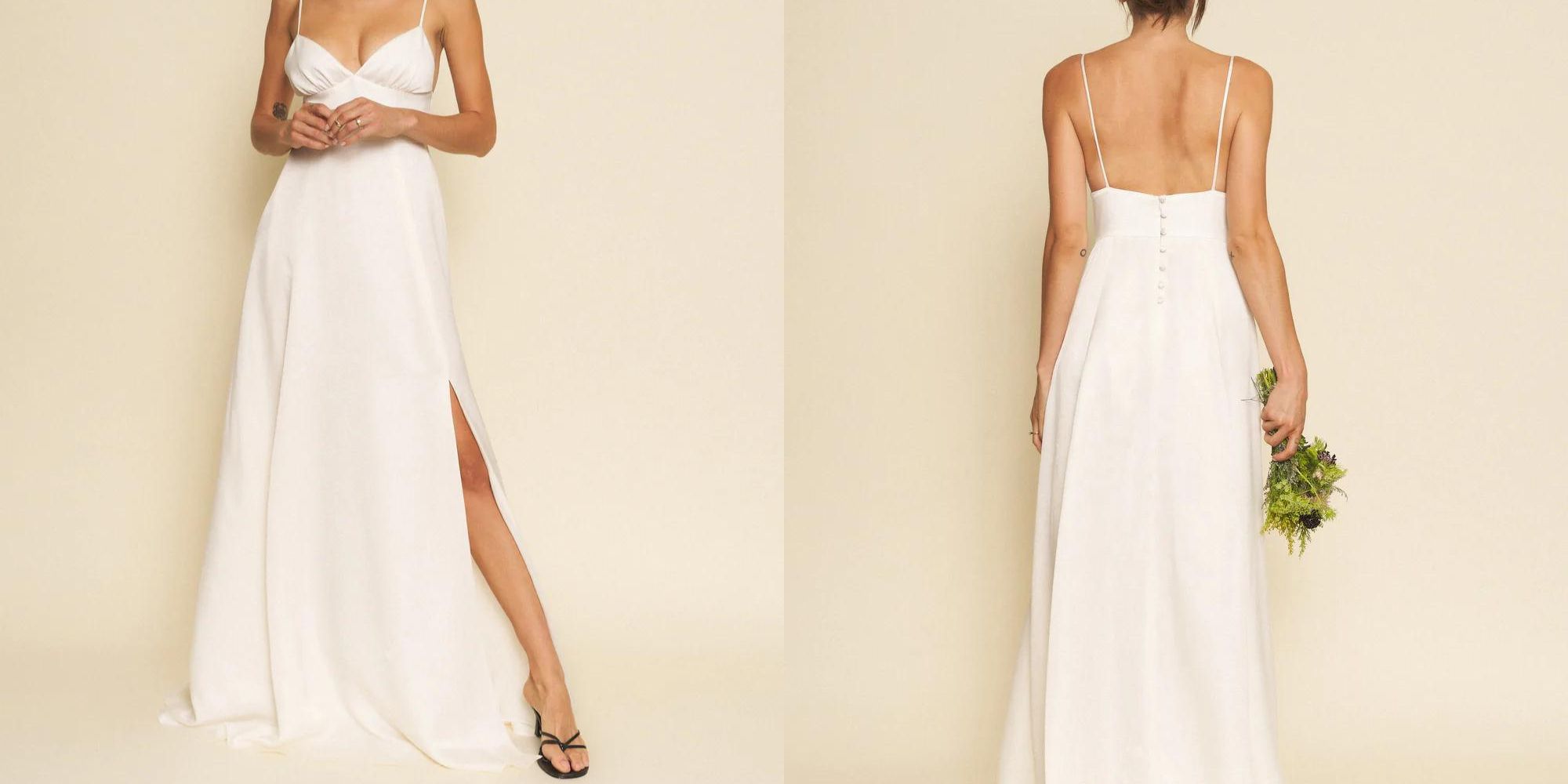 Accentuated with the perfect backless moment and side slit, the Noa Gown are what wedding dreams are made of.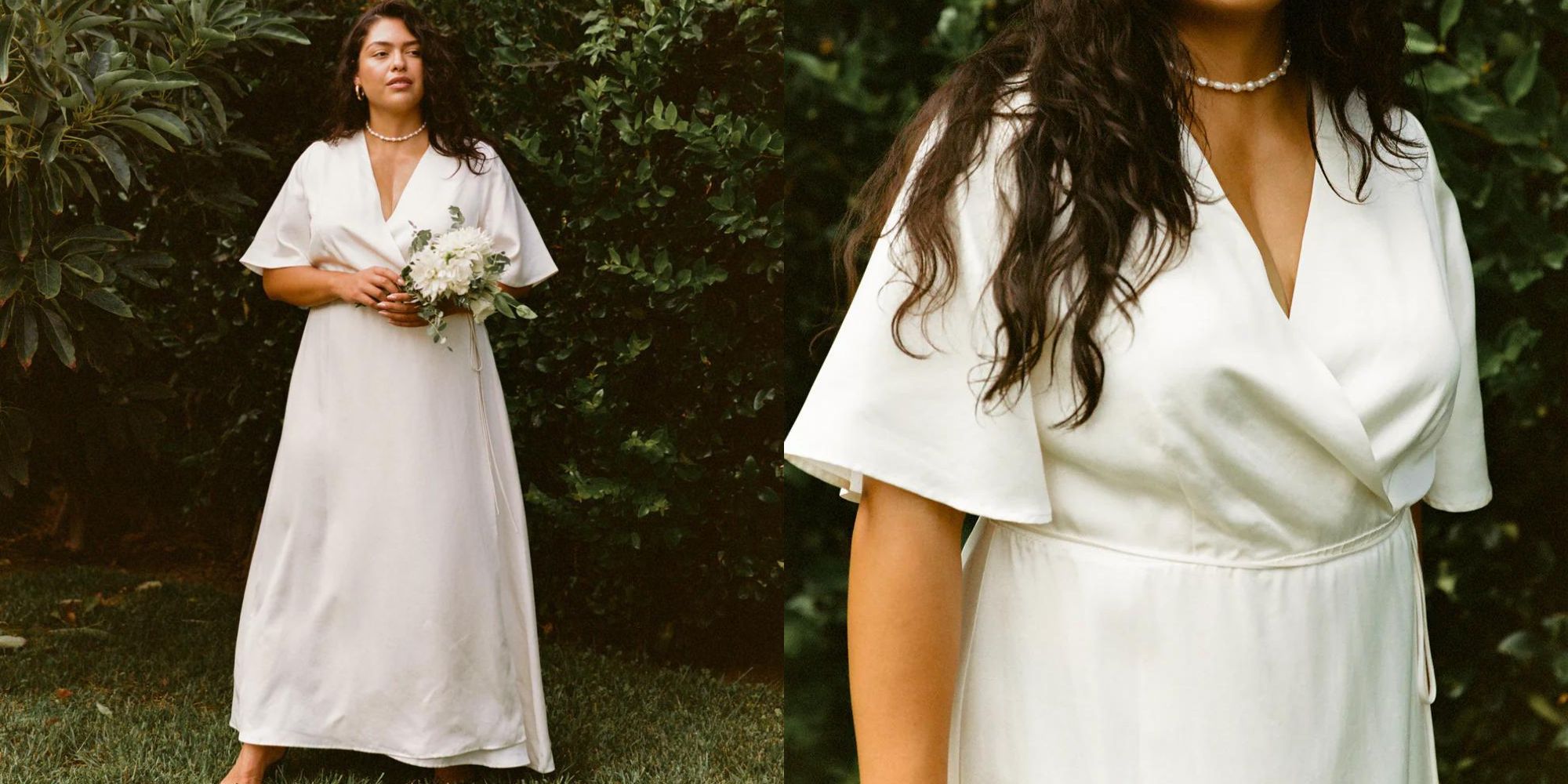 The Lola features a deep v-neckline, maxi length, and flounce all around. Gorgeous for a simple wedding look, and easy to incorporate back into your regular wardrobe.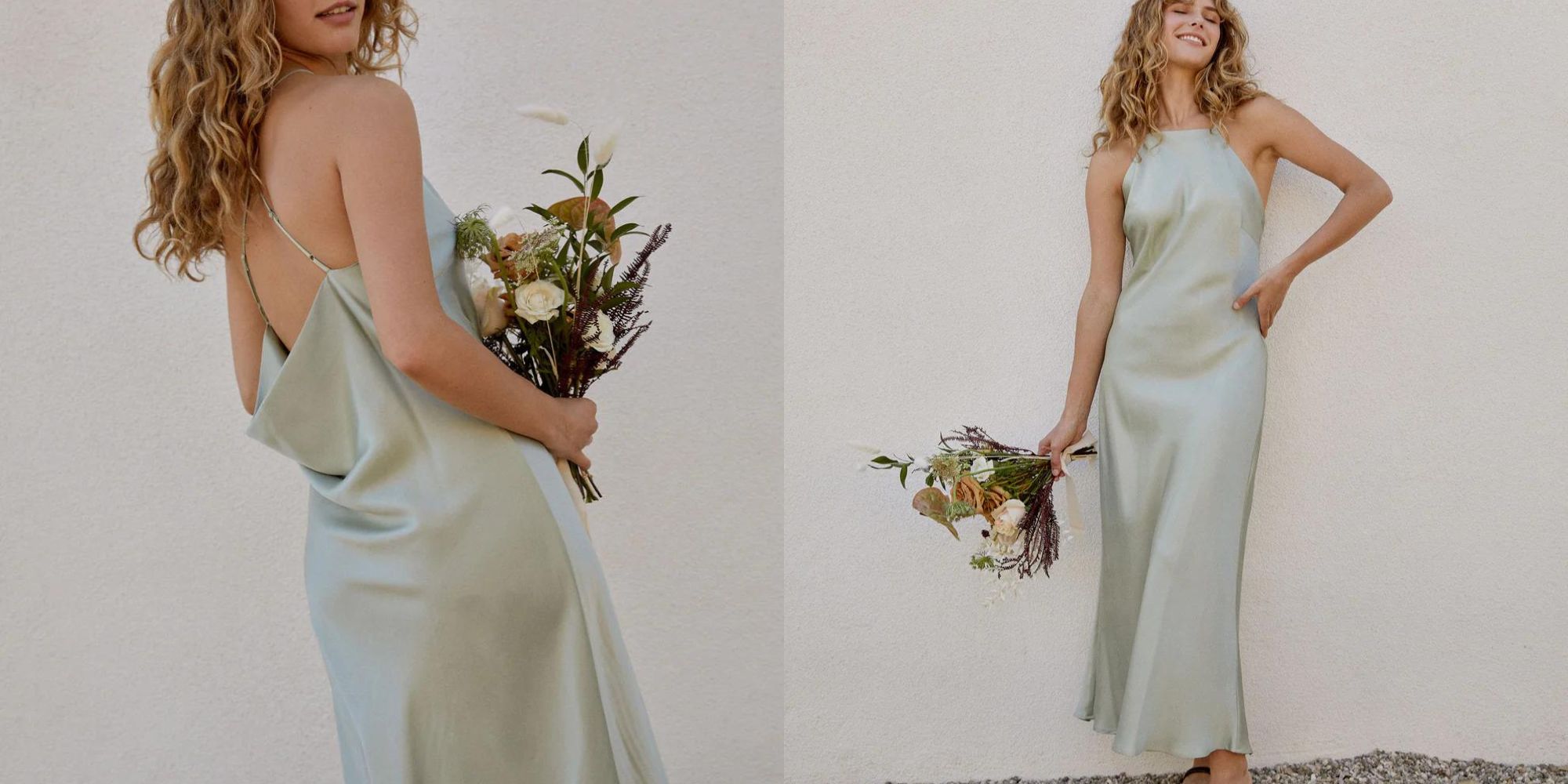 Turn every head in this sleek and sophisticated slip dress. The Fiona Dress has adjustable straps for the right fit, while the bias cut creates an elegant cowl back and midi-length flare at the bottom.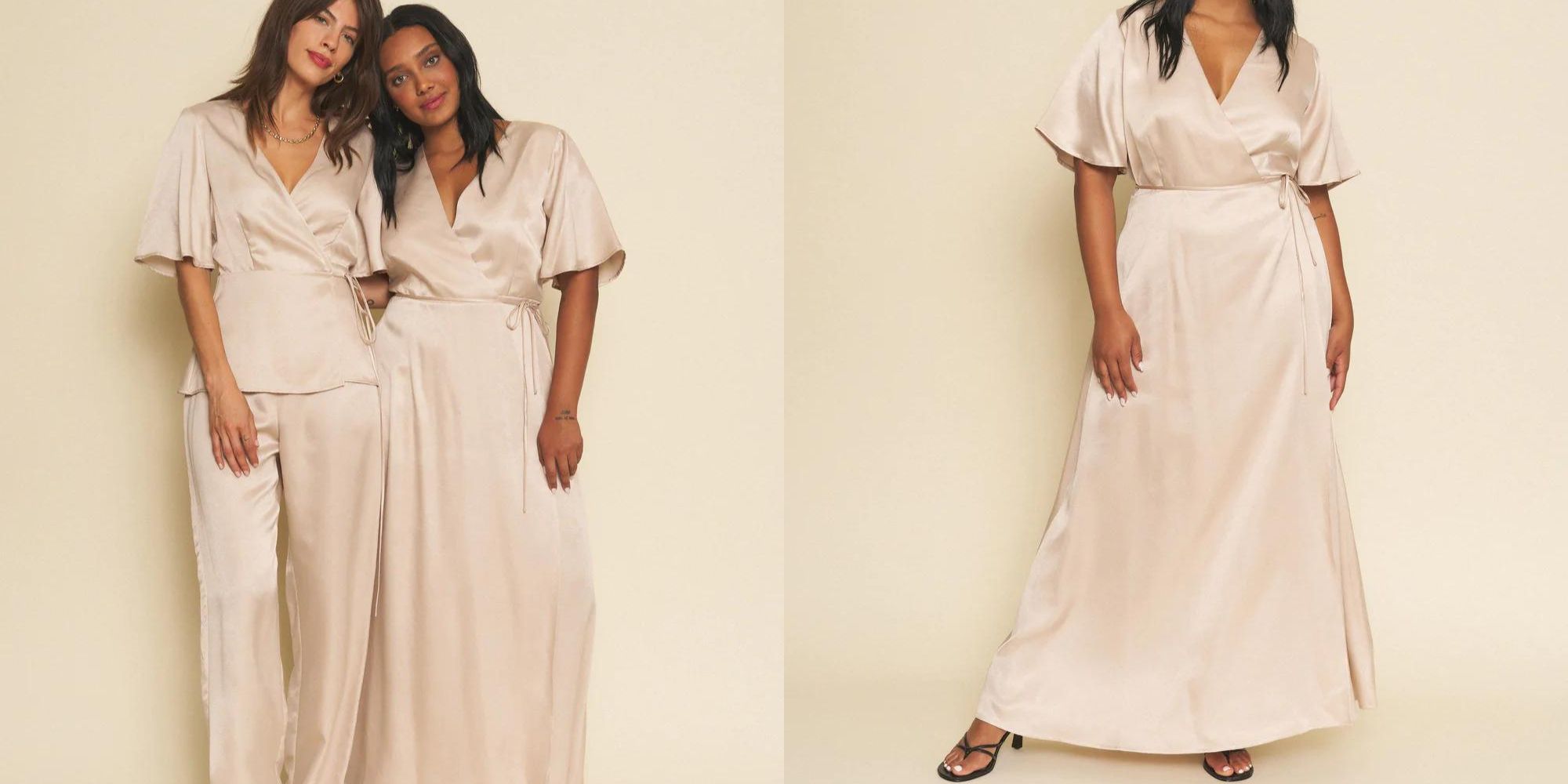 Whether you want to branch out from the traditional white gown for yourself or perhaps drape your bridesmaids in the hue, champagne is a less common shade that stands out in a subtle way.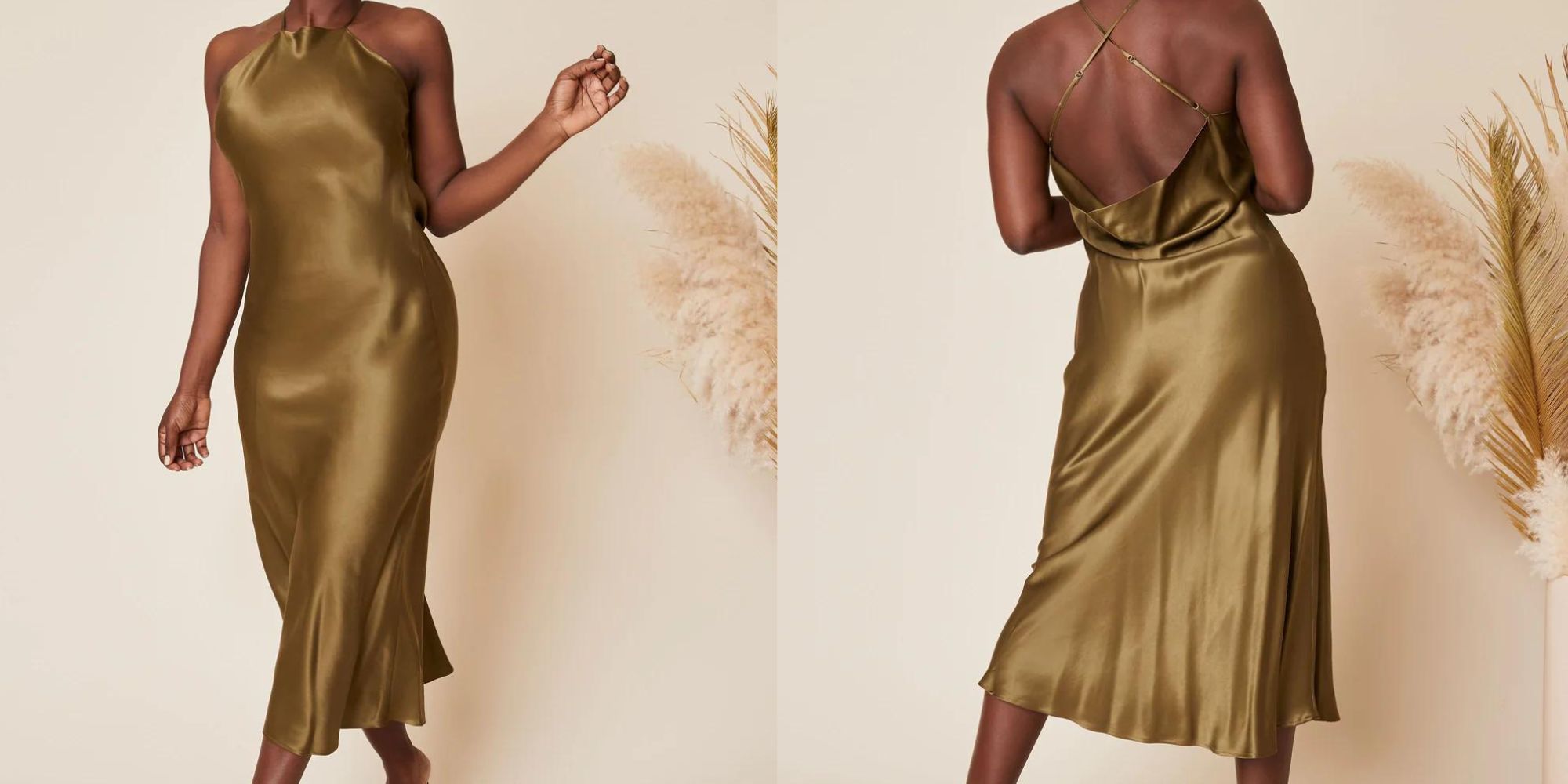 The Fiona Dress also comes in this green tone to complement you, your bridal party, and your earthy colour scheme on the big day.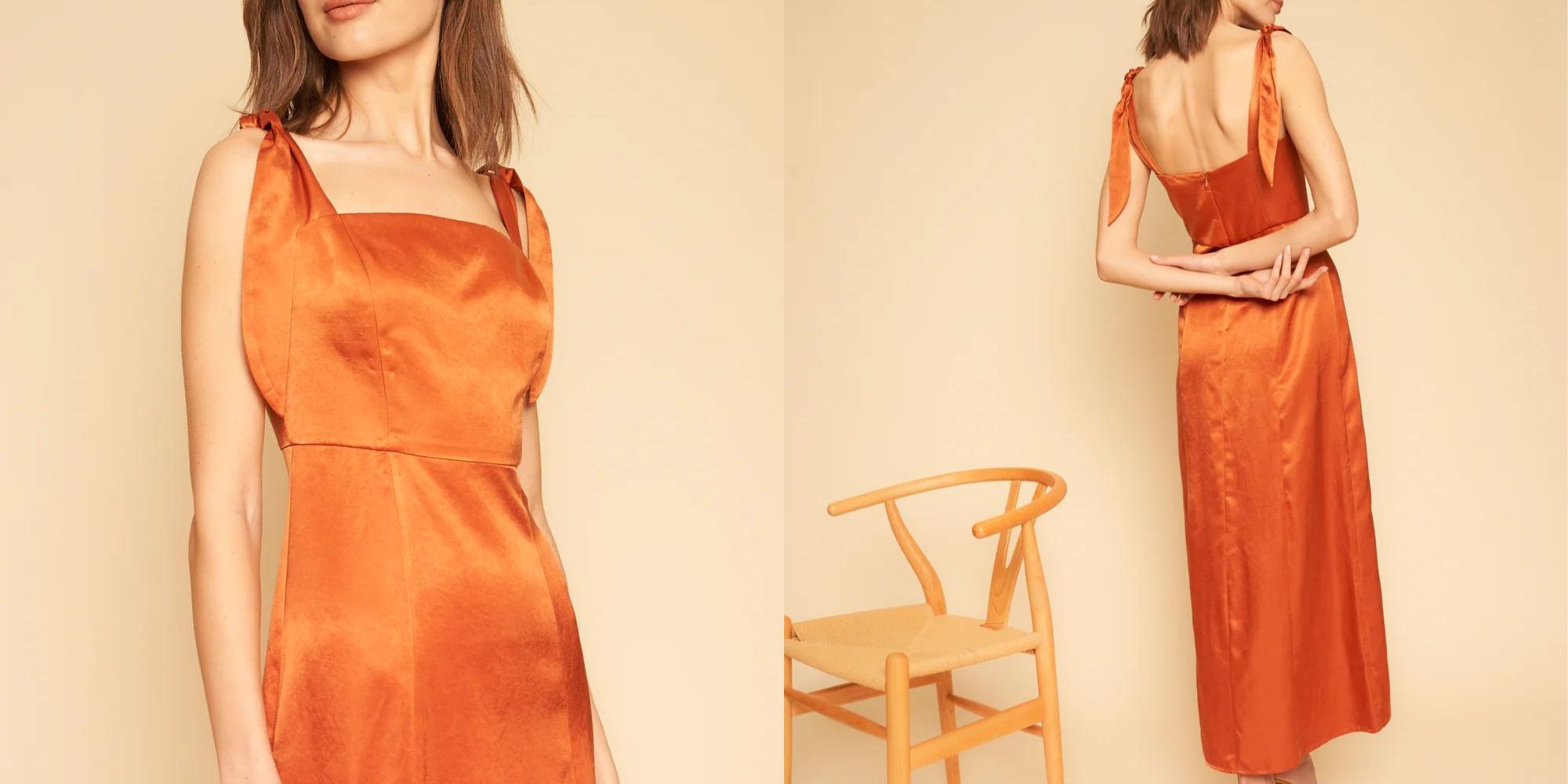 A versatile, bra-friendly, and adjustable dress that is as comfortable as it is elegant. Its square neck bodice and slit makes the Danielle modern and flirty. Wear the straps tied in a bow, a knot, or as a halter to change it up. An eye-popping option for bridesmaids or key wedding guests