This is a sponsored article about a retailer that stocks brands independently assessed by our rigorous ratings system. Here we're highlighting only "Good" and "Great" rated brands. Learn more.
We chatted to sustainable marketplace Staiy's founders about their curated summer fashion picks from "Good" and "Great" brands, and next steps for their business.
Your go-to conscious marketplace
We first met sustainable marketplace Staiy back in 2020 soon after they launched, and they gave us the low-down on the necessity of accessible, curated products across fashion and beauty by brands on a mission to do good. Embracing sustainability as a crucial part of the consumer market going forward in a world rife with environmental, human, and animal injustices, Staiy's founders provide an innovative and collaborative platform that changes the game for shoppers and businesses alike.
By carefully evaluating every brand and product before listing across pillars like water, air, materials, and working conditions, you can be sure a purchase on Staiy is a purchase for good.
Before diving into the founders' summer picks, we quizzed them on the next steps or upcoming projects for their business, and they dished the goss. Staiy's website recently had a makeover with strengthened branding and experience optimisation. As Ludovico said: "It should evoke and reflect our mission on making the world a better place by being the destination for a sustainable lifestyle." Staiy will soon also offer the public the opportunity to invest in their mission and be part of the journey.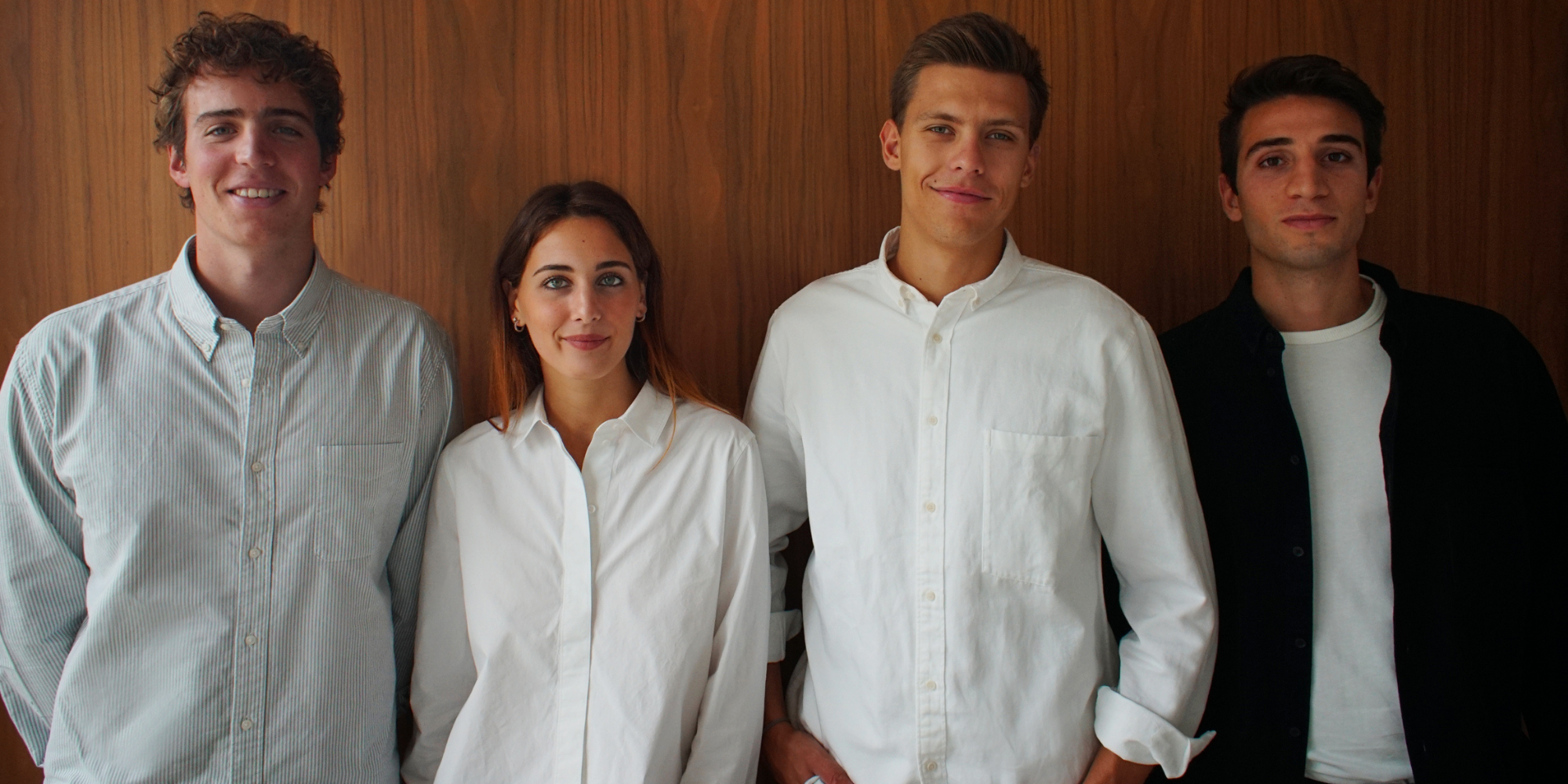 Curated sustainable summer essentials by Staiy
With summer underway in the northern hemisphere, we checked in with the four Berlin-based founders on their favourite pieces for warmer weather from "Good" and "Great" rated brands. Let's take a look.
Chiara Latini: 'everyday style should be comfortable'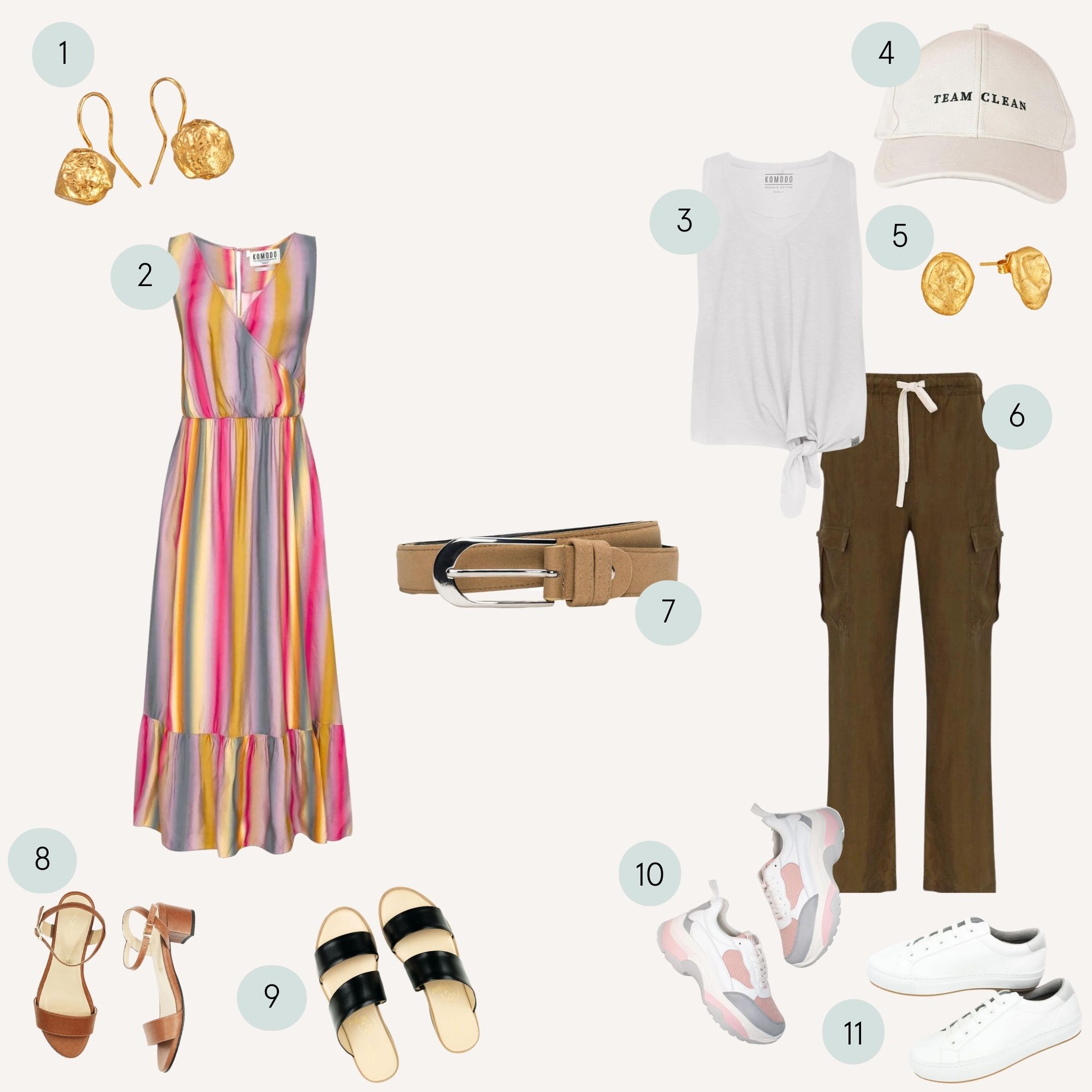 1. gaea no.11 earrings 2. WHIRLYGIG Cupro Dress 3. BAY Organic Cotton Top 4. TEAM CLEAN Cap 5. gaea no.12 earrings 6. DANIELLE Cupro Trousers 7. Pera Microfiber Vegan Belt 8. City Sandals 9. Two Strap Sandals 10. Rio Trainers 11. NY Sneakers
Summer is the perfect time to mix it up, reaching for fun and colourful pieces you can show off in the sunshine. As temperatures climb, it's also important to be comfortable, so we love Creative Director Latini's selection of a more dressy outfit perfect for that summer brunch with friends, and the casual look for a day of exploring the city.
"I chose these everyday pieces that just feel right on the skin and body. I always believe our everyday style should be comfortable, so that we feel ourselves; of high quality, so that we nourish our wellness, and authentic, so that we stand out from the crowd and embrace our uniqueness."
Adrian Leue: 'casual with a summery vibe'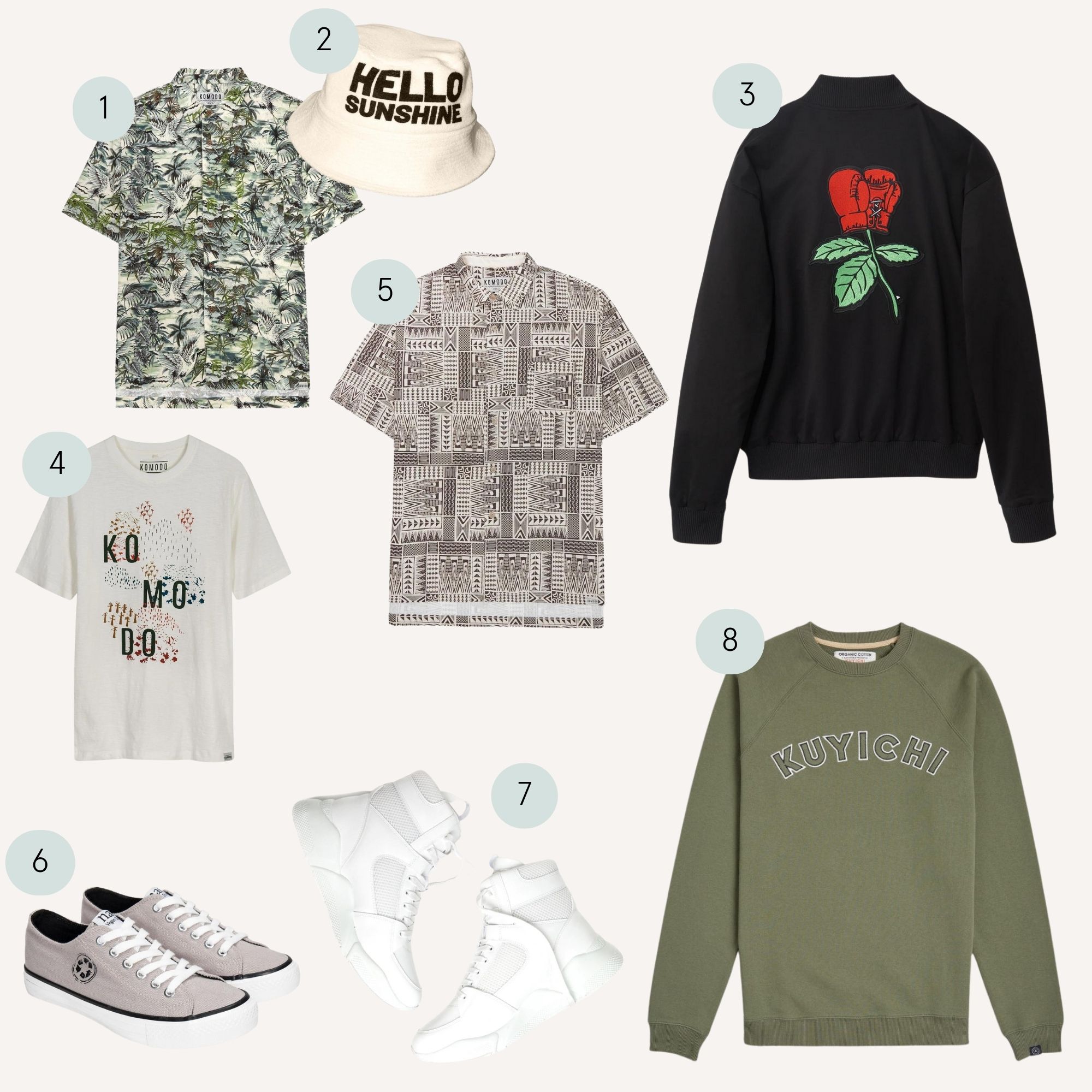 1. DINGWALLS Linen Shirt 2. Hello Sunshine Hat 3. The Boxing Bomber 4. KOMODOSCAPE Organic Cotton Tee 5. DINGWALLS Organic Cotton Shirt 6. Reclaim Vegan Low Top Sneakers 7. Chicago High Tops 8. Randy Sweater
For CEO Leue's look, think smart casual with a sustainable twist. Dress up your look with the button-down shirts, or relax it with a tee or sweater—and don't forget the "Hello Sunshine" bucket hat to tie it all together. Pair the pieces with black or denim pants and you're good to go.
"Business casual with a summery vibe is the way I like to dress as they reflect my personal style."
Ludovico Durante: 'sporty elegance and effortlessness'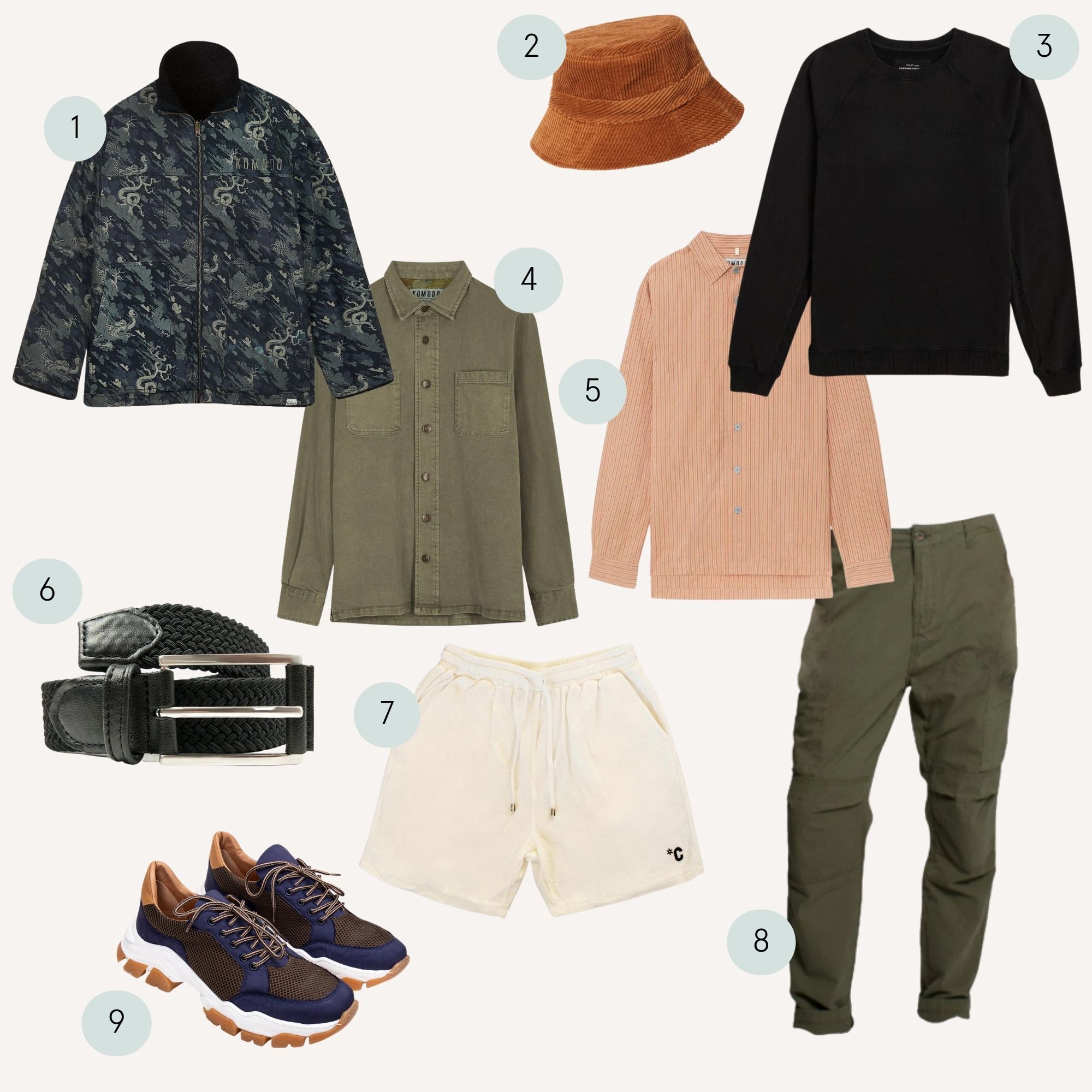 1. Reversible Fleece Jacket 2. BUCKY Corduroy Hat 3. Randy Sweater 4. JEAN Organic Cotton Overshirt 5. DELLER Organic Cotton Shirt 6. Woven Belt 7. Shorts "Too Hot" 8. Brandon Worker 9. Sandro Vegan Sneaker
If you're in a changeable climate or plan to explore higher elevations this summer, go for mixable, adaptable pieces like the ones Durante (Public Relations Manager) has chosen. We particularly love the sneakers, which are practical enough for sports but cool enough for out-on-the-town.
"In fashion, I am always on the look out for those pieces that can be worn in totally different contexts, and convey a sporty elegance and effortlessness. This selection speaks to days out in the mountains—my summer favourite—where it is easy to meet people of all ages in town or decide spontaneously to go for a walk with friends, sometimes ending up in more sporty adventures. I chose these pieces to represent that feeling, anticipating the frizzy mountain air everyone should get this summer."
Alessandro Nora: 'simple yet timeless'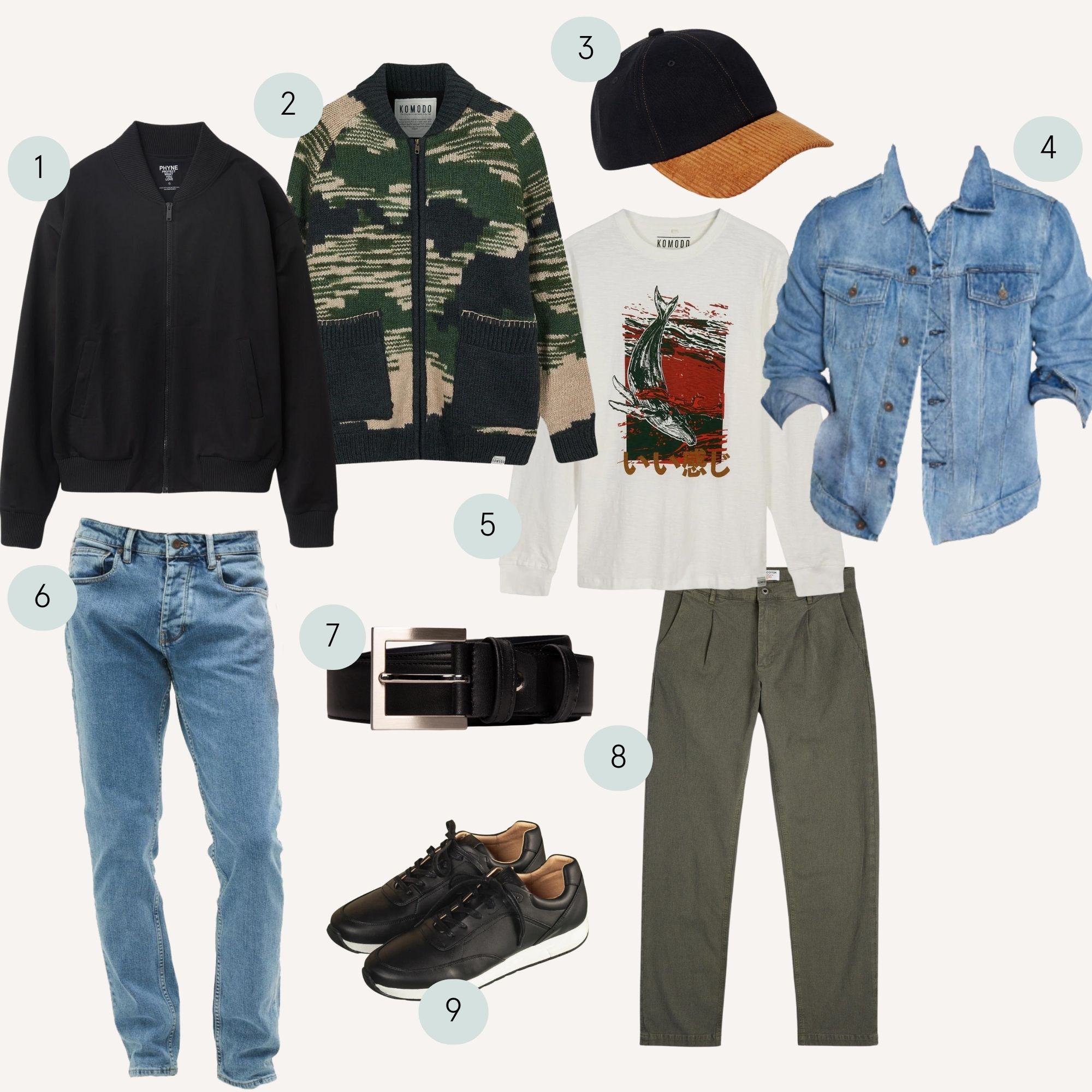 1. The Bomber 2. CAMO Fleece Lined Jacket 3. ROCKY Organic Cotton Cap 4. Bourne Denim Jacket 5. WHALE Organic Cotton Tee 6. Jamie Vintage Blue Jeans 7. NAE Microfiber Vegan Belt 8. Milo Chino Trousers 9. Malin Vegan Sneakers
CFO Nora's selection might as well be a mini capsule wardrobe. You could easily switch out any of the tops or bottoms and still look bomb—yes, even the double denim. That's the kind of versatility we love to see in a more sustainable fashion industry.
"To start the summer with the right mindset, I picked simple yet timeless outfits that work well for any occasion. I believe embracing sustainability should be easy, effortless, but at the same time make you stand out and feel special.
That's what we're doing at Staiy. Simplicity and commitment to bring positive change, that's my motivation. We also want companies to become more sustainable, that's why lately we have focused on developing software for tracking the carbon footprint of fashion items. More coming out soon!"