This is a sponsored article about a brand that was independently assessed by our rigorous ratings system. We're proud to only collaborate with "Good" and "Great" rated brands. Learn more.
Sustainable activewear brand Purusha People has a dream: to get plastic off our bodies for good. Plastic-based materials have been on the rise for the last 80 years, with polyester being one of the most widely distributed fabrics on the market. But we still don't really know what wearing it—and especially working out in it—does to our bodies, so why risk it? Purusha People makes unique and natural activewear you can feel good in, that treats people, the planet, and animals right. Read on to discover why this New England-based brand deserves your support as a conscious consumer.
The importance of living your values
For founder Hayley Elliott, "normal" life was never satisfying. In 2009, she moved back home and discovered her passion: yoga and yoga clothes. The heartfelt journey of the struggles and triumphs Hayley and her family went through in creating the Purusha People brand people know and love today has a strong message: authenticity must lead the way.
Hayley tried to make seven different versions of her brand work over the years, but nothing stuck. She lost sight of why she started to create clothing in the first place, clothing that is "authentic, inspired by nature, conscious, ethical, and sustainable". By finally asking herself what she truly valued in a product, she realised she should go back to her roots and start fresh. This time around, in 2019, Hayley designed and made her dream yoga wear—and this time, it resonated with people.
It really is as simple as creating something you love and understand.

Hayley Elliott – Founder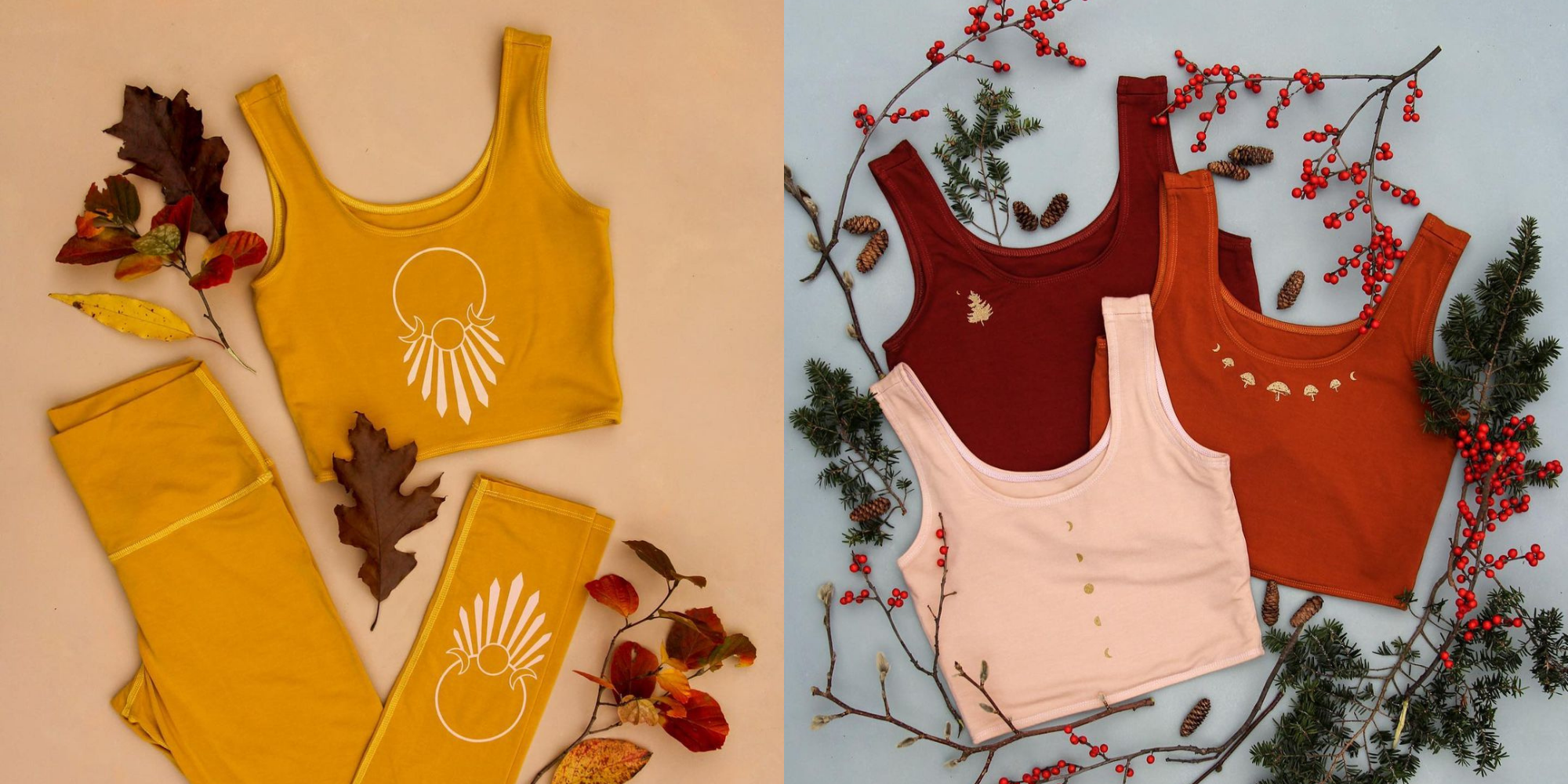 The innovation of Forest Fiber
The team at Purusha People wanted to find a fabric that embodied the ideals of yoga when creating their eco-friendly activewear. Something that spoke of balance, and harmony with nature and yourself. But also something that performed as well as traditional plastic-based activewear, with the moisture-wicking and wrinkle-free properties that make it so popular for athletes everywhere. That's when they discovered TENCEL™ Lyocell.
Lyocell is a wood pulp based fabric made from sustainably harvested trees like eucalyptus. It is "like a Frankenstein fabric—it's made from nature, but performs like it's not natural, like polyester. Except it doesn't carry with it the burden on the environment and on our bodies. It truly is the holy grail of athletic fabrics, and we think it's the future of activewear." Unlike polyester, Lyocell doesn't shed polluting and health damaging microplastics. It also leaves a lighter footprint on the earth, and is safe to wear close to your body for extended periods of time. With Purusha People's plant-based activewear, you finally don't have to choose between performance and the planet. Bonus: it's beautiful.
Organic yoga wear to dye for
Not only are Purusha People's products made from sustainable fabrics, they are also dyed with GOTS certified organic dyes, and printed with water-based inks. The unique limited runs are hand sewn in a small factory in LA that the brand has been working with for a long time, by people who are never paid less than $15 an hour. Sometimes Hayley and her original seamstress Nadya will even hand make the garments themselves as they did in the beginning!
Like us, Purusha values transparency, which is why it is rated 'Good' for people and the planet. The brand strives to make everything to the highest standard possible, but it recognises that there is still work to be done. Its next goals are to remove the 8% spandex from its products, as well as some day own a factory where it can pay even better wages plus benefits.
This season's collection is inspired by the colours and landscapes of a New England winter, with delicate mushroom and moon-phase details we can't get enough of.