This is a sponsored article featuring brands that have been independently assessed by our rigorous ratings system. We're proud to only collaborate with "Good" and "Great" rated brands. Learn more.
Our editors have picked out the best activewear brands using lower-impact materials to make polyester-free tights, tops, and bras you'll love to sweat in.
Leaving polyester at the gym door
For the avid gym-goer, yogi, runner, or sportsperson, high-quality activewear that is both breathable and moisture-wicking is essential. Unfortunately, a lot of the most popular activewear brands are still making their range out of polyester, AKA the most notorious and overused plastic-based fibre on the market today that might even be exposing shoppers to toxic BPA.
While polyester has some desirable qualities for something like activewear (stretchy and long-lasting), its impact on the environment is catastrophic, including shedding harmful microplastics into the air and water, and taking centuries to decompose in landfill.
Our editors know the feeling, and have curated a list of top rated brands making activewear without pesky polyester. All of the brands below use lower-impact materials like organic cotton and lyocell to form the majority of their garments, but you'll notice almost all of them do contain some level of elastane. That's because there is as yet no perfect solution to hardy activewear that can stand the test of time and trials without some stretchy component.
So while elastane isn't a lower-impact material, the impact of your shopping choice is still reduced by opting for a garment made from a low percentage of a plastic-based synthetic like elastance v a new pair of virgin polyester or nylon leggings from a brand like Lululemon that is doing little for people, the planet, and animals in production.
The following consciously-created activewear pieces are a great alternative for those who don't want to sweat it out in polyester—recycled or not—for the benefit of their bodies and the planet.
Why you can trust our recommendations
At Good On You, we provide trustworthy recommendations that align with your values and needs. Our mission is to simplify informed choices while embracing the "buy less, buy better" motto.
To ensure credibility, we aggregate comprehensive, transparent information on fashion sustainability—assessing brands using our leading methodology, developed by diverse experts. Our ratings directory of over 5,000 brands employs a simple five-point scale, curating a list of "Good" or "Great" brands making significant contributions to sustainable fashion.
Our editorial team, driven by expertise and passion, carefully reviews and approves each recommendation, upholding high standards of quality, longevity, and trend-transcendence.
While we recognise the value of reusing, mending, and second hand shopping, our expert ratings system guides you toward new brands aligned with your values and sustainability goals.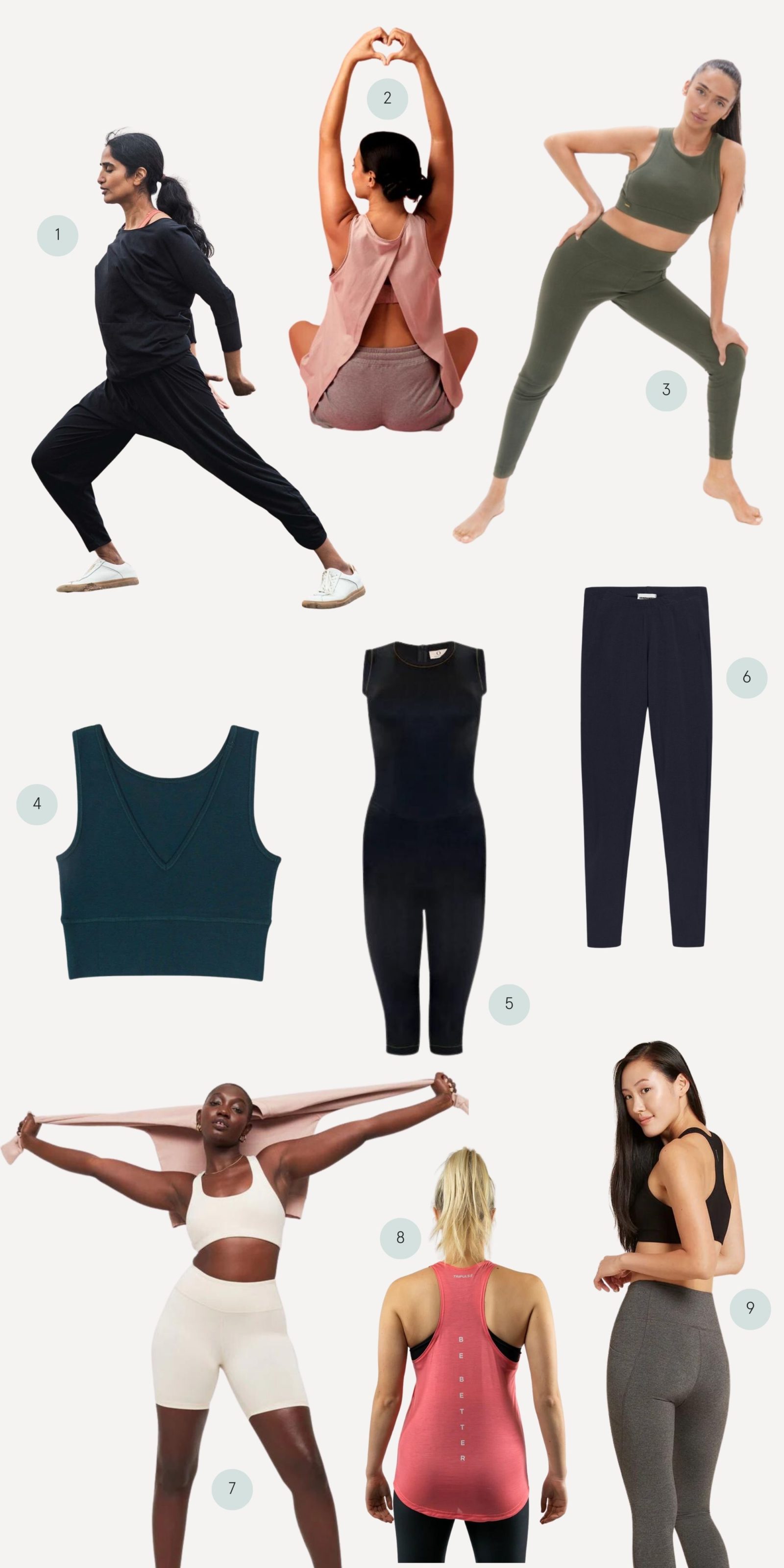 Polyester-free activewear picks from top rated brands
1. Kachina Organic Cotton Yoga Hareem Trousers (Beaumont Organic)
2. Rose Breezy Tank Top (No Nasties)
3. High Waisted Leggings (1 People)
4. PlantTec™ Reversible Tank (Happy Earth)
5. Onesie (Organique)
6. SHIVAA Leggings (Armedangels)
7. Organic Stretch Biker Short (MATE the Label)
8. Be Better Workout Tank Top (Tripulse)
9. Motivate Full-Length High-Waist Tights (Boody)