Every month, the Good On You team scours the internet, so you can have easy access to the ethical and sustainable fashion news that matters. Here's everything you need to know this month.
In the know
Before London Fashion Week, sustainability experts gathered at the Regenerative Fashion Conference, hosted by Safia Minney, co-founder of Fair Trade brand People Tree and the force behind the Fashion Declares movement, to present their vision for change. "The biggest takeaway? Fashion needs a nuanced, multi-pronged approach to move from incremental to systems change," reports Bella Webb for Vogue Business.
In a significant development reported by JustStyle, the European Parliament and Council have achieved a preliminary agreement on regulations to combat greenwashing and premature product obsolescence. These regulations can potentially influence the labelling and marketing practices within the textile and fashion sector, marking a critical step towards greater transparency and sustainability.
A thought-provoking piece by Karine Basso for Earth.org in which the author emphasises the need for fashion brands to confront accusations of greenwashing head-on. In a time of increasing climate scrutiny, Basso stresses the importance of corporate leaders both demonstrating and communicating their genuine commitment to addressing climate change.
In a story featured in The Guardian, Lexy Silverstein, a student at Los Angeles's FIDM, voices her opposition to fast fashion brand "greenwashing" through a unique partnership. "A part of me didn't want to believe it. How can a school that markets itself as one of the top 10 sustainable fashion schools partner with one of the biggest fast fashion companies in our industry? It was very hypocritical and shocking," said Silverstein.
Atmos dives into the opportunities and obstacles that the fashion industry must confront urgently to address its escalating textile waste problem.
Last month saw the launch of the Fossil Fuel Fashion Campaign, reports Fashion United. The campaign centres on panel discussions but calls for more concrete solutions. It draws attention to the close link between the fossil fuel industry and fashion, emphasising how fast fashion's rapid growth relies heavily on synthetic fibres derived from fossil fuels.
'Good' and 'Great' news
Every month we publish news and product highlights from highly rated brands that have been assessed by our rigorous ratings system. Using our codes and links may earn us a commission—supporting the work we do. Learn more.
In an exclusive article for LVRSustainable by LuisaViaRoma, Laura May, the visionary behind "Good" rated brand Nagnata, delves into the inspiring journey of her brand's growth. She highlights the essence of mindful design and conscious consumerism, illustrating how these principles are helping reshape the fashion industry from its core.
The second episode of "Good" rated brand ISTO.'s "Transparent Others" video series is here. In this episode, the brand features Duarte Caldas, founder of DC.AD, a studio based in Lisbon, focused on architecture, interiors, furniture, and light design.
"Great" rated brand, the R Collective, unveils its latest collection, featuring standout pieces like the Andes Shirt Dress, Aires Top, and Pampas Jacket. These garments are meticulously crafted from 100% cotton defect garment shirt waste, showcasing innovative design with layered panels, contrasting textures, and colour accents. The collection is a testament to the brand's commitment to circular fashion and more sustainable craftsmanship.
Good Guys presents the BABER-GV running sneakers, born out of a personal journey. After an injury, the brand's founder and designer, Marion, sought the perfect blend of comfort and style. Months of meticulous research and design led to the creation of these sneakers, embodying the Good Guys spirit. These sneakers, designed to provide day-long comfort despite chronic conditions, feature a VIBRAM sole and a commitment to delivering both comfort and style to the wearer.
Check out "Good" brand CARIUMA's latest release in collaboration with the MFA Boston. This addition to the brand's artist collaboration series showcases designs featuring the iconic works of artist Katsushika Hokusai.
Conscious Step proudly introduces its latest collaboration with the National Parks Conservation Association, featuring a collection of six pairs of socks inspired by iconic animals like bears, owls, foxes, bison, moose, and wolves. These more sustainable socks are crafted from materials such as Fairtrade and GOTS organic certified cotton and recycled polyester. With every purchase, $1 is donated to the National Parks Conservation Association, contributing to their mission of safeguarding our parks and their incredible wildlife.
Launched in 2019, "Great" brand Neu Nomads' Neu Women webseries showcases the remarkable stories of female entrepreneurs and influential creatives within the Neu Nomads community, who are dedicated to creating a healthier and more sustainable world. The series has featured notable figures like Madison Utendahl, Michelle Coreiro Grant, Olivia Landau, Danielle Duboise, Jasmine Gransworthy, Sophia Li, Corinna, Theresa Williams, and many others, each contributing to a more sustainable future.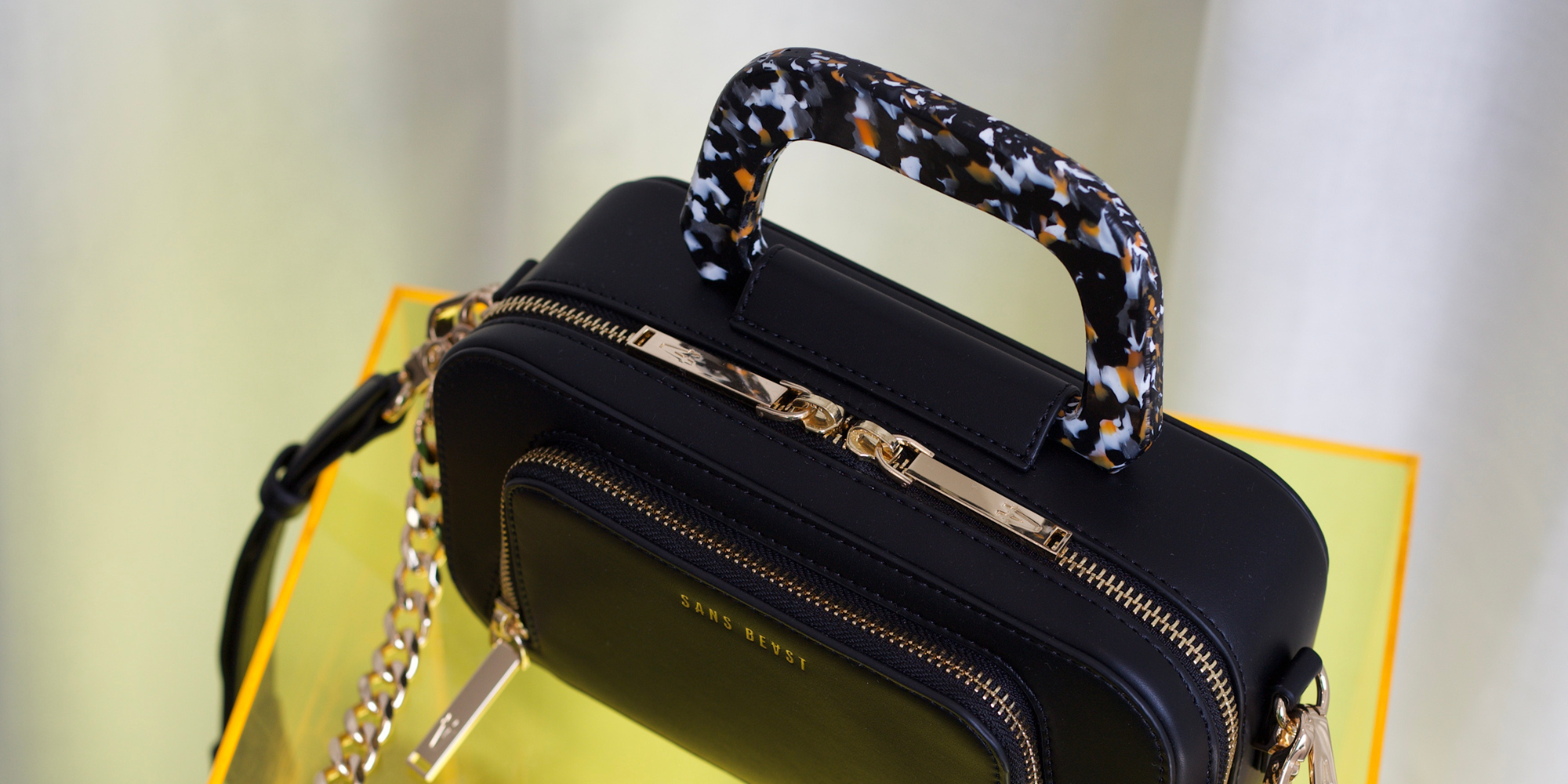 Sans Beast introduces the exquisite, limited edition Petite Cosmos crossbody bag, featuring a distinctive handle handcrafted from 100% recycled plastic bottle caps by Precious Plastic Melbourne. This petite handbag is crafted from certified recycled fabric and includes two straps, including a luxurious gold curb chain for added glamour. It's a fusion of forward-thinking materials and distinctive design in a truly special piece. Only 55 of these pieces are available.