Let's take a look at eight greenwashing examples, including greenwashed ads and claims made by fashion brands in the last few years.
Are big brands becoming more sustainable, or is it all just greenwashing?
Lately, you might have noticed more and more fashion brands promoting their sustainability initiatives and you might even be thinking "Wow, the fashion industry is becoming more ethical and sustainable!" And while it is in some areas, unfortunately, all that glitters is not green.
In its July 2021 report, the not-for-profit Changing Markets Foundation highlighted that as many as 59% of all green claims by European and UK fashion brands are misleading and could be greenwashing—a stat that seems to apply to the industry at large.
So how do you tell if a brand is greenwashing? Here we take a look at some of the most notorious ads and claims from recent fashion campaigns to help you spot what's green and what's not.
What is greenwashing?
We define greenwashing in the fashion industry as the unjustified and misleading claims from brands that their products are more environmentally friendly than they really are. We see this manifest in various ways: outright deception, subtle advertising, and often as ambitious claims without full transparency around the actual impacts.
Greenwashing is a growing concern nowadays as some companies are trying to benefit from the increasing demand for more sustainable and ethical clothes and other products. Climate activist Greta Thunberg even said in an interview to the Guardian last year: "Many are making it look as if the fashion industry is starting to take responsibility, by spending fantasy amounts on campaigns where they portray themselves as 'sustainable', 'ethical', 'green', 'climate neutral' and 'fair'. But let's be clear: This is almost never anything but pure greenwashing."
As highlighted by Thunberg, companies usually market supposedly "environmentally-friendly" initiatives, like having one tiny "eco-friendly" line (we see you, fast fashion's conscious collections), using recycled packaging, and switching to LED lights in their offices while not addressing critical environmental and labour issues.
How can you tell when a fashion brand is greenwashing?
So, what are the telltale signs of greenwashing? How can you tell when a fashion brand might be less environmentally responsible than they say?
If a brand makes one or more of these 6 claims, they're probably greenwashing:
Impressive-sounding initiatives to reduce carbon emissions at the head office: think solar panels on the roof and an office full of plants. It's a nice touch, but what they should be doing is aiming to reduce greenhouse gas emissions across their entire supply chain, and not just at the head office.
"Eco-friendly packaging" and not much else: keep an eye out for brands that promote minimal, recycled, or "recyclable" packaging as their primary strategy for reducing waste. While this is a great first step, it is peripheral. Promoting this, while not changing a brand's whole business model has little impact.​​
"Energy efficiency": highlighting the use of LED and energy-efficient lighting or sensor lights in stores can sometimes be little more than spin. Many office buildings already have this type of lighting, and it's even a legal requirement in some countries.
Misleading claims and targets: brands are more or less free to set targets for their environmental impact that are comfortable to achieve, sound promising, and may or may not be impactful. In our fashion climate report from COP26, we found that 69% of large brands rated on Good On You, with greenhouse gas emissions targets, do not state whether they are on track to meet them.
Payment of a "minimum wage": very different from a "living wage" or fair wages—the actual minimum wage a garment worker should earn to feed themselves and their families, pay rent, and cover healthcare, transportation, and education.
"Sustainable" ranges and collections: an increasingly common marketing tool with high-volume, fast fashion labels. This "eco" range of clothing is often a tiny portion of their overall production, and it doesn't mean that the brands have made a complete overhaul of their business models overnight. What a brand is really doing here is hoping that the green glow of one initiative will rub off on the company as a whole.
8 greenwashing examples
Below are 8 examples of greenwashed ads and claims made by fashion brands in the last few years.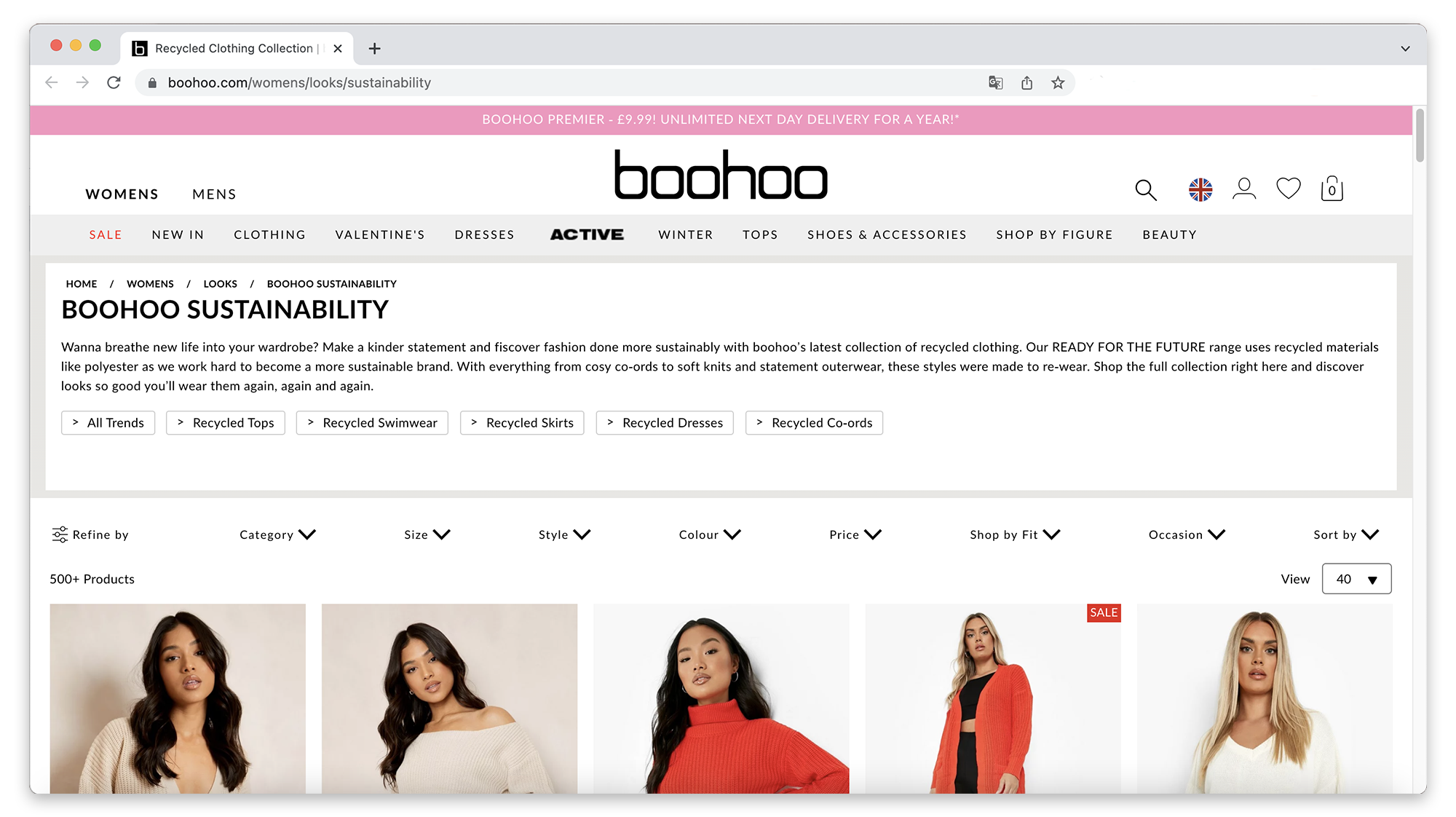 Boohoo's 'sustainable collection'
What the brand says: "Our READY FOR THE FUTURE range uses recycled materials like polyester as we work hard to become a more sustainable brand. Featuring cosy puffer jackets, classic loungewear, and matching tracksuit sets, these are cold-weather staples to wear again and again. […] Dressing more sustainably has never been easier!"
Sounds promising, but: Looking at the items listed as "sustainable", we found that some were made from acrylic, a type of plastic. While this material could be recycled as the brand says, there's not much proof. In addition to this, some of these items cost below £10. How much are the garment workers in Boohoo's supply chain paid? Not only is Boohoo misleading shoppers, but it's also clearly not taking steps towards lowering its impact on the planet and its inhabitants. This is not surprising, considering we rate Boohoo "We Avoid".
Check out Boohoo's full rating.
SHEIN's appointing a Head of Sustainability
What the headline says: In its latest move to keep up with growing business and fashion expectations, Chinese retailer SHEIN recently hired a head of environmental, social, and governance (commonly known as an ESG officer in the industry).
Sounds promising, but: On the surface, companies hiring ESG officers and similar roles is a positive move. But it's the ultra fast fashion brand's attempt to portray itself as "concerned" with sustainability when its entire business model is built on labour and environmental exploitation that makes this announcement ring hollow.⁠
This comes at a time when other major fast fashion players like Zara have pledged that they will only use recycled or lower-impact materials by some arbitrary year. ASOS and Primark have made similar pledges. Boohoo recently published its list of suppliers after reports revealed poor working conditions and low wages inside its Leicester factories and appointed an ESG professional to its board in October.⁠
These decisions are made, in part, because consumers today—especially Gen Zers—are concerned about the climate emergency and want to buy from fashion brands that show they care about sustainability.⁠ But, SHEIN, you're going to have to do a lot better than that to convince us.
Check out SHEIN's full rating.
H&M's Looop campaign
What the headline says: During last year's Earth Day, H&M announced its new sustainability ambassador, Maisie Williams, and launched "Looop Island" on the Nintendo game Animal Crossing (yes, you read that right) to promote its in-store recycling machine.
Sounds promising, but: While H&M has ​​made some strides toward circularity, this ultimately comes across as greenwashing. An island in a video game won't save the planet. Recycling a few items and encouraging consumers to recycle or buy recycled items can't make up for the 3 billion garments H&M produces every year. H&M needs to make more fundamental changes to its business model and take greater accountability for its actions.
ASOS' circular line
What the brand says: "Style meets sustainability in our innovative new ASOS line, which is all about future-proofing fashion. So, not only are these pieces as eco-friendly as possible, they're also 100% on-point. Think fresh cuts in the season's key colours, with some throwback '90s vibes added in for good measure. The kind of fashion that's good for your wardrobe, and better for the environment."
Sounds promising, but: We dug a little deeper, and unfortunately, ASOS' Circular items aren't as circular as the brand claims. Take this pouch, for example. It's made from polyvinylchloride and polyurethane, two thermoplastic materials which are very hard to recycle and decidedly not environmentally friendly. Where's the circularity in that?
As Sophie Benson argues in The Independent's article, "Progress has to start somewhere, but creating one small collection that cherry picks circular principles is akin to putting a plaster on a broken leg".
These "greener" clothing ranges represent a tiny portion of these fast fashion brands' overall production. "The collections often only offer a small slither of totally available products to buy. And the 'green' element is often not substantiated. We have seen some [brands] call their collection 'green' because it has 20% recycled materials in it or because it is certified by OEKO-TEX Standard 100 (which only tests if the final product has any harm to human health, not environmental health)", according to Kristian, Good On You's Head of Ratings.
Lululemon's vague claims
What the brand says: "We'll adapt infrastructure to take back products after first use and recycle materials into a valuable next life, including fibre-to-fibre."
Sounds promising, but: It's another vague claim from a large brand. It's good that Lululemon talks about ways to improve its environmental impact. But in reality, it doesn't reflect any meaningful action. What infrastructure are they adapting? When is this happening? What is a "valuable next life"? For a global brand such as Lululemon, there is no excuse not to do its part for the planet.
Check out Lululemon's full rating.
Zaful's manufacturing claim
What the brand says: "We're serious about making sure every single person in that supply chain is safe at work, respected, and earns a living wage."
Sounds promising, but: While we love the mention of a living wage, this statement remains extremely vague. Being "serious about making sure" and simply "paying" a living wage are not the same thing, and the imprecise wording is telling. We couldn't find any proof of how Zaful is ensuring its workers are treated and paid fairly. Zaful lacks transparency and provides insufficient relevant information about how it reduces its impact on people, the planet, and animals. You have a right to know how the products you buy affect the issues you care about.
Check out Zaful's full rating.
Zara's efficient stores
What the brand says: "[We have] 100% energy-efficient stores. The daily operation of our stores is adapted to reduce our environmental impact with systems that allow us to adjust water and energy consumption to the real needs of the store. In addition, the new building and renovation standards of our stores, based on our Eco-Efficient Store Manual, establish the use of more efficient technologies that help us regulate our consumption."
Sounds promising, but: What about reducing the environmental impact of its supply chain? For example, in our latest review of Zara, we found no evidence the brand minimises textile waste when manufacturing its products. And, although Zara has set an absolute target to reduce greenhouse gas emissions generated from its operations and supply chain, there is no evidence it is on track to meet its target. It is also important to remember that Zara has fast fashion traits such as on-trend styles and regular new arrivals. This business model is inherently harmful to the environment, and energy-efficient stores can't change that.
Adidas' Stan Smith advert
What the headline says: "Stan Smith Forever. 100% iconic, 50% recycled"
Sounds promising, but: According to the French Jury de Déontologie Publicitaire (JDP), Adidas' ad broke advertising rules and misled consumers. The advert doesn't inform consumers of the total proportion of the shoe that is recycled and is misleading in its use of the "End plastic waste" logo. The JDP also noted that the claim of "50% recycled" gives shoppers the impression that 50% of the total material used in the sneaker is made of recycled materials, which isn't true.