This is a sponsored article about a brand that was independently assessed by our rigorous ratings system. We're proud to only collaborate with "Good" and "Great" rated brands. Learn more.
I don't know about you, but sometimes I just want comfortable and functional clothes that are easy to slip into and rock on the daily, from brunch to the beach. Think crop tops, skate dresses, breezy tees, and chinos. The laid-back-yet-put-together look makes fashion more fun and accessible, but finding the sporty style done sustainably can be tricky. Oh, do I have the brand for you!
"To inspire a sustainable lifestyle that is fun and easy to integrate into daily life." That's the mission of 'Great' German brand bleed, here to save the day. Creating sustainable clothing, produced fairly and without cruelty, packaged in a sporty lifestyle. Stick around for their story and our favourite pieces in their collection!
"When it comes to bleed, we have been implementing what is important to us for a long time: bleed stands for regional loyalty, good working conditions, no ridiculous salary for the boss, no investors, independence, slow growth, transparency: strengthening the region, Germany, and Europe, and creating fair, international supply chains in a connected world at the same time."
bleed - 100% ECO, 100% FAIR, 150% YEAH!
The origin story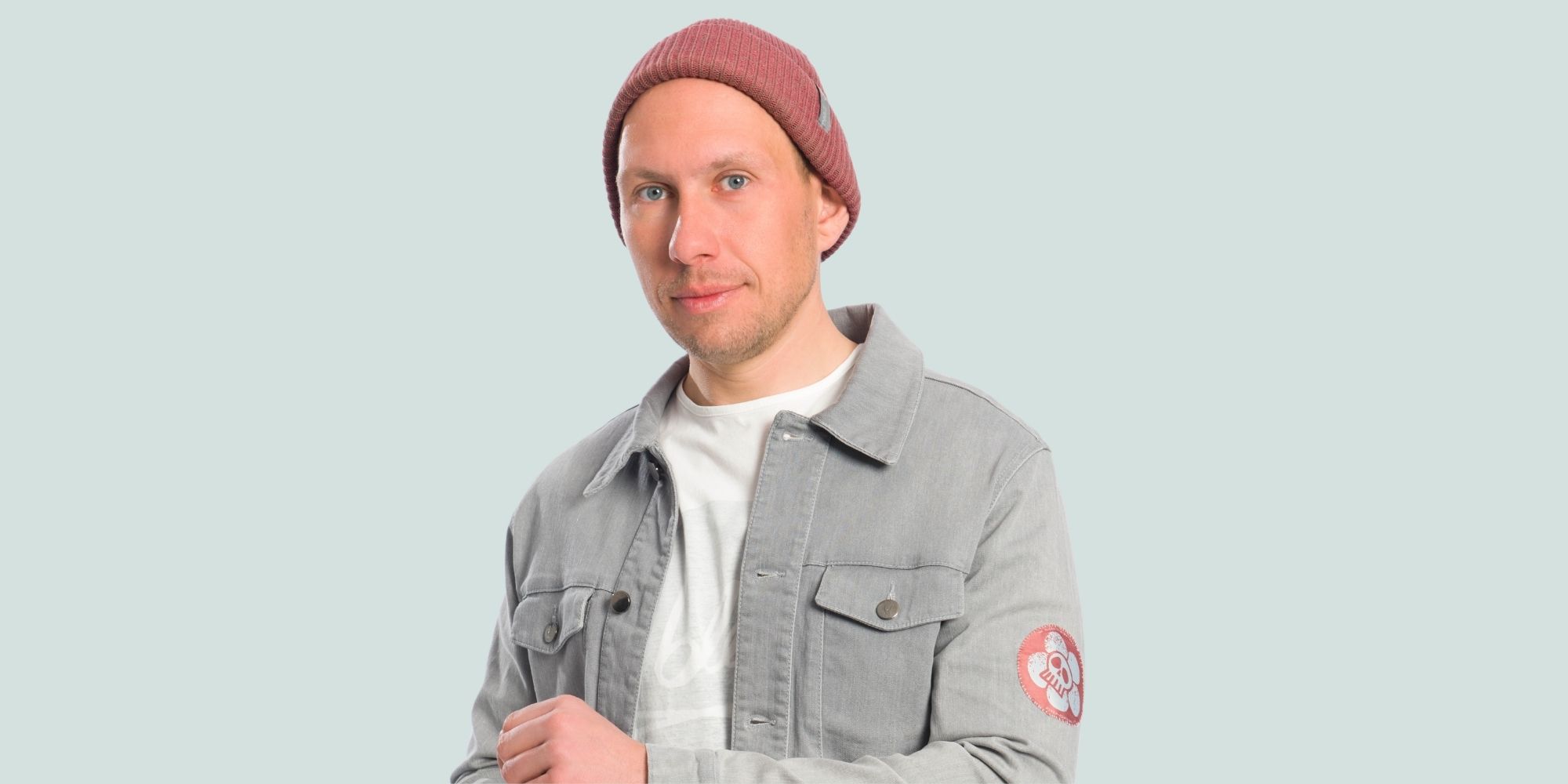 In 2008 in the heart of Upper Franconia, in the tranquil textile forge Helmbrechts, bleed was founded by local skateboarder Michael Spitzbarth. After studying textile design, Michael worked freelance for various companies for several years. That experience gave him insight into the ins and outs of the industry, and it's safe to say he didn't like what he saw. "Nature had bled enough and that had to stop," says Michael. And so, not only the name but also the brand was born.
The first bleed collections came about thanks to the support and generosity of friends and family. From the beginning—and to this day—the goal has been bringing people of all ages to "the green wave". 13 years later, bleed has left its mark on the sustainable fashion market, and the team has grown to more than ten passionate employees who all share a love of sport, people, and nature that drives them to improve the brand every day.
Bridging the gap between sports and sustainability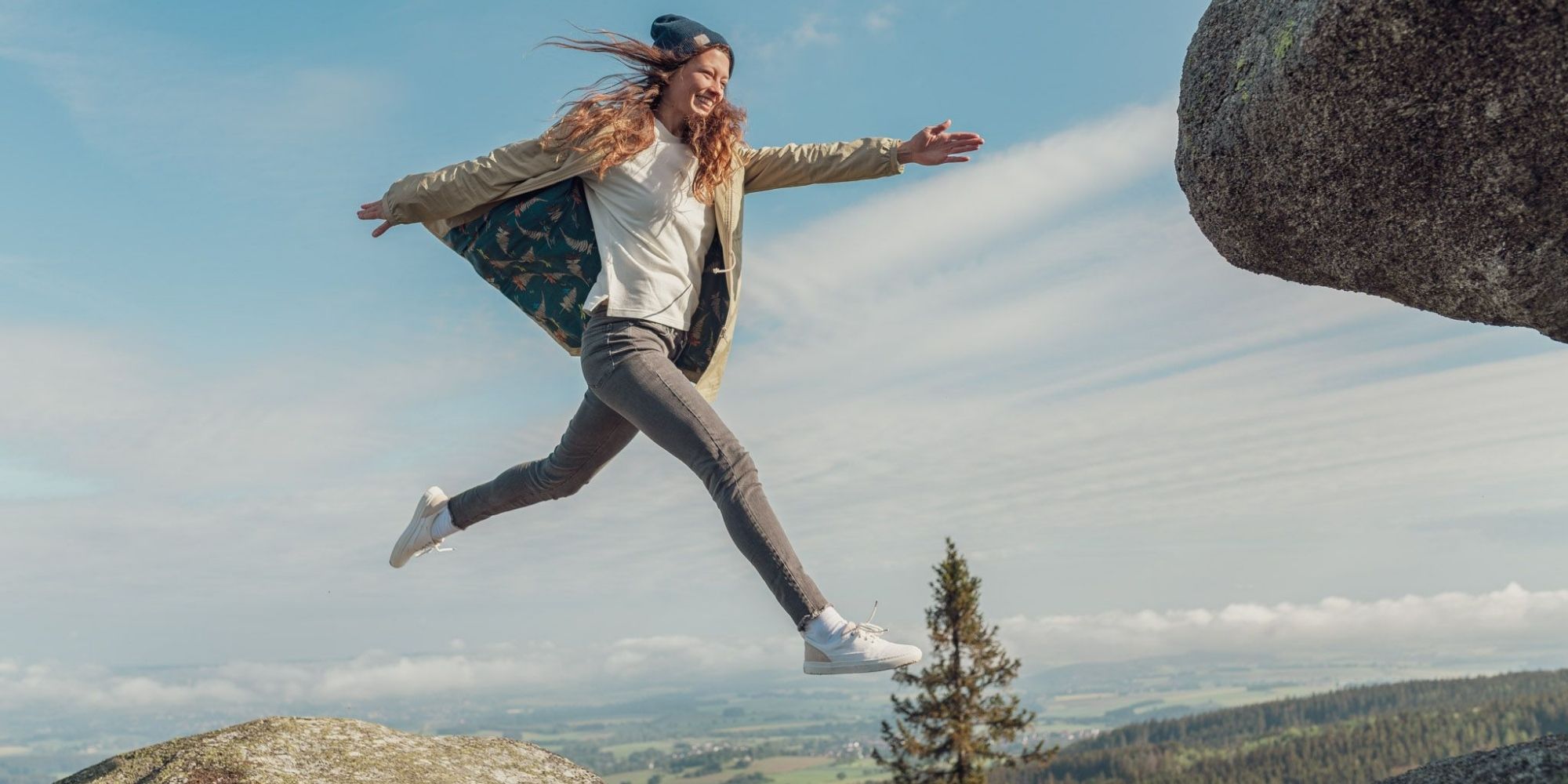 The bleed team consists of skaters, surfers, snowboarders, skiers, bikers, and runners who want to give back to the planet that brings so much joy to their days. "Sport is part of our lives like the sound of the sea and nature is our self-proclaimed favourite playground," says the team. "Not only do we let our heart and soul flow into the collections, but we also bring our various experiences from the field of sports to the table." Before the products get to you, they are tried and tested by real sport-lovers through all terrains and weather. From skate parks to forests, snowy mountains to beaches, you can be sure you're getting high-quality pieces that will stand the tests of time and physical trials. "Together we design, test, and distribute clothing that meets our demands in sports and cuts a good figure in everyday life."
But for bleed, it's about more than just creating sustainable products, which they think should be a given in today's climate. It's about changing people's shopping behaviour, proving that eco-fashion is cool and can easily integrate into everyday life. "Because in this way everyone can do their part to protect the planet from further bleeding—and have fun at the same time!" And as an independent company that works entirely without investors, bleed can decide when and how to deliver the best products it possibly can. "We don't follow trends, we create the trends ourselves." Amen to that!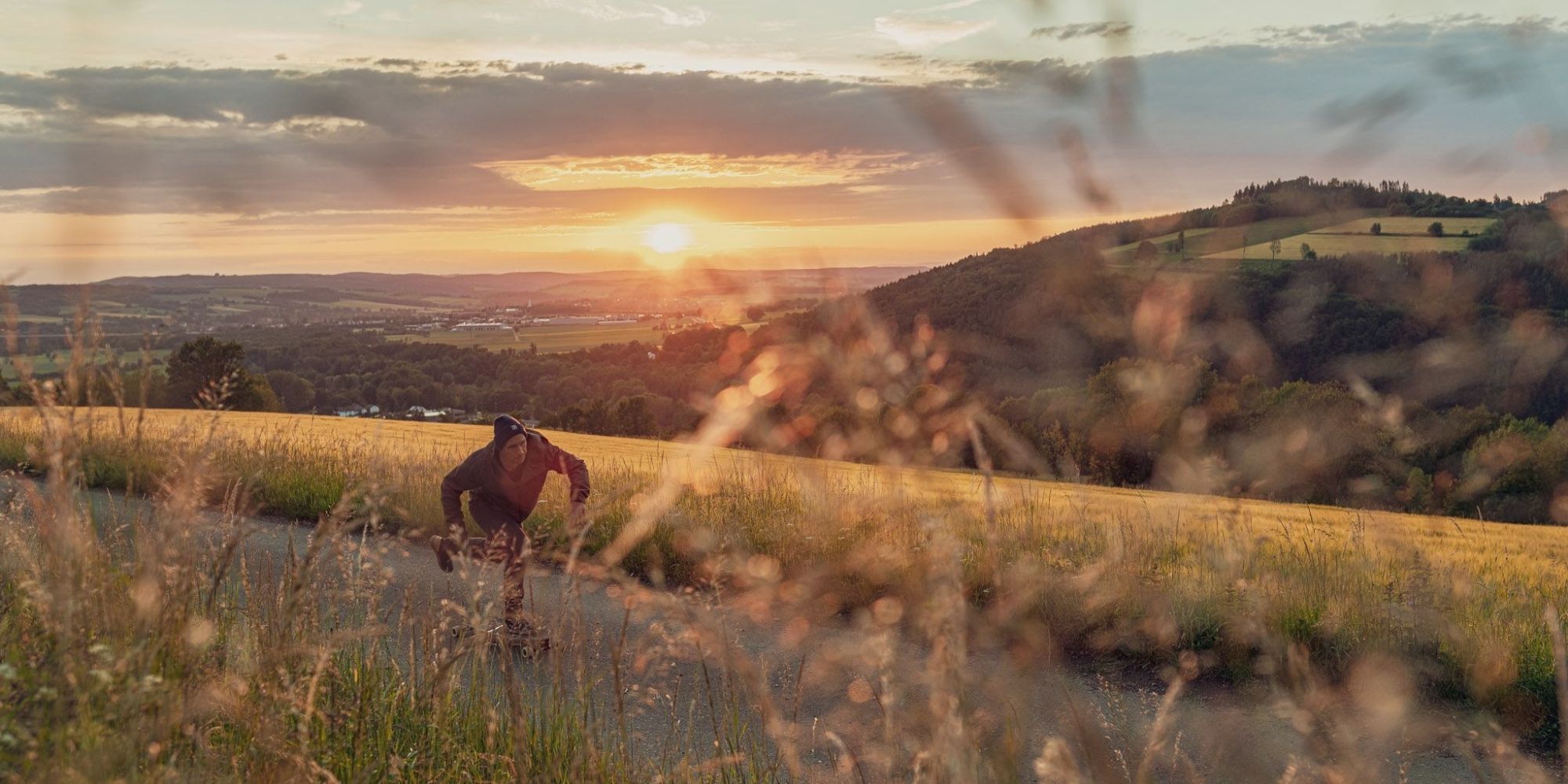 Eco
It makes sense that such a sport-loving team who considers nature their "favourite playground" would want to leave as light a footprint as possible, so people can enjoy the delights of the Earth for generations to come. Through well-considered design, choice of eco-friendly materials, and quality producers, bleed offers you alternative products that minimise harm in production, use, and disposal.
From the beginning, bleed has been on the lookout for unique materials that combine sustainability with performance, from GOTS certified organic cotton in the tees to recycled PET plastic in the jackets to renewable cork in the accessories. "We also like to use these in an unconventional way for innovative, functional, and extraordinary products," says the brand.
Fair
bleed is rated 'Great' in the Good On You directory for solid efforts across the board. Fairness is one of bleed's key concerns, and the brand guarantees it through a combination of high standards for workers and wholly vegan and cruelty-free products. It has a Code of Conduct covering all of the ILO Four Fundamental Freedoms principles and traces and audits most of its supply chain. It also ensures payment of a living wage in most of its supply chain! The bleed team recognises they have a responsibility for fairness from seed to shelf and knows all of the suppliers personally—"We are in constant contact, and are on site several times a year."
We simply cannot support an industry in which living beings are subjected to unspeakable agony or even have to pay with their lives. That is why we try to counter this with our products and to show that there is another way!

Michael Spitzbarth – bleed founder and CEO
Yeah
Putting the "Yeah!" into ethical fashion, bleed focuses on creating special and timeless products made from functional and innovative materials with high-quality standards, ecologically and fairly produced. In this way, they can show that not only is more sustainable consumer behaviour possible, it can even be fun. This zest for life is palpable in bleed's product range, and the enthusiasm is contagious. bleed gets one hell of a "Yeah!" from me!
Our 10 favourite items from bleed
Now, onto the fun part! Here are our 10 faves from bleed. Whether you need a new lightweight jacket for outdoor adventures, a cute summery dress that also layers fabulously, some all-purpose flattering chino shorts, or some hard-wearing jeans, bleed has you covered.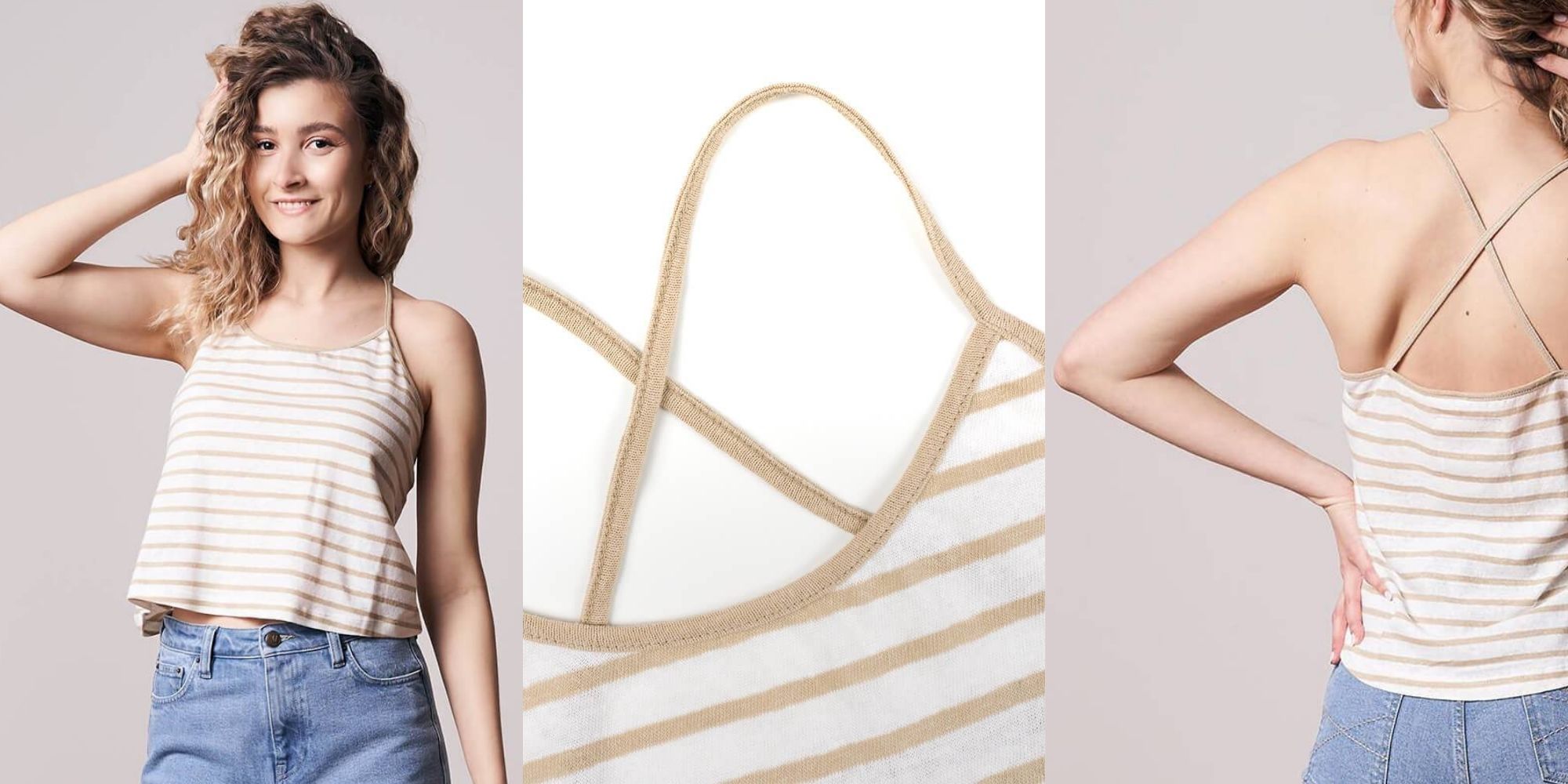 This lovely linen and cotton cropped top came about entirely by accident when the regular striped top arrived 10cm too short! A happy accident that now donates 50% of proceeds to FEMNET e.V., an NGO fighting for the rights of women in the global textile industry.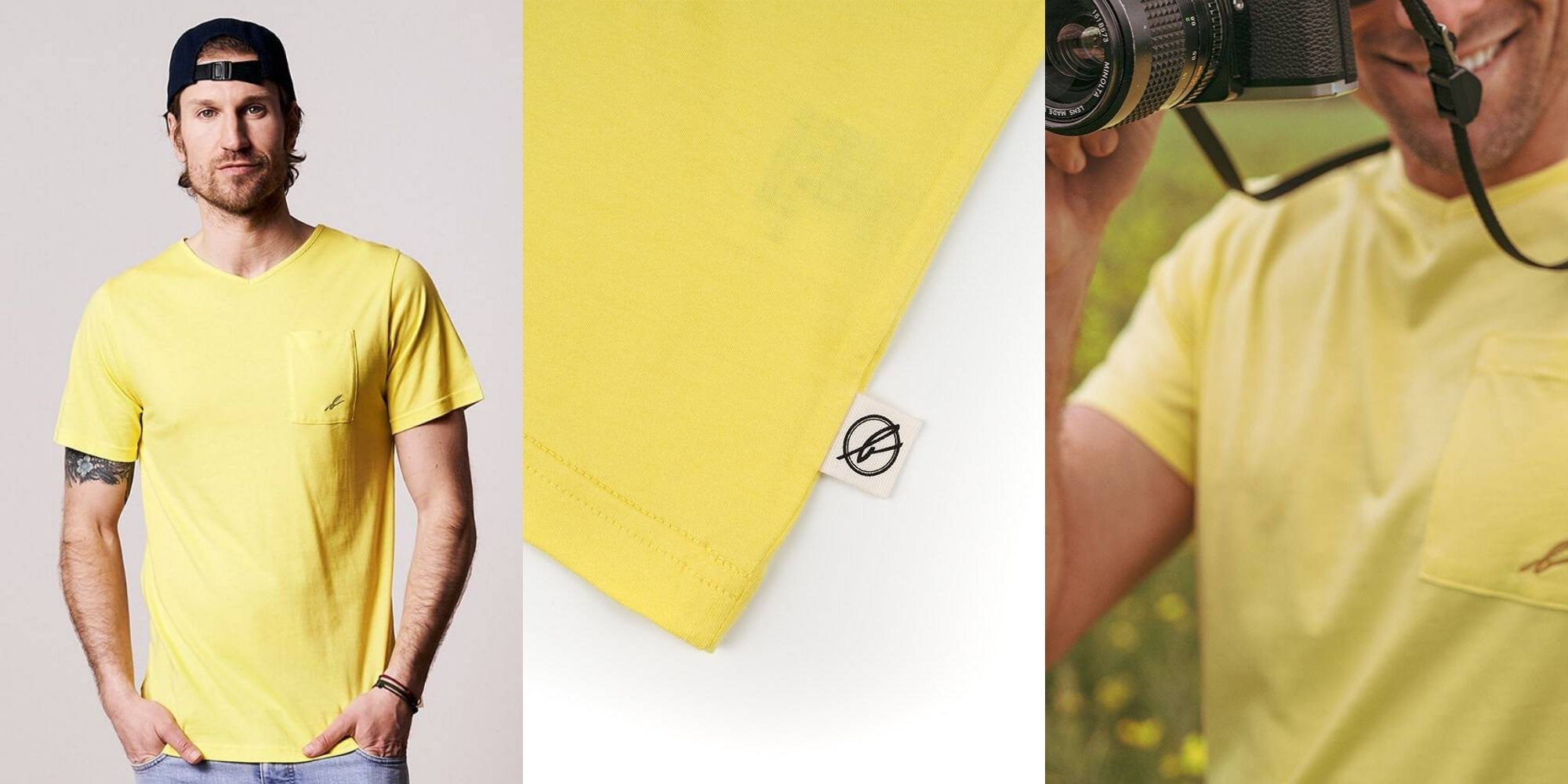 Nothing says summer more than lemon-yellow! Made from a material mix of modal (TENCEL™) and organic cotton, this slim fit yet flexible tee is soft on your skin and also super breathable.
Multi-talented dark navy chino shorts giving us sporty, casual, yet stylish vibes. The fine organic micro cotton material is perfect for those hot summer days, whether you're heading to the office, running errands, or even doing exercise.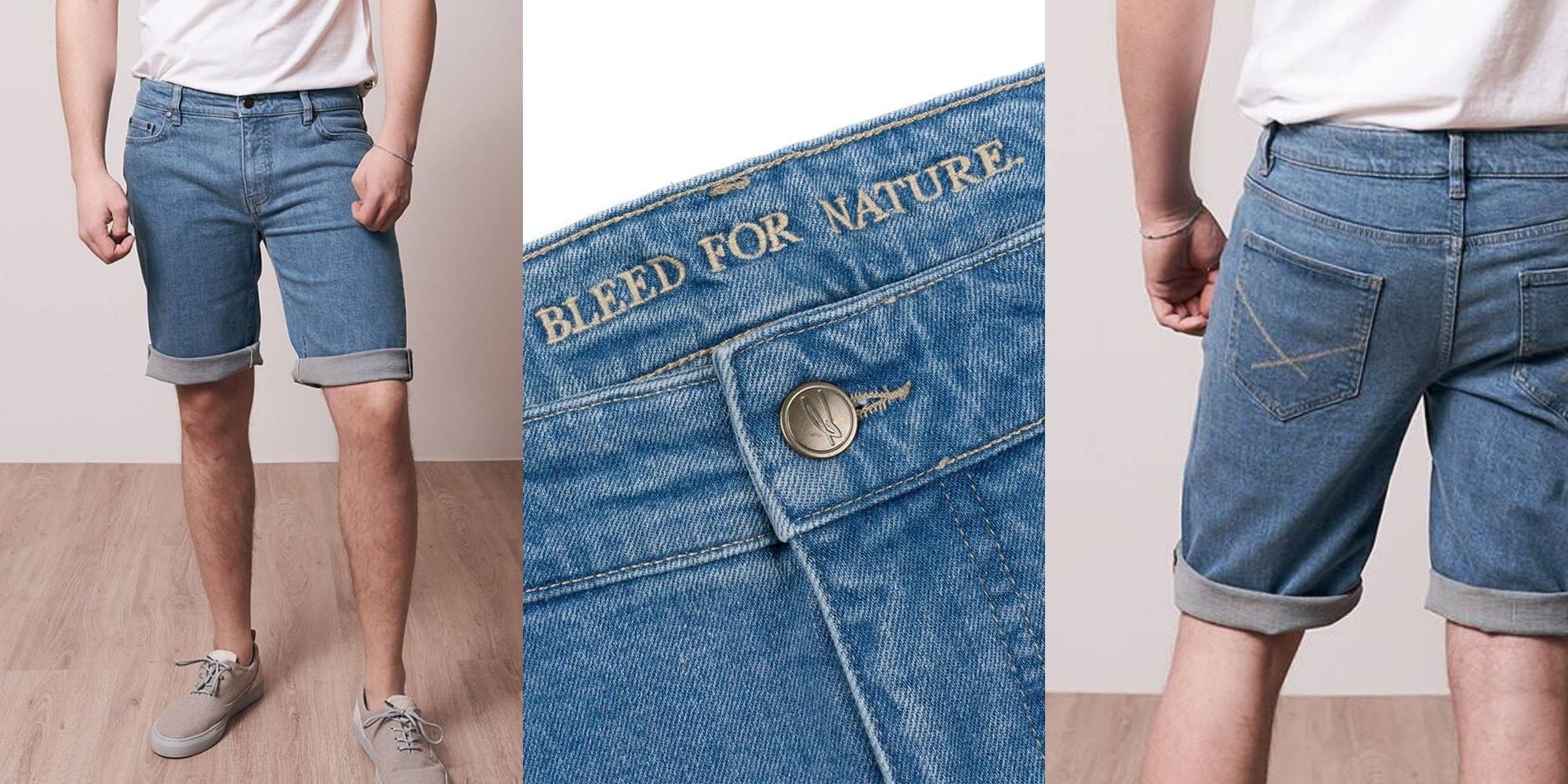 These cool denim shorts are made of Lyocell (TENCEL™), recycled cotton, and organic cotton.  By using recycled materials in the design, lots of resources are saved!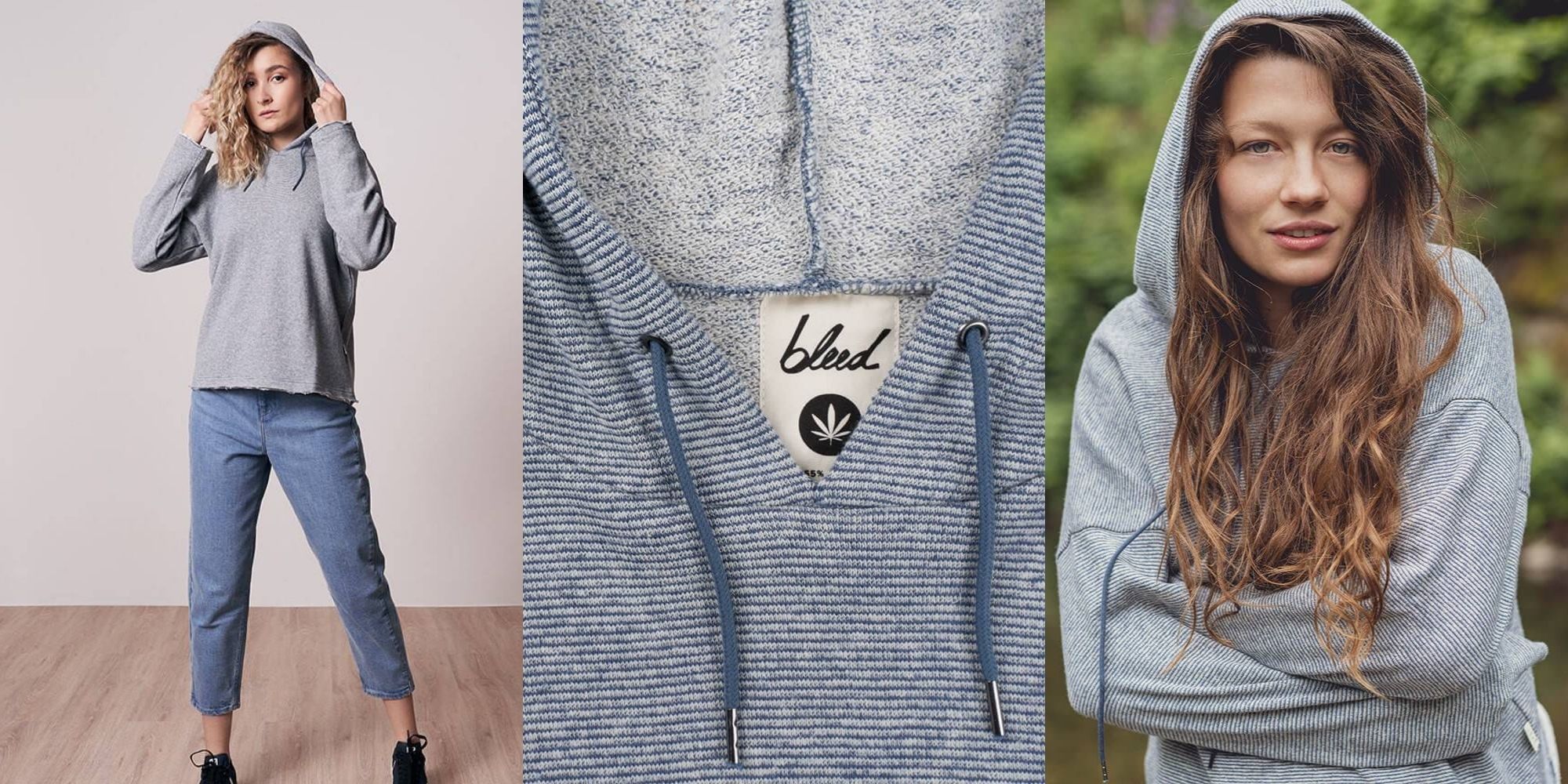 Hemp clothing has come far in recent years, and this comfy hoodie is no exception! The fabric has a nice, textured feel but also has a positive influence on the environment since hemp requires little water in the material cultivation phase.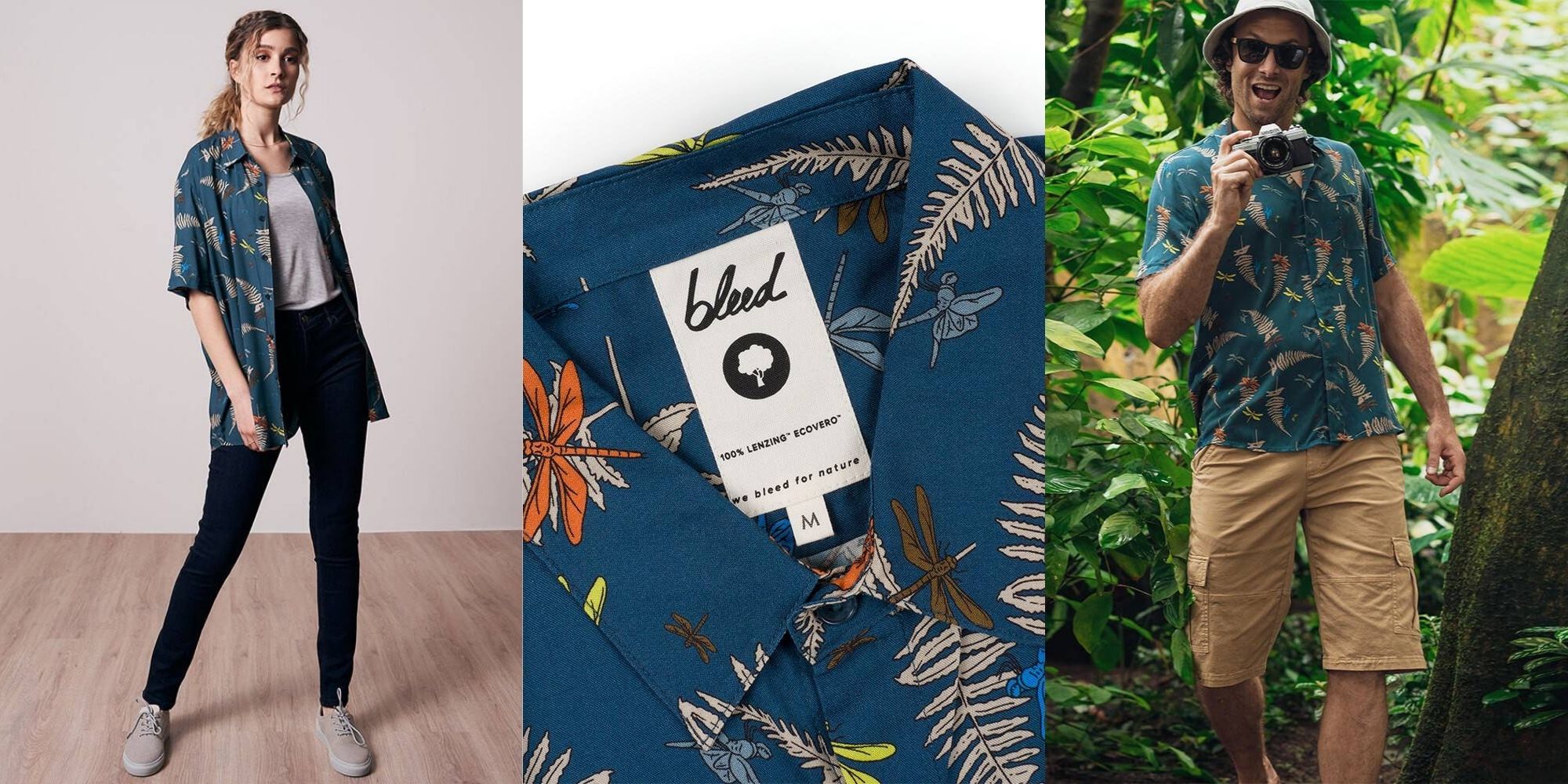 Anyone can rock this colourful nature-print tee made from 100% Viscose (LENZING™ ECOVERO™) fabric that is incredibly soft on your skin.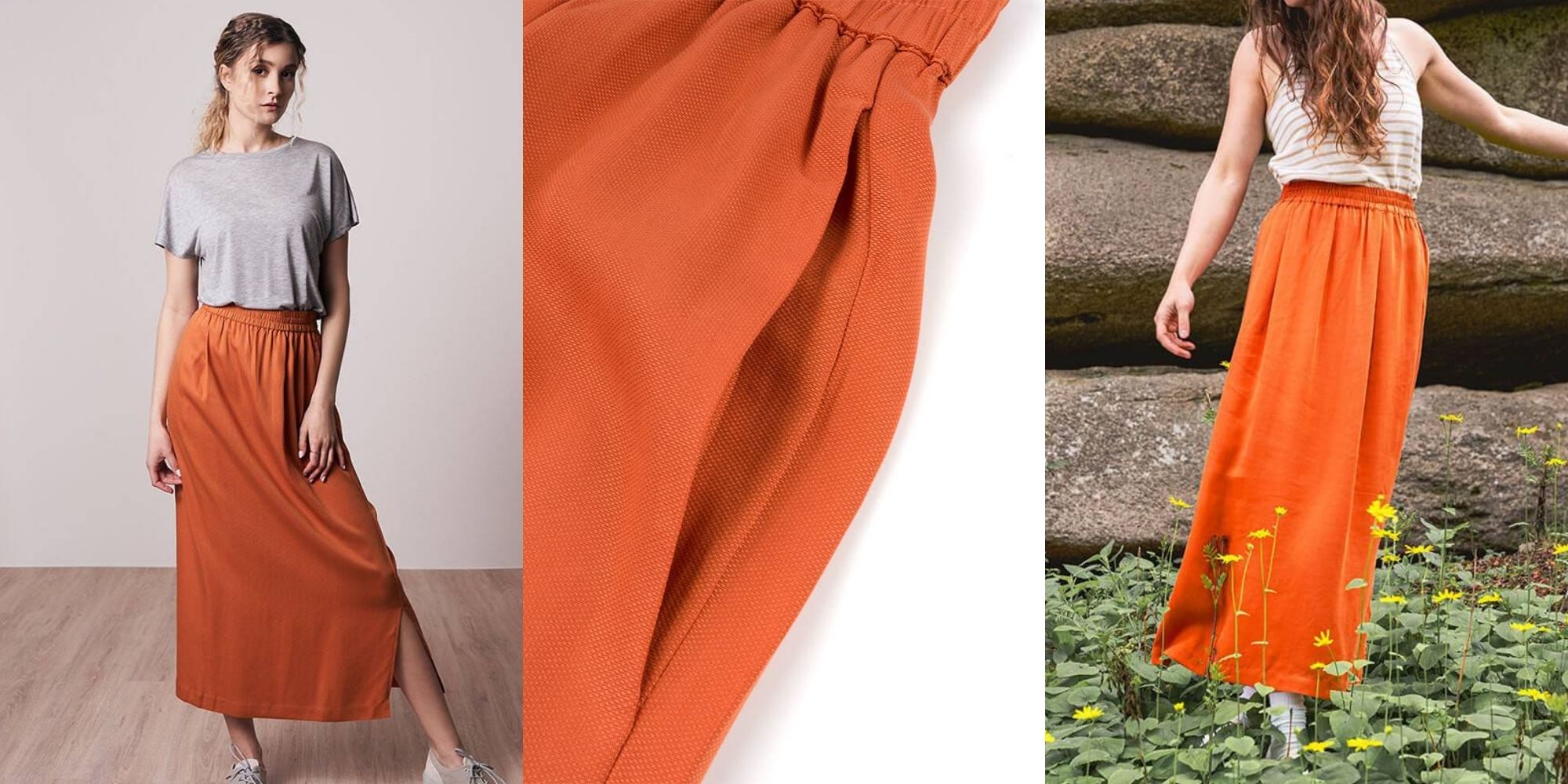 Versatility is key in more sustainable fashion, and this bright orange skirt ticks the box! Wear it on your hips with a blouse for an elegant floor-length feel, or higher on your waist with a bikini top for a modern beachy look.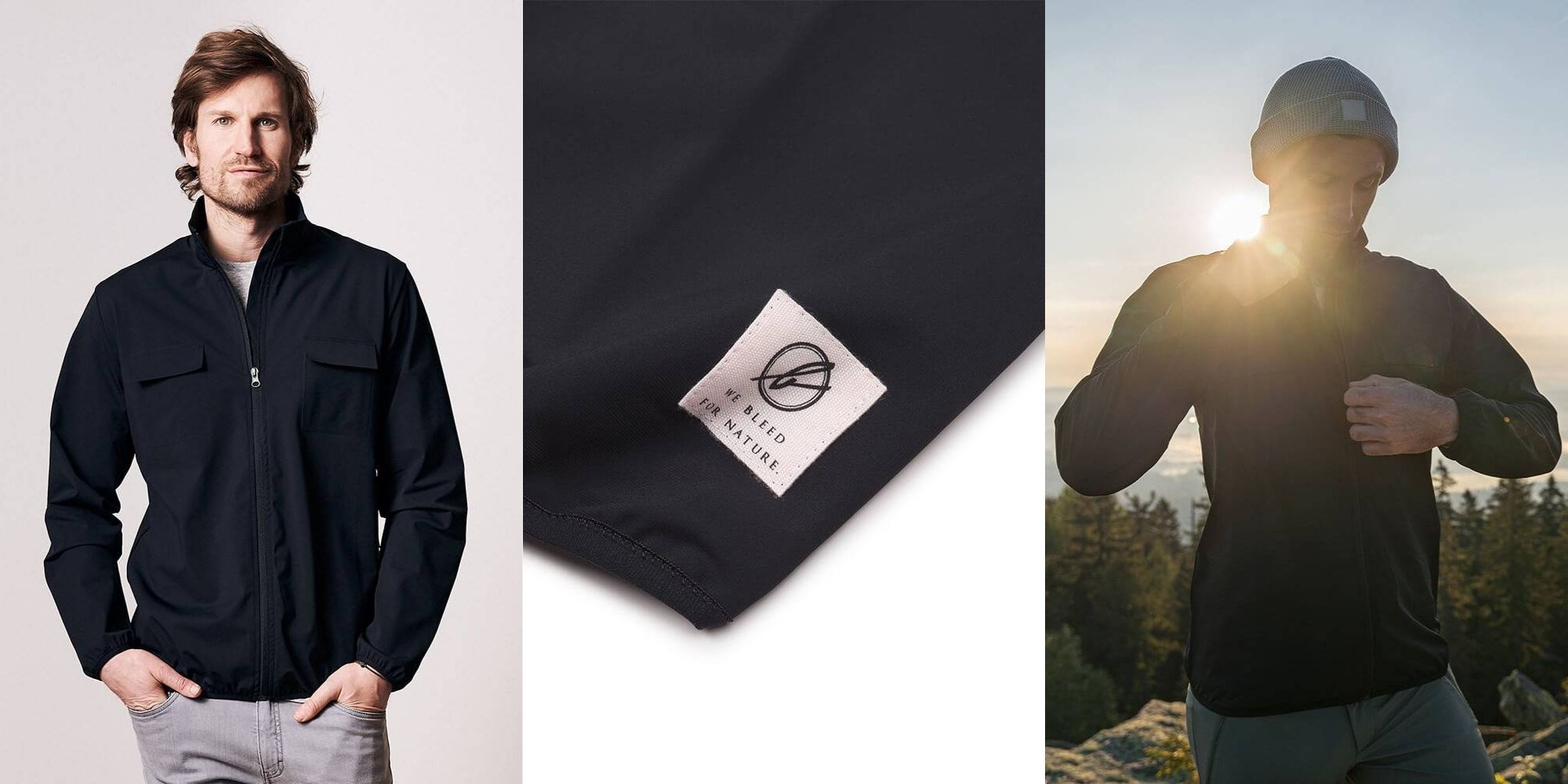 Thanks to ECONYL®, this outdoor jacket is not only feather-light, but also super elastic and breathable. It has even been treated with an ecologically-friendly water repellent!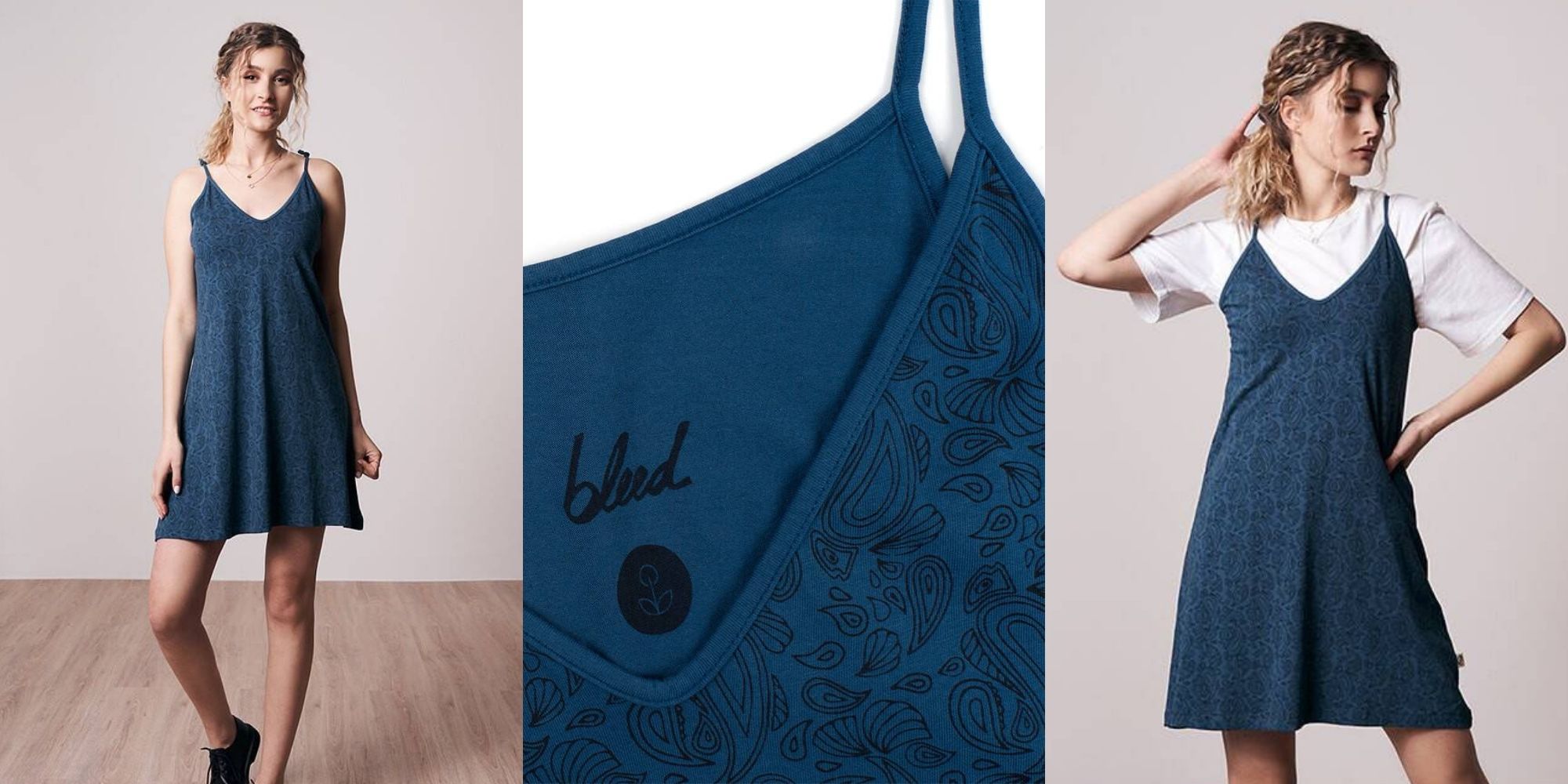 A cute 100% GOTS certified organic cotton paisley print skater dress? Don't mind if I do! Great on its own thrown over a swimsuit or paired with a tee for those balmy days.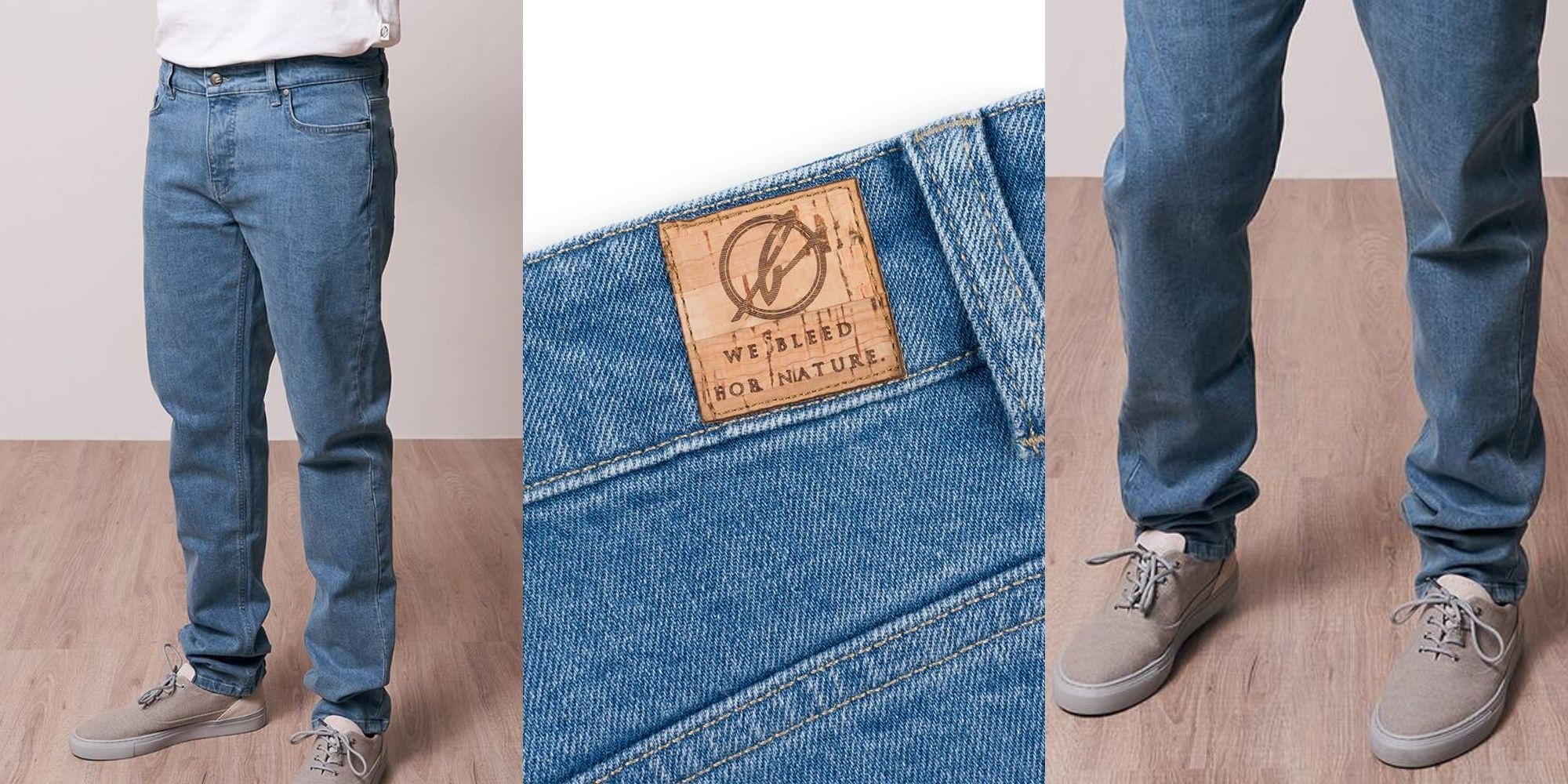 For maximum comfort, style, and eco-friendliness, look no further. These classic jeans are made from Lyocell (TENCEL™), recycled cotton, and organic cotton, and feature a vegan cork patch with the brand's impactful slogan, "We bleed for nature."