This is a sponsored article featuring brands that have been independently assessed by our rigorous ratings system. We're proud to only collaborate with "Good" and "Great" rated brands. Learn more.
Looking to embrace more sustainable fashion without breaking the bank? Our editors have got you covered with this list of classic t-shirts under $50.
Kickstart your conscious wardrobe with a t-shirt
Building a more sustainable wardrobe starts with being mindful of the impact our fashion choices have on the environment, workers, and animals. But affordability is a common barrier for many. In order for the sustainable fashion movement to continue growing, it needs to be inclusive of all budgets. Now, more and more affordable sustainable fashion options are emerging.
When kickstarting your conscious wardrobe, a good and more affordable place to start is usually basics—especially the classic t-shirt. We've curated a list of more affordable t-shirts under $50, all made by some of the best rated brands in our database.
But before we dive into our curated lists, let's have a look at affordability in more sustainable fashion and why you can trust our recommendations.
A note on affordability
Good On You wants to help you find more sustainable options no matter your budget. But we recognise that many better brands appear more expensive up front. That's because more goes into a price tag than the cost of fabric. Fast fashion prices are often low because brands don't pay workers living wages or follow many responsible practices in production.
Fast fashion has also distorted our view of clothing prices. We now spend much less per garment and buy far more low-quality clothing than we did only a few decades ago. When taking into account cost per wear, it ends up costing less in the long run to invest in higher-quality items you'll wear again and again.
We aim to highlight the range of better, more affordable brands, but we also encourage you to seek out the most sustainable options that work for you. Sometimes this means shopping second hand, other times rediscovering and restyling what you already own.
Why you can trust our recommendations
At Good On You, our mission is to make it as easy as possible to buy products that meet your needs, from brands that live up to your expectations in relation to their environmental and social performance and how they impact animals. We also support the motto "buy less, buy better" which looks like opting for high-quality, timeless, trend-transcending pieces you need that are designed for longevity so they last for many years to come.
As ever, the most sustainable choice to make is the one already in your closet. Whether that means taking care of your clothes, getting them mended or tailored, or mixing and matching to keep things fresh. The next best option is to swap or shop second hand. But sometimes you must buy new, and that's where our expert ratings system comes into play.
We've rated over 5,000 brands in an easy-to-understand five-point system, and below we have curated a list of t-shirts by some of the best rated brands in the Good On You directory.
As you know, ensuring fair wages and decent working conditions for the people behind our clothes is crucial for a more fair and ethical fashion industry. It's not just about the materials or the environmental impact—it's also about the human impact. That's why our selection of brands creating more affordable and sustainable t-shirts have all received at least a "Good" rating for labour conditions. These brands prioritise more responsible practices. By choosing t-shirts from these brands, you can feel confident that your purchase supports a more equitable fashion industry, where the people making our clothes are treated with the respect and fairness they deserve.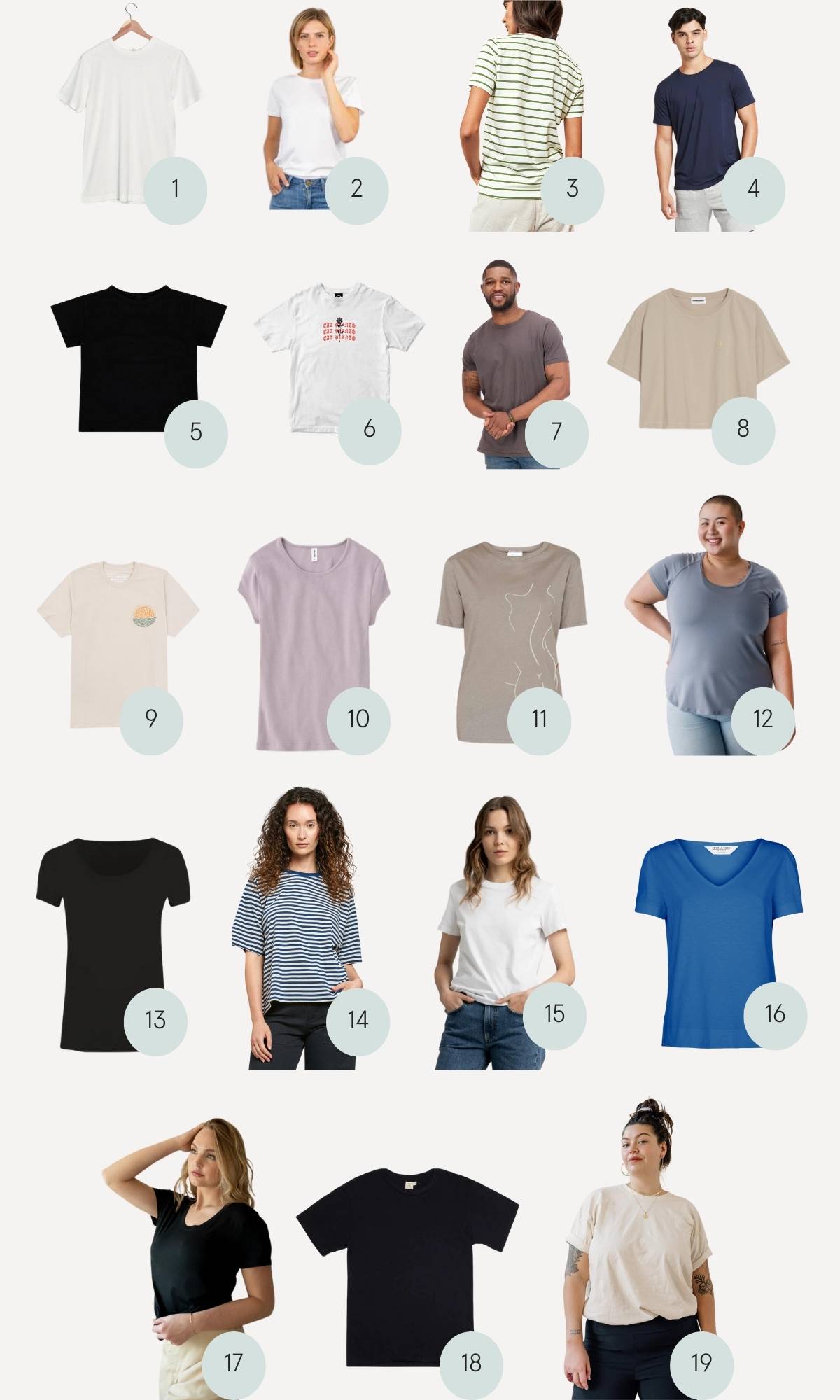 Under $20
1. Fairtrade T-Shirt (Yes Friends)
2. T-Shirt (Honest Basics)
Under $30
3. Olive Stripe Tee (No Nasties)
4. Crew Neck T-Shirt (Boody)
5. Baby Tee Jet (Wildflo Studio)
6. Eat Plants Goth Roses Tee (Plant Faced Clothing)
7. Unisex Tee (The Good Tee)
Under $40
8. Alberta T-Shirt (Armedangels)
9. Protect Our Oceans (Happy Earth)
10. Women's '90s Tee (Kotn)
Under $50
11. Embroidered T-Shirt (Neococo)
12. Raglan Scoop Tee (Franc)
13. Eucalyptus Tee (Saint Basics)
14. T-Shirt (Dedicated)
15. T-Shirt (ASKET)
16. Alli Slub Tee (People Tree)
17. Mae Drapey (ABLE)
18. Crewneck T-Shirt (Harvest & Mill)
19. Monolith Tee (Nube)