This is a sponsored article about a brand that was independently assessed by our rigorous ratings system. We're proud to only collaborate with "Good" and "Great" rated brands. Learn more.
Fashion is a dirty industry, and one of the dirtiest items of clothing in your closet also happens to be the most popular: a pair of jeans. 'Great' brand MUD Jeans recognised this from the beginning of their journey in 2013, and have built truly sustainable jeans from the ground up always with people, the planet, and animals at the forefront of their minds. They just dropped their 2019 Sustainability Report, and we are thrilled to share the results. But first, who are MUD Jeans? Read on to find out why this innovative brand (one of our all time faves) deserves your support.
The origin story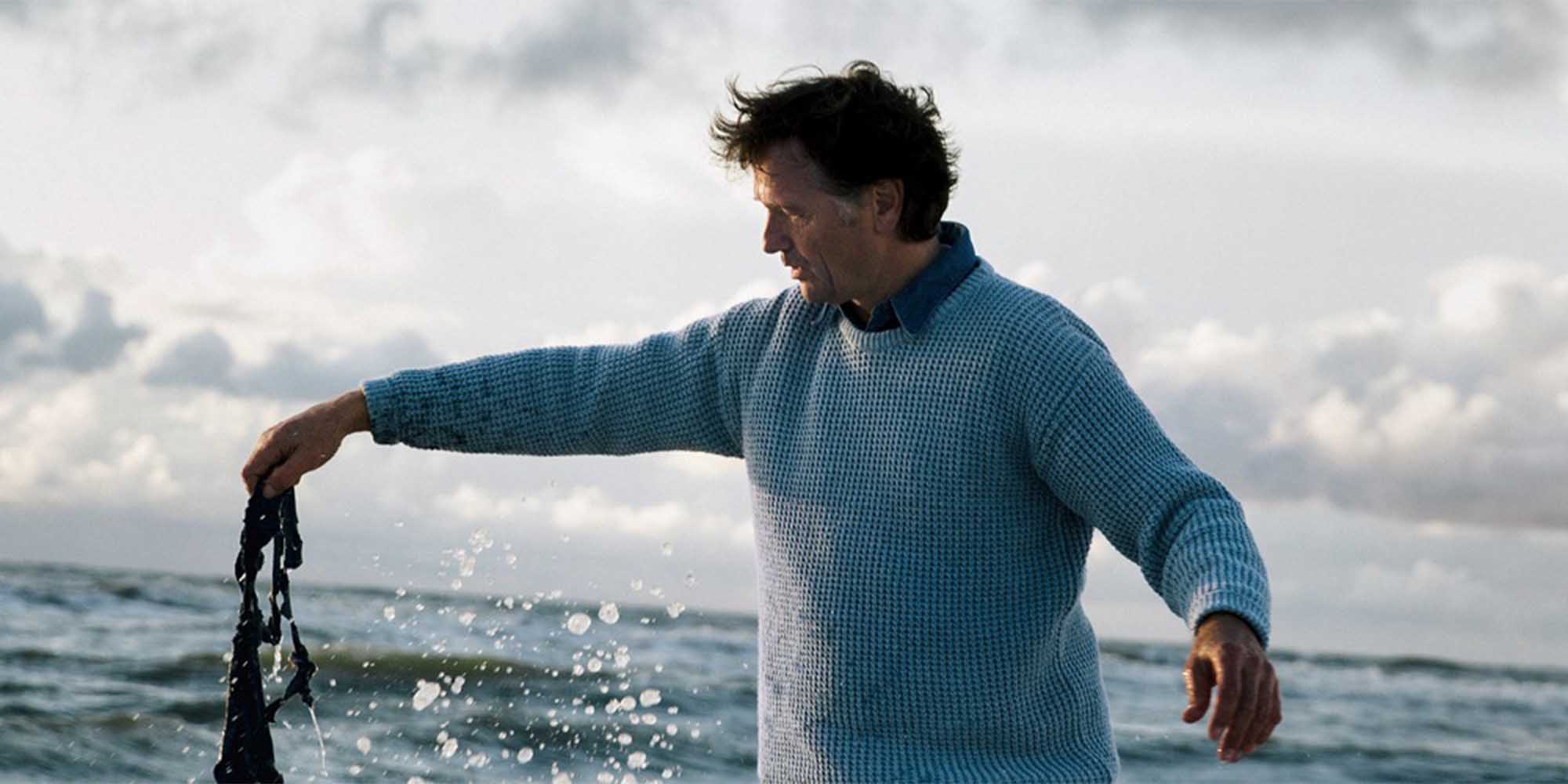 If you love jeans as much as this planet you're at the good place here. We aim to change the fashion industry, starting with the most popular piece of clothing: a pair of jeans.
MUD Jeans was founded in 2013 in the Netherlands by visionary and CEO Bert van Son. With 30 years of experience in the fashion industry, Bert witnessed firsthand how dirty and unfair the industry is most of the time. He was shocked by the treatment of factory workers, and by the demands that clothing production puts on nature. He witnessed it, decided it needed to change, and took action⁠—by launching MUD Jeans, the world's first circular denim brand. Mud is something that plays an important role in the ecosystem, and can be recycled eternally… so MUD's goal is all in the name, and they are living up to it more and more with every passing day!
The importance of measuring your impact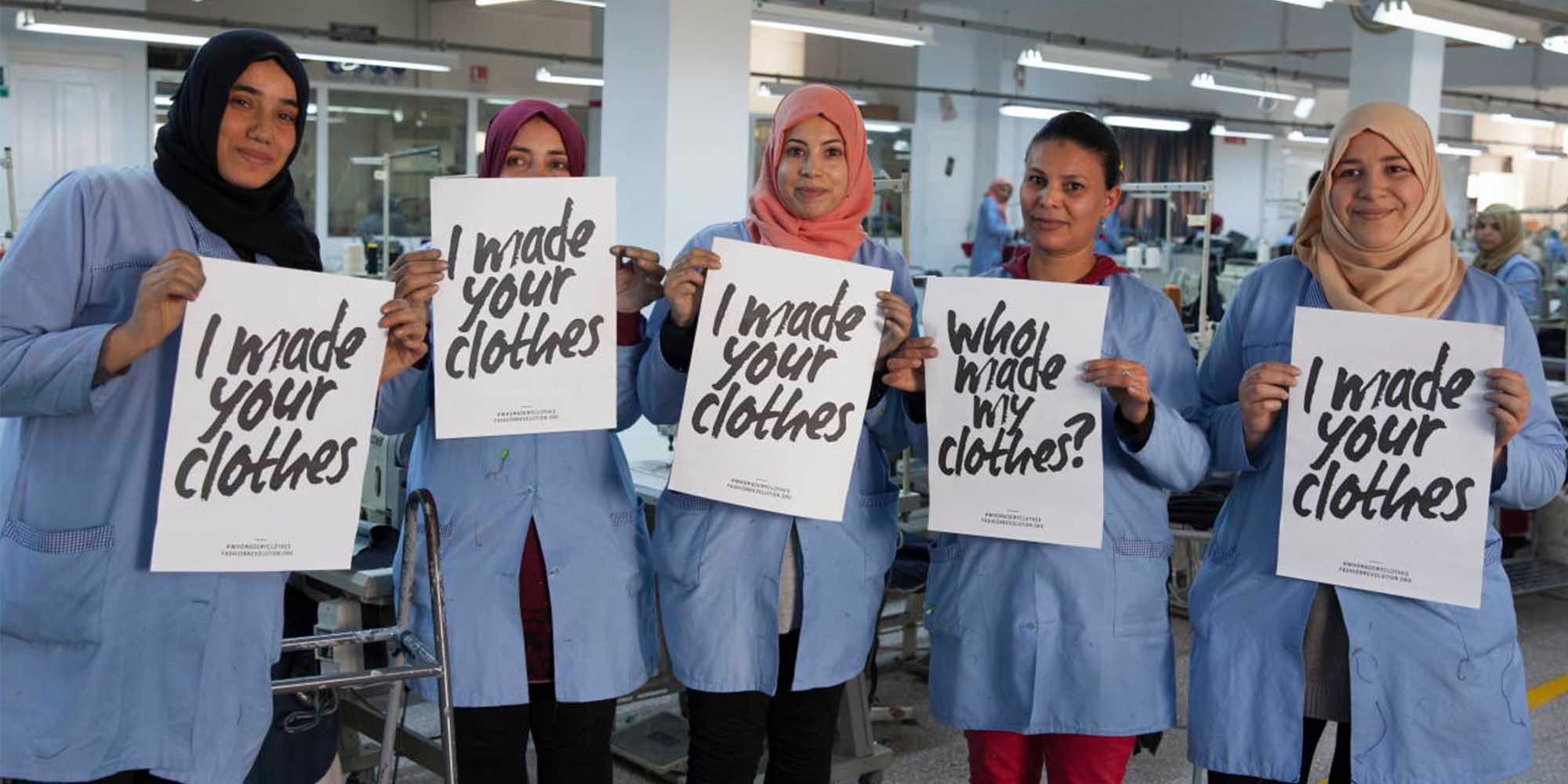 As a circular company our footprint is minimizing steadily. Everyday we're working on having an impact on the fashion industry rather than on our planet.
Certified B Corp MUD Jeans, like Good On You, recognise that transparency is key when it comes to truly ethical business operations. How can you measure (then commit to improve!) your impact without digging deep into the supply chain and publishing the results? For the second year in a row, MUD Jeans have released a comprehensive, science-based #ISAVED Sustainability Report, as well as a Life Cycle Assessment that outlines the brand's goals for 2020 to 2030. MUD Jeans base their sustainability strategy on three main pillars: Circular Economy, Fair Factories, and Positive Activism.
Circular Economy
Building a circular company has always been at the core of MUD Jeans' operations. Their jeans are designed for recycling, which means no leather patches—only recycled and organic cotton, and stainless-steel buttons (yes, they are also PETA-certified vegan!). Production is circular, which means resources like water, CO2, and newly harvested cotton are minimised, so the jeans can be recycled over and over again. Their circularity also extends to consumption: with a goal that their jeans never end up in landfills or incinerators, customers can buy or lease their jeans, use them as long as they want, then send them back for recycling. That's right, the brand even stays responsible for the raw materials, so wearing their jeans is a truly guilt-free (and flattering) experience!
At the moment their jeans contain between 23% and 40% post-consumer recycled denim, and their ultimate goal is to produce 100% circular jeans. In 2020 they plan on producing a first sample of jeans made from 100% post-consumer recycled denim!
Fair Factories
MUD's conscious production extends to their colleagues in the factories where their products are created. By maintaining a short supply chain, transparency and working in close relationships with their manufacturers stays possible—in fact, they have only three main suppliers, whom they visit regularly or have audited by a third party to ensure high standards are met. They work to directly create a safer and healthier environment for their workers, including the payment of a living wage.
The company's next goal here is to perform a new social audit of their factories so they can continue to improve.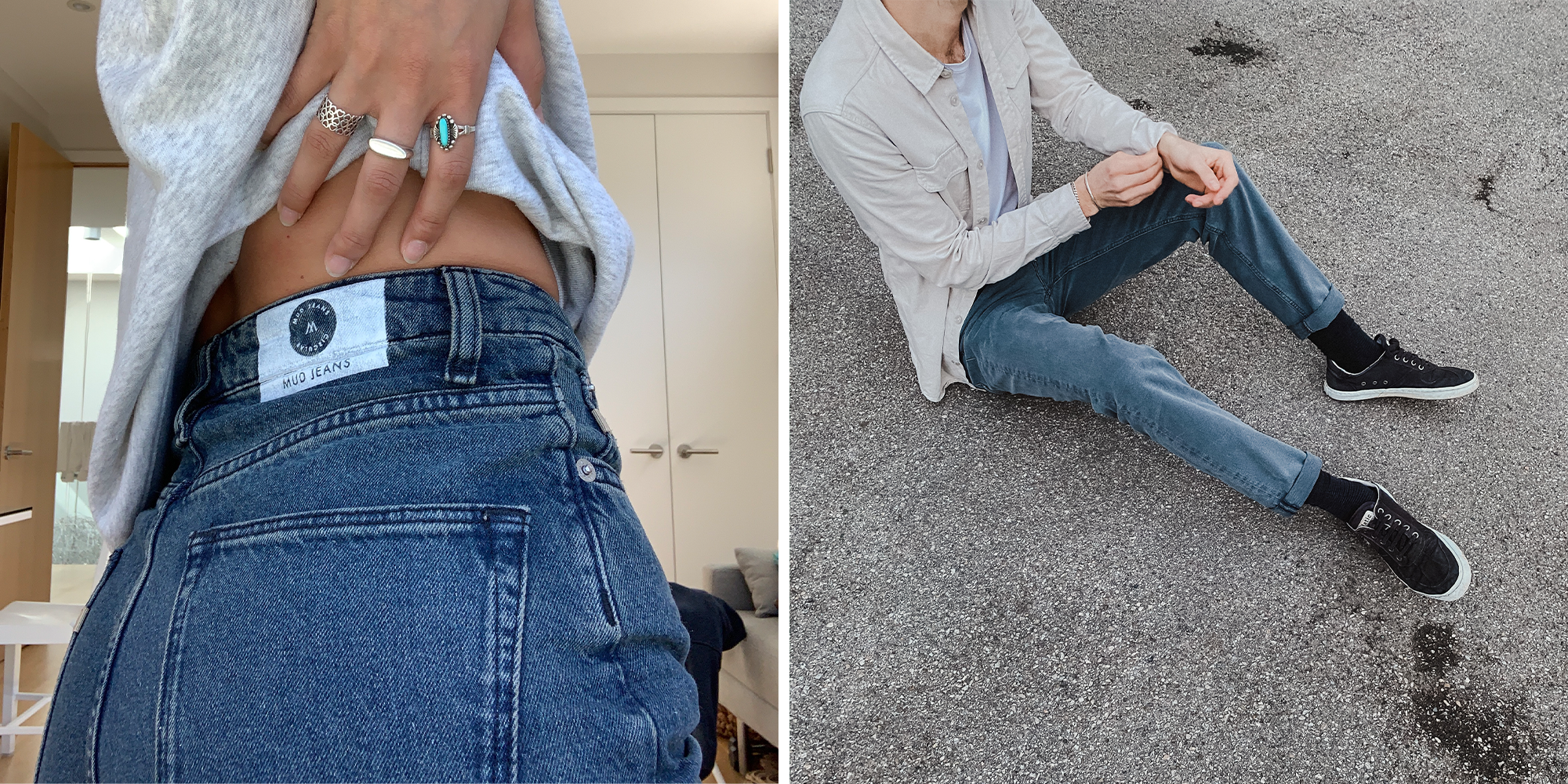 Positive Activism
The team at MUD Jeans know that they are making a difference with their innovative product, but they want to take it a step further and spread the word. Enter the third and final pillar: positive activism. The brand likes to do things differently. By having no seasonal collections, leasing jeans, and having just a few curated factories, everything they do is helping to change the status quo within the fashion industry. With a smiling face, they show how an innovative approach and production techniques will help to change the world for the better, and they recognise that they are not in it alone—the entire industry needs to change.
MUD intend to do their bit by having weekly talks where they share their story of transparency to inspire others to start walking the talk, so together we can turn this walk into a march—a march towards a sustainable fashion industry.
The results
So, what did the report actually show? Are MUD Jeans really walking the talk?
No. They're marching.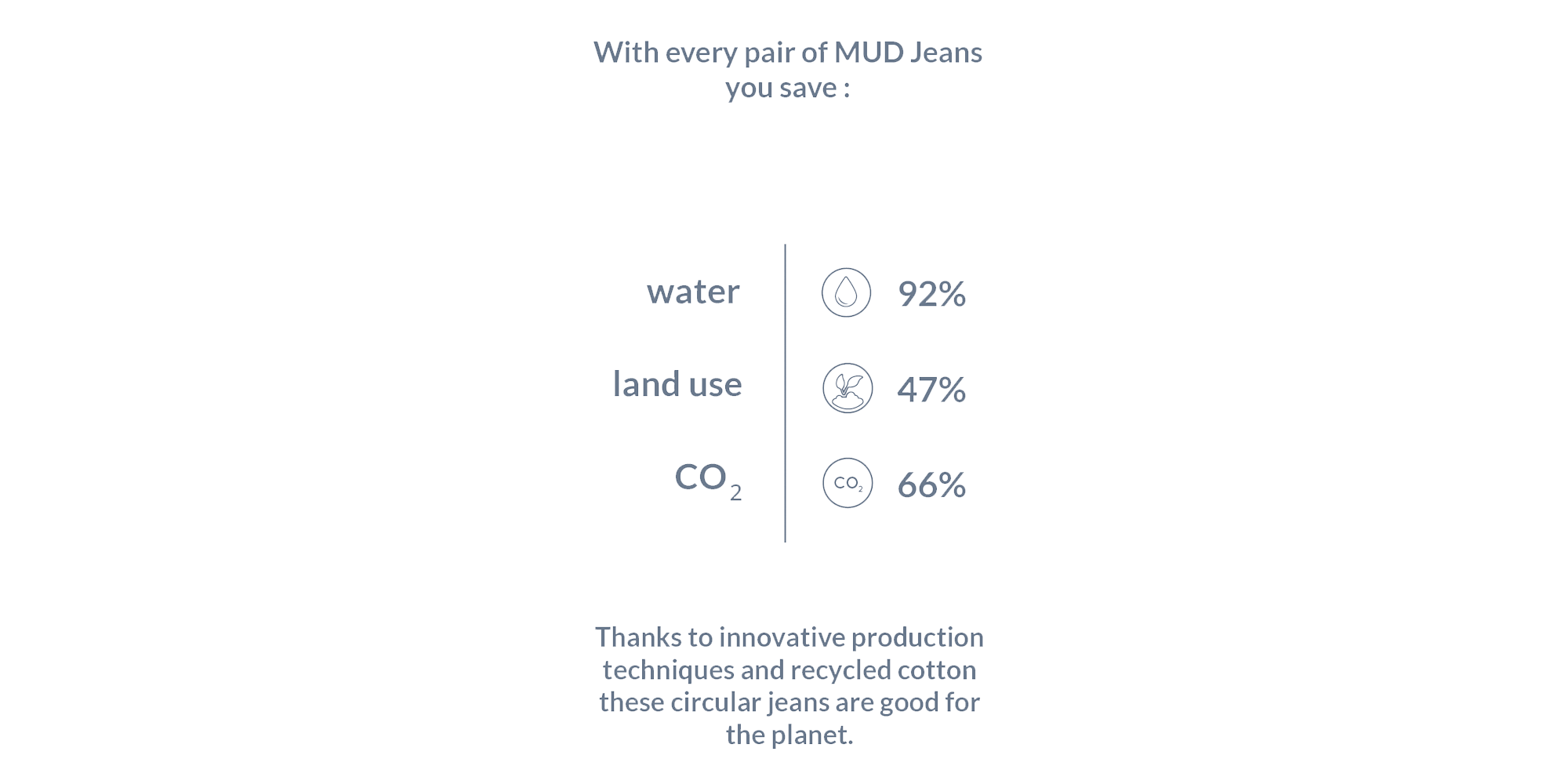 MUD Jeans put in the work to figure out what the impact of ALL jeans are, so they could measure their progress against the stats, and the results were staggering. Compared to industry standards, a pair of MUD Jeans will save on average a whopping 92% of water, 47% land use, and 66% CO2 emissions! They wanted to bring the numbers to their loyal customers in a more accessible way, so every pair of jeans now has a "My Impact" button that will show you exactly the amount of good you're doing for the planet by supporting MUD.
As for the future goals of this brand that is already doing so much good? They're calling it the Road to 100, and that means producing jeans that are made from 100% post-consumer recycled fabric, something they are working on tirelessly. This also means a 100% zero-waste, carbon positive product, so that one day we can strut our stuff in a pair of jeans that does good for the planet and all of its inhabitants simply by way of existing.