Second hand shopping, or op-shopping as we say down under, is one of the easiest ways you can reduce your carbon footprint and waste and switch to a more sustainable wardrobe. To help you out on your second hand shopping journey, we caught up with sustainable stylist Faye De Lanty to get some hot tips on how to keep your style when buying pre-loved goodies at any time of the year.
Faye is an eco-stylist and ambassador for Salvos Stores, so she's an expert at showing people just how chic second hand can be. Every time I catch up with Faye she's looking absolutely incredible, and I love hearing the story of where each item she's wearing came from.
Op-shopping is a great way to save money and by buying from a charity retail store, you help people and the planet. I thought it was only natural that Faye gives us some tips on how to op shop like a stylist!
Faye's tips for op-shopping success
Tip 1: Treat op-shopping like a normal shopping experience. These stores are filled with high fashion, one of a kind styles, and super chic classics, so open your mind, change your perception, and be very surprised at what you'll find.
Tip 2: Don't just grab a bunch of stuff because it's inexpensive—pick pieces that you will actually get great use out of and that will stand the test of time.
Tip 3: Learn about fashion. Read magazines like Vogue and check out style websites. See what celebrities are wearing and what's walking down the catwalks. Get to know brands, aesthetics, and the history of fashion. The more you learn, the more your op-shopping eye will be finely tuned. A great read is Wardrobe Crisis by Clare Press.
Tip 4: Shop the whole store, not just your section. Some of my favourite pieces came from the men's section. (Oversized boyfriend shirt anyone?!).
Tip 5: Try some customising and DIYs—you really don't need to pay $300 for ripped and distressed denim. Grab a cheese grater and some scissors and try it yourself. Check out my how-to video to see how I did it.
Tip 6: Be prepared and take inspiration. Decide on looks you love and take the pics with you. Study the images and hunt for pieces that match what you see. It's easy to get designer looks for less with thrift, you just need to do a little pre-work.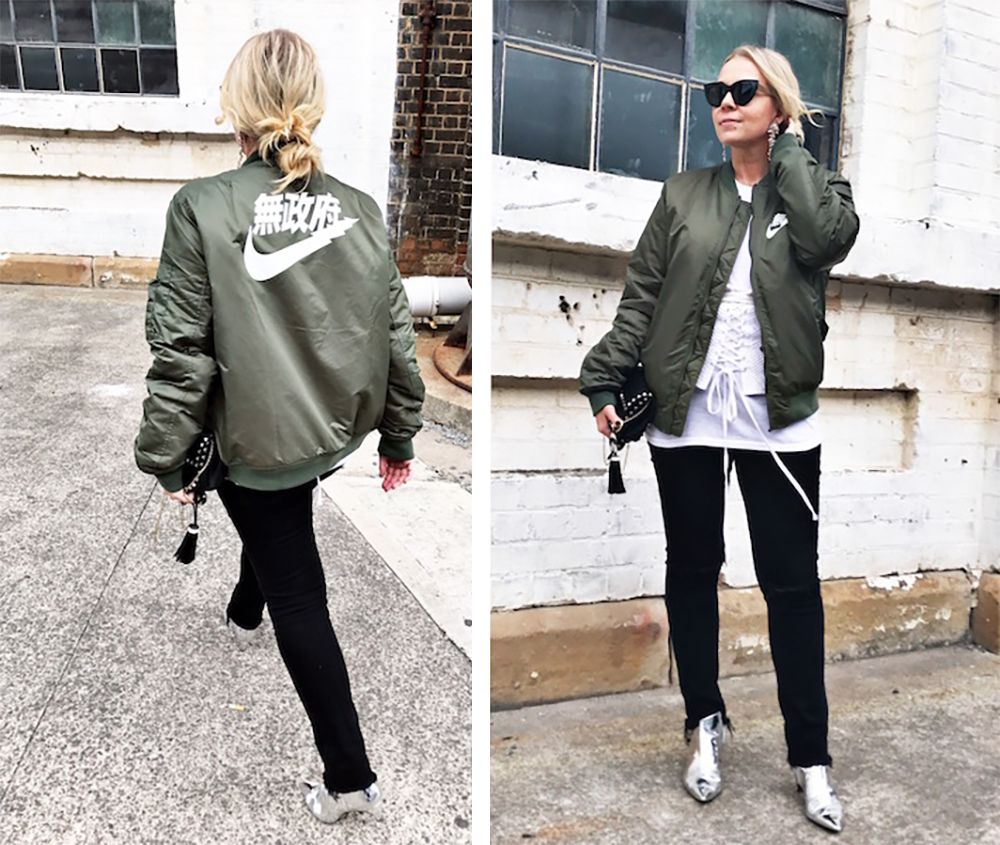 How to style op shop and vintage pieces
I style my pieces exactly as I would a new outfit, just with a little more spunk and story. The more you know about fashion and a brands aesthetic the more you can recreate what you see. Chanel for example is famous for chic tweed jackets, crisp white collars, and lashings of pretty pearls. Items like this are easy to find in an op shop, so you can have a Chanel-esque experience even when you don't have the big budget.
A lot of what we see with current trends and on celebrities are what I call fashion fundamentals—pieces like black tux jackets, military/khaki, striped tops, vintage tees, ripped denim—these are all items you will definitely find and you never have to spend a fortune. With vintage, honour the look of the piece but try something fresh and modern with it.
Why be a sustainable stylist?
They say necessity is the mother of all invention and this was certainly the case for me. While I grew up with parents very into antiques, op shops, and vintage, when I was living overseas a few years ago and trying to build the next phase of my career, thrift clothing was genuinely all I could afford!
I had to find a way to make it look chic and expensive for all the interviews and networking I was doing. So I worked with the small budget I had and found ways to recreate what I saw in the magazines. Little did I know my next career move was right under my nose! My best friend could see it so she suggested I do something with my unique skill, and that's when I started Fashion Hound.
When I returned to Oz I pitched the idea to Channel 9, which they loved. Then I pitched again to Salvos stores and here we are! I knew I always wanted to do something with fashion, but it had to have a heart and a purpose. I never imagined I would become an eco-stylist, 10 years ago I wouldn't have even known what that was! But I know now that it's my purpose and my life's work.
It's unbelievable how wasteful we humans are. We owe it to mother nature to be more conscious and look for ways to reduce our fashion footprint. It's the only way forward, if you ask me.