This is a sponsored article about a brand that was independently assessed by our rigorous ratings system. We're proud to only collaborate with "Good" and "Great" rated brands. Learn more.
Introducing Happy Earth, an organic clothing brand that works to give back, inspired by nature and dedicated to preserving it.
Happy Earth, happy closet
When you pull a t-shirt or sweater out of your closet to throw on in the morning, do you stop to think about its story? Do you know what it's made of and how many hands touched it before it reached yours? Do you consider if its creation left a light footprint on the earth we all call home? US-based apparel brand Happy Earth thinks these are questions we should all ask and works every day to create beautiful products that answer 'yes' to every one of them.
Happy Earth is an organic clothing brand that works to give back, inspired by nature and dedicated to preserving it. Their motto speaks for itself: "When it comes to the planet, we actually give a damn." Read on to discover how this eco-conscious brand is making sustainable waves in an industry that sorely needs it.
With the fashion industry marked as one of the top drivers of ecological harm, it offered a market in desperate need of reform that could also be harnessed for good.
Happy Earth's roots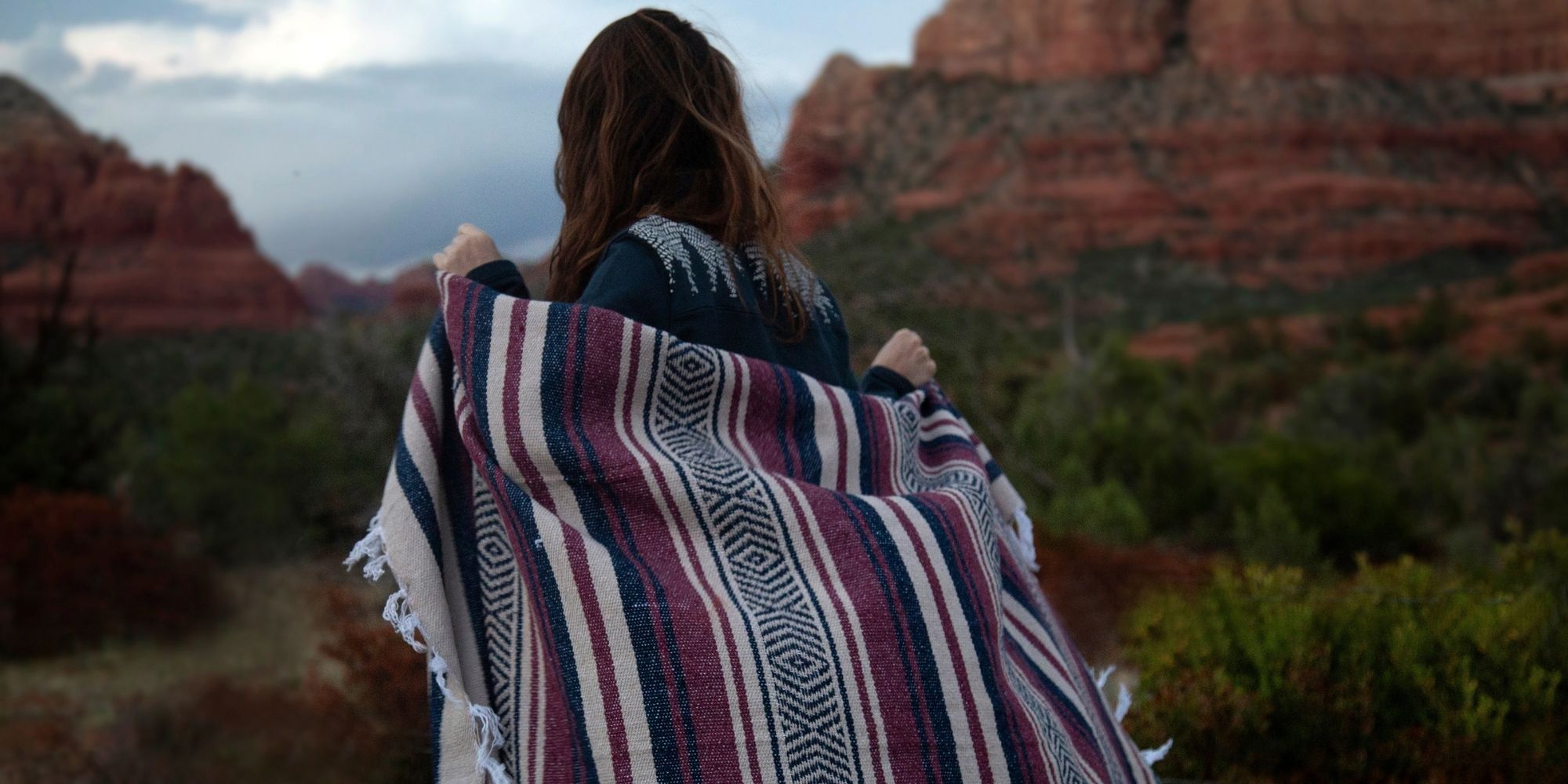 Happy Earth's beginnings were decidedly unconventional. Co-founder Victoria Gennaro PhD was working towards her doctorate in cancer biochemistry when she started the brand, though running a business—let alone working in fashion—was never part of her 'five year plan'. "My background wasn't fashion or business, but science. Though focused on my own research projects, I was also fiercely passionate about environmentalism, particularly the growing climate crisis that burdens more and more of our world," says Gennaro. She saw firsthand that her peers were driven more by political bias than facts and recognised the need for a better way to communicate and to connect people to environmental crises, even those not yet directly affected.
Happy Earth began as a way to build that bridge. "Fashion is uniquely personal, expressive, and community-building. I wanted to connect what you wear and how you stylistically define yourself to an environmental movement." Gennaro donned her research hat and committed to learning about fashion's role in environmental and social injustices—and ultimately built a brand dedicated to doing better. Not only offering sustainable, Earth-first apparel, but providing a platform and community that made environmental conservation, sustainability, and advocating for the planet core values. Happy Earth started as a scientist's solution to a communication problem. Six years later, it has blossomed into an Earth-first brand grounded in science, education, progress, and shared interest in prioritising people and our planet.
The key sustainability branches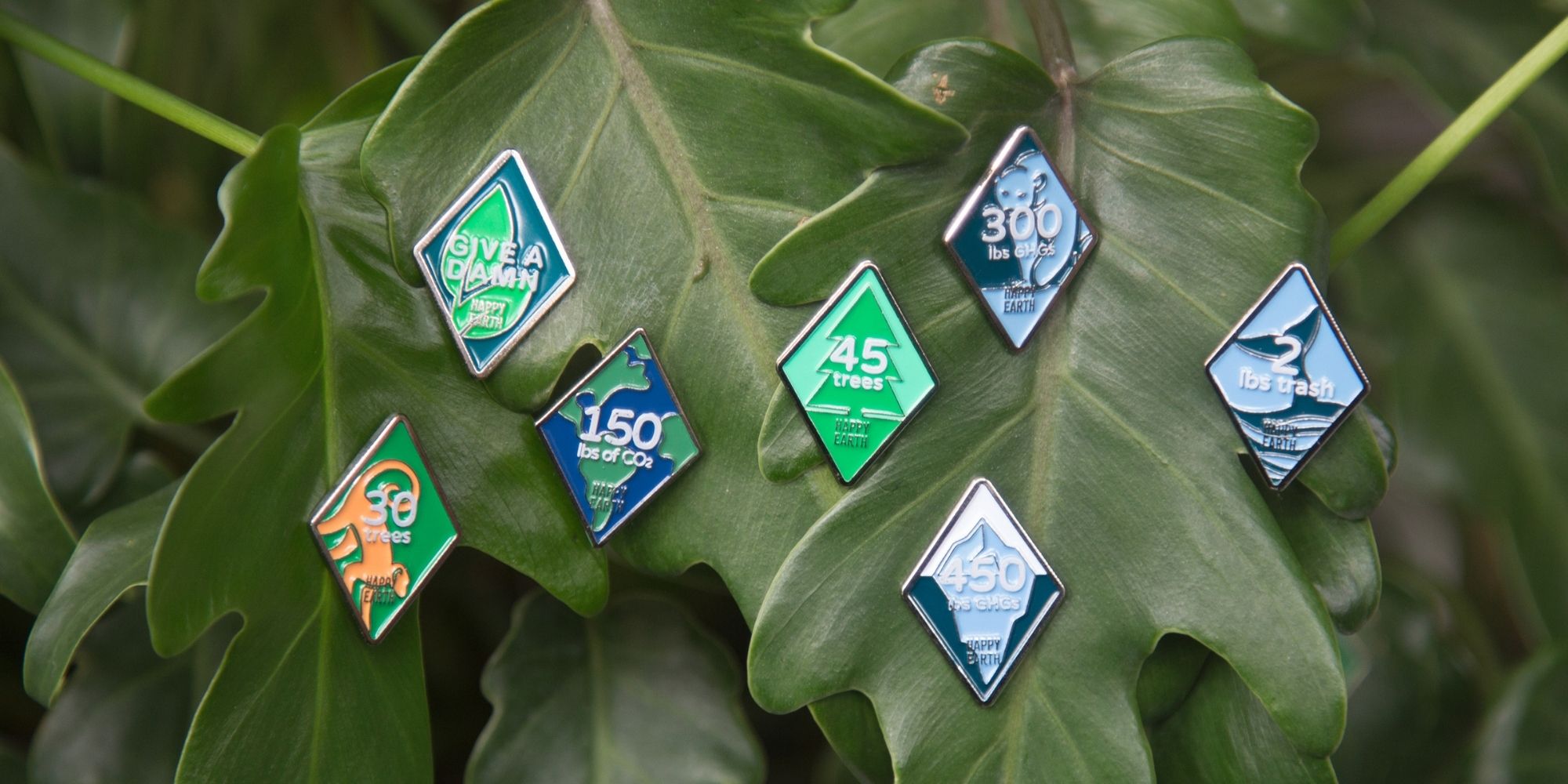 Happy Earth is dedicated to being Earth-first. "With every decision we make, sustainability is the primary driver—not profit or convenience. We built every aspect of the company around protecting the planet, from the details of how we make our products to our overall impact." While the brand is making strides for people, the planet, and animals, there are a few standouts we love.
Impact pins
Like Good On You, Happy Earth believes you should wear your values on your sleeve and support brands that positively impact the issues you care about. This belief inspired Impact Pins. With each purchase, you get to choose the campaign you want to support to track the positive impact you've made: combating climate change, planting trees, or cleaning up trash. So far, with the power of your support, Happy Earth has averted almost 4m pounds of greenhouse gas emissions, planted nearly 400,000 trees, and cleaned up around 6,000 pounds of trash!
Compassionate materials
Not only do Happy Earth's products look fantastic, but they are also all made from organically grown and recycled materials, benefiting people, the planet, and animals along the way. The primary products are made from USDA and GOTS certified organic cotton with the brand's Fair Trade partners in Peru, which means no harmful chemicals are used in production, and the farmers are treated fairly. Conscious of the issues surrounding microplastic release into the environment, Happy Earth only includes synthetic fibres in products that require infrequent washing like their blankets: handwoven from recycled fibres and designed to do-it-all. When it comes to the animals, not only does the brand offer exclusively vegan products, they also elect for safe, sustainable methods that maintain the health of local ecosystems, ensuring that animals are neither exploited nor indirectly endangered.
Carbon-free
Happy Earth is net-negative with carbon emissions, foremost by opting for practices that slash energy use and then offsetting more than the rest. As a CarbonFree partner with CarbonFund, they're dedicated to a carbon-free process to ensure they're making a positive impact and not contributing to the climate crisis. In every step along the supply chain, the brand opts for materials and methods that minimise emissions. They track areas where emissions occur, assess the best practices for reduction, and offset the unavoidable. Transportation is the largest sector to account for. "From the makers shop to your doorstep, we offset the transportation energy costs—even calculating the short commute to our warehouse to ship out our goods."
We're not cool with compromise when it's at the expense of our world. We'll find a good way to do something, or we won't do it.
Our 7 favourite products from Happy Earth
There are so many things to love about Happy Earth, including its gorgeous garments! Below are 7 products we're low-key obsessed with, keeping it stylish and sustainable all at the same time. "Each of our pieces are nature-inspired, designed to explore, and crafted in a way that's perfect for you—and the planet."
Long Sleeve Tees (XS-2XL) – Supernal Nyx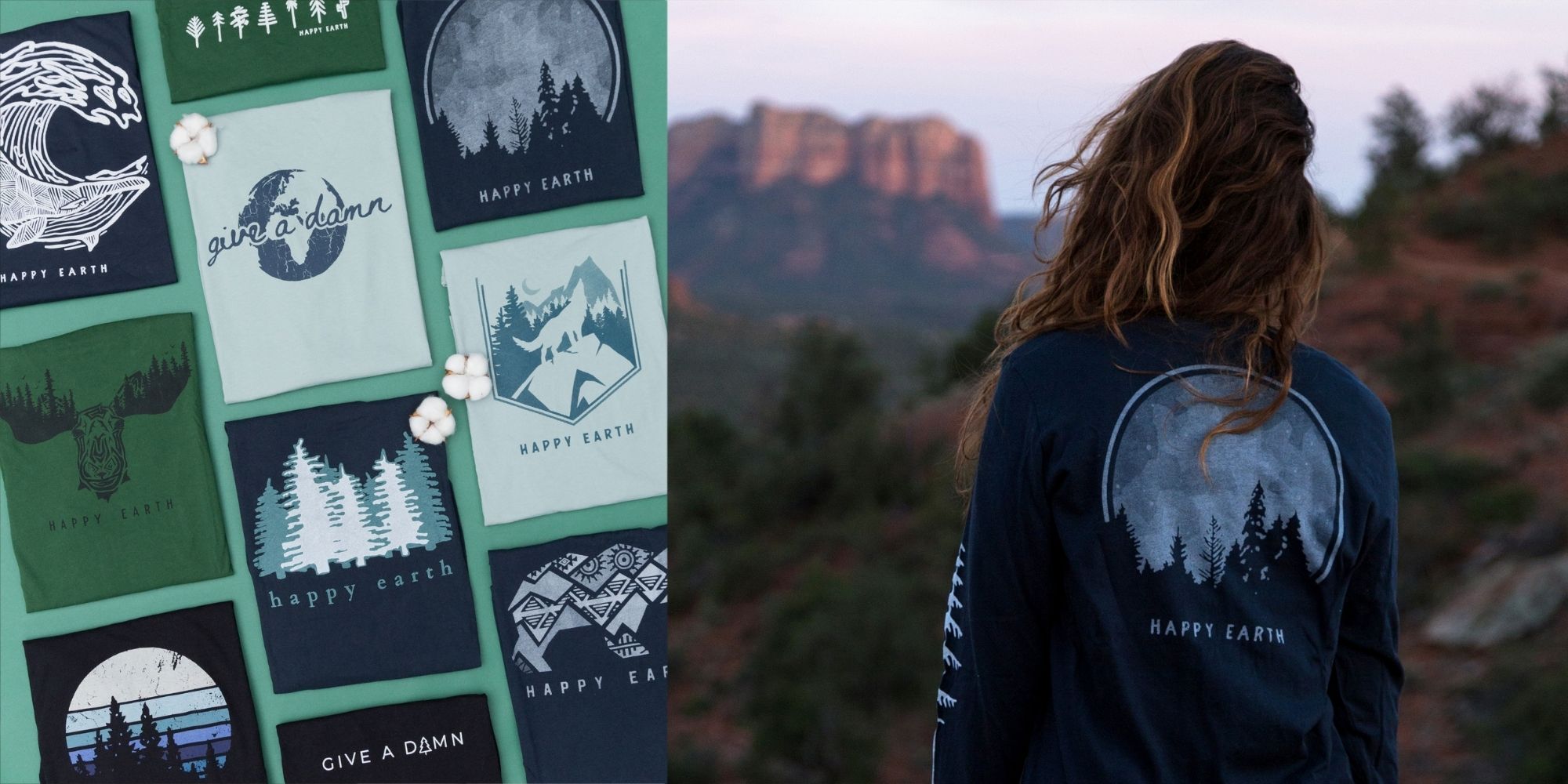 The softest shirts crafted in the most planet-positive way. Nature-inspired designs featured on Earth-toned, Fair Trade organic cotton tees. Prints along the sleeve, so you can confidently 'wear your heart on your sleeve'.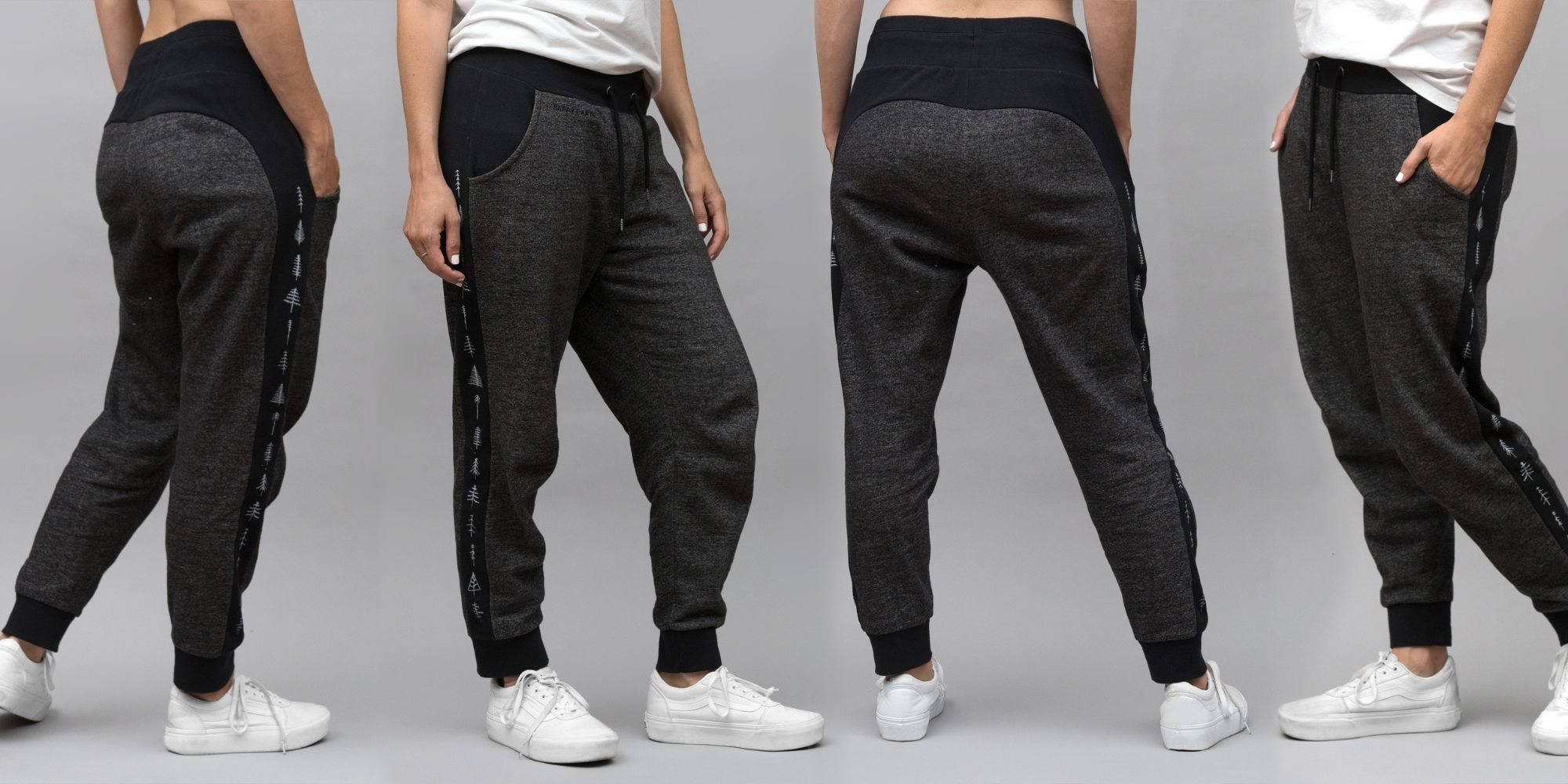 A stylish and sustainable take on joggers so comfy you'll never want to take them off. This organic cotton lounge-wear essential features a two-tone pallet of charcoal heather and straight black, accented with Happy Earth's iconic Arboretum racerstripe on both legs.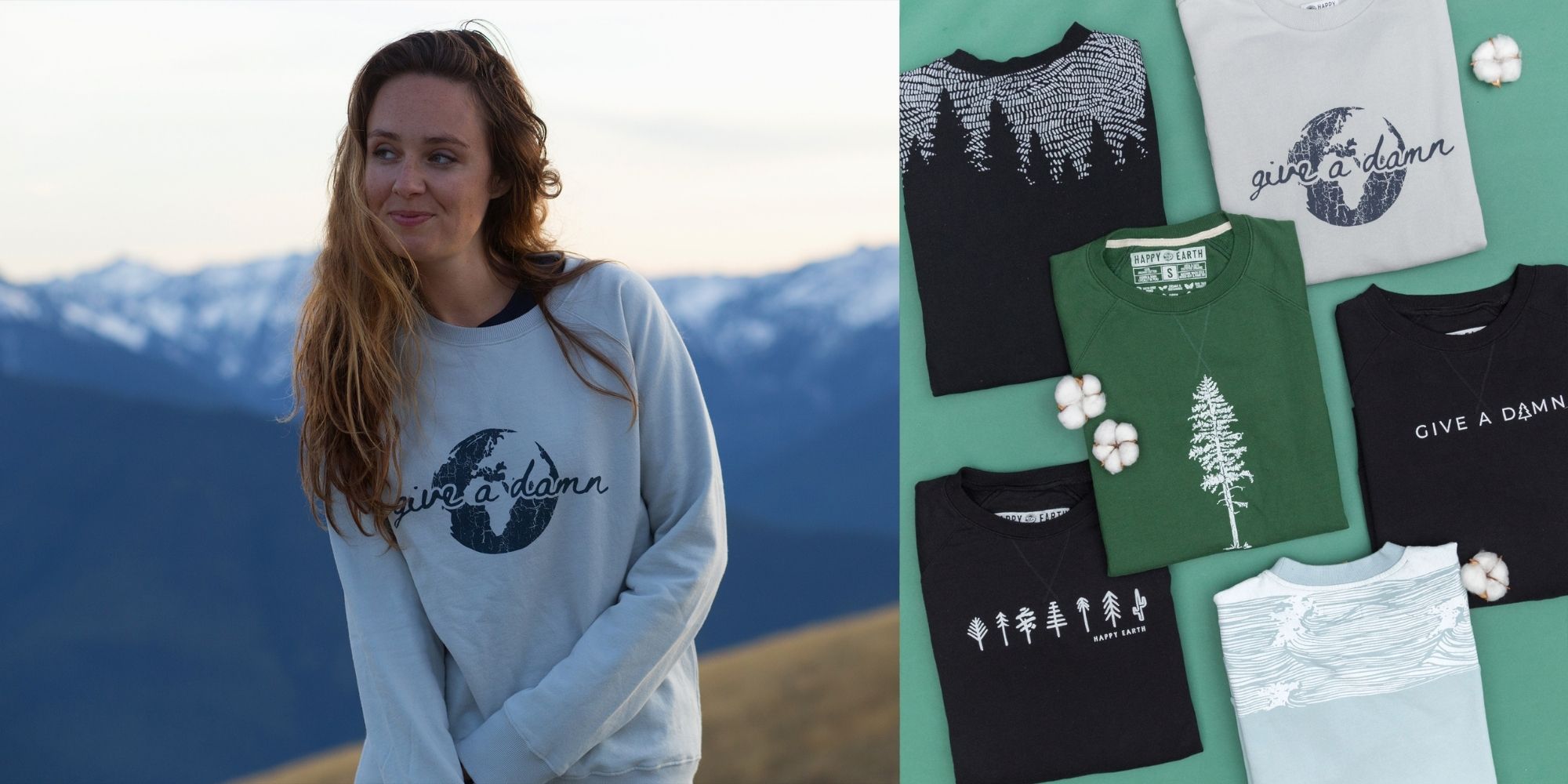 Responsibly-made hoodies, quarterzips, and crews all crafted from 100% organic cotton. An Earth-friendly departure from polyester as well as unique hand-drawn prints make these a must-have for both cosy indoor days and active outdoor adventures.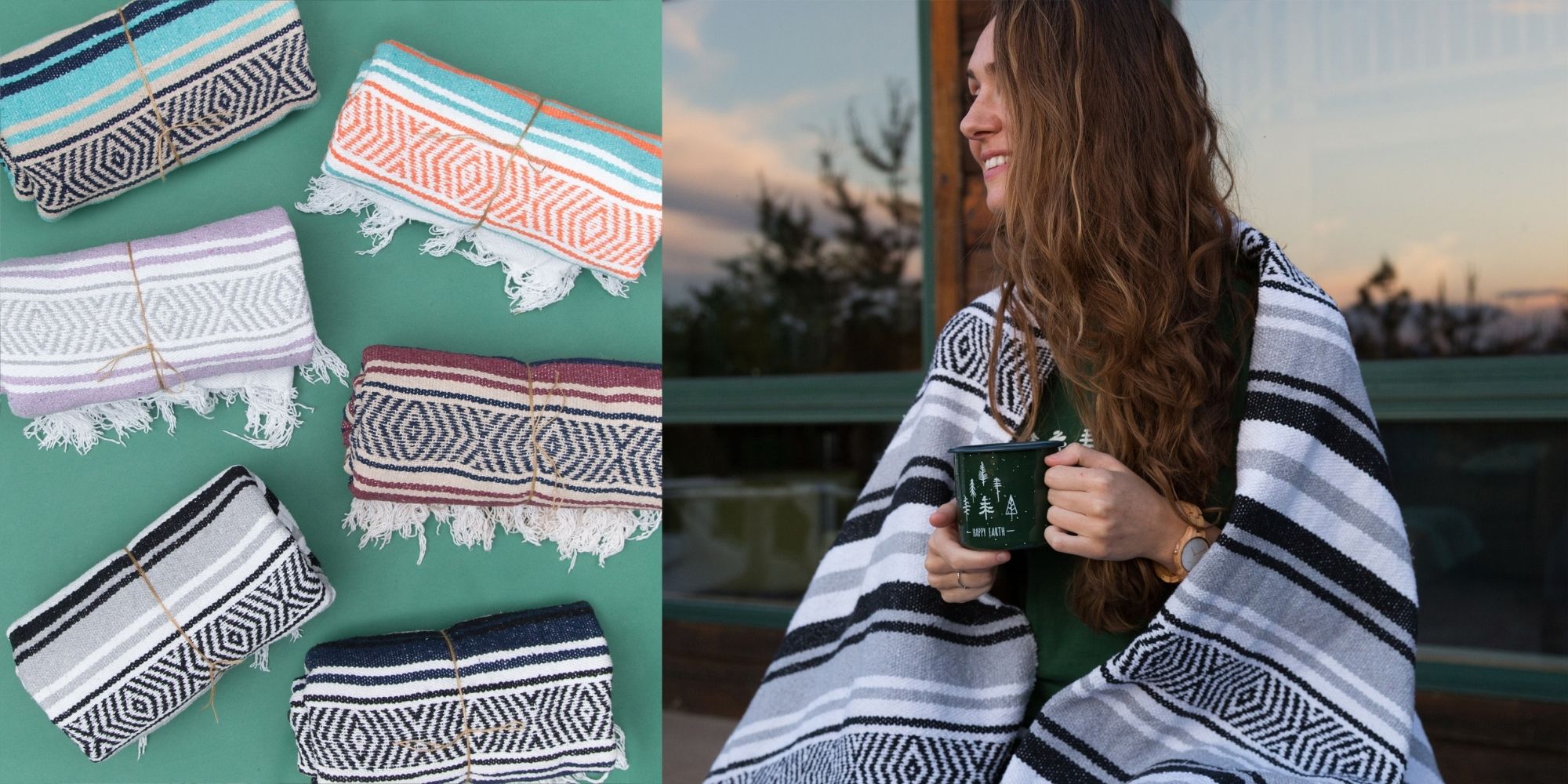 Handwoven from recycled fibres and designed to do-it-all.  Weathering a hike, grounding your vinyasa, or surfing a couch, this blanket is as capable as it is pretty. Choosing discarded textiles helps encourage a circular fabric industry that eliminates waste.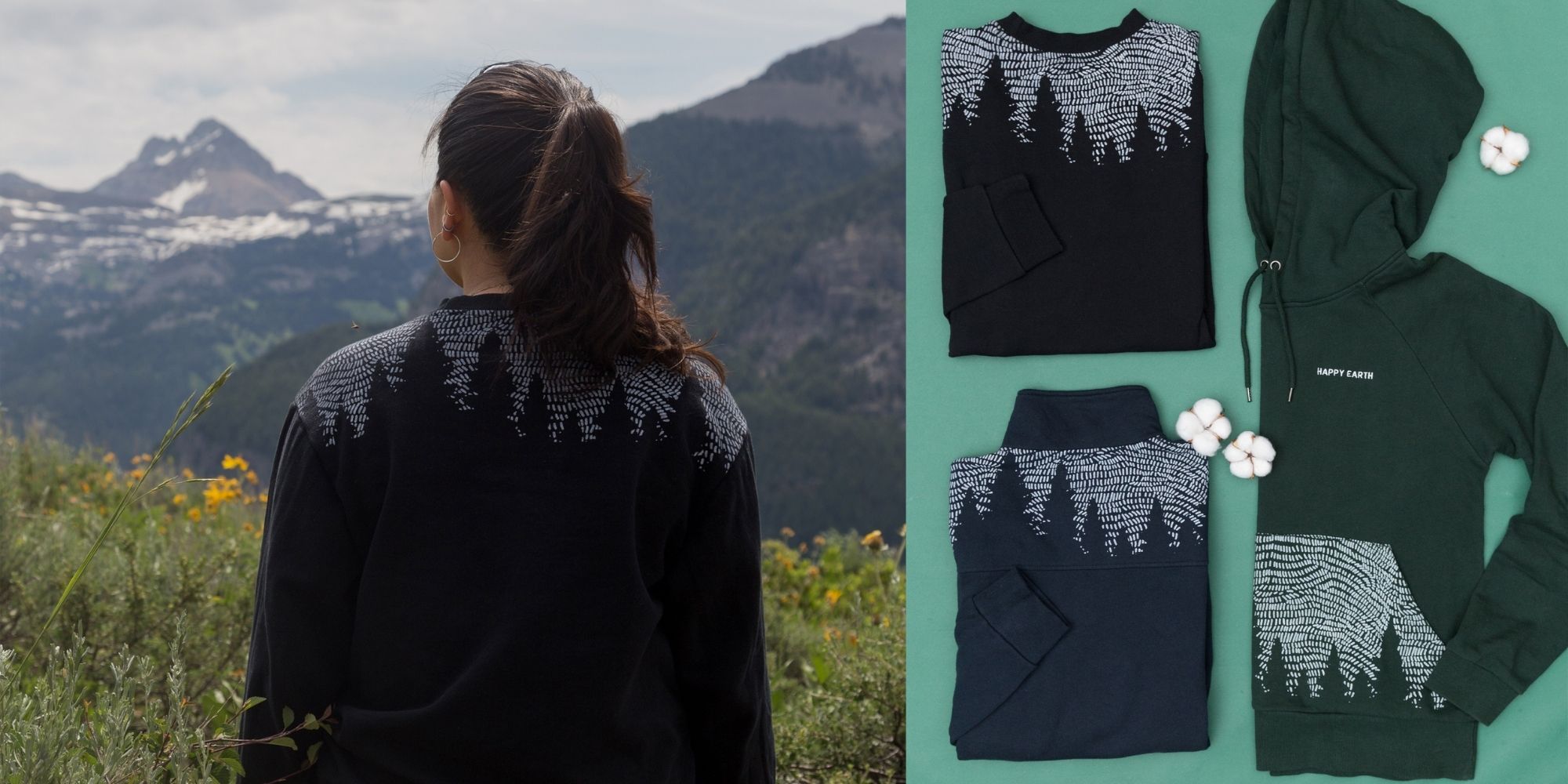 Do you see rain, snow, or stars? We love everything with Happy Earth's Stormy Forest motif! Whether on a shoulder panel or hoodie pouch, we're obsessed with this mix of chaotic sky and clean forest silhouette. Featured on 3 new items in their outerwear collection.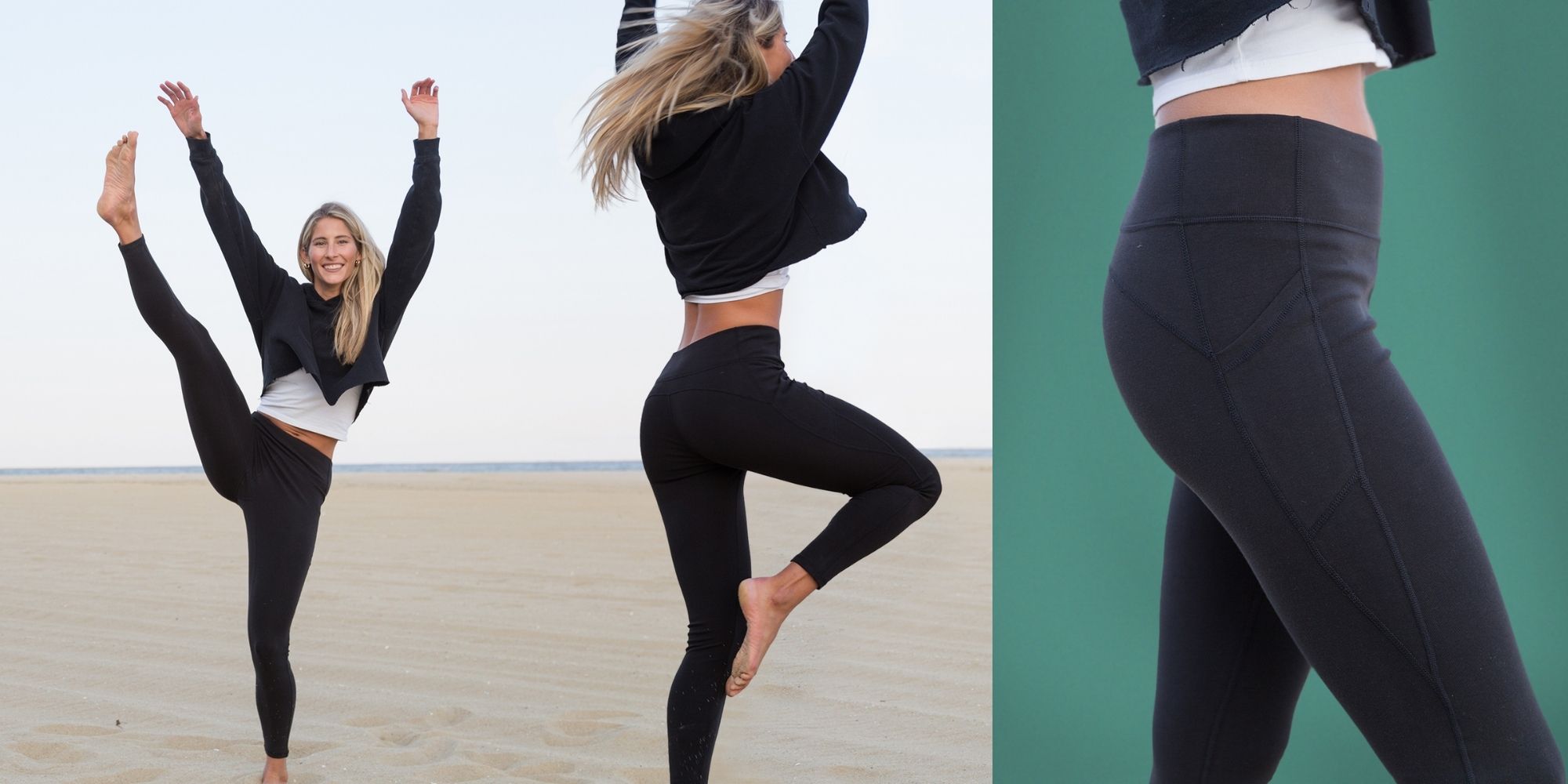 Free of polyester and nylon, these full-length leggings are crafted from organic cotton and Tencel. All-way stretch paired with a softly ribbed knit defines this comfy, flattering fit. Built-in support and coverage that doesn't thin when you stretch and move. Pockets, because everyday leggings need pockets.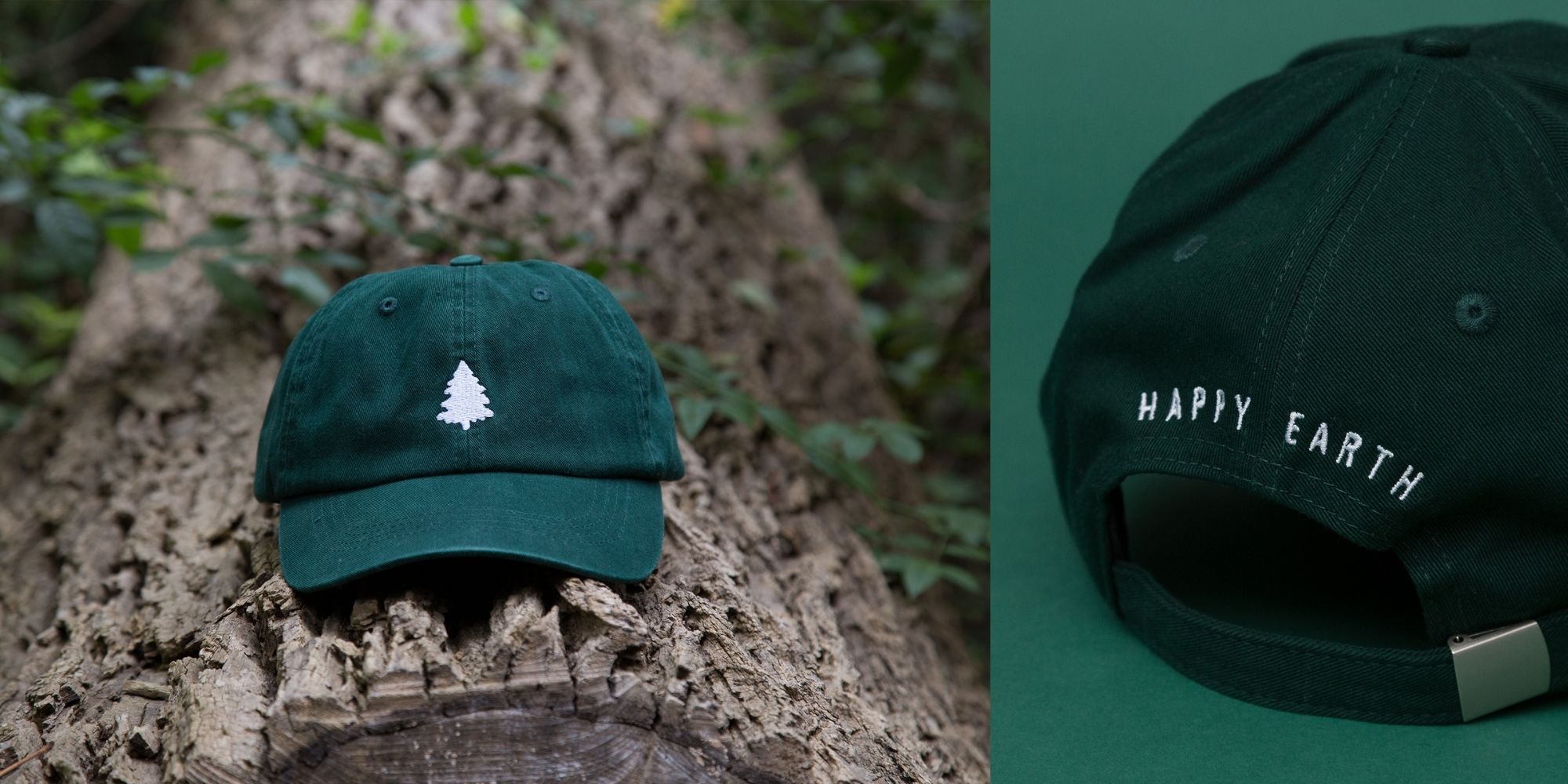 Made from premium organic cotton. Accented with embroidered natural icons or climate-positive cork patches. Making unsustainable headwear a thing of the past.
When it comes to future plans, Happy Earth strives to continue learning and growing their impact, all while inspiring conscious shoppers to become activists in their daily lives—"Getting more people involved in their own communities and encouraging sustainability and environmental stewardship is something to which we're dedicating more and more time." They are also committed to innovation, reflecting that "every year, there's been meaningful changes to our product offerings—pivoting to new materials, adopting new practices, finding areas to reduce waste or adopt greener tech—and we intend to continue to learn and progress." Happy Earth stresses progress over perfection, recognising that sustainable living is an ongoing process. We couldn't agree more.
As a brand that strives to do better, we're always searching for new ways to improve, and eager to lead the way.