This is a sponsored article about a brand that was independently assessed by our rigorous ratings system. We're proud to only collaborate with "Good" and "Great" rated brands. Learn more.
The extraction of natural resources like gold is intricately linked to questions of ethics and sustainability, and FUTURA Jewelry is on a mission to prove gold mining can be done responsibly and the industry changed for the better with the power of consumer choices.
All that glitters is not gold
Did you know that over one-third of the world's mercury emissions come from unregulated gold mining? That's according to the United Nations Global Mercury Assessment's key findings in 2018. In a recent Good On You social media collaboration "Great" brand FUTURA Jewelry, one user commented that they "never knew that gold mining was this problematic".
To help bring everyone up to speed, we've linked up with the brand to dig up the dirt on the issues surrounding gold mining—and how the industry can improve with power of consumer choices in supporting brands like FUTURA.
Promoting and buying clean ethical gold jewellery is the best way to support the miners, their livelihood, their futures, and ours.
Humans have been adorning themselves in gold since ancient times; chances are, it will remain a timeless form of self-expression for the foreseeable future. That's why addressing the issues surrounding gold mining is so crucial. Let's take a closer look.
The lowdown on mercury and gold mining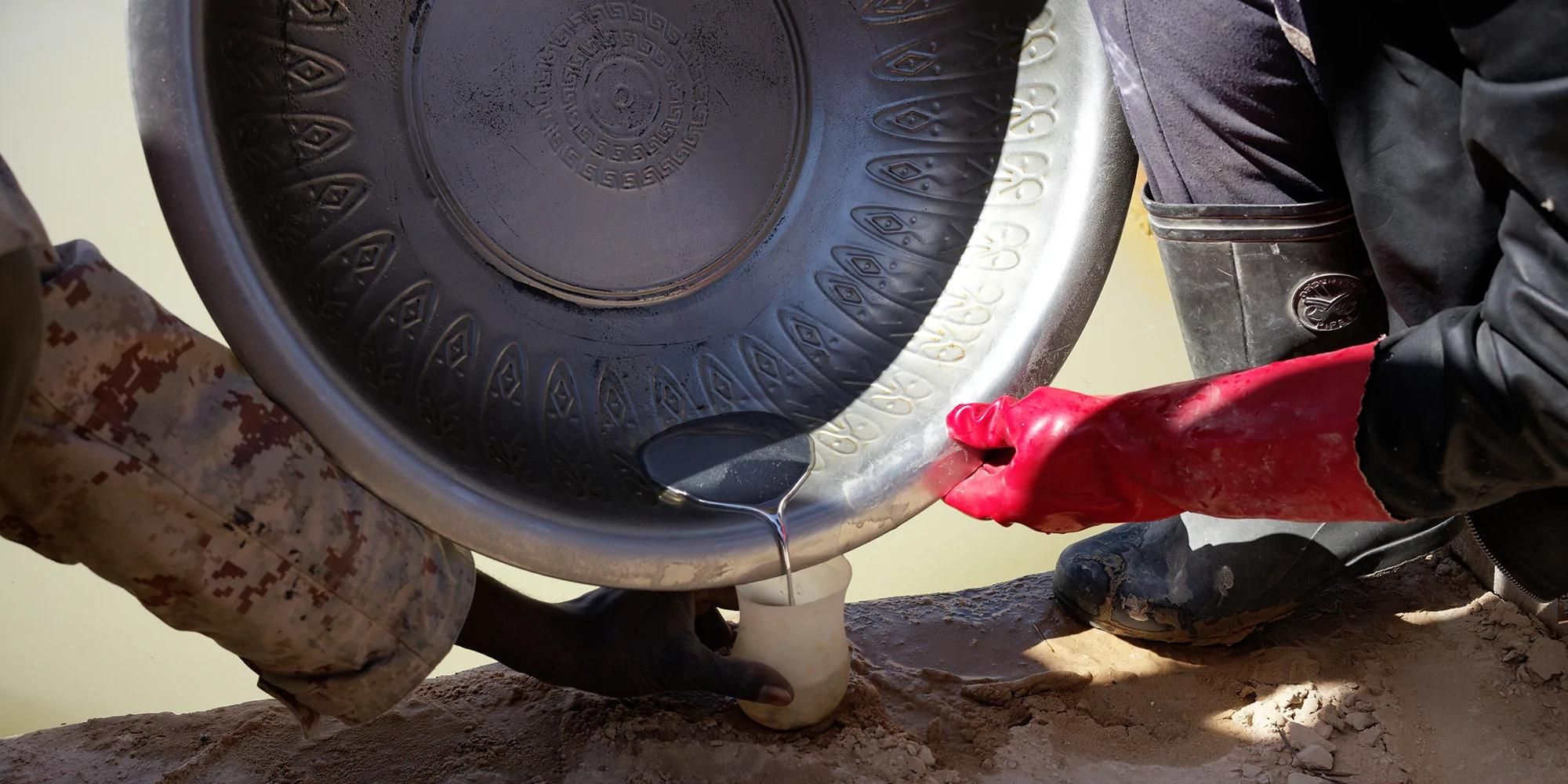 What exactly is mercury, and why is it bad?
Mercury is a naturally occurring element in the earth's crust and is considered by the World Health Organization (WHO) as one of the top ten chemicals of major public health concern. Human activity is the leading cause of mercury releases, including mining for gold and other metals.
While various forms of mercury exist, they are all detrimental to humans to some extent, and the effects can be devastating. You may think of "mercury poisoning" in relation to consuming fish and shellfish, which is a significant issue in our diets. But fewer people think of workers' exposure to mercury during mining and the communities surrounding the mines.
"There is no safe level of exposure to mercury nor are there cures for mercury poisoning, which at high levels causes irreversible neurological and health damage," the team at FUTURA explains in this blog post on mercury emissions, which references the WHO's findings on mercury and health. "Elemental and methylmercury are toxic to the central and peripheral nervous systems. The inhalation of mercury vapour can produce harmful effects on the nervous, digestive, and immune systems, lungs and kidneys, and may be fatal."
So how does this tie into gold mining and the jewellery we wear?
The gold links between mercury and jewellery
While there are various sources of human-caused mercury emissions, from coal combustion to oil refining, artisanal small-scale gold mining takes the top spot for emissions. "Since most of this gold mined is used to make jewellery, the [planet] is relying on the jewellery industry and consumers to make responsible choices for gold jewellery mined without toxic chemicals as an incentive for miners to change to clean mining practices", FUTURA tells us.
While mercury has been used for hundreds of years as an abundant and cheap way to extract gold from rock and ore, FUTURA believes we need a paradigm shift.
Responsible mining and conscious buying is helping to turn the industry around
Doing it differently
Brands taking responsibility for the impacts of gold mining are opting for a better option in their wares: 100% certified Fairmined mercury-free gold. This means that, rather than contributing to harmful emissions in production, the gold is extracted by gravity concentration methods using sluicing, shaking tables, spiral concentrators, vortex concentrators, and centrifuges—none of which require mercury in the process. And that's good news for workers and the surrounding environment.
The importance of consumer demand
FUTURA believes consumer demand is essential in changing the future of gold mining and reducing mercury emissions in the industry "just as we did a decade ago, when we said no to blood diamonds", they say. The best way to push these new techniques forward and show that mercury-free mining should be the only option is to purchase Fairmined Ecological gold and to spread the word whenever they can, the brand argues.
"[People are] never going to stop wearing gold," FUTURA says. And while recycled gold is one part of the solution, the need for reforming the way gold is mined remains urgent, as demand is unlikely to decrease in the near future. "Regardless of the use of recycled gold, mining will continue because there is still a need for newly mined gold that outweighs the availability of recycled gold."
"In addition, we can still support the millions of people who rely on mining as a livelihood to support their families," says FUTURA. "The most ethical and modern solution is to source Fairmined Ecological gold for the future of our planet, our children, and our grandchildren."
You can read more about who is doing what in the industry to address mercury emissions on FUTURA's website, and check out the video below to learn more about how supporting fair jewellery brands like FUTURA and encouraging those around you to get informed and make better choices can help solve this pressing global issue.