This is a sponsored article about a brand that was independently assessed by our rigorous ratings system. We're proud to only collaborate with "Good" and "Great" rated brands. Learn more.
Meet FUTURA Jewelry, a luxury jewellery brand with modern values at its core, crafted from 18kt certified Fairmined mercury-free gold.
Embracing responsible luxury with mercury-free mined gold
After 30 years in the luxury jewellery industry, FUTURA's founder Bob Donofrio discovered the harsh reality of the environmental impact of mining gold for jewellery production: 99% of the world's gold supply is produced by emitting toxic chemicals, including mercury and cyanide, into the ecosystem, and 38% of the world's mercury emissions come from unregulated gold mining.
As most of this gold is used in jewellery production, Donofrio's mission was to create a brand that would lead to change within the luxury jewellery industry and directly impact the reduction of mercury emissions. In New York in 2017, FUTURA was born, a conscious luxury jewellery brand that is leading the industry to adopt clean gold mining practices that will lead to a global reduction in mercury emissions.
As a jewellery industry leader, once I discovered the truth about mercury emissions and small-scale gold mining, I was overcome with an overwhelming desire to get involved and contribute to solving the problem.

Robert Donofrio – Founder
FUTURA decided to become a partner of the UN in support of the Minamata Convention in 2017, when 105 countries agreed to sign the treaty with a mission to "protect millions of children and infants from possible neurological and health damage. Governments that are party to the Minamata Convention are now legally bound to take a range of measures to protect human health and the environment by addressing mercury throughout its lifecycle." After becoming a UN partner, Donofrio became familiar with the Fairmined Initiative and knew it aligned with his vision for a better jewellery industry for our health and the health of our planet.
Read on to discover more about how this "Great" brand is working to provide consumers with a more ethical, sustainable, and traceable fine jewellery option that gives them the power to positively improve the future of our planet.
Planet: Mercury-free
FUTURA Jewelry receives our highest score of "Great" for the environment. Its stunning pieces are handcrafted with mercury-free mined 18kt certified Fairmined Ecological gold, significantly reducing their climate impact and helping to bolster a less damaging jewellery industry overall. The brand ensures wastewater is treated and discharged properly in its supply chain, uses plastic-free packaging, and makes products to-order to further minimise waste.
"Our gold comes from the three certified Fairmined mines in the world that mine for gold without the use of toxic chemicals including mercury and cyanide," the team tells us. "Our gold is setting the standard for the future—for the jewellery industry and for the planet. By eliminating the use of toxic mercury in mining, we eliminate the impact of harmful mercury emissions to our planet to create a safer future for everyone."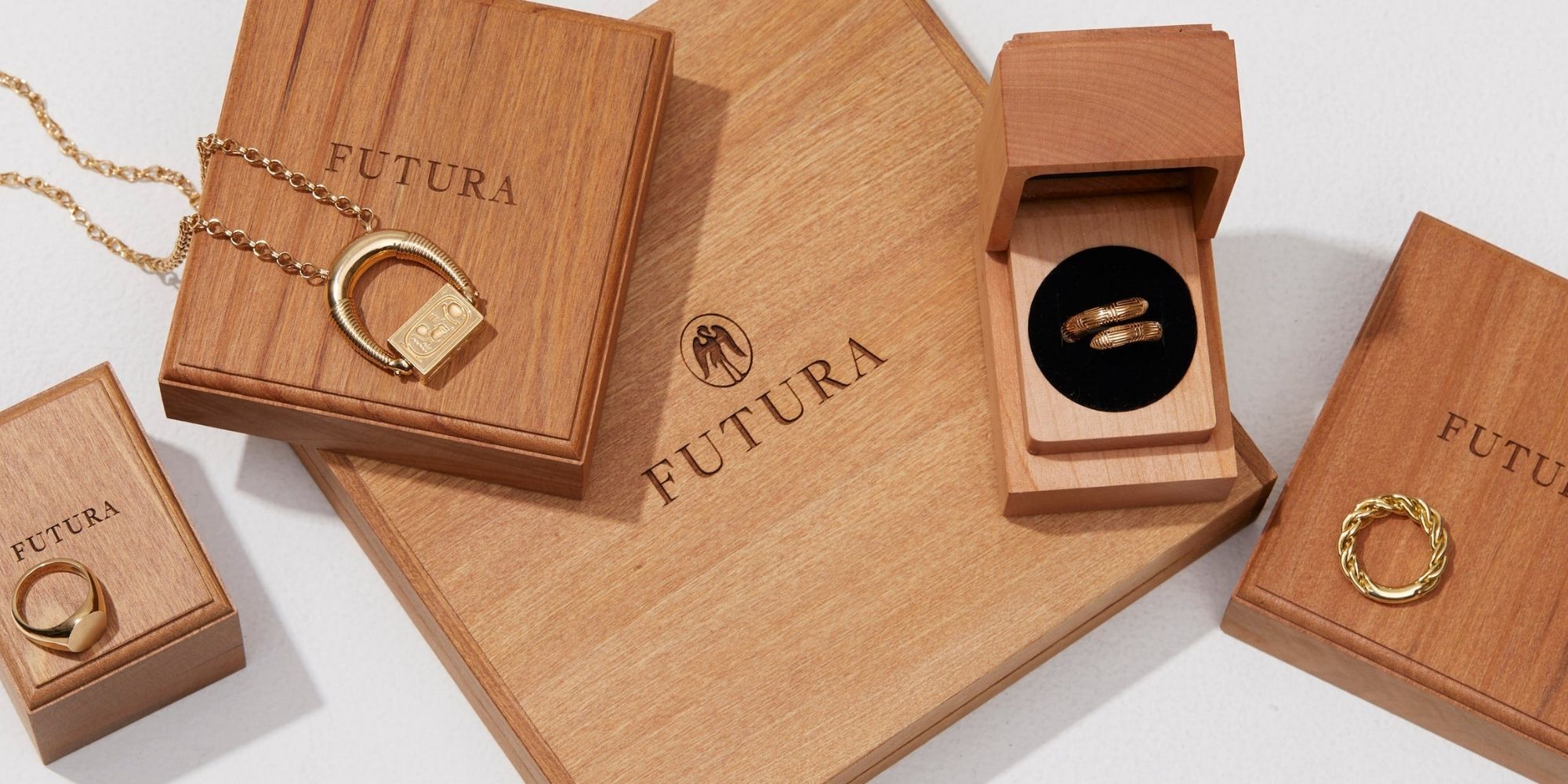 People: Fairmined
Fairmined gold isn't just beneficial for the planet: it ensures that the health and safety of workers, surrounding communities, and consumers are given the utmost priority. The use of mercury in mining leads to widespread contamination of the ecosystem, including soil, waterways, and wildlife. It can cause dire health effects, with inhaled mercury leading to neurological damage and other health issues, so avoiding it is crucial.
FUTURA Jewelry ensures that everyone along the supply chain has safe working conditions, stability, and gender equality. It traces its entire supply chain and provides living wages, well-deserving a "Great" rating for people.
Note: This brand makes products that are generally free of animal materials so it is not applicable to rate its impact on animals. We calculate the overall rating from environment and labour scores only.
Overall rating: Great
Thanks to its essential work in mercury-emissions reduction, transparency, and responsible practices along the supply chain, FUTURA Jewelry receives our highest score of "Great" overall.
FUTURA is about offering consumers the ability to make a personal choice that aligns with their beliefs around humanity, and collectively collaborating for the future of the planet and for human rights through making smarter, more compassionate choices.

Robert Donofrio – Founder
Make a sustainable statement with the Link bracelet
Created to represent the link between elegance and eco-consciousness, FUTURA's new Link bracelet is a stunning statement piece that exemplifies commitment to a better future for our planet.
Crafted from 18kt Fairmined Ecological Gold, this bracelet is a work of art. Its design is both timeless and modern, making it the perfect addition to any jewellery collection. "However, the Link bracelet is not just a beautiful piece of jewellery," says FUTURA. "It is also a symbol of hope for a better future."
Our 10 favourite handcrafted pieces by FUTURA Jewelry
FUTURA Jewelry pieces not only do great, they look and feel great. The impeccable craftsmanship is evident in the design, weight, balance, and feel that goes into making each piece. The master artisans who create the jewellery have been in the industry for decades, so "there is a bit of history, centuries of craft, and ingenuity in every piece of FUTURA jewellery."
This is jewellery you can wear with pride, as each piece of FUTURA jewellery sold directly reduces mercury emissions that emanate from small-scale gold mining and supports the United Nations' mission to eliminate the harmful threat of mercury emissions to the planet. Here are our 10 favourites from the collection, all handcrafted in NYC with 18kt certified Fairmined Ecological gold that is toxic chemical free, sustainable, ethical, and clean.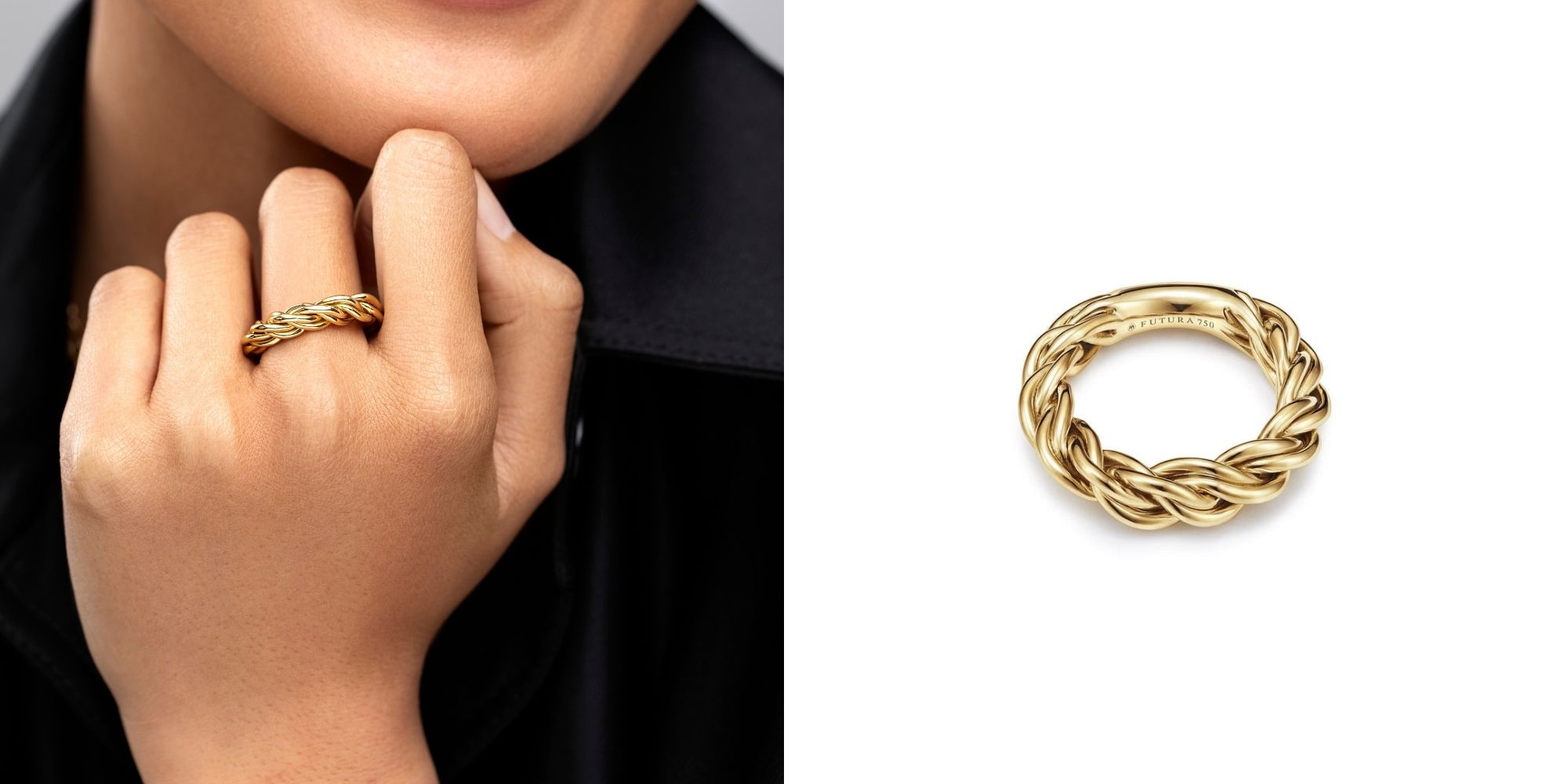 This stunning hand woven ethically-sourced gold ring hails from the Viking era and was a popular style worn and treasured by both men and women.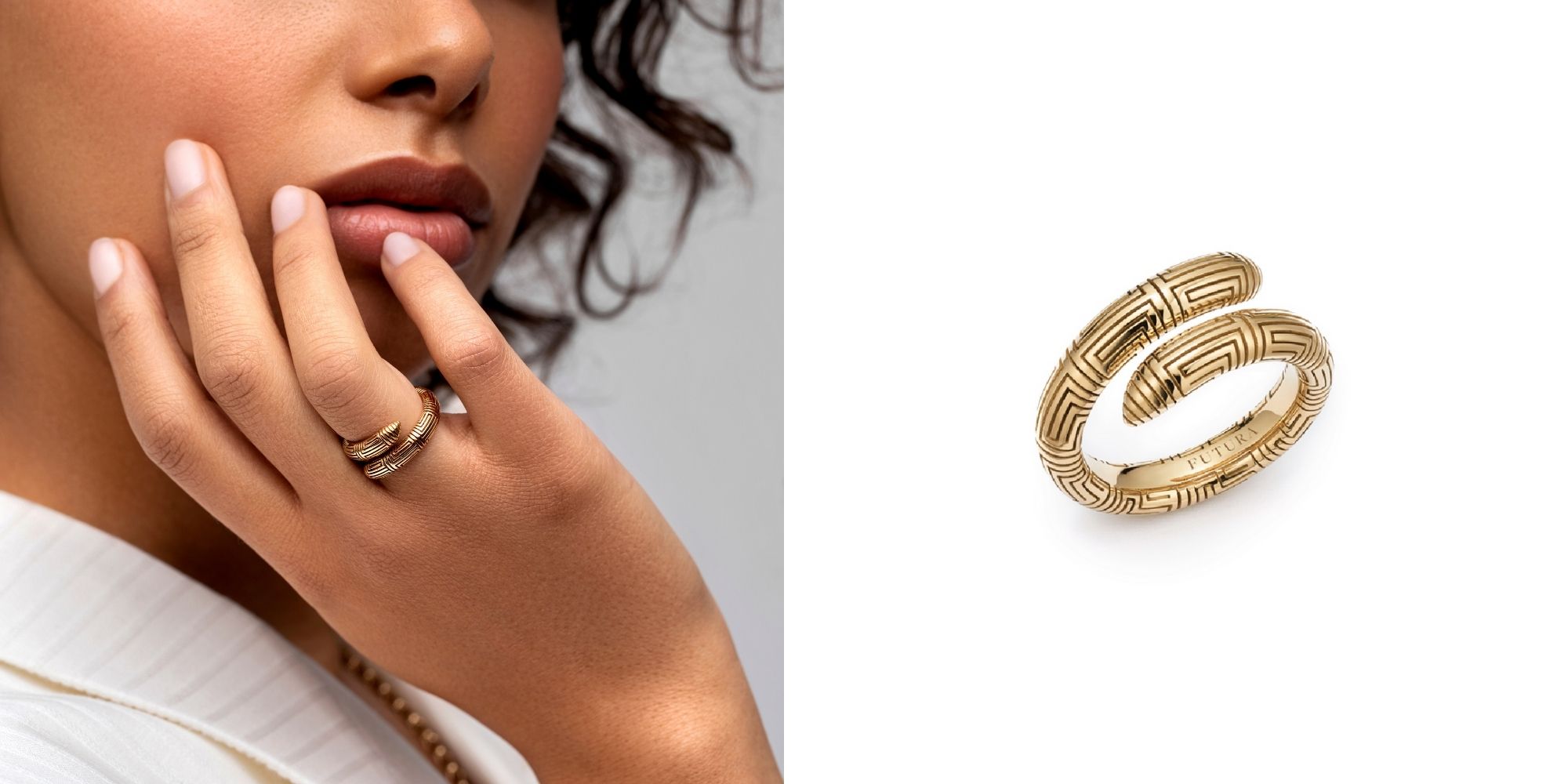 Originally hailing from its namesake, the 800BC ring is a true unique work. Ancient Greeks would wear gold spirals in their hair, and FUTURA has modernised the design by crafting a unique sustainable gold ring you can wear and treasure forever.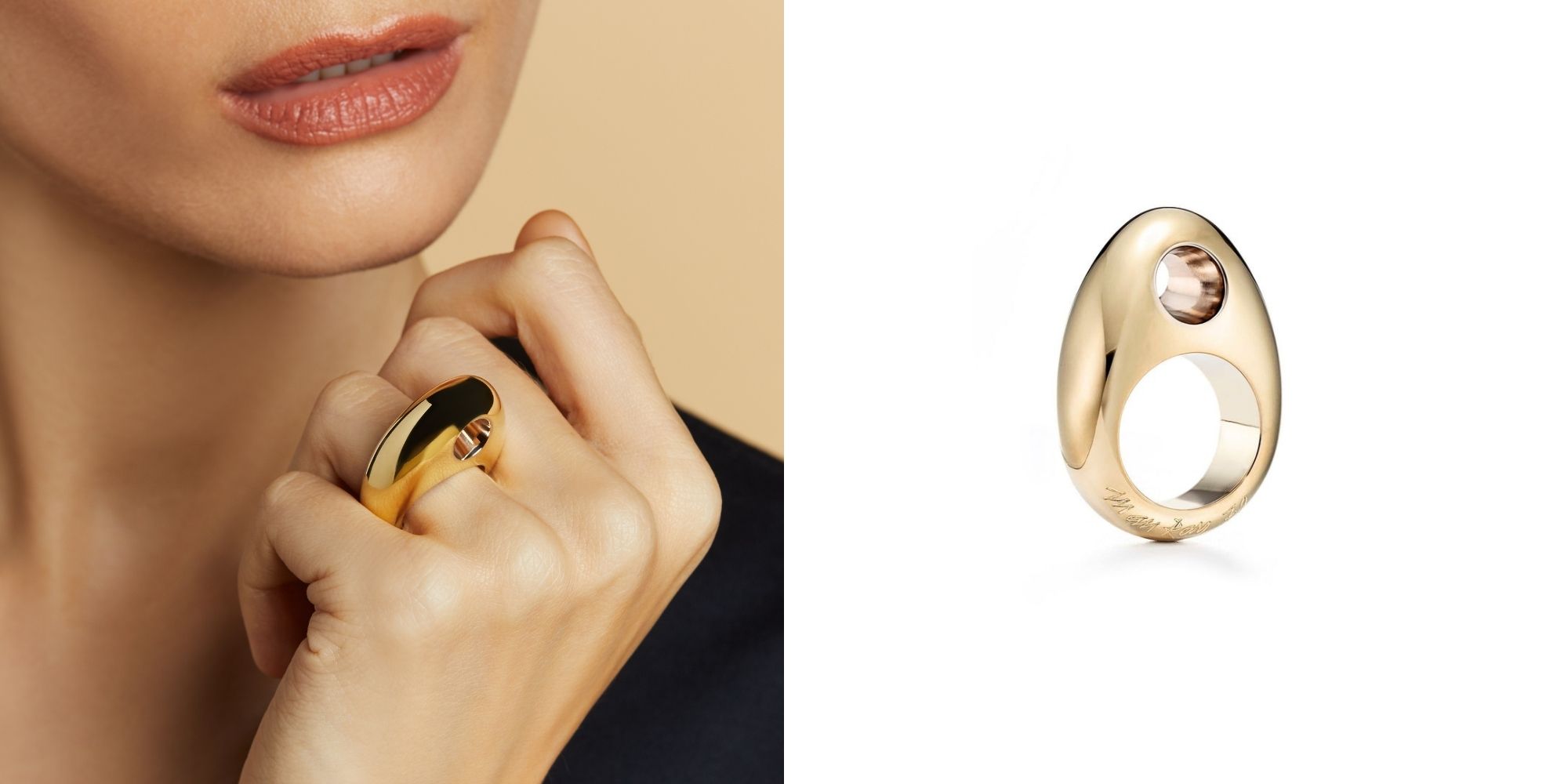 Le Trou from "the hole" in French is an iconic ring originally designed by artist Man Ray. The wearer of this ring would look through the telescoping hole which is meant to alter the viewer's perception of reality, making this a true Surrealist work of art.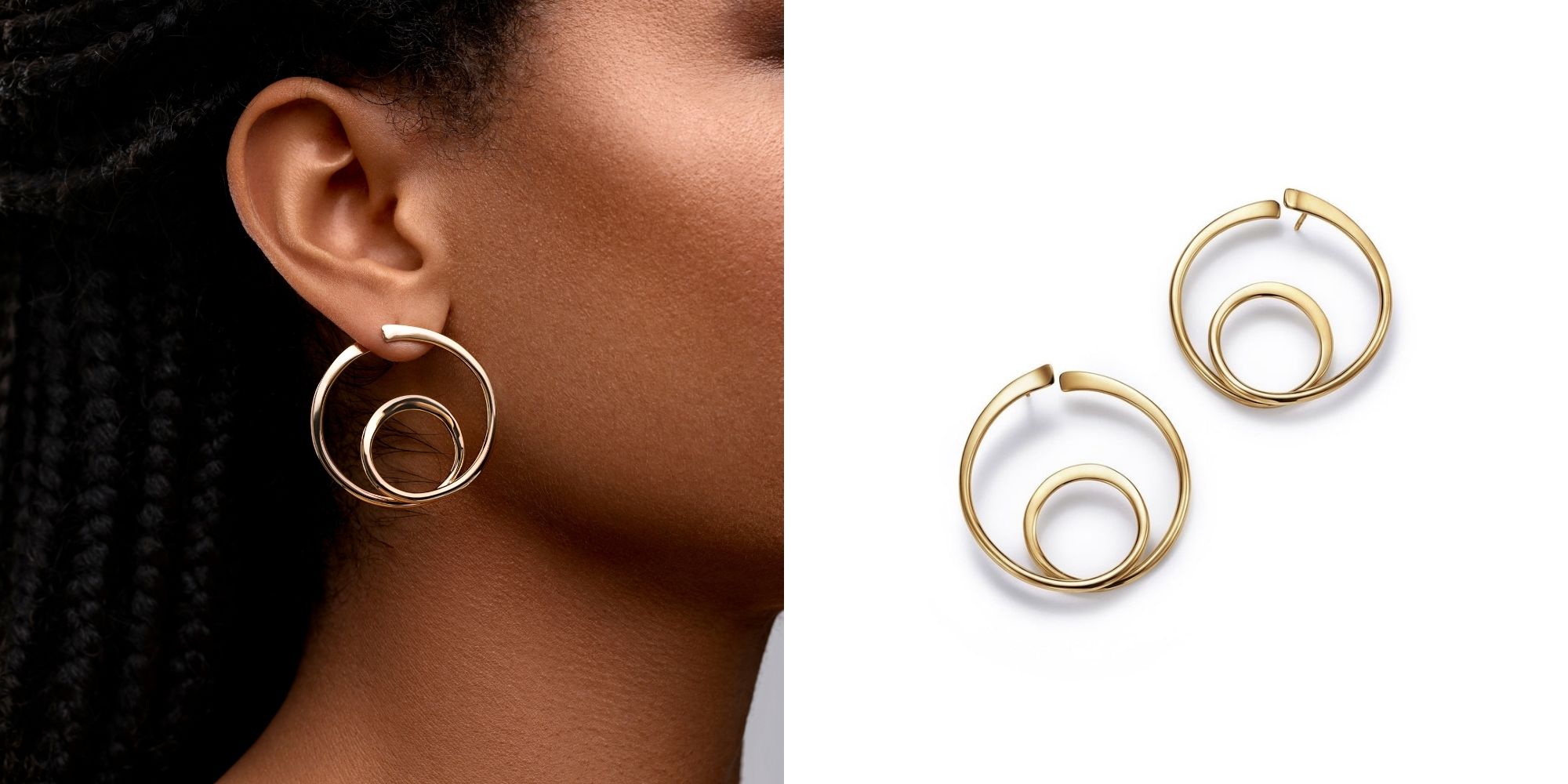 The Orbit gold hoops are a legendary twist on the classic hoop, designed by Renowned Jeweller Art Smith in Greenwich Village.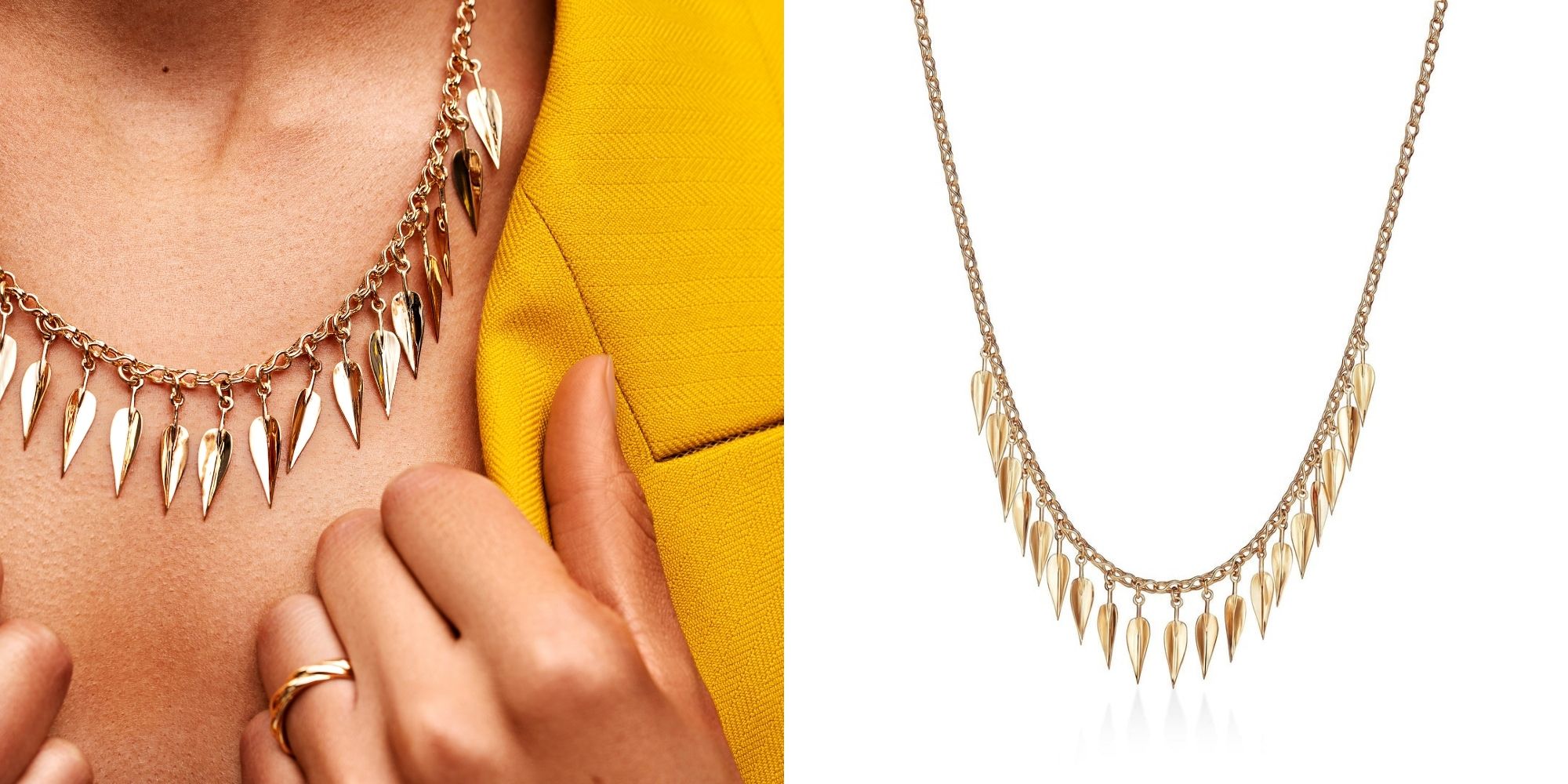 Handcrafted link-by-link, this classic Roman style is one of the oldest known styles of chain found across the globe dating back as far as 2500BC. Featuring beechnut pendants or "leaf" shape motifs that symbolise the Greek goddess Diana who reigned over forests and woodlands.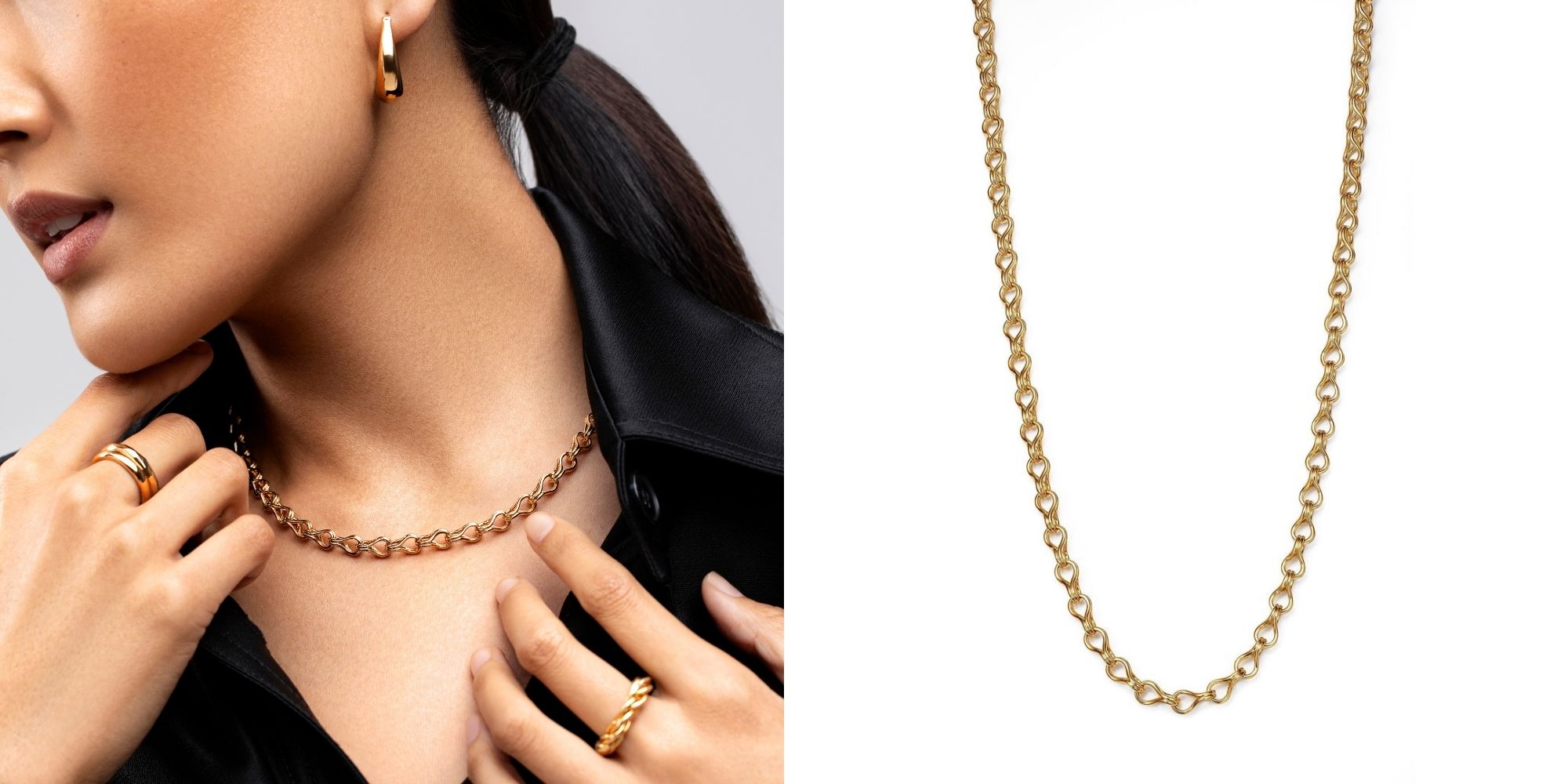 Another classic Roman-style chain handcrafted link-by-link, the Eterna is a simple yet timeless design crafted ethically from Fairmined gold.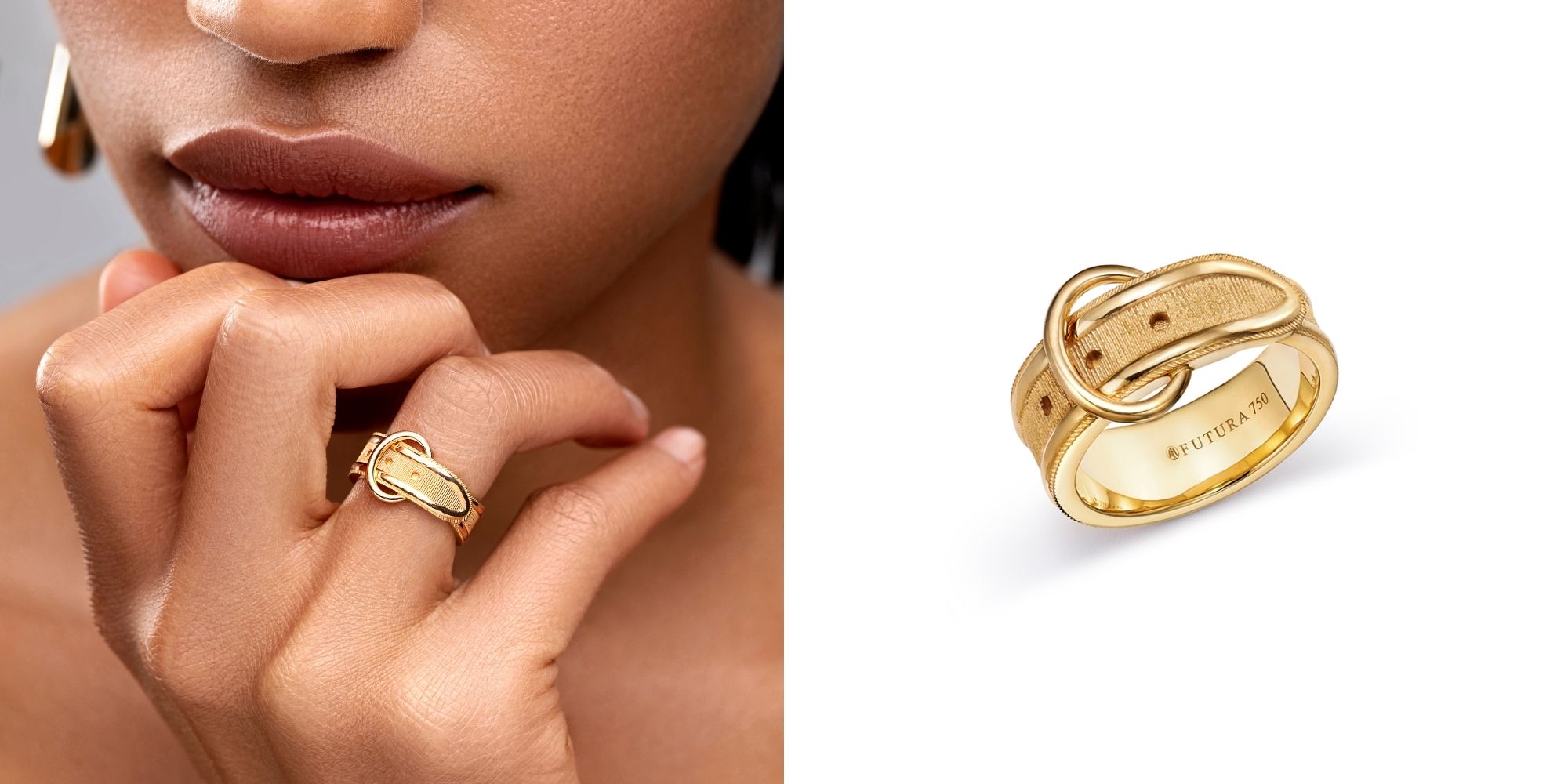 The belt is a 300 year old motif that was mostly popular in 19th Century England for its strong symbolism of loyalty, strength, and eternity. Today, the Endure ring is a truly modern design that has just as much meaning and beauty as it did when it was originally made in 1840.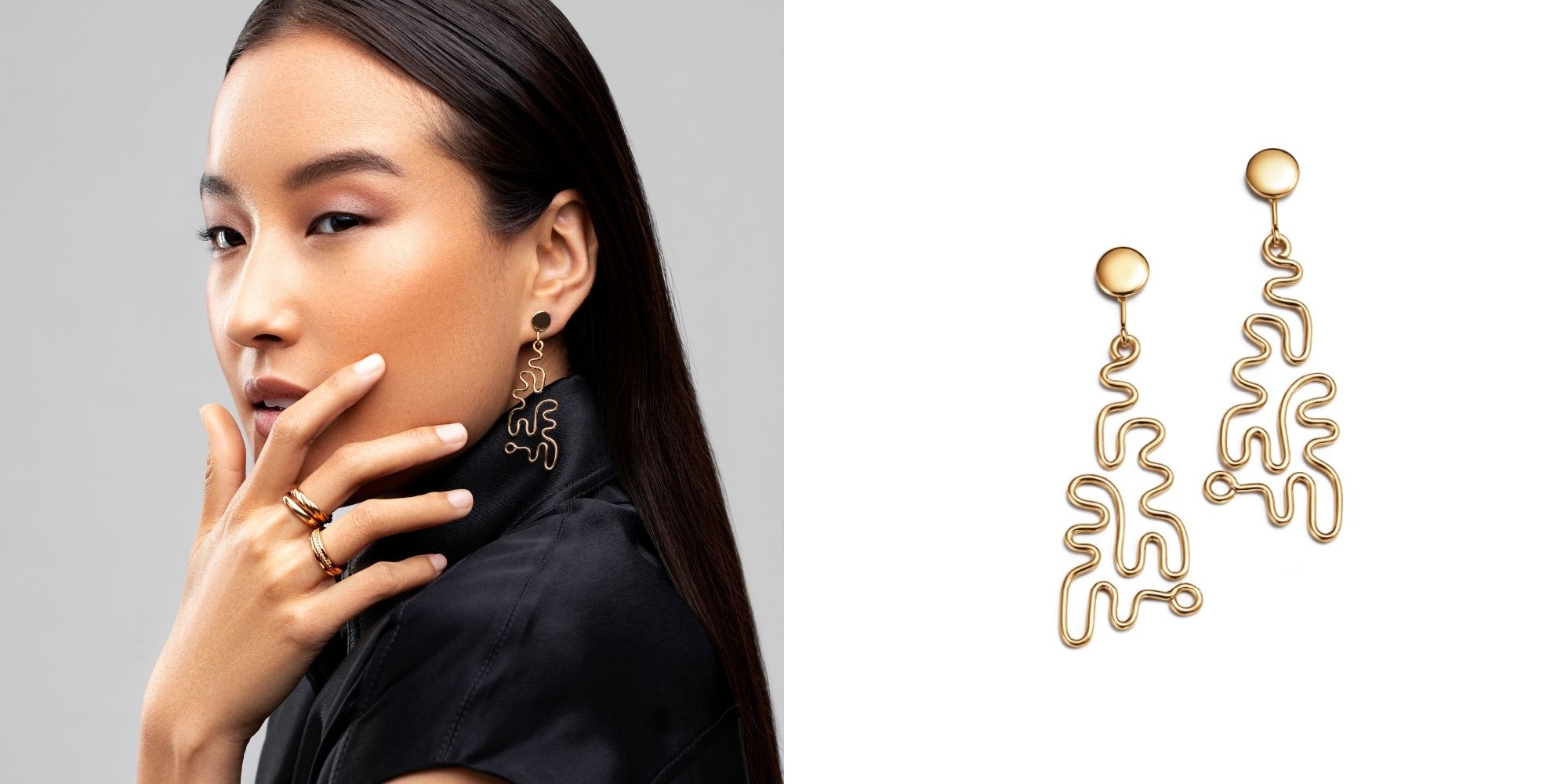 Release 07 originates from California, and was designed in the 1950's by jeweller and artist Milton Cavagnaro who was inspired by the surrounding Bay Area landscape and the Bauhaus and Surrealists movements.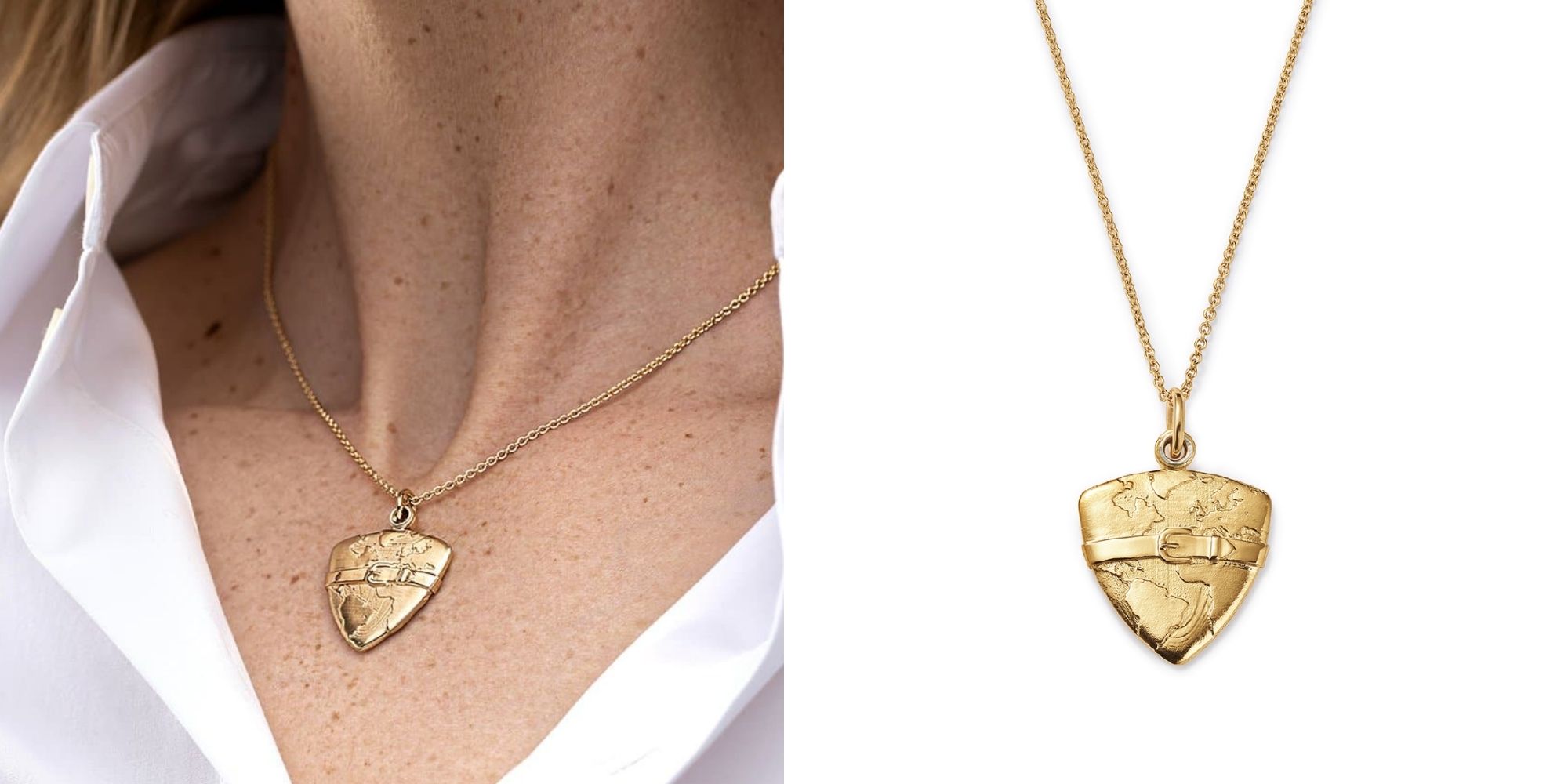 The striking gold Love Locket was designed to keep your loved ones close. Handmade in the brand's 18kt Fairmined Ecological gold, the Love Locket features a beautiful embossing of Mother Earth on both sides, wrapped in a closed belt to represent what we hold to be most precious.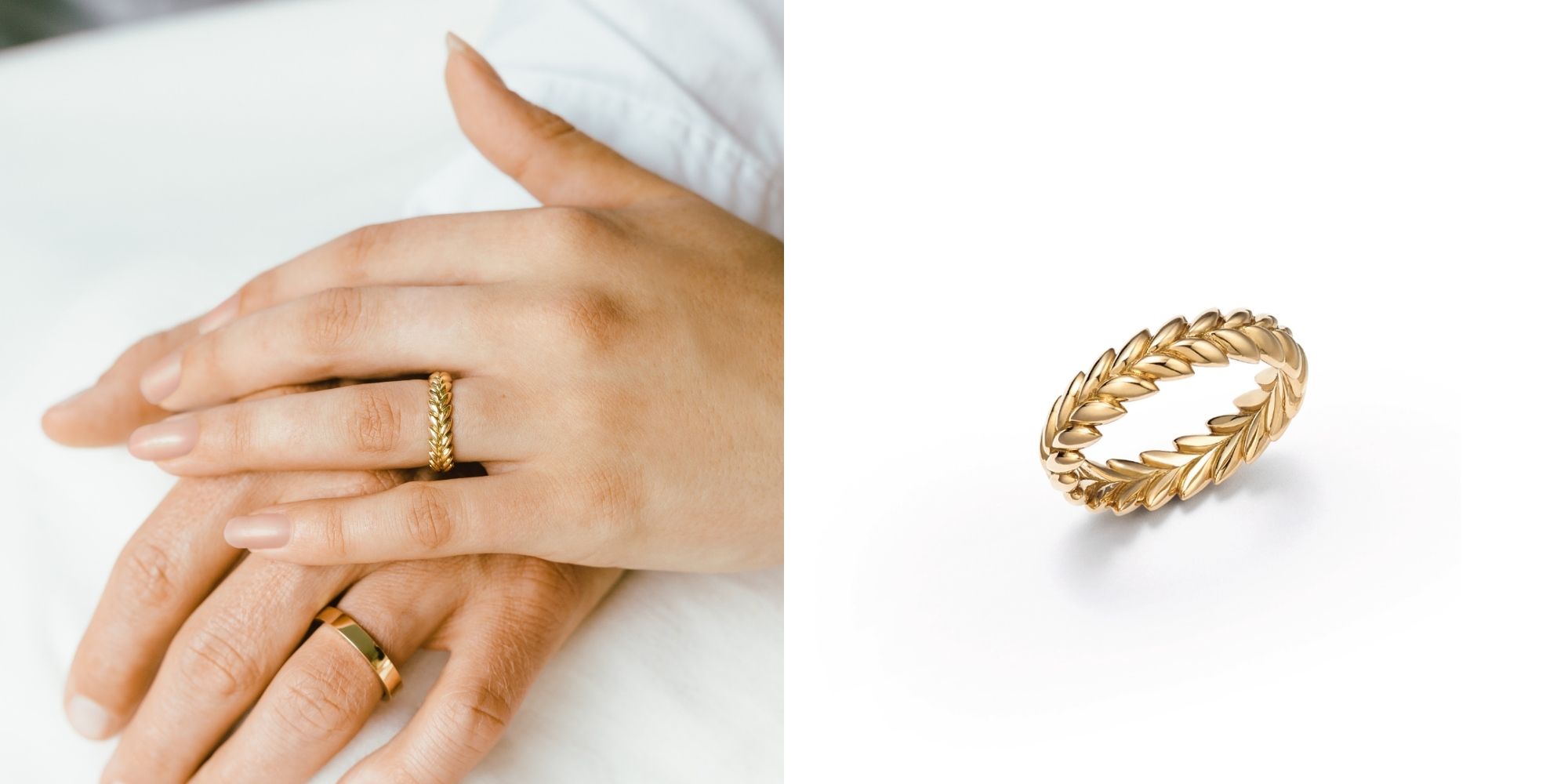 This stunning laurel wreath design was Inspired by the ancient Greeks, symbolising peace and victory. The Ethereal wedding ring is a timeless symbol of your love and will be treasured forever.
Finally, the Forever FUTURA collection is perfect if you love elegant stacking rings.