This is a sponsored article about a brand that was independently assessed by our rigorous ratings system. We're proud to only collaborate with "Good" and "Great" rated brands. Learn more.
Having your wedding dress custom-made by a brand like Dressarte takes the stress away from one crucial part of the wedding planning process and ensures a unique and memorable look and feel for your celebrations of love. 
Celebrate your love in your style
Weddings and wedding planning can be the most rewarding (and stressful) times of many people's lives, laced with decisions that will impact how The Big Day goes. When you're deep in planning mode, you'll eventually come to one of the most exciting—and stress-inducing—parts of the process: the dress. While wedding dresses are a relatively recent phenomenon, with people throughout history often simply wearing their best dress for the occasion, there's no denying how important they are to countless brides to be.
In the era of fast fashion, it's no surprise that brands like SHEIN are cashing in and pumping out cheaply-made, poor-quality wedding dresses. These are too often made by undervalued garment workers from environmentally-damaging materials like polyester. And while they may be appealing for a quick-fix wedding solution, there's nothing appealing about the prospect of leaving a trail of plastic beads or sequins in your wake as you walk down the aisle.
That's where Dressarte comes in, creating the custom-made wedding dress of your dreams. A custom-made wedding dress is a collaborative effort between you and the atelier where you design your dress together, down to every detail. With Dressarte, you can expect a smooth, low-stress, more sustainable process that is sure to become one of your favourite memories of the lead-up to your marriage.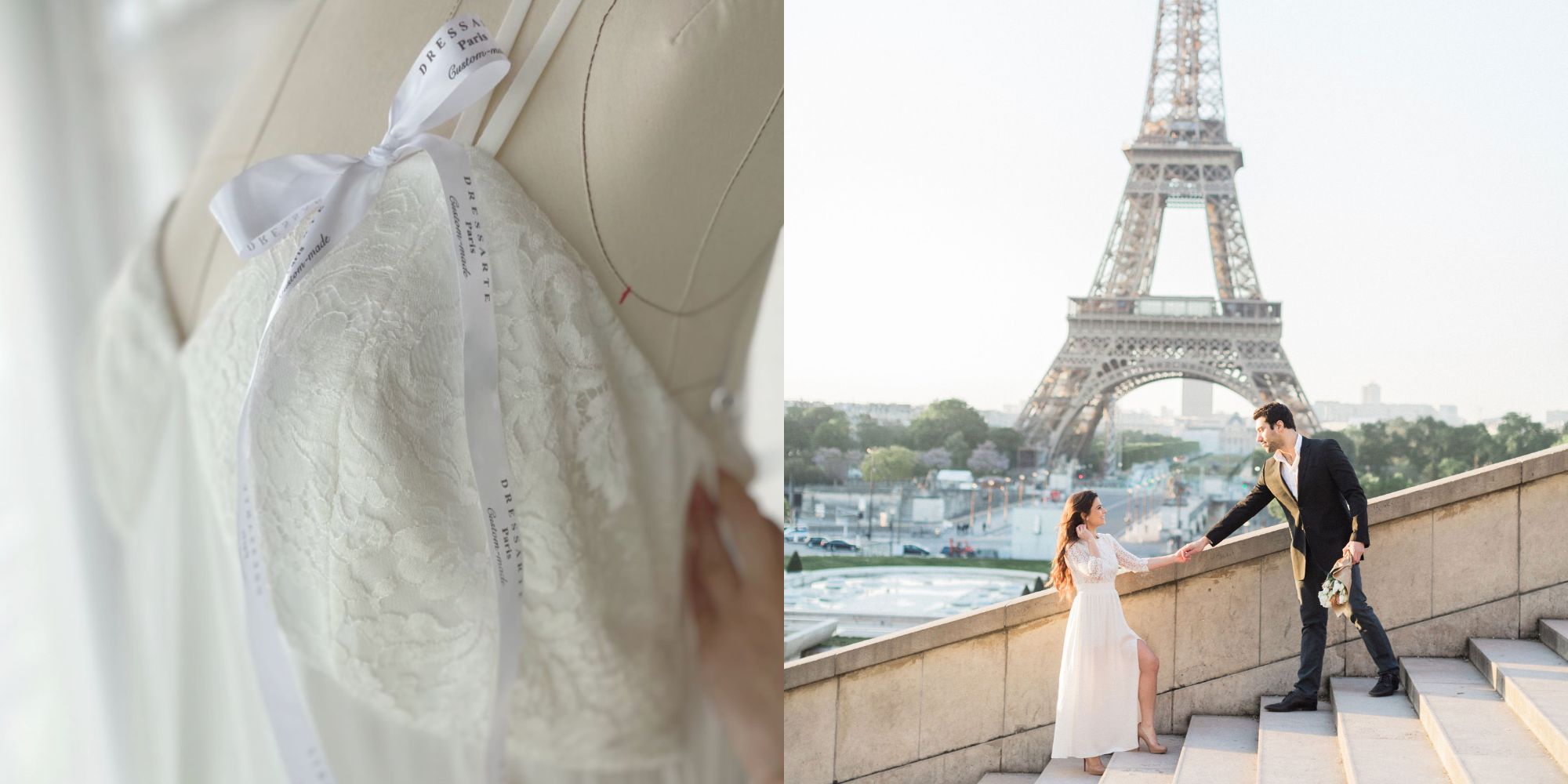 Reasons why custom-made wedding dresses are the way to go
1. The perfect fit
The best dress size is the one that makes you feel comfortable on your wedding day. The pressure of "fitting into the dress" can be a major happiness hurdle—and, let's be honest, weightist. Here's the truth of the matter: the dress should fit you, not the other way around.
By having your dress custom-made and working with the ateliers at Dressarte, simply providing them with a set of measurements and hashing out the styling details, you're sure to feel your very best in the dress when the day comes around.
2. Customisations galore
One of the best things about having your wedding dress custom-made is that you get to choose exactly how it looks.
While there is certainly a level of customisation available during traditional in-store fittings, the basic frame of the dress is already set, and often it's not quite right.
Starting from the ground up means designing the perfect look for you, 100% customisable from top to bottom. You can also extend this customisation to your bridesmaids or to the mother of the bride dress so they perfectly match your aesthetic dreams for the day.
3. Unique to you and yours
There's something special about being the first person in the world who gets to be married in this dress.
Sharing the story of creating your one-of-a-kind bespoke dress with your loved ones when the inevitable compliments come is sure to add an extra layer of joy to the experience.
You could even pass it down in your family as an heirloom to be realtered as needed.
4. Better for the planet
Made-to-order is a less wasteful business model in fashion and beyond that means not a single stitch is sewn until an order is placed. That means less waste from overproduction and offcuts and more customisation and connection to the piece—which is better for you and the planet.
Dressarte rates "Great" for the planet thanks to its use of lower-impact materials like deadstock and high-quality French and Italian fabrics.
5. Stress less
The process of creating a custom wedding dress might seem daunting at first. But with Dressarte's celebration of individual style, traditional craftsmanship, and cutting-edge technology, it might be the least stressful option. Here's what the experience entails:
Home fittings, meaning the entire process can go from start to finish without a single in-person element
Payment in several installations to help with budgeting
A dress pattern fitting and fabric swatches provided for peace of mind
A 3D wedding dress created to bring your design to virtual life before it hits the real world
Door-to-door delivery for your convenience
A simple process that bids adieu to the endless appointments of traditional fittings
6. Non-conventional route
While wedding dresses used to be worn several times throughout a person's life, these days it's typical to wear them once then leave them gathering dust (or moth holes) in the back of the closet for the rest of your days. One option that allows for greater rewearability, versatility, and sustainability is to opt for a non-traditional wedding outfit like bridal separates. This means you get two or more custom pieces that allow for more wears after the wedding day. Rather than spending all that for one event, you're investing in pieces that you can wear long after—mixing and matching with other pieces from your wardrobe.