If you aren't familiar with innovative ethical jewellery brand, ARTICLE22, that transforms weapons into wearable art—where have you been? Earlier this year, we shared the unique origin story with you, and now we're excited to tell you about some of the projects the team has been working on. Specifically, highlighting some of the pioneering people who have collaborated with ARTICLE22 in the moving Artists & Activists collection.
From the beginning, diversity and inclusivity have been of the utmost importance to co-founder Elizabeth and the team. Their exquisite collections wouldn't exist without the hard work of the local artisans in Laos who create them from detonated shrapnel and other aluminium scrap, and the myriad of humans who develop and inspire them. Their Artists & Activists collection was created in partnership with leaders across countless fields, and features limited edition pieces that are engraved with "hopeful messages that envision and inspire action toward a universally intersectional, just, and peaceful future. Like a bumper sticker or protest poster, each piece is a personal reminder of how we can unite around our shared beliefs to make a positive impact." ARTICLE22 is all about wearing your values for the world to see, and we can't get enough of it.
What's in a name?
Here at Good On You, one of the key criteria we address when rating brands is their transparency. We strongly believe that consumers have the right to know how the products they buy affect the issues they care about, and ARTICLE22 has been a pioneer in the ethical jewellery sphere for this very reason⁠—in fact, it's literally in their name.
"Article 22" comes from the 1948 Universal Declaration of Human Rights, and is about coming together through national effort and international cooperation to ensure everyone's right to social, economic, and cultural security—and the free development of personality. Essentially, this article is the definition of sustainability. It speaks to the balance of economic, social, and cultural factors. The brand takes it one step further by also including the environment as one of their core priorities. Since inception, ARTICLE22 has worked in a collaborative way with Lao artisans and the international NGO, MAG (Mines Advisory Group), to upcycle shrapnel and scrap into jewellery raising funds to, in turn, clear unexploded ordnance (UXO) from the environment.
Stories of transformation
ARTICLE22's jewellery and company, at its core, is about the possibility of transformation. Just as their Lao artisan partners sought to rebuild their lives by transforming detonated shrapnel and scrap into spoons in the 1970s, they have now expanded their craft to create the stunning pieces on offer today.
The leaders we work with are dedicated to transforming both themselves and the world in different and necessary ways. ARTICLE22 jewellery is a canvas for the messages of these expert guides who do the work daily that inspires and unites all of us on the quest for a better and sustainable future. These messages are deeply personal yet universally relevant.
ARTICLE22 has collaborated with an impressive and inspiring list of people since officially launching in 2013 (including our very own supporter and ethical fashion queen, Emma Watson), and their new collection shines a light on the work of a woman who lived in a tree for over two years, a tech founder and Miss Black America, two supermodels, the youngest woman to deliver a TED Talk, a surrealist artist, and a former child soldier—just to name a few.
Beatrix Ost – In your body is a good place to be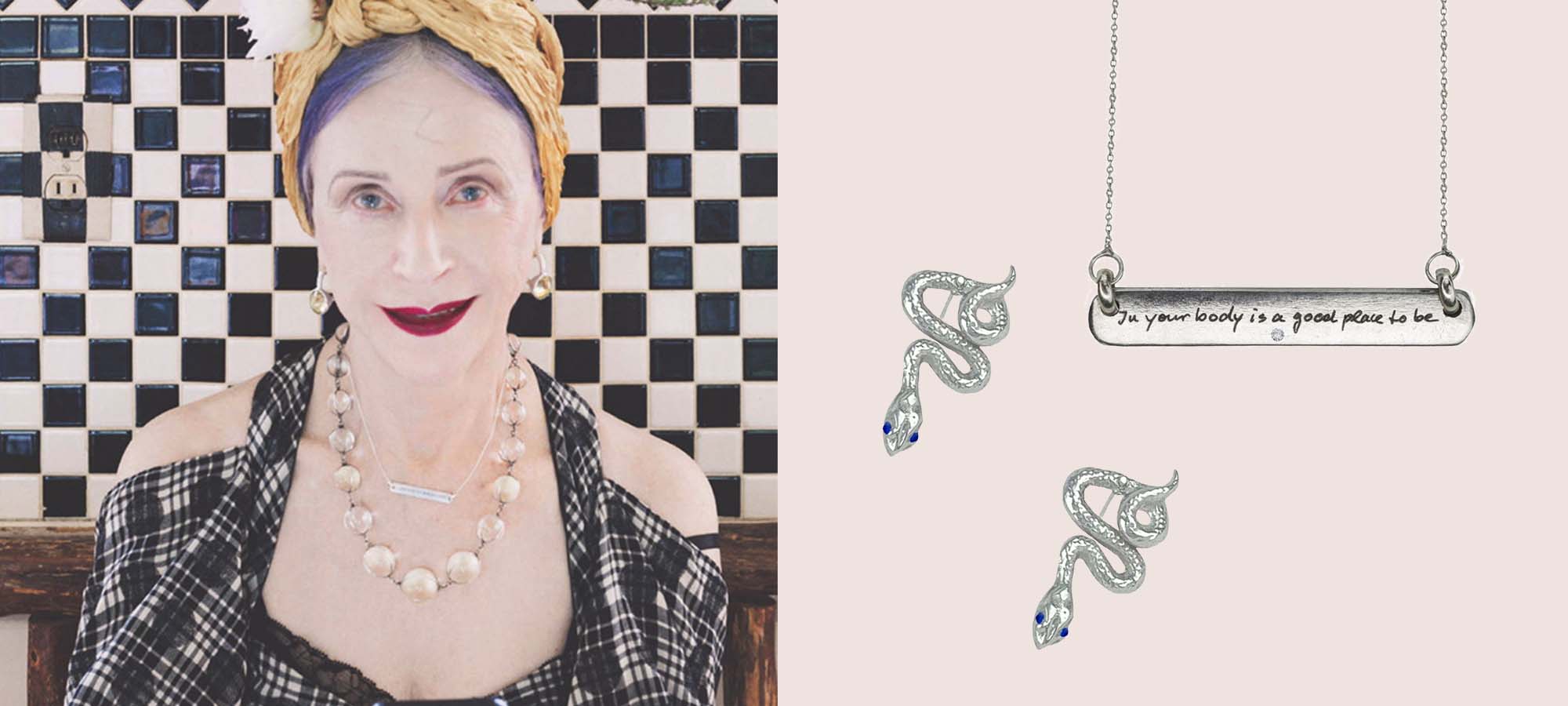 My feeling is that there does not have to be a compromise between your ideas and the objects you wear.

Beatrix Ost
Renaissance woman Beatrix Ost had skin cancer that left a devastating scar on her forehead. She decided she would embrace it by tattooing it purple. This transformation of personal horror into beauty immediately connected Beatrix to ARTICLE22 and led to the brand's first collaboration which took the designs a step further than the Peacebomb jewellery original collection. The first mantra bangle was born, inscribed with the touching and powerful message "in your body is a good place to be" which is about embracing the one and only body we have right now.
Shop Beatrix's Collection.
Angela Lindvall – I am love, I am light, I am peace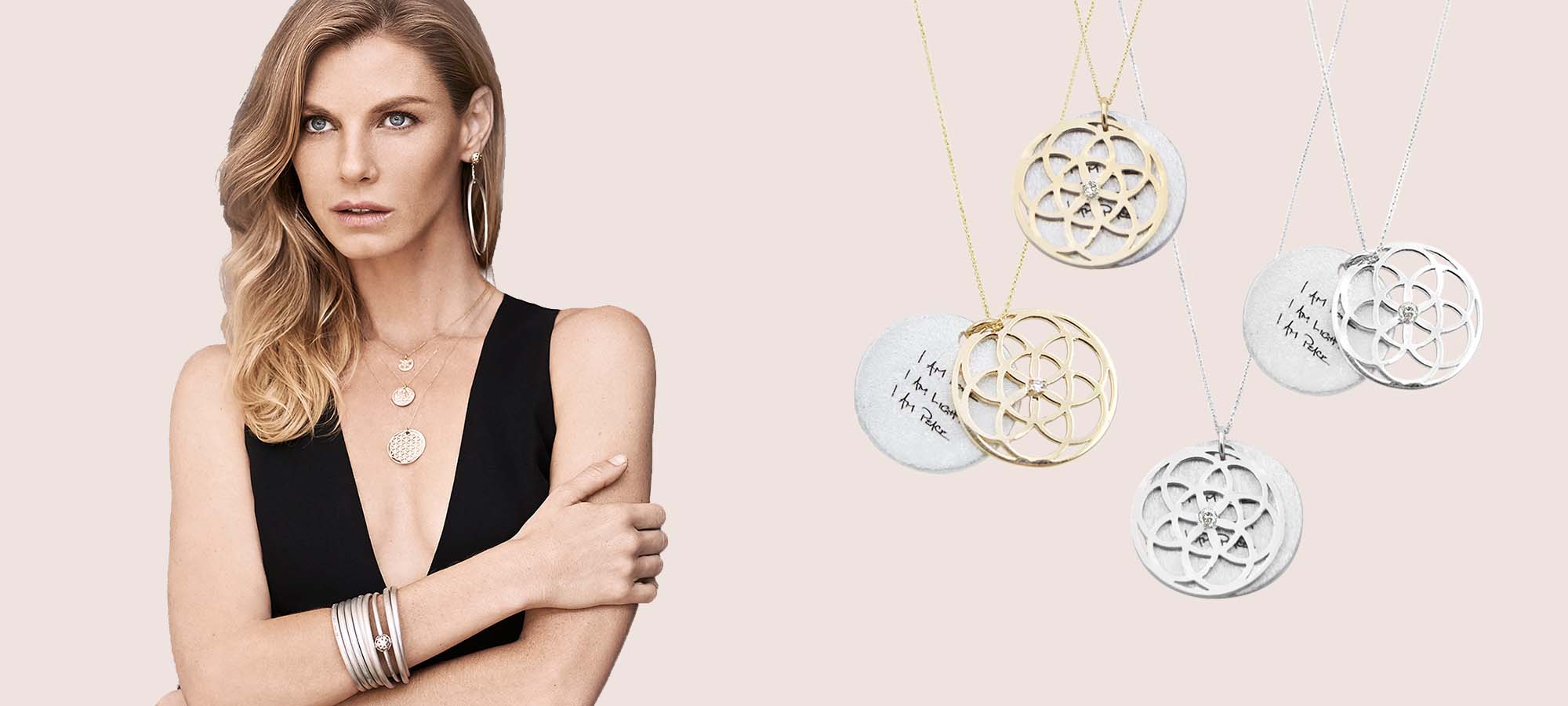 Each of us individually hold the highest space of love and light on a daily basis within ourselves, our actions will reflect this with others in acts of kindness. It is a simple thing we can each do to contribute to a better world.

Angela Lindvall
Model, mother, and wellness advocate Angela Lindvall partnered with ARTICLE22 to create a collection based on the sacred geometry which refers to the patterns that recur in nature which underpin our collective existence. The fine pieces finished with gold and silver spread the message that we can change the world together—starting with ourselves. This spiritual message is founded on the idea that peace first begins within through healthy doses of self-love and self-care.
Shop Angela's Collection.
Ryann Richardson – Take up space being your whole self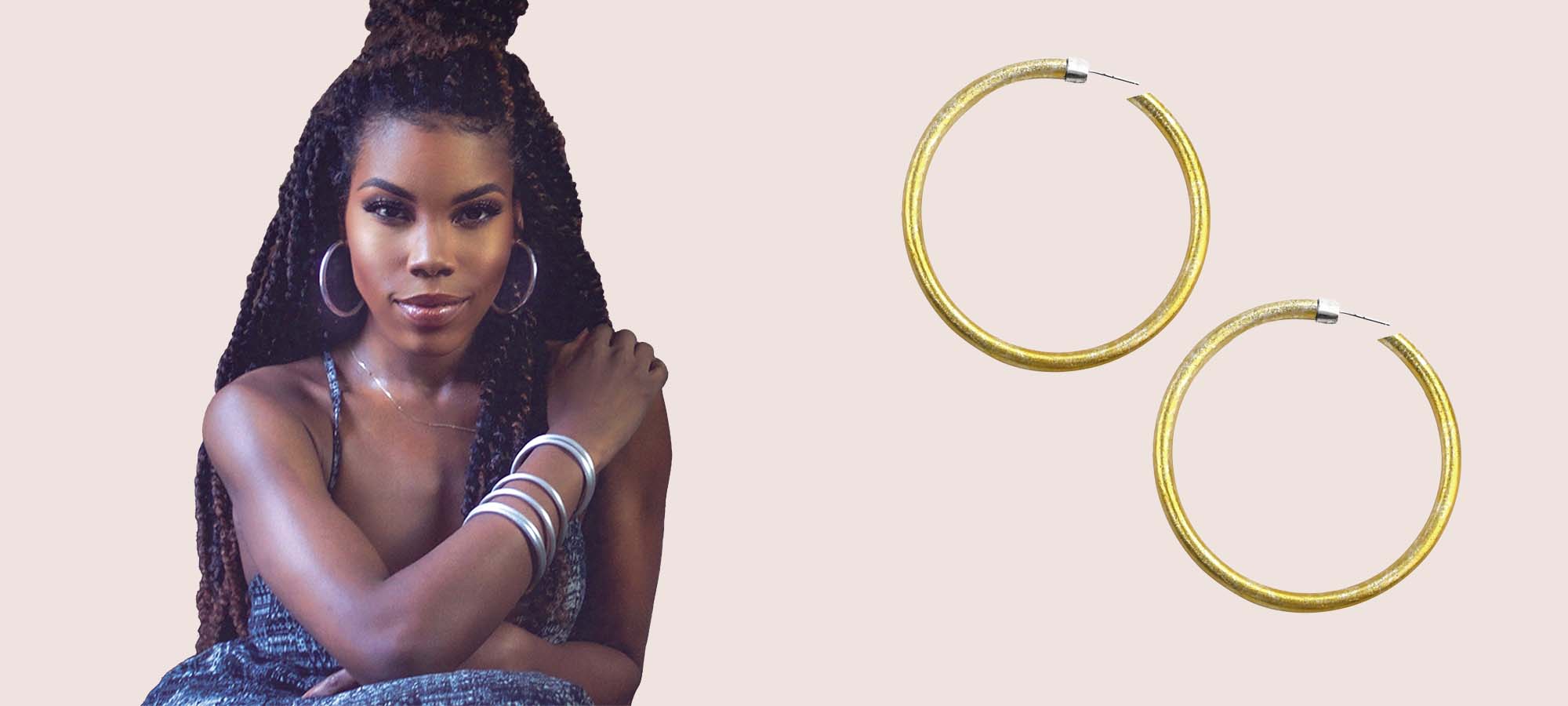 My mantra is my freedom and my self-granted permission to exist. This message is more than a daily affirmation. It's a call to action. It is a measure of self-care. It is an intentional act of rebellion. Embrace it. They will see you, whether they want to or not.

Ryann Richardson
Tech founder and Miss Black America, Ryann Richardson, is on a mission to change the fact that despite all its potential, the tech industry is failing marginalised communities. Her experiences with marginalisation and systemic inequality led her to create the #TakeUpSpace collection in collaboration with ARTICLE22, designed to encourage anyone who has felt marginalised to exist unapologetically. It is about being unapologetic about who you are and what you stand for. She says this is the only way you can do the work you are here to do. The stunning collection features two engraved bracelets and a pair of gold tinted hoop earrings.
Shop Ryann's Collection.
Kulap Vilaysack – Tell the story only you can tell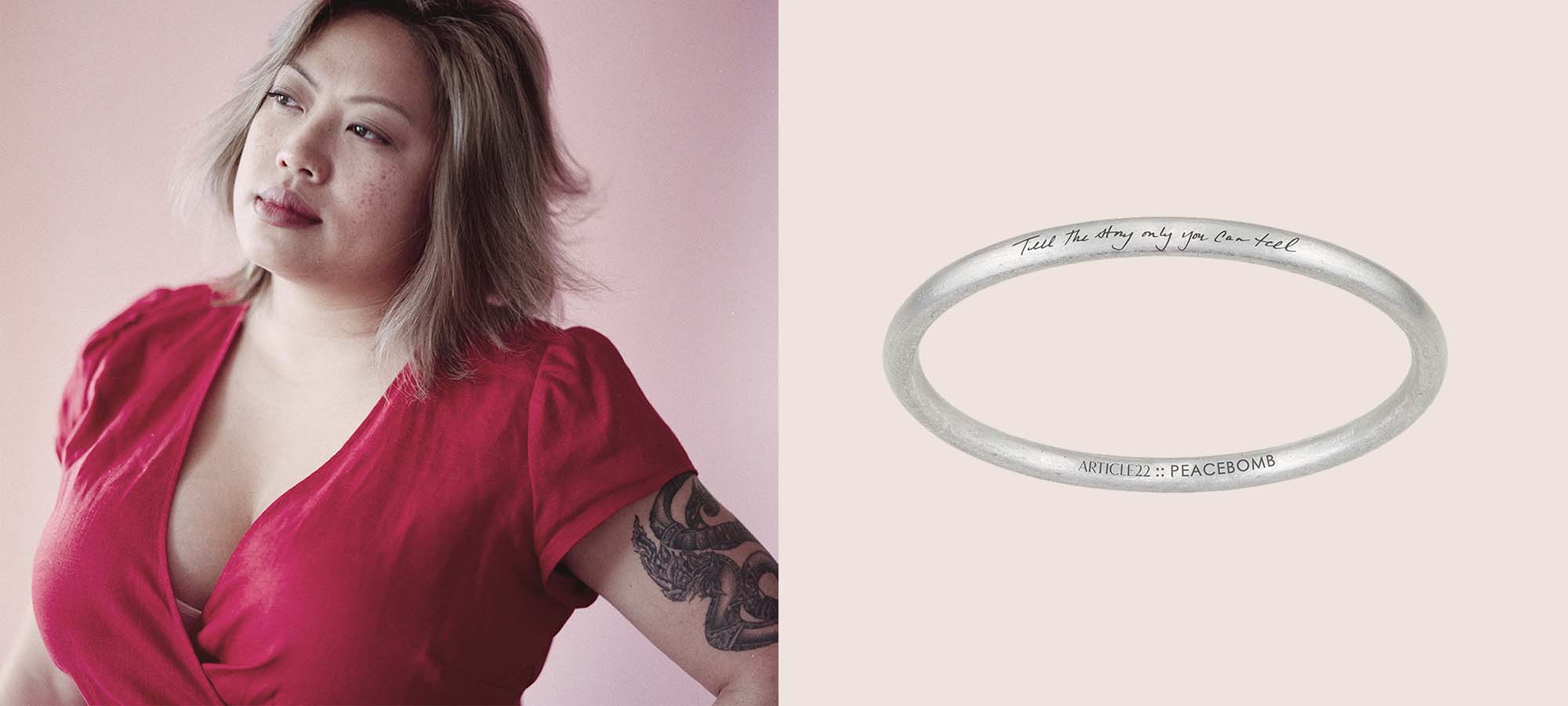 Origin Story is a deeply personal but universally relevant tale of immigration, conflict, addiction, and personal responsibility.

Kulap Vilaysack
Comedian and filmmaker Kulap Vilaysack is a child of refugees from Laos. While her story of finding the biological father she never knew is deeply personal, it is a sadly familiar tale for so many people around the world who have been displaced from their homes and families in one way or another. Kulap's humour and writing heal. She recounts the best advice she ever received – "…to write so much about me that it is
about us. Be so specific and detailed about your experience so that it becomes universally human. When you are general and keep to the surface, it's about no one." Her message is to "be brave" and encourage people to "tell us where you've been and show us who you are."
Shop Kulap's Collection.
Julia Butterfly Hill – Every choice counts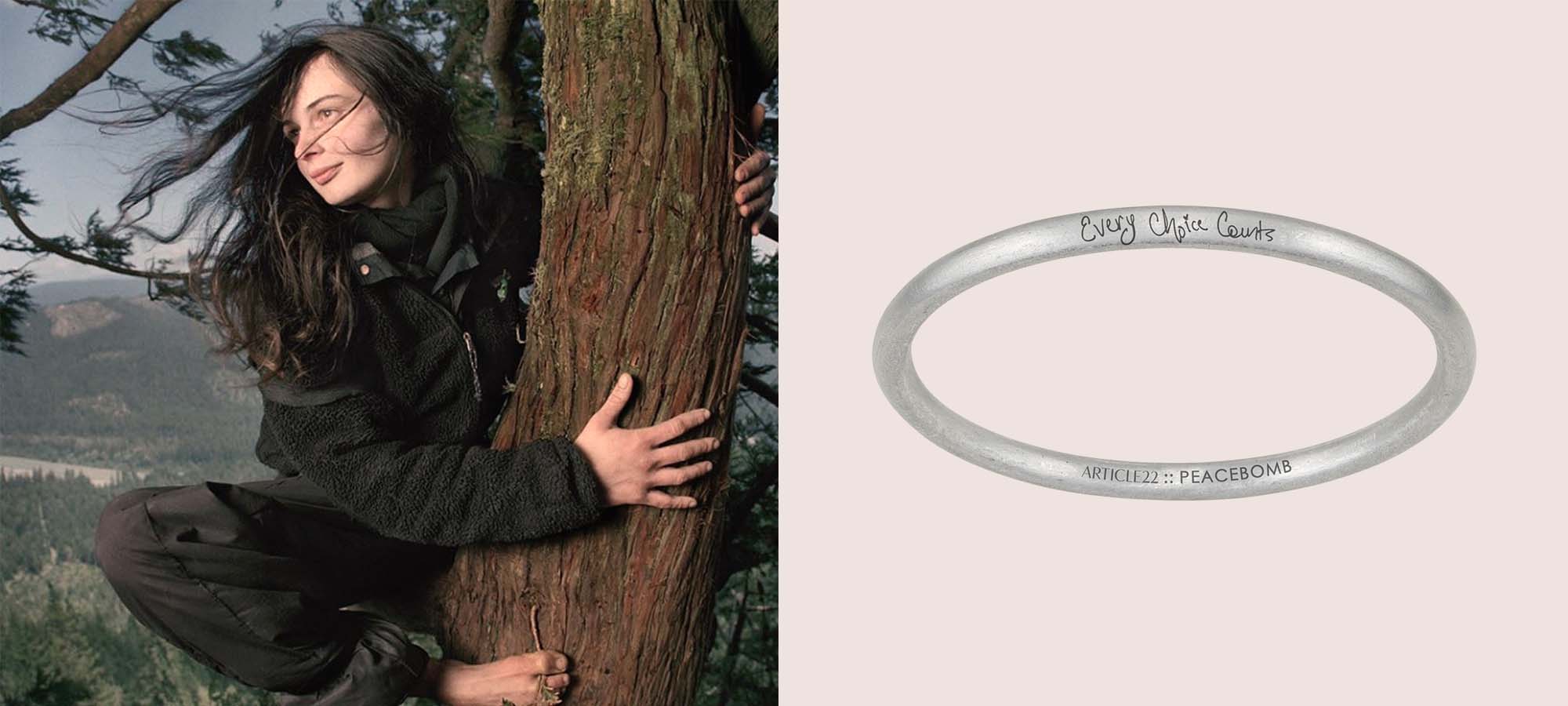 No matter who you are or where you are, there's a way for you to contribute and make a difference.

Julia Butterfly Hill
Activist and author Julia Butterfly Hill championed the tree huggers within us all as conscious consumers by living in an elder redwood tree known as Luna for two years without ever touching the ground. She did it to prevent the Pacific Lumber Company from cutting it down and logging the surrounding ancient grove. Up there, she learned better than ever that every choice counts. Every decision we make as individuals has an impact on the earth and all of its inhabitants, and it's up to us whether that impact is good or bad! This partnership encourages us to ask ourselves "What kind of a difference do I want to make with the life I have been given?".
Shop Julia's Collection.
Maya Penn – Love Mother Earth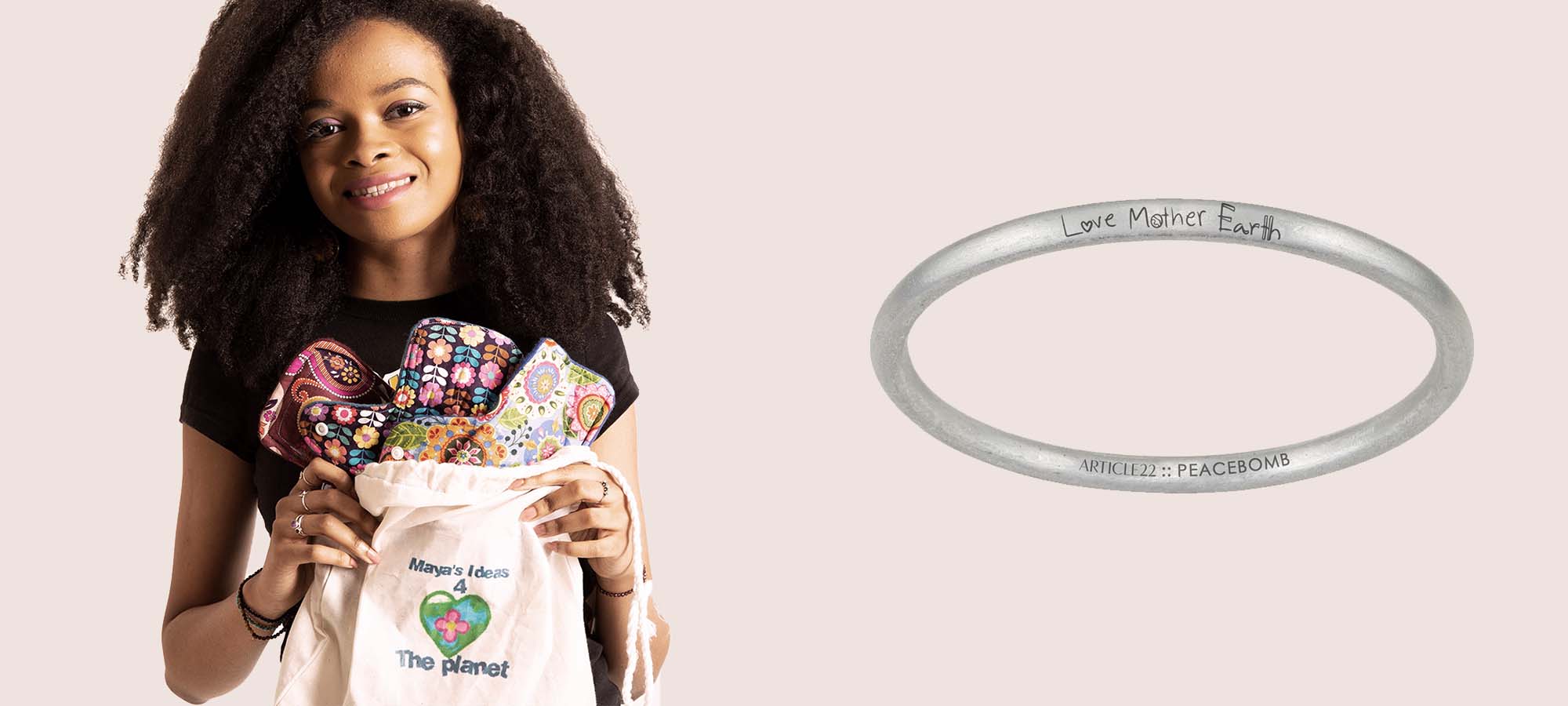 I always want to use art to make a positive impact on the world, to raise the vibration, and to bring inspiration or awareness to a cause.

Maya Penn
19 year old Maya Penn has been making waves since she was just eight years old. Maya is a three time TED speaker, artist, author, and entrepreneur named by Oprah Winfrey as her youngest Supersoul 100 thought leader. Her poignant message graces ARTICLE22 bangles – Love Mother Earth. As a sustainability consultant for major fashion brands, Maya lives her values and refers to her environmental advocacy as "second nature", looking back on her time spent with her mother and grandmother in the family's garden. This piece serves as a message to not take Mother Earth for granted, and to remember that just as she has given so much to us, it is imperative that we give back to her in any way we can.
Shop Maya's Collection.
Transformation is possible, but it takes work both individually and collectively, and requires partnership and unity. ARTICLE22 embodies this not only through the way they transform weapons and scrap into symbols of love, but also through their partnerships with leaders who have stories to tell and jobs to be done.