Our editors curate highly rated brands that are first assessed by our rigorous ratings system. Buying through our links may earn us a commission—supporting the work we do. Learn more.
They may have been around since 1949, but lately, the Adidas Samba sneakers have blown up. And while Adidas comes out as "It's a Start" on our directory, there are more sustainable alternatives to the viral shoes that might better match your morals while still embodying the casual-cool style.
Why not just buy the originals?
Sportswear giant Adidas has been selling out sneakers for three-quarters of a century. Known most notably for its iconic Stan Smith sneakers, logo sweaters, tees, and sportswear, and worn by athletes and celebrities worldwide, there's no denying the brand's popularity. But how are its ethics?
Our directory places Adidas smack bang in the middle with an overall rating of "It's a Start". It has made some progress in sustainability since its inception in the 1940s, but there is still room for improvement. For example, it uses some lower-impact and recycled materials, but it's not clear whether it's on track to meet its greenhouse gas emissions target. It's also relatively transparent, scoring 51-60% in the latest Fashion Transparency Index. And while it has some policies in place to protect workers and animals in its supply chain, there's certainly room for improvement in these areas as well.
What is it about the Sambas, anyway?
The Sambas are second only to Stand Smiths in the history of Adidas' best sellers, and for good reason. Categorised by their tasteful, low-profile silhouette and gum sole that makes them a staple style in everyone's closet, the Sambas have been worn by footballers, celebrities, schoolkids, influencers, and everyone in between since their release.
They've seen a particularly impressive resurgence in the era of Y2K comebacks in recent years and have flooded social media this summer, gracing the feet of "Rihanna, Kendall Jenner, Kaia Gerber, Bella Hadid, Laura Harrier, Jennifer Lawrence, Katie Holmes, Zoë Kravitz, and so many more", according to Who What Wear.
So, if you're keen on the style that's making splashes but prefer to support better brands treating people, the planet, and animals with the high standard of care they deserve, these alternatives to Adidas' Sambas might do the trick. And remember to care for your sneakers so they can stay trendy in your own rotation for years to come.
Better brands making shoes like Adidas Sambas you'll love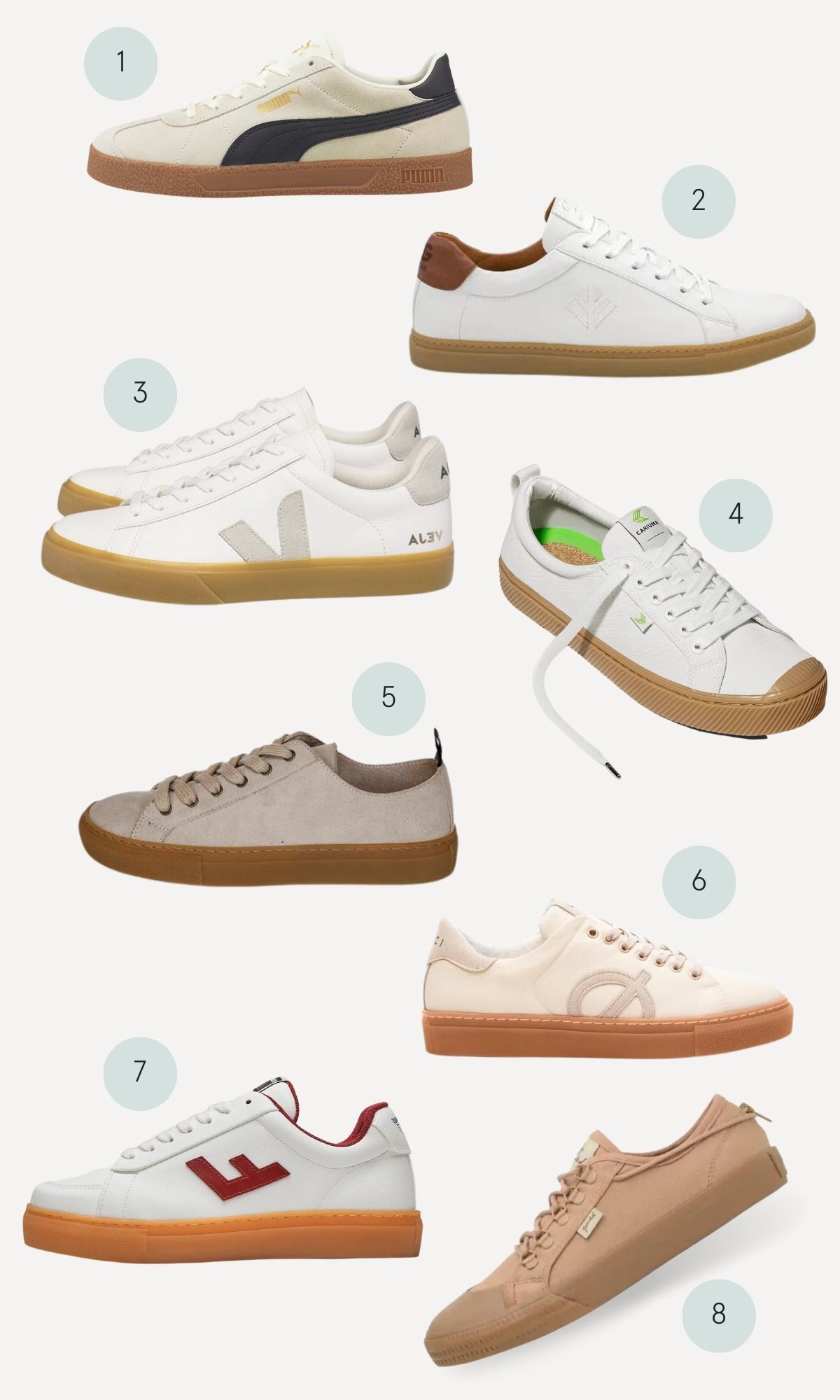 1. Club Sneakers (Puma)
2. Winton Sneakers (COG)
3. Campo Chromefree Leather Sneakers (Veja)
4. Off-White Gum Canvas (Cariuma)
5. SAMO Vegan Low Top Sneakers (Good Guys)
6. Origin x Reed Recycled Sneakers (LOCI)
7. Classic 70s White Grape Toffee (Flamingos' Life)
8. Matao Sneakers (Grounded People)
Our editors are fans of the more sustainable brands listed above, but they may not meet your current needs. They may be out of your price range or don't stock your size. If you really need something and a product from a brand rated "It's a Start" seems the best option, then you might have questions about the "It's a Start" rating.
In short, "It's a Start" means just that—the brand is making a start. Good On You's middling rating indicates that the brand has a long way to go but is also doing more than its competitors. Adidas is already ahead of comparable brands. And if your options are Adidas or, say, Lululemon, which is making little to no effort for people, the planet, and animals, Adidas is a clear winner—progress over perfection.
You can also reach out to brands that need a little nudge in the right direction. If enough customers demand change, brands that truly care about their impact will have no choice but to respond in kind. Check out the "Your Voice" function on the app or slide into their DMs on social media to let them know what you think.