This is a sponsored article about a brand that was independently assessed by our rigorous ratings system. We're proud to only collaborate with "Good" and "Great" rated brands. Learn more.
Meet Terra Thread, a responsible bag and apparel brand with a mission to lead a transformation in organic cotton farming and give consumers better, more planet-friendly choices for everyday essentials.
The father-daughter duo with an impactful mission
When Vizan Giri and her dad, Vikrant Giri, witnessed the devastating effects of fast fashion, they were inspired to create products that could have a long-lasting positive impact on the planet. Originally from Nepal, the pair launched Terra Thread in California in 2017. The mission-led brand specialises in organic cotton bags, accessories, and apparel, all of which are made in Fair Trade Certified™ factories in India.
"As an immigrant from Nepal, I have always been connected to South Asia," Giri tells us. "Through Terra Thread, I've been able to connect further with my heritage as all the cotton is sourced from organic cotton farms in India, and the bags are made in Fair Trade Certified™ factories in India as well."
As an immigrant from Nepal, I have always been connected to South Asia. Through Terra Thread, I've been able to connect further with my heritage.

Vizan Giri – co-founder
Driven by a passion for social and environmental justice, coupled with the realisation that there was an almost total lack of sustainably-produced and affordable backpacks and bags on the market, Giri and her father are proud of the work their brand has achieved so far and the products they offer.
Let's dive into Terra Thread's work for people, the planet, and animals, and check out some of our editors' favourites from their range.
Planet: certified organic cotton
Terra Thread's environment rating is "Good". The brand uses only lower-impact materials to make its products, including Global Organic Textile Standard (GOTS) cotton. GOTS certification ensures organic cotton is grown without harmful chemicals, and the production process meets strict environmental and social standards, which is crucial for the brand's founding mission.
Initially, the brand debuted a unique collection of bags and accessories using only organic cotton. While much of the industry relies on petroleum-based polyester and nylon to create similar products, Terra Thread wanted to create an alternative by working across a supply chain that regenerated the earth instead of polluting it. As a result, Terra Thread's products are all plastic-free, down to the packaging. Avoiding the use of unnecessary packaging like packing slips, packing peanuts, and excess paper, customers only receive the products they order.
Most recently, the brand added a limited collection of organic cotton t-shirts and hoodies made from cotton farmed with regenerative practices, perfect for building out your conscious wardrobe.
People: regenerative farming projects
On the labour front, Terra Thread also scores "Good". Mission-driven from farm to factory, the brand sources its Fairtrade cotton from family farmers in India who rely on rain-fed agriculture, a step up from irrigated farming. All of its products are then manufactured in Fair Trade Certified™ factories in India, where skilled hands turn the cotton into bags, laptop sleeves, and clothes. The brand also audits and traces its entire supply chain, ensuring transparency and accountability throughout production.
The brand's biggest achievement has been its work with cotton farmers in India. In 2022 along with its parent company, Gallant, and its partners in India, Terra Thread helped transition over 700 farmers across 3500 acres to grow regenerative organic cotton, making it the largest cotton project of its kind in the world.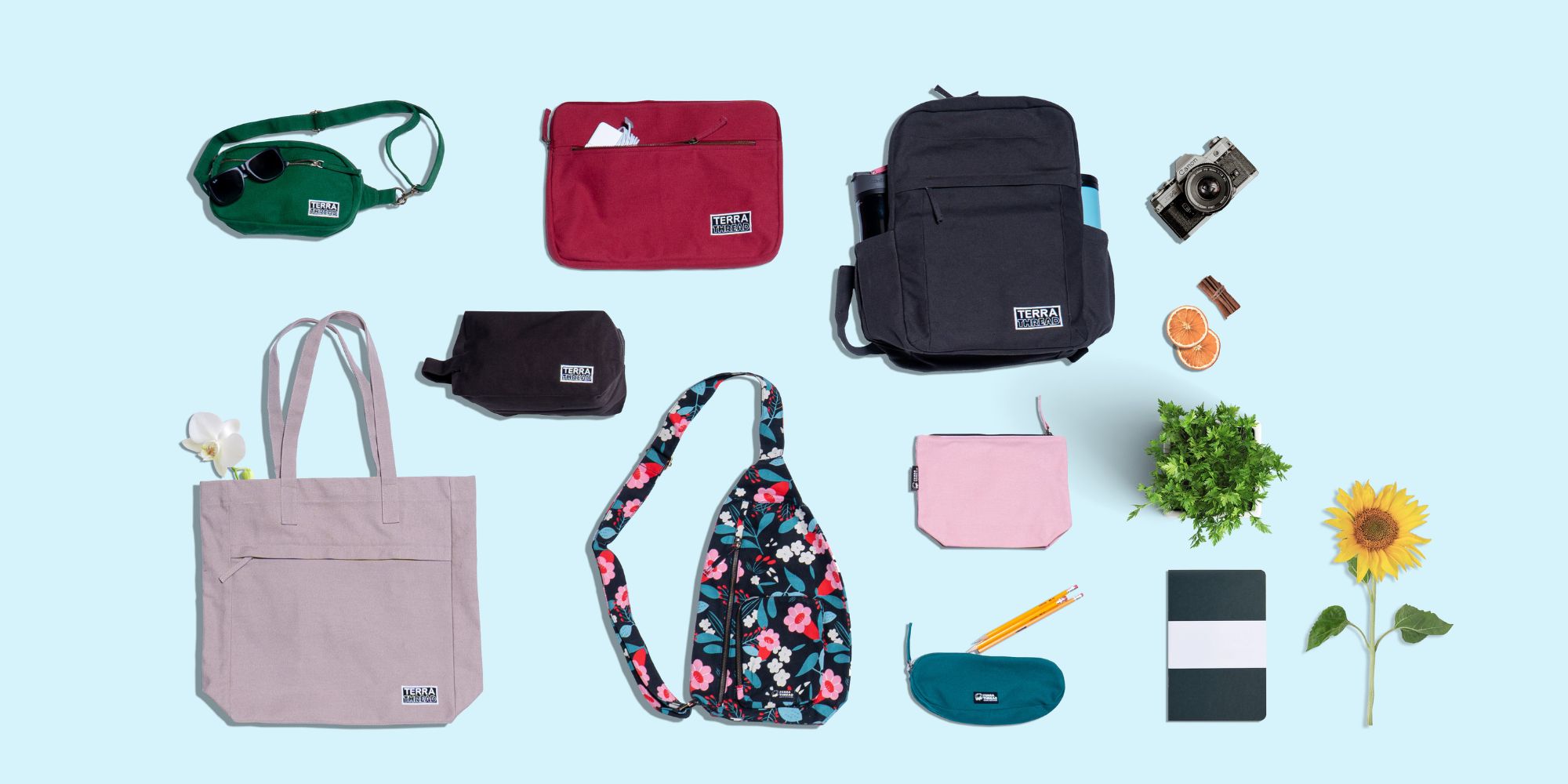 Animals: 100% vegan
Finally, Terra Thread gets our highest score of "Great" for animal welfare. The brand states that its entire product range is vegan, meaning it does not use animal-derived products in its production process. Vegan fashion is becoming increasingly popular among consumers concerned about animal welfare, and Terra Thread is leading the way in providing more sustainable, cruelty-free fashion options to the world.
Overall rating: Good
Overall, we're happy to award Terra Thread "Good" for its efforts for people, the planet, and animals. Terra Thread's sustainability efforts are commendable, particularly its focus on using organic and regenerative cotton and responsible manufacturing practices that help farmers.
"We know that climate anxiety can make us wonder if our one action is really going to create any change in the world," Giri shares. "But by shopping from companies that are truly investing in their supply chains, and treating them as partners, you can support a more regenerative landscape." Hear, hear.
Top picks from Terra Thread's collection
One of Terra Thread's big goals has been to make its products as affordable as possible while still maintaining a high quality and fair working conditions: "We realise that a lot of responsible brands are on the pricey side, and that's often the feedback we've heard from consumers: 'We would love to support, but it's just too expensive for us.'"
Terra Thread wants to change that narrative and offer customers an option for a more sustainable and affordable product. Not to mention, the products look great, too. Here are our editors' favourites from the brand's collection across bags and apparel.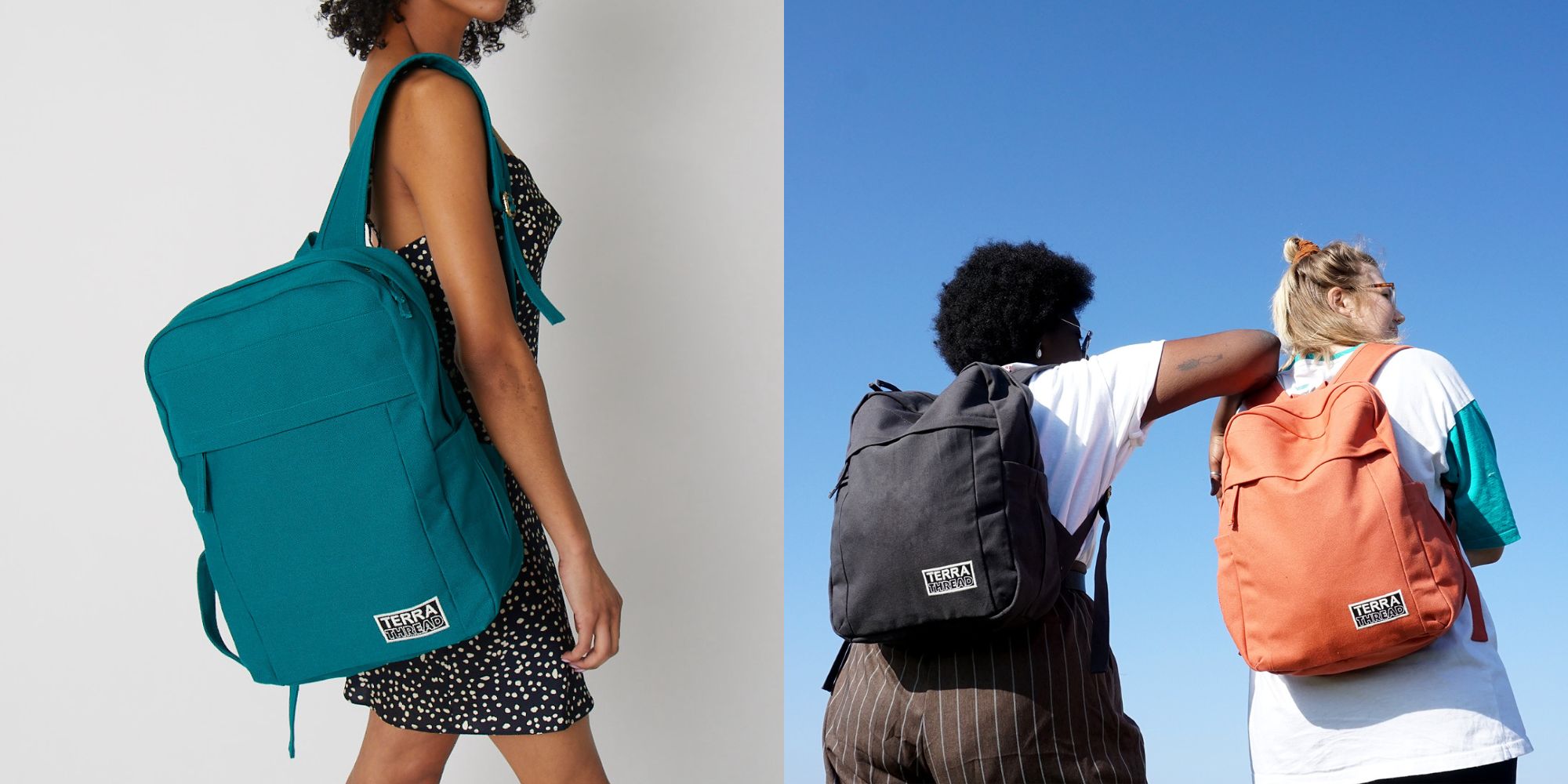 Looking for a responsibly-made backpack for college, work, travel, hiking, or other outdoor activities? Terra Thread's spacious and durable Earth Backpack is the workhorse of its line, built for everyday carry with heavy-duty 14-oz certified organic cotton canvas that is made in a Fair Trade Certified™ Factory.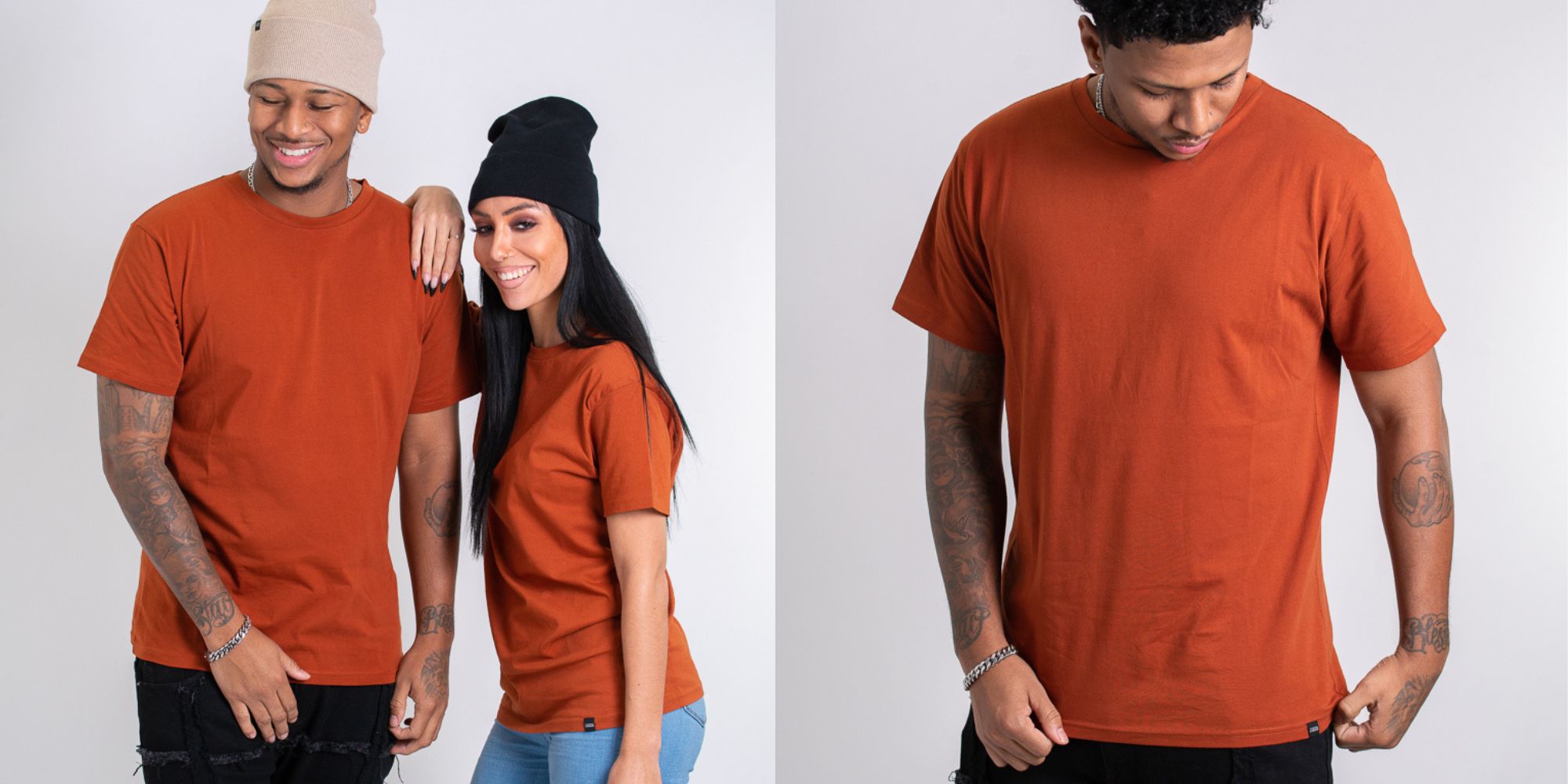 These regenerative organic cotton t-shirts could be your new everyday uniform. They are durable, thick, soft, and available in an all-gender design.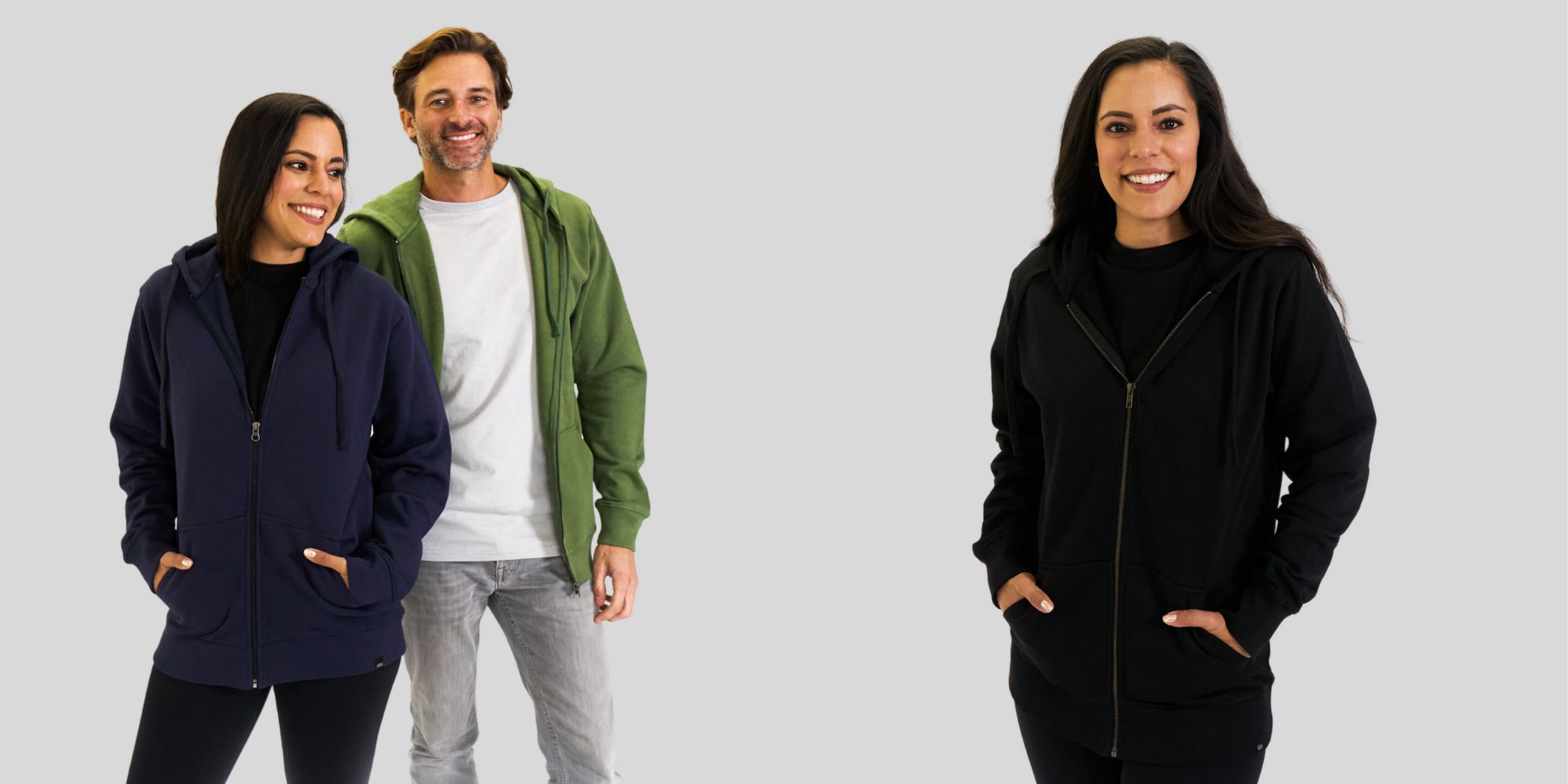 The regenerative organic cotton Zip-Up Hoodies provide that extra layer of warmth. Dress up or down for a comfortable classic fit. Now made more consciously with an all-gender design.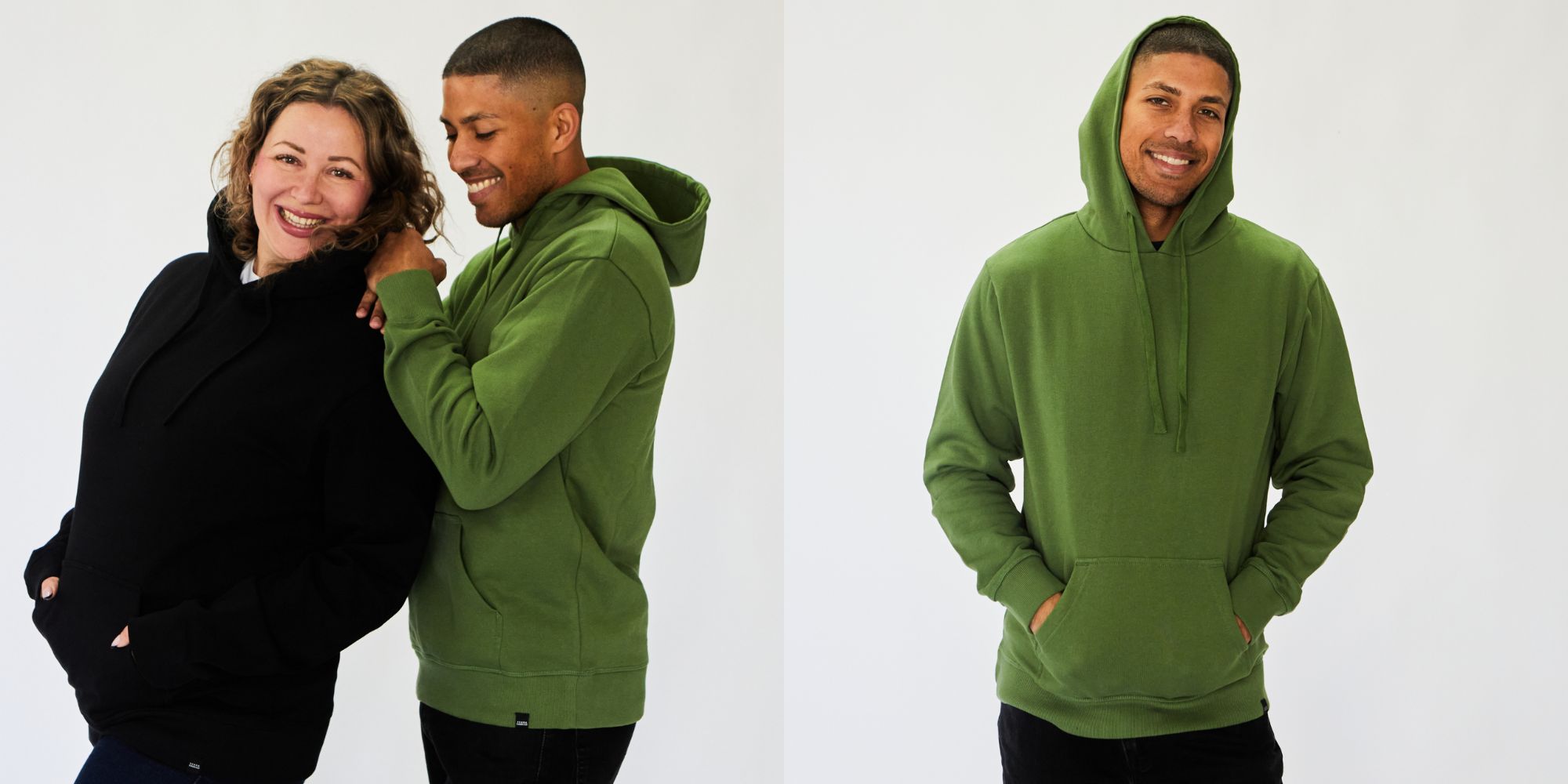 These regenerative organic cotton pullover hoodies are like a hug: cosy, snuggly, and made with heavyweight cotton to keep you warm even on chilly days. Perfect for student life, the casual errand run, on a long-haul flight, or as an after-workout layer.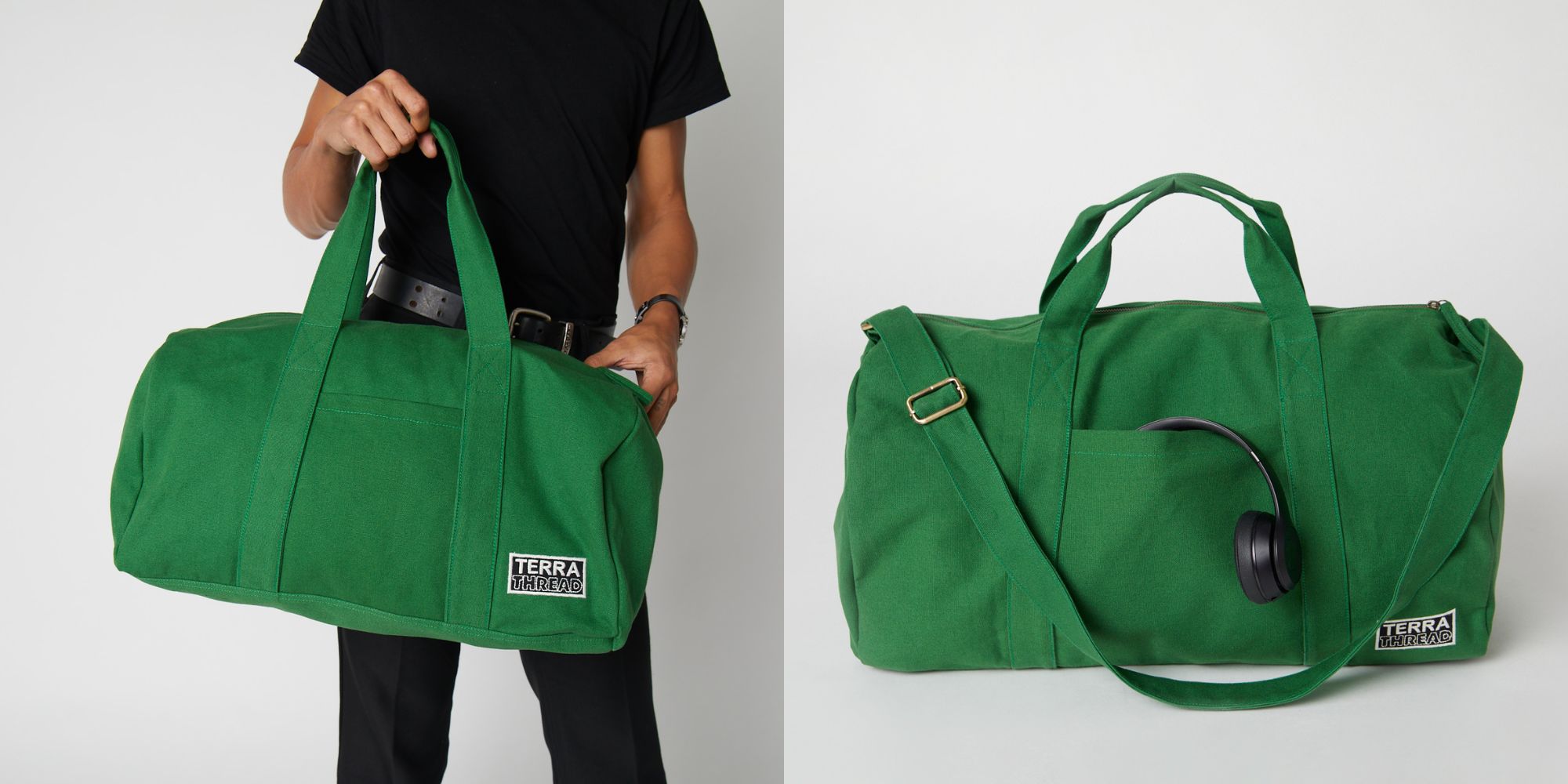 Nothing beats the simplicity and functionality of a good duffel bag—except maybe a certified organic cotton duffel bag made with the good of the environment and people in mind. Durable, versatile, and made with 14-oz heavy-duty Fairtrade organic cotton canvas.
The Executive is the perfect tote bag for work. It's large enough to fit all your office accessories, sturdy enough to stand on its own for easy loading, it's a snap to open and close, and it's made with Fairtrade organic cotton.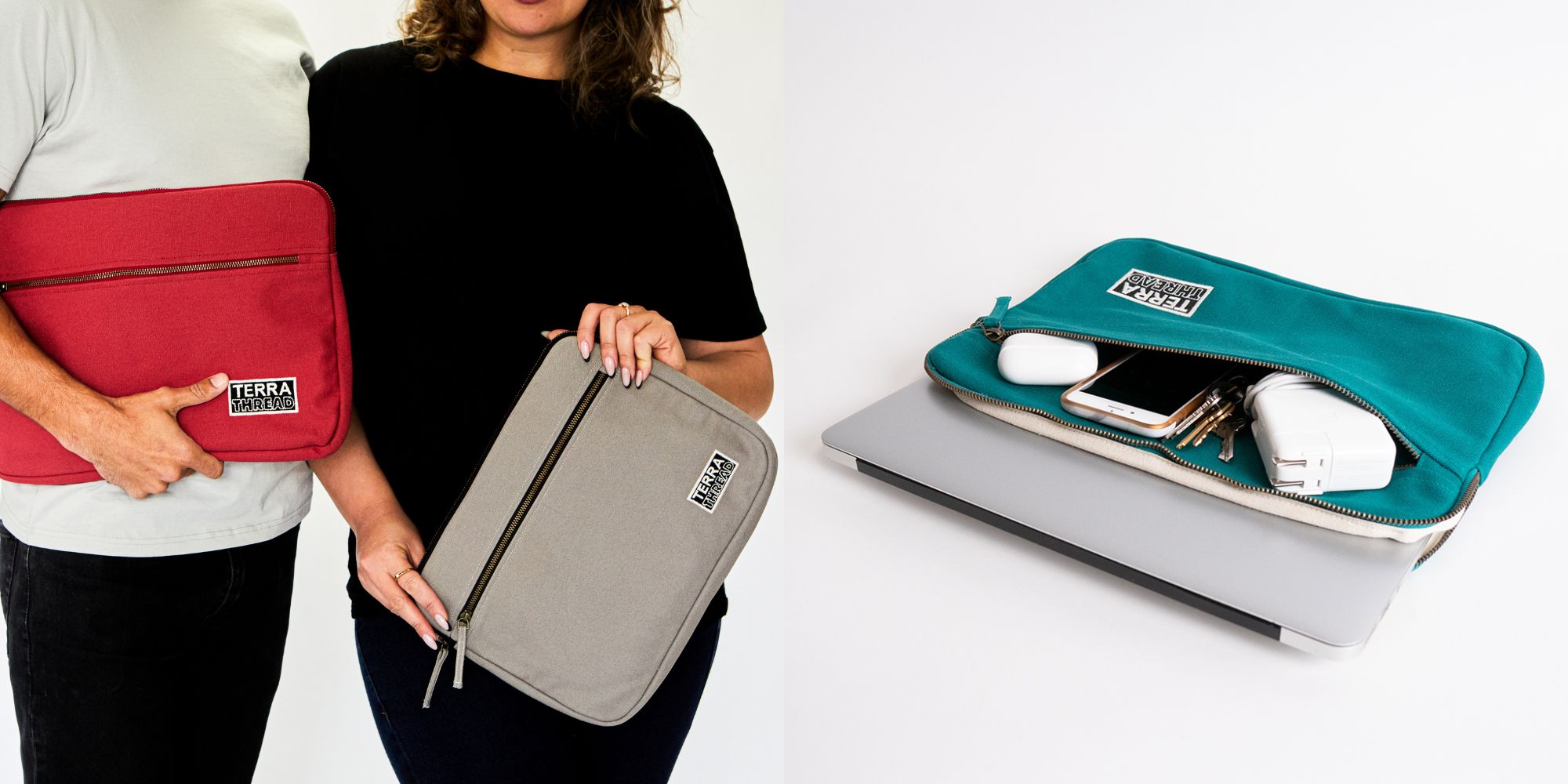 Your laptop is an investment—not only in dollars, but also in the human and earth capital that goes into its making. Protecting your tech and keeping it in use for as long as possible is an important way of reducing its impact on the planet. Made with 14-oz organic cotton canvas and lined with organic cotton fibre for padding and softness.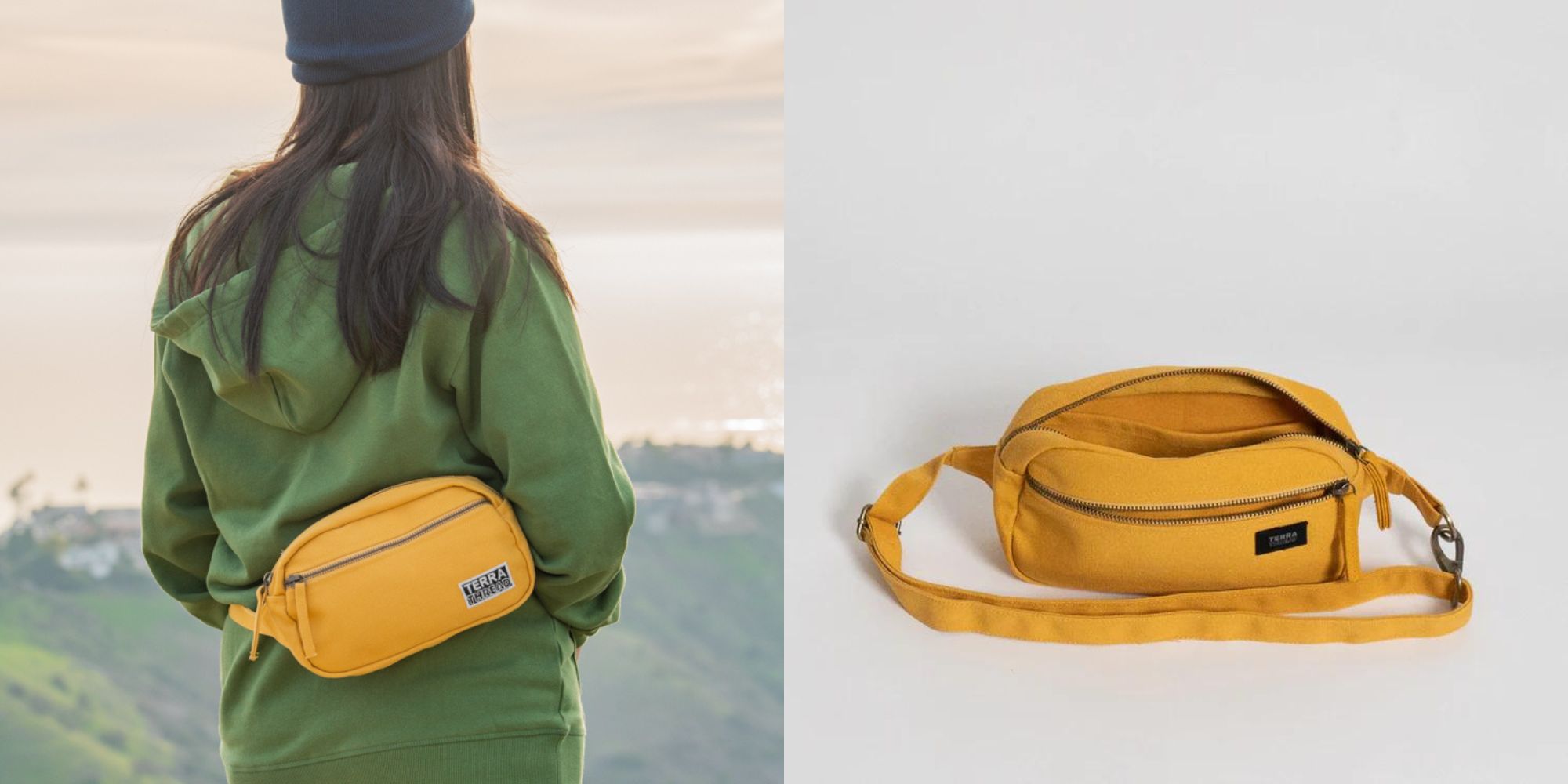 Not too big, not too small, wearable on your hip or as a tiny sling bag—the Cadera Fanny Pack is ready to roll when you are. Pack your essentials in this lower-impact fanny pack made with organic cotton canvas when you want to move through the day with your hands free.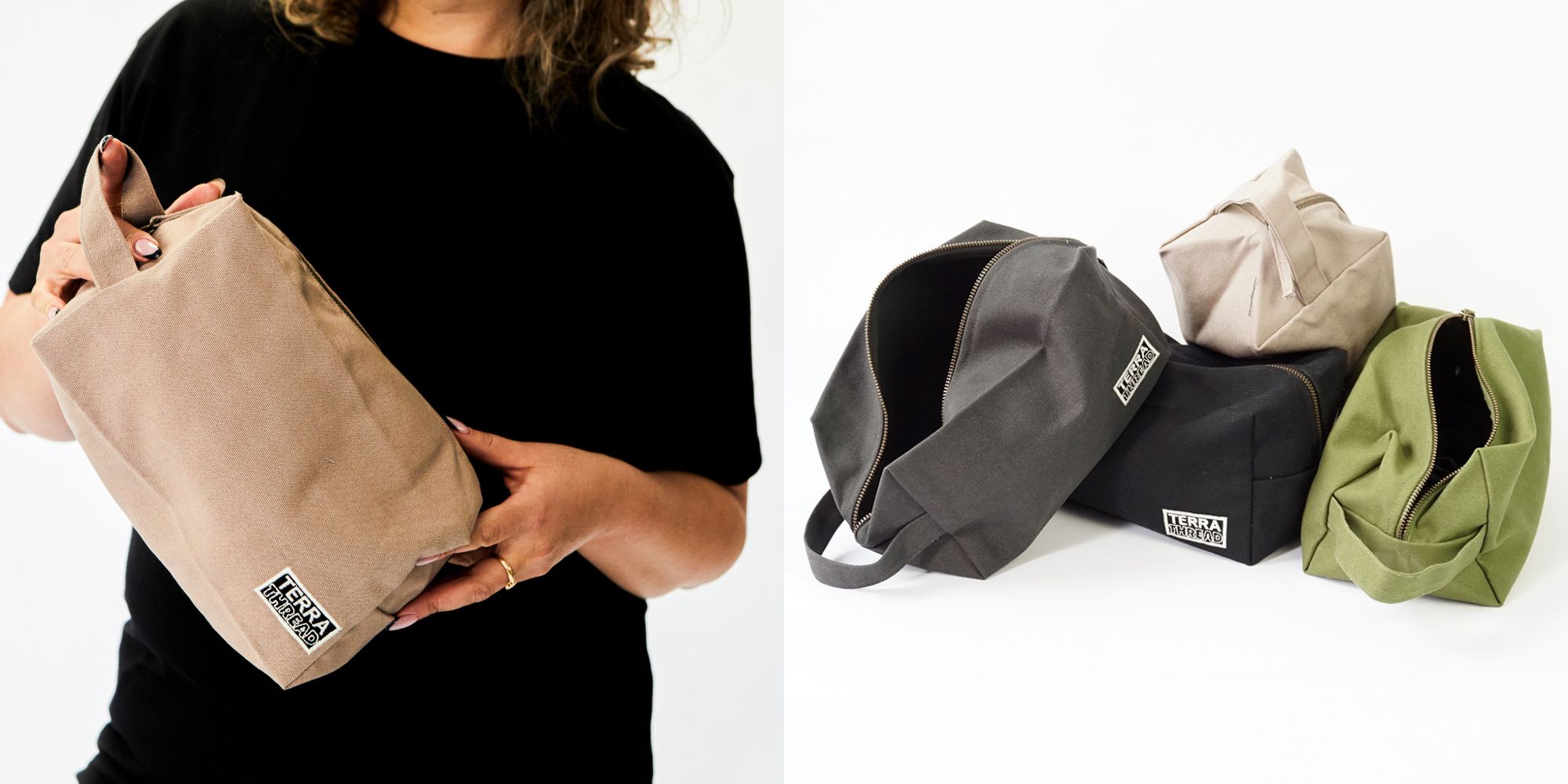 This heavy-duty toiletry bag is made from 14-oz Fairtrade organic cotton. It's a real workhorse for its size, offering 4.5L of storage for toiletries, cosmetics, or any other gear you want to wrangle and organise.