This is a sponsored article featuring brands that have been independently assessed by our rigorous ratings system. We're proud to only collaborate with "Good" and "Great" rated brands. Learn more.
Every month, our team puts their heads together to find the best clothes, shoes, and accessories made by responsible brands you'll love. Here's Good On You's team picks for November.
Changing seasons, changing wardrobe needs
As the seasons transition, the team at Good On You is adapting to the changing rhythms of life. Some of us find solace indoors, cosying up by the fire, while others embrace the crisp outdoor air. The fortunate few in the southern hemisphere seize the opportunity to visit the beach more often. This month, our curated picks reflect the team's evolving needs, offering a range of responsible clothing, shoes, and accessories to keep you comfortable and stylish through the shifting landscapes of the season.
As pioneers in sustainable fashion ratings and education, Good On You's team is dedicated to helping consumers make better shopping choices. In this monthly roundup, our internal experts from every corner of the company share their personal selections from "Good" and "Great" rated brands. This curated compilation spotlights products that both align with our sustainability criteria and are just great pieces we're excited to share with you.
Why you can trust our recommendations
At Good On You, we provide trustworthy recommendations that align with your values and needs. Our mission is to simplify informed choices while embracing the "buy less, buy better" motto.
To ensure credibility, we aggregate comprehensive, transparent information on fashion sustainability—assessing brands using our leading methodology, developed by diverse experts. Our ratings directory of over 5,000 brands employs a simple five-point scale, curating a list of "Good" or "Great" brands making significant contributions to sustainable fashion.
Our editorial team, driven by expertise and passion, carefully reviews and approves each recommendation, upholding high standards of quality, longevity, and trend-transcendence.
While we recognise the value of reusing, mending, and second hand shopping, our expert ratings system guides you toward new brands aligned with your values and sustainability goals.
Our team's 12 favourites this month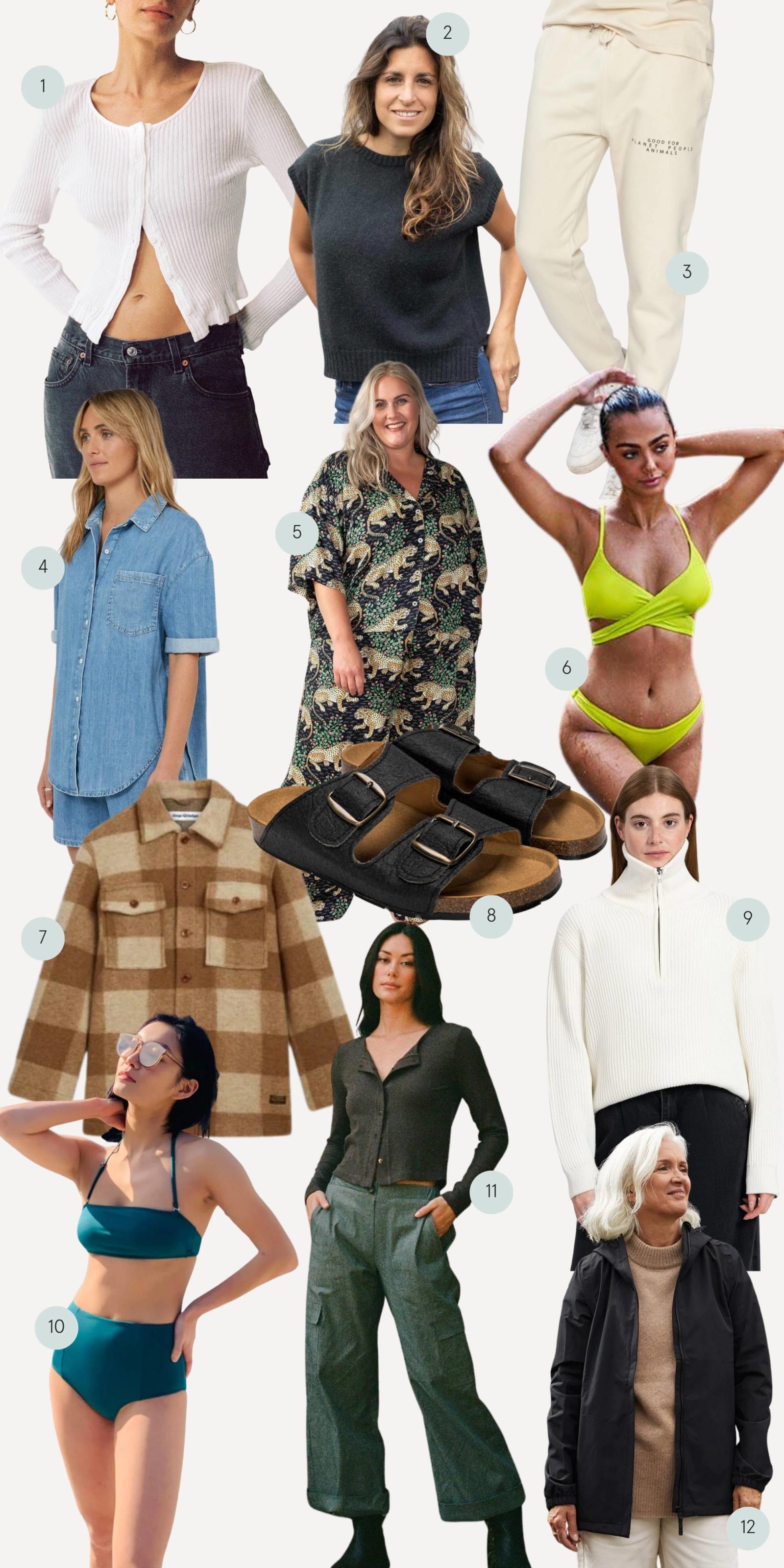 1. Pointelle Cardigan (LA Relaxed)
2. Unisex Joggers (REER3)
3. Hannah Alpaca Vest (Nui Organics)
4. Amelia Pants (Outland Denim)
If I was a cartoon character and my closet had multiples of the same outfit, it would be this denim set I got from Outland Denim. OBSESSED!
5. Satin Pyjama Set (Printfresh)
6. Neo Loop Bikini Top (Loop Swim)
7. Camel Overshirt (Kings of Indigo)
8. Piñatex Sandals (NAE)
These sandals from NAE have survived many travels and #vanlife's uncomfortable situations!
9. Kayla Knit (Kuyichi)
10. Ocean Taylor Bikini Bottom (Loop Swim)
11. Dillon Cargo (LA Relaxed)
12. Elements Waterproof Jacket (Amble Outdoors)