Are you looking for something chic for a special night out? An elegant gown for a formal? An amazing dress for your best friend's wedding?  These events may not come around very often, but when they do, finding something that's ethical as well as red-carpet-worthy isn't easy. That's where clothing rental comes in – it's one way to reduce the impact of your wardrobe choices without compromising your look.
When we talk about fashion's impact on the planet, we're mainly thinking of two things.  1) How a piece of clothing was produced and 2) how it's disposed of. Studies have shown that increasing the number of times we wear a single piece of clothing is the single best thing we can do, in terms of reducing environmental impact. That's because we're using fewer resources on the production side and reducing the number of garments that are disposed of each year.  Of course, it's easy to extend the life of a garment if we're talking about a pair of jeans, far less practical when it's a ball gown (although if you want to look a million dollars while doing the grocery shopping, go right ahead!)
When it comes to specialist clothing or occasion wear, an increasing number of companies are offering rental services. You can find maternity and childrens' wear, bridal and occasionwear. One such company, is Sydney-based GlamCorner, which is also a certified B Corporation, meaning it meets the highest standards of social and environmental performance.
According to Glam Corner's Anastasia Pappas the rental model can massively reduce the environmental impact of a garment.  "By sharing a designer item with 20-30 other women who would have otherwise purchased a single item to use once and dispose of, you can help to reduce the environmental impact of such a wear by up to 95%," Anastasia says.
This is due to the fact that instead of 20 to 30 items being manufactured, purchased, worn and disposed of there is only one item being manufactured and purchased once while still being worn by up to 20 to 30 other people before the end of its life.
If you're worried about hiring a dress that's been worn by two dozen other people before you, there's no need. Anastasia says when rentals are received back, they are cleaned, dried, and put through quality control in their own laundry facility, before landing back on the rack for the next rental. "We then have a second quality control measure once the dress is picked – to make sure that the dress is in perfect condition to enter the box and go to the next customer," she says. "During this stage, our quality control team looks at every detail on the dress to ensure there is not a thread out of line."
At the heart of GlamCorner is the desire to create a modern, simple and personal fashion experience that is built for women who are passionate about experiencing the quality of designer fashion while also reducing their impact on both the environment and their wallets.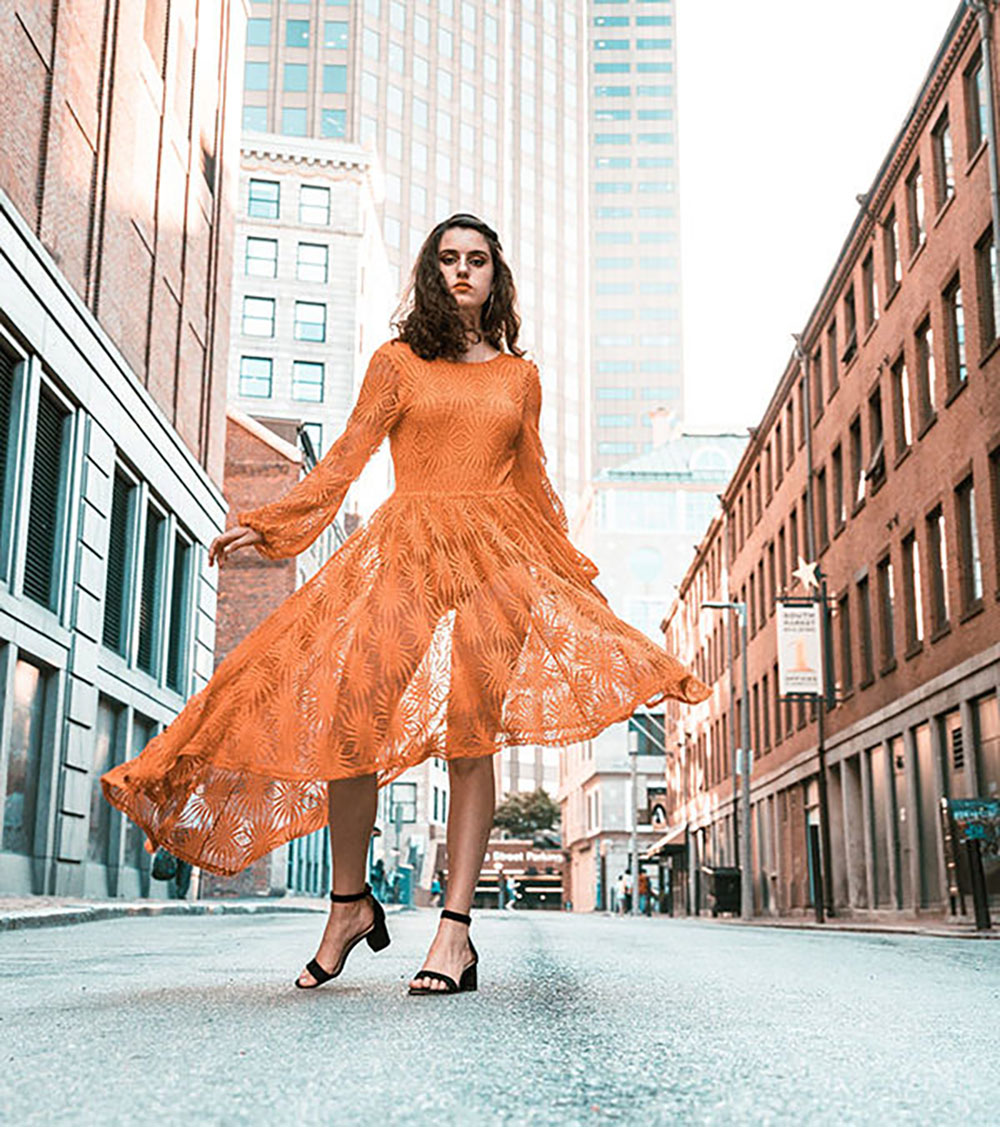 "In doing so, we aim to support designer labels and to empower every customer to reduce their individual contribution to landfill." says Anastasia Pappas.
So how does the company decide what to stock? Well, GlamCorner has "a very experienced Merchandising team with members who have worked for large labels both internationally and in Australia" says Anastasia. "The team attends trade shows, showings and forecast trends months in advance just like any other retailer, so that you can always rent the most stylish and trendy items. The brand also uses data to guide their buying strategy, looking at what customers like in terms of style and brand."
Anastasia says people should treat the items as they would treat their own fine clothing, so that each garment has a long life. "All of our garments are designer quality and are therefore delicate, so should always be handled with care" says Anastasia. She recommends avoiding contact with any sharp objects that might pull or damage the fabric, such as jewellery and accessories, as well as ensuring fake tan is completely dry before putting on the dress and will not rub off on the fabric.
So the next time you need something special to wear, check out clothing rental,  it could be a good saving for you and the planet.