Fashion brands with alarming human rights and environmental track records are once again pumping out rainbows for Pride month. Here's why that's a cynical distraction from the harm caused throughout their supply chains.
Brands want you to think they're into Pride
It's that time of year again when so many brands want to be your gay best friend. In fashion media, that means queer journalists' inboxes get filled with press releases for seasonal Pride collections. One glance over my inbox and you'll see phrases like "celebrating the LGBTQ+ community," "living out and proud," and "expressing your authentic self" among the press announcements for everything from tank tops to tube socks—all available with rainbows for a limited time only.
So ubiquitous are fashion brands' multicolour collections that they're now an annual staple on the marketing calendar. In a few cases, these initiatives are made in close collaboration with LGBTQ+ creatives and donate all the profits to LGBTQ+ causes—but those kinds of collections are in the minority. More often, it seems brands pop up every spring with their announcements of new products, with vague platitudes to self-love and unevidenced claims to support the community.
This can make Pride feel like merely another seasonal event for brands to push products or earn some positive PR—a feeling that's spawned TikTok memes and become widely reported on in the press in the past two decades.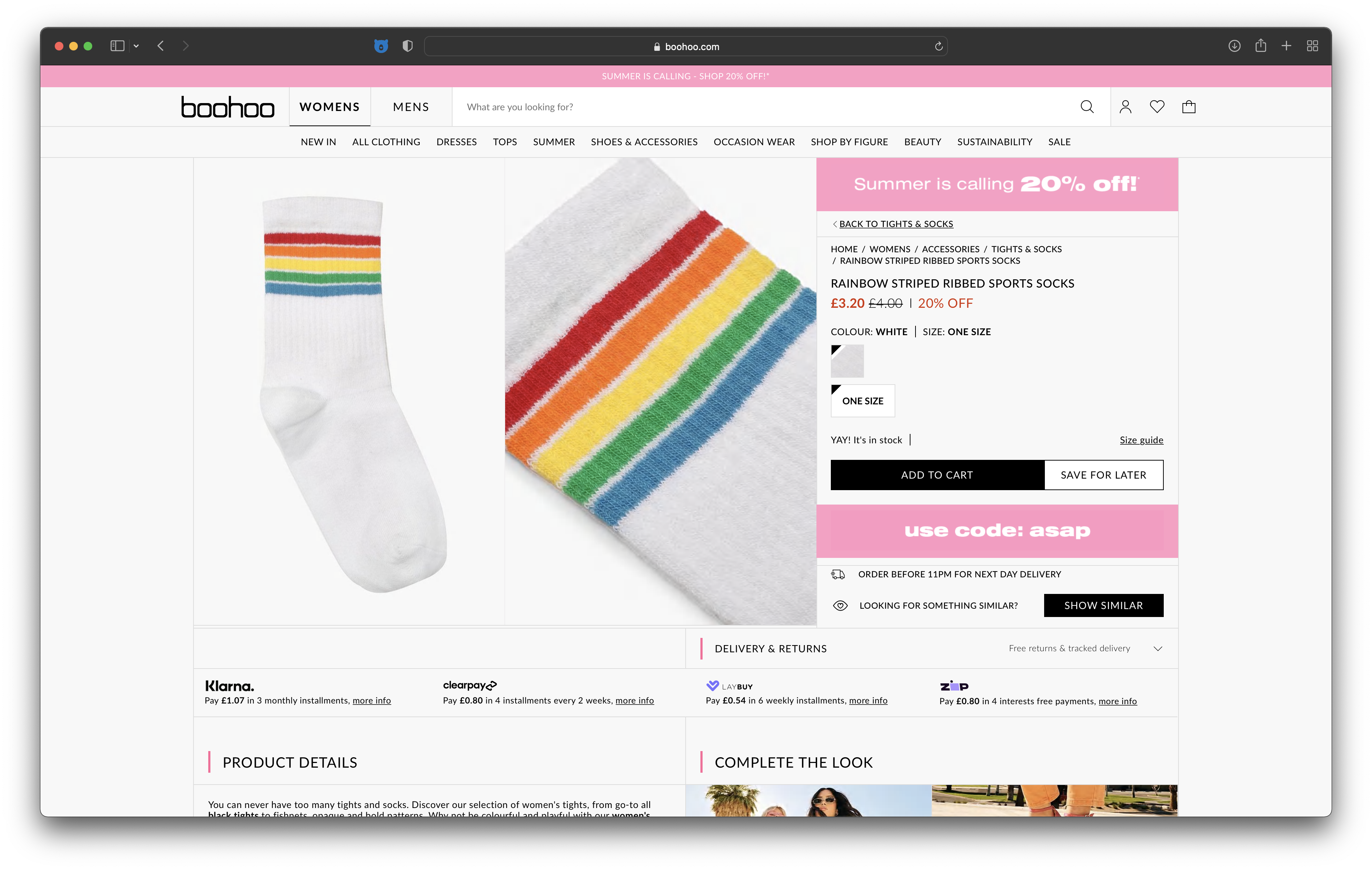 What's accelerated in the last fews years is the churn of cheap fast fashion Pride collections. At surface level, that might come off as merely opportunistic and insensitive—enabling brands to capitalise off of a community they do relatively little to support during the rest of the year. But frequently, the harm runs much deeper, with a dark side brands hope you won't see.
From SHEIN's hundreds of polyester Pride looks to Boohoo telling us "Pride isn't just a party", brands with alarming human rights and environmental track records are increasingly trying to profit off of an event that started with a riot against police brutality and has continued annually with demonstrations against oppression. That's what we call pinkwashing, and fast fashion seems to see the benefits.
What's the harm if a few extra cheap t-shirts spread a message of love, you might wonder? I've taken a deep dive into the Good On You ratings for a number of brands that have launched Pride collections. What I've found won't be shocking to many LGBTQ+ people, but it's certainly disheartening: the positive brand image brands gain from Pride collections is often a cynical distraction from the far less inspiring impacts throughout their supply chains.
Rainbow capitalism and Pride collections
Any discussion of fashion's history is inseparably linked with queerness. Many of the world's largest fashion brands—from Christian Dior and Calvin Klein to Yves Saint Laurent and Alexander McQueen—are named after the gay men who founded them. And non-queer designers have co-opted and appropriated LGBTQ+ subcultures and nightlife for catwalk looks and mainstream trends for decades.
For many queer and trans people, our clothes have long been ways of affirming our identities and countering cis-heteronormativity. Clothing ourselves is, after all, a way of non-verbally communicating to the world around us. Long before there were hookup apps, for example, there were handkerchiefs, which some queer men used to flag what they're looking for in a partner. And even as Pride events have become more party-like, they remain a space for gender exploration and subversion.
Style is clearly a central part to the diverse expressions of Pride around the world. But there's a reason that queer people take to social media each year to call out giant brands engaging in so-called "rainbow capitalism"—ie the Pride collections feel like a cash grab.
Pride collections have become a turnkey way for brands to position themselves as inclusive and diverse. With studies finding as many as 20% of Gen Z adults identify as LGBTQ+, it's a profitable image for brands to portray. And so-called "rainbow retail" can be big business, with some analysts estimating that global LGBTQ+ spending could be higher than £3 trillion, according to Forbes.
For some of TikTok's most popular brands such as SHEIN and Boohoo, the only thing the queer community gets is more inane slogan t-shirts.
Labels ranging from fast fashion giants like Forever 21 and H&M jump on the bandwagon each year. Even luxury houses like Gucci have come out with product launches like the £640 rainbow sneakers they dropped back in 2017. And step into almost any major department store between May and July and you're certain to be greeted with racks of "love is love" graphic t-shirts. (That is until there's any slight sign of backlash. This year, for example, Target retreated on LGBTQ+ support and pulled some of its Pride collection from stores after a vocal far-right minority of consumers threatened boycotts.)
Sometimes, there is monetary support for the queer causes wrapped up in these campaigns. In 2021, for example, Abercrombie & Fitch donated more than £150,000 to crisis support nonprofit The Trevor Project. And for its 2022 collection, Dr. Martens' pledged more than £200,000 to LGBTQ+ charities like ​​the UK's Albert Kennedy Trust, which helps homeless LGBTQ+ young people across Britain. Despite marketers going after the "pink dollar", LGBTQ+ people continue to face higher rates of poverty as well as suicide, so these charities clearly do crucial work.
But with imprecise and vague statements, it's challenging to determine exactly how these collections benefit queer communities. What percentage of profits from Pride merchandise actually goes to queer causes can remain a mystery, as brands are not often fully transparent. For example, when H&M announced its 2021 "Beyond the Rainbow" campaign, the company committed to donating more than £70,000 to the United Nations Free & Equal Campaign. Yet the press release was not clear on how much the company—which had 2021 profits of nearly £1.5 billion—would profit off of Pride-themed merchandise. And in prior years, H&M had donated a mere 10% of proceeds from its Pride collections, Vox reported in 2018.
For some of TikTok's most popular brands such as SHEIN and Boohoo, the only thing the queer community gets is more inane slogan t-shirts—I found no trace of a penny going to LGBTQ+ creatives or charities.
What is 'pinkwashing'? The opposite of empowerment
It can seem that the world's most profitable brands only focus on LGBTQ+ people when Pride Month rolls around. After the collections end in July, you'll not hear a peep for about 11 months. That's what's termed "rainbow washing" and "pinkwashing".
On one level, pinkwashing happens when corporations aim to benefit from profit or positive press coverage because of LGBTQ+ initiatives that are inconsistent and centred around Pride festivities. But pinkwashing applies to more than merely shallow advertising campaigns. It often serves to distract from a brand's more problematic business activities like not paying living wages. When you look closer, this is when Pride collections can seem more than a bit hypocritical.
How do you tell if a fashion brand is "pinkwashing"? One of the telltale signs is when the brand's support for LGBTQ+ people almost exclusively revolves around marketing campaigns targeting more affluent consumers in a handful of wealthy countries. It's pinkwashing when these brands fail to demonstrate their support for LGBTQ+ people extends beyond the point of sale.
Fast fashion brands, for example, typically produce garments in countries where queer and trans people face social and legal discrimination. Are these brands advocating for the rights of queer and trans workers across their supply chains? Do they have policies in place to support their LGBTQ+ employees not only in the corporate office, but in their factories and in their suppliers' factories? Do they lobby politicians in the countries they operate in to make anti-discrimination laws a legislative prioroty? They'd surely tell you if they were.
I reviewed the ratings for 20 fast fashion brands, which have had Pride collections out in the past year, and 0 were found to be paying a living wage.
Here are the facts on fast fashion brands' Pride capsule collections: they're produced by garment workers who are too often exploited, underpaid, and toiling in factories that research increasingly shows the depth of trauma faced by the majority women of colour who work these precarious jobs.
The Good On You brand ratings data I dug into highlights the pinkwashing: I reviewed the ratings for 20 fast fashion brands, which have had Pride collections out in the past year, and 0 were found to be paying a living wage. Using our ratings system, I conducted a simple analysis of brands—selecting a sample of fast fashion labels including SHEIN, Boohoo, H&M, Forever 21, and over a dozen more. As suspected, these brands earn our lowest scores for their impacts on people.
Despite what the advertising campaigns might suggest, queer liberation is not only an issue in a handful of wealthy countries. LGBTQ+ people face violence, discrimination, and poverty around the world, including in many countries where Pride collections are produced. Ask yourself: how many garment workers are harmed to make a cheap rainbow t-shirt? A lot. How many of them are queer and trans, too? Likely a significant minority of the workforce, even in countries where it's not safe to be openly out. And how many of the fast fashion brands that employ them are advocating for their human rights in the countries where these brands produce their clothes? Virtually none.
There's nothing empowering about Pride clothing that's produced by brands that are exploiting and underpaying their workers, certainly including LGBTQ+ people in the supply chain.
Follow the rainbow straight to the landfills
The most depressing and ironic Pride collection I've seen in recent years comes from SHEIN, the ultra fast fashion brand that has taken trend churn to astronomical new levels.
SHEIN is, of course, the brand that takes so much of what's bad about fast fashion and speeds it up—adding thousands of new styles to its website on a daily basis, according to reporting from Business of Fashion. It's a brand famous for using massive amounts of user data to predict microtrends, for sparking billions of #haul views on TikTok, and for overworking and underpaying garment workers. For example, a 2021 report from the NGO Public Eye revealed SHEIN's workers putting in as many as 75 hours a week with one day off a month.
Analysing last year's collections delivers some revealing numbers: In 2022, I clocked 392 Pride products on SHEIN's website. That's more than any other fast fashion brand's Pride capsule collections. As a point of comparison, Forever 21—no friend to LGBTQ+ people—had only five styles in its 2022 Pride collection. In the process of writing this report, I refreshed my browser tab several times over the course of a few days and the number of pride items available on SHEIN ticked up each time.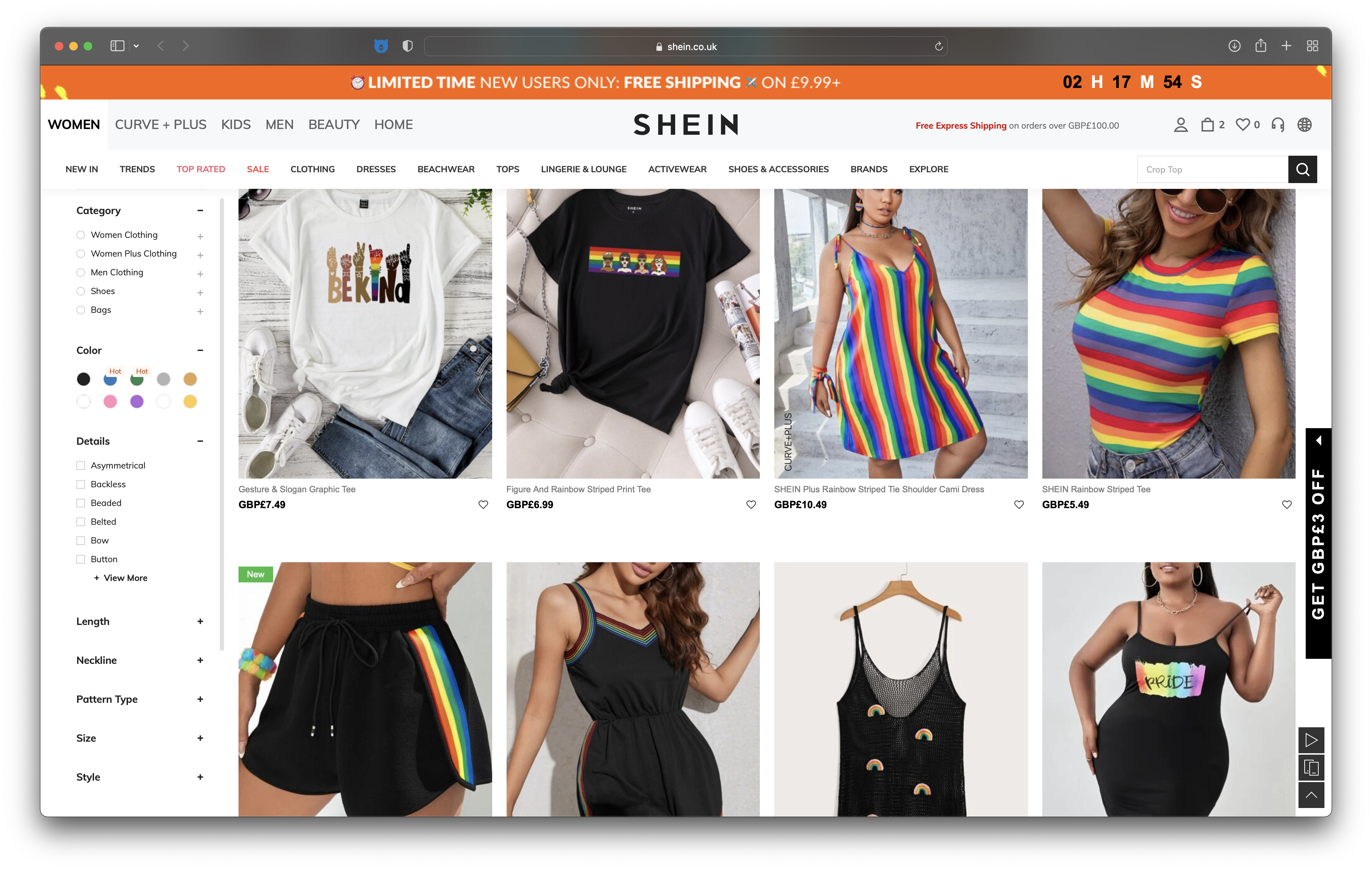 Brands like SHEIN, H&M, Zara, Forever 21, and many others are largely responsible for driving the overproduction of clothing over the past few decades. This historically high consumption has pushed fashion's waste crisis to new levels. "Around 85% of all textiles thrown away in the US—roughly 13 million tonnes in 2017—are either dumped into landfill or burned", reported Abigail Beall for the BBC. Because these clothes aren't dumped in the backyards of consumers in regions like North America and Europe means consumers in the Global North don't experience firsthand the environmental catastrophe unfolding due to fast fashion waste—more often, it's dumped in countries from Ghana to Chile.
SHEIN's Pride collection amounts to hundreds of rainbow garments mostly made from virgin plastic, which can take centuries to decompose in landfills. When I browsed its hundreds of Pride styles, I came across items like its cami dress with a rainbow graphic reading simply "Pride"—retailing for a whopping £8.49. Dozens of other garments covered in rainbows retailed for less than a tenner. As with the cami dress, almost all of these garments are 95% polyester and 5% elastane. That means many of these Pride clothes are made out of petroleum, a non-renewable resource that's the opposite of sustainable.
In this way, the production of these garments contributes directly to the climate crisis—an issue that's intrinsically linked to LGBTQ+ justice. "I envision a world where everyone can have the freedom to be who they are," upcycling designer MI Leggett told me in an interview about waste in fashion. "But that can't really happen if we're going to have a climate apocalypse." Leggett bluntly noted the interconnectedness of these issues, saying that trans and queer liberation can't happen "if we're all on fire and don't have any water to drink".
Alternative idea: return to Pride's radically creative roots
A friend recently texted me a screenshot of a product they saw on Amazon: "The first gay Pride was a riot" read the slogan on the £13.99 t-shirt. As ironic as it is, the shirt is correct. Bank of America wasn't sponsoring the first Pride, and police weren't marching, either. We celebrate Pride Month in June in commemoration of the Stonewall riots, in which New York City police officers raided an LGTBTQ+ bar and the fed-up patrons—led predominantly by queer and trans people of colour—fought back over four nights. That was 1969. The following year, a protest march marked the first Pride parade.
While this one event can sometimes seem over-mythologised in queer history, the point is clear: Pride was not founded as an opportunity for corporate sponsorship or a seasonal event to push products. It's a deeply political protest to a world that perpetuates violence against trans and queer people.
"As with the Stonewall riots and the first Pride, the twin threats of violence and oppression toward the LGBTQ community underlined the ongoing necessity of Pride Month as a political act first, a party second", wrote Alex Abad-Santos in 2018. And it's equally true this year, when simply being queer remains illegal and even punishable by death in some countries; when US states are trying to criminalise trans children and banning drag; and when the UK's media and political discourse remains deeply entrenched in transphobia. The consequences are real: almost half of LGBTQ+ youth have contemplated suicide.
I can't think of a gayer way to celebrate Pride than rejecting oppressive systems that harm so many people in the process.
For many of these reasons, Reclaim Pride hosts New York City's Queer Liberation March in protest of the corporatisation of Pride events.
Similarly, LGBTQ+ people and their allies can reject the fast fashion-ification of Pride by returning to its radical roots. As Andy Campbell highlights in his book Queer X Design, Pride traditions are deeply connected to grassroots creativity. The history of Pride is one of handmade posters and t-shirts, upcycling and repurposing, anti-capitalist design and alternative zines, and more.
Reignite that legacy. Avoiding that SHEIN rainbow dress won't solve fashion's problems—but it can give you extra cash to support queer people directly and inspiraiton to avoid buying anything new.
Instead, why not try:
Support local LGBTQ+ artists, designers, and makers.
Upcycle garments in your own closet.
Host a Pride clothing swap.
Rewear the Pride gear from parades past.
Donate directly to organizations like The Trevor Project and ACLU's Drag Defense Fund.
Take cash to tip drag queens and artists at local Pride events and bars.
Learn how to tie-dye your old white t-shirts.
Fast fashion goods may be cheap, but they also drain demand for your neighbourhood queer artists and upcyclers. Many queer creatives make a lot of their income during Pride festivities, so seek out these makers to support and celebrate. And even when fast fashion brands do pledge a percentage of profits to LGBTQ+ organisations, the much-needed funding will go further when you donate directly, without driving up corporate profits in the process.
After all, I can't think of a gayer way to celebrate Pride than rejecting oppressive systems that harm so many people in the process.